10 Best Accounting Software Used by Hong Kong Businesses
Each accounting software has different features with multiple pricing plans to choose from. Here we list some of Hong Kong's most popular accounting software for you to select the most suitable for you.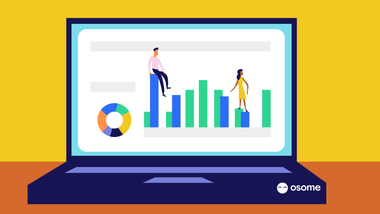 Choosing the best accounting software for your business is challenging. Each program includes a different set of features, and most offer multiple pricing plans to choose from, which also vary in features, number of users and other factors. Here we list some of Hong Kong's most popular accounting software so that you could select one that best suits your business.
1. Sage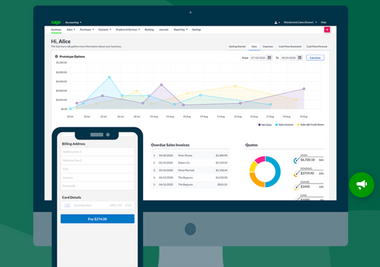 Sage has been recognized by many renowned entrepreneurs because of its award-winning business solutions that provide efficient management of accounting operations.
Among the best accounting software in Hong Kong, they have mainly designed a platform to increase the growth of small businesses and streamline the accounting workload so that you can focus on enhancing brand development.
They have 2 accounting software mainly for small to medium businesses in Hong Kong - Sage Business Cloud Accounting and Sage 50 Accounting Peachtree.
Sage Business Cloud Accounting
Sage Business Cloud Accounting is a simple, secure online cloud accounting software to quickly create invoices, track accounts, and process payments for small businesses.
Features:
Unlimited transactions and unlimited email support
1GB storage
Automatic backups
Works on any devices
Price:
Starts from HK$65 per month; HK$702 per year.
Website:

Sage 50 Accounting Peachtree
Sage 50 Accounting Peachtree is a desktop accounting software to simplify everyday tasks.
Features:
Manages cash flow and costs
Pays bills and gets paid
Plans and tracks inventory
Price:

Sage 50 Pro Accounting Peachtree (single-user account) starts at USD 529.95;
Sage 50 Premium Accounting Peachtree (1-5 users) starts from USD 699.95;
Sage 50 Quantum Accounting Peachtree (up to 40 users) starts from USD 1346.95.
Website:

Centrolink Solutions Limited is Sage's exclusive distributor and an authorised dealer for Hong Kong: www.centrolink.com.hk
2. Express Accounts Accounting Software
Express Accounts is an inexpensive accounting tool for small businesses that focuses on the essentials. It is ideal for smaller, independent businesses with simpler accounting needs.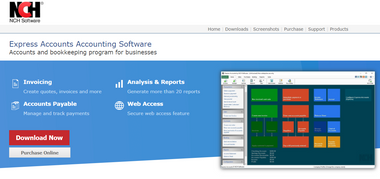 Features:
Available for both Windows and OS X
Tracks sales and accounts receivable information
Records recurring orders and repeat invoices
Creates quotes, sales orders, and invoices
Price:
Small businesses with fewer than five employees can use the Express Accounts for free. The free version does not expire but does not support some features designed for larger organizations.
A standard edition Express Accounts Basic outright license purchase costs USD 99.
Website:
3. Xero
With the well-designed and highly functional online cloud accounting software of Xero, all major business tasks will be automated, giving you absolute accuracy and security. This includes managing invoices where you can instantly convert quotes into invoices with just a few taps on your phone. Xero also provides you with 24/7 customer service support with their team of experts.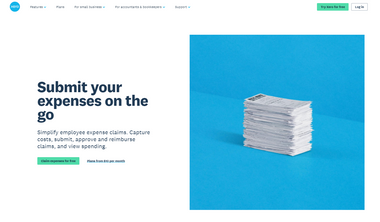 Features:
Direct bank connections
On-the-go reports
Personalised contacts and other records
Approved and compliant with tax regulations
Pricing:
A starter account starts at USD 10/month for the first 3 months, and USD 20 thereafter, which allows you to send 20 invoices and quotes, enter 5 bills, reconcile bank transactions, and capture bills and receipts;
A standard $30/month account allows you to do all that for an unlimited number of transactions;
The premium $40/month account has the additional feature of handling multiple currencies.
Website:
4. Osome
Osome is a business assistant app that digitizes accounting and compliance tasks. Osome's platform uses machine learning-based tech to automate administrative, accounting, payroll and tax-related work. Depending on the subscription tier, it also gives businesses access to chartered accountant services. It currently uses Xero as its accounting software and is a Platinum Partner for Xero, and Xero Partner of the Year at Xero Awards Asia 2020.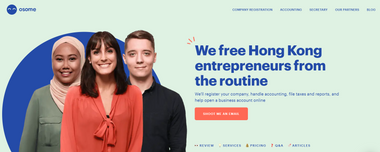 Features:
Prepares unaudited accounts like income statements, balance sheets, and cash flow statements
Files annual profits tax return
Reasonably priced and very convenient
Accessible from any computer or mobile device
Provides regular updates and reminders regarding finances and filing deadlines
Price:
Osome's prices depend on your business' yearly turnover. For businesses with turnovers under HK$30k per month, they could choose between the Mini and Starter packages.
The Mini package costs HK$288 per month (Annual audit costs HK$3,500) which includes annual bookkeeping, annual management reports, unaudited financial statements, and annual profits tax return filing.
The Starter package is HK$720 per month (Annual audit costs HK$6,500), inclusive of a multi-currency Xero subscription, daily bookkeeping, and monthly management reports.
If your company's turnover is up to HK$150k per year, Osome's Booming Accounting is for you and costs HK$1,400/month. The Rocking Accounting package costs HK$1,600/month for businesses with HK$300k and below turnover, while those with turnovers up to HK$600k, the Unicorn Accounting package is for you at HK$1,800/month.
Website:
5. SunSystems Financial Management System
SunSystems is a popular accounting software used across a variety of sectors (e.g. financial services, hospitality, and Not for Profit Organisations) and designed for large enterprises. It is a powerful accounting software for companies with expanding analysis requirements, multiple locations or high growth.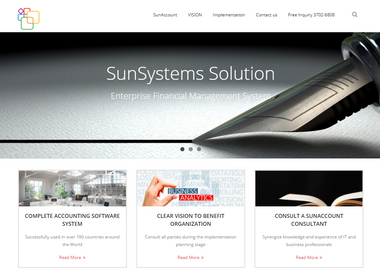 Features:
Strong on reporting and data entry, integration and holding multiple different currencies;
Can consolidate multiple legal entities;
Scalable: deployable in any environment from a single-user PC with remote access to their cloud hosting, to your single or multi-server IT environment.
Pricing:
Depending on requirements it varies and starts roughly at USD 25,000 in the first year and then in the following years, it can cost between USD$1-USD$5,000 if you decide to host it yourself.
Website:
6. Microsoft Dynamics GP
Microsoft Dynamics GP is a business software and enterprise resource management (ERP) program that helps businesses manage the back-end operations such as accounting that keeps it running on a day-to-day basis.
Dynamics GP is used primarily by larger businesses with a USD 3-5 million turnover, usually distribution companies.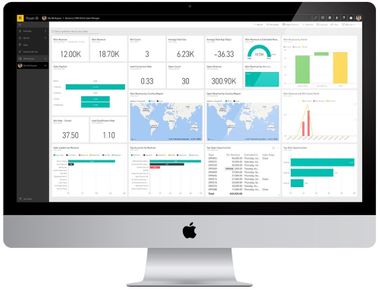 Features:
Manages your cash, assets, and banking
Business intelligence and reporting
Manages your contacts, sales opportunities, and service contracts
Pricing:
Starter Pack: USD 5,000 for 3 concurrent users
Additional Full Users: USD$3,000 each
Optional (one-time fee):
Extended Pack: USD 10,000
Customization Pack: USD 6,000
Extended Human Resources & Payroll Pack: USD 7,000
Website:
S-Knight Asia and Queue Associates are among Microsoft Dynamics GP partners in Hong Kong.
http://www.sknightasia.com/dynamics.html
https://queueassoc.com.hk/home/microsoft-dynamics-nav-gp-and-sl/#
7. Macola
Macola is a fully integrated Enterprise Resource Planning (ERP) software system designed for small to mid-sized companies. It is good for its workflow automation, personalized workspaces, and customer support services. Macola is mainly aimed at helping manufacturers and distributors handle materials, labour, compliance and resources.

Features:
Cash management and payroll
General ledger accounts payables (AP) and accounts receivables (AR)
Document management
Personalized workspaces
Pricing and website:
Macola does not list their prices publicly. You may contact them at their website: https://macola.com/
8. MAS-Account
MAS-Account is a comprehensive system designed for different kinds of business in accounting and trading management. It uses Microsoft SQL Server database and is compatible with different devices such as desktop, tablet, and smartphone. Professional consultation, installation and training courses are available for free.
Features:
Supports English and Traditional/Simplified Chinese
Supports multi-currency
Sales and purchase documents
Voucher, AR & AP
1-year free basic App basic service for MAS-Account 9.0/10.0
Pricing:
Price is not listed for MAS-Account, however, they could be contacted through their website for a quote.
Website:
https://en.mastersoft-hk.com/account
9. Quickbooks
Quickbooks can help you keep track of all financial transactions in one place. You can track expenses, customize invoices, monitor reports, and much more!
The categories make it easy to find the records you're looking for. In its cloud accounting platform, every expense is stored, so every entitlement can be easily claimed.
If you're a small business owner or you want to expand your company, there's a specific business plan for you with the accounting software Quickbooks — another reason why it's considered the best accounting software in Hong Kong.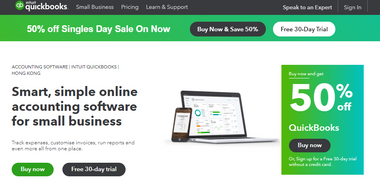 Features:
Sync your bank information and your favourite apps$
Access your data on multiple devices
Pricing:
Between HKD 60/month to HKD 240/month
Website:
10. ABSS (formerly MYOB)
ABSS, formerly known as MYOB, is a multinational Australian company offering business and cloud account software to Small Medium Enterprises. ABSS was established in 2009 following the acquisition by the management of the MYOB business in South Asia.
ABSS software designed using less accounting jargon, the words used by the accountant to make it easier for the new user to understand. Debtor outstanding is called "the money that customers owe you", and Creditor outstanding is called "the money that you owe suppliers". ABSS is only the few that provide account software on Mac computers. ABSS AccountEdge is the most complete and easy to use accounting system focused on Mac operating systems.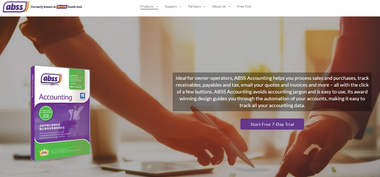 Features
Installation language could be in either Traditional Chinese or English
100+ sample business start-up templates given
Sends invoices and manages debtors
Tax Compliant
Ensures your inventory is never empty
Pricing
Microsoft Windows Operating System
ABSS Accounting's standard software starts at HK $4,188 (>140 reports) for a single user account which includes a software CD, user manual(pdf), 5 company files, 4-hr basic course and between 8 to 12 hours of advanced Courses, remote installation and multi-user setup.
The Premier software costs HK $4,788 for a single user and HK $8,688 for up to 3 users (>170 reports), while the PremierPlus is HK $5,888 for a single user and HK $10,488 for up to 3 users (>200 reports).
Mac Operating System
The AccountEdge is ABSS's accounting software for Mac. The difference with the Windows software is that it could be used for an unlimited number of companies. The price is HK $4,788 for a single user and HK $8,888 for up to 3 users (>170 reports).
Website:
Setting Yourself Up for Success with Accounting Software
That's the end of our list of the best accounting software in Hong Kong. You might be interested in making sure your company is compliant with Hong Kong's corporate governance laws. Osome can also help your company keep on top of documents with our corporate secretary services in Hong Kong. From there you can consider the accounting software that Osome uses which is Xero, and benefit from our experienced accounting experts.