An Overview of Amazon's Logistics Chain
The Amazon website must integrate a wide range of functions in order to deliver full functionality. It is for this reason that Amazon's supply chain is so important to its success and operation.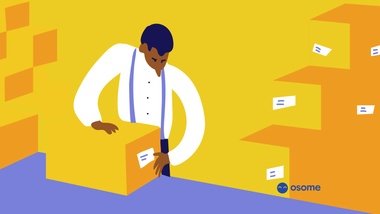 Amazon is truly one of the biggest companies in the world. A lot goes into getting a package delivered to a customer's mailbox, including the logistics of moving products from the manufacturer to their home.
To make sure Amazon runs at full capacity, there are so many different functional areas needed to work together. That's why the Amazon supply chain is so important to the success and operation of this corporation.
If you're considering running a business on Amazon, understanding how the supply chain works would ensure that you're aware of how your business delivers to your customers.

By the way, if you're looking to offload your accounting tasks to focus more on your business, our accountants are experienced with e-commerce operations from processing refunds to selling via Paypal. We'll be on your side to understand how to optimise your accounting. Otherwise, let's dive in!
What Is the Amazon Supply Chain?
The Amazon supply chain covers a variety of different processes that are designed to result in excellent service for the customers. From warehousing products and embracing technology to managing inventory, delivery, pricing, and reach - Amazon's process is built for efficiency.
There are two critical pillars of the Amazon supply chain: FBA (Fulfilment by Amazon) and FBM (Fulfilment by Merchant).
FBA (Fulfilment by Amazon)
Amazon FBA program is a fulfillment method where the sellers don't have to manage their inventory. Instead, you can send your products to be stored and shipped by the Amazon fulfillment center.
Your products also get the Prime badge, making them eligible for 2-day shipping, better visibility than your competitors' products, and the 'Fulfilled by Amazon' guarantee.
FBM (Fulfilment by Merchant)
The Amazon FBM program allows sellers to handle their own fulfillment process. Sellers fulfill orders by storing and picking their products from their own warehouse or storage facility and then shipping these orders to customers.
Since this is third-party handling, your products don't get the Prime status and you have to deal with the returns, reimbursements, and complaints by yourself. Amazon only acts as an e-commerce platform for your products.    
Elements of the Amazon Distribution Strategy
About 200 million people have a Prime membership around the world. So, you know just how many customers Amazon is dealing with directly and indirectly. Here is how they do it.
Warehousing
Amazon has a unique fulfilment network, which is where your merchandise is stored, processed, and shipped to customers. And it relies on this extensive physical infrastructure of its fulfilment centres (precisely 175 worldwide), countless employees, and a fleet of robots to make selling online easier for you.
The fulfilment centers are located within close proximity to each other so that inventory from one centre can be sent to another nearby centre in an effort to reduce shipping costs and times.
The warehouses not only help bring down costs on the logistics but also provide customers with faster service and reliability while offering everyone convenience.
Delivery
The speed of delivery matters! Amazon's ability to offer its customers fast and reliable delivery has been one of the main reasons why its supply chain strategy is so successful.
One of the most talked-about delivery options that Amazon offers their customers is the "free" 2-day delivery and the $2.99 same-day delivery - both offered to Amazon Prime customers.
Amazon uses a fleet of vehicles to meet delivery demands. Their trucks can move about 2,000 parcels at one time and their airplanes fly up to 30 containers each from 20 different airports to ensure on-time delivery.  
Yet, these seemingly expensive delivery options do not cost extra to Amazon customers. The reason is that they are subsidized by Prime member subscriptions.
Non-prime members do not qualify for these "free" shipping options and must pay for expedited shipping if they want their items promptly.
And Prime's 200-million subscriber base is proof that customers want fast shipping even if it costs them an upfront fee.
Technology
From deploying Kiva's robots to act as mobile warehouses in its fulfilment centres to using a proprietary airborne and surface delivery system, Amazon is continuously pushing the limits of innovation across its various supply chain channels.
In fact, Amazon has made fast and efficient delivery a strategic priority, so it is no surprise that the company is using around 200,000 robots to fulfil orders.
Besides, automation is the new cutting edge of the Amazon supply chain. Automation is helping the corporation streamline the flow of orders and products to reduce costs while bringing their distribution system in sync with consumer demands.
Manufacturing
It is no secret that one of the main elements of the Amazon distribution strategy is the expansion in the area of ​​manufacturing.
While selling third-party products, Amazon realized that it can produce items at a more competitive price point. With AmazonBasics, Amazon is offering low-cost consumer products such as chargers, kitchen gadgets, accessories, cables, phone cases, and more.
They reckoned that it is a low-risk and profitable venture, and their experience in product distribution comes in handy.
Needless to say, Amazon pushes its own products over those of the other sellers, which might make things a tad difficult for third-party sellers without Prime status.
Pricing
One of the most important elements of the Amazon distribution strategy is cost-efficiency. But Amazon's pricing strategy for its supply chain is truly brilliant.
They have created various shipping priorities to keep their fulfilment centers from being flooded with orders. This actually allows them to respond to demand fluctuations and prioritize fulfilment based on their customers' requirements.
The FBA program is also designed quite cleverly. To keep the storage facilities from drowning in inventory, they charge premium rates to sellers for every cubic foot they acquire. As a result, sellers only send limited inventory and the fulfilment centers remain uncluttered.
Amazon Prime Air
"What's dangerous is not to evolve."
This quote by Jeff Bezos is enough to tell you everything about how rapidly Amazon adapts to changes.
Imagine if you could have a replacement part for your car delivered to your house within an hour instead of having to take a day off work, go shop for it, and wait four days for the part to arrive. That's the kind of convenience that Amazon is aiming at.
Prime Air is an ingenious approach to helping Amazon get products to customers faster and more efficiently. It is a game-changer, as it could potentially speed up deliveries from days to hours.
The technology is still in its testing phase but once it hits the market, Prime Air will work to deliver parcels, weighing under 5lbs within a 10-mile radius of Amazon's fulfilment centers, to customers who are willing to shell out more for faster delivery.
That said, Amazon will need to overcome a ton of logistical problems to bring their drone technology to the general public.
Is the Amazon Supply Chain for you?
Some companies (for example, Louis Vuitton or Apple) restrict selling on Amazon because they consider it is a direct competitor. However, to answer this question, it is important to understand what people are expecting from their Amazon buying experience.
Amazon's customers want a quick transaction. They want a product in exchange for money. So, if you are selling a Disney mug, that would have a fair opportunity to compete with Amazon's existing product listing.  
On the other hand, if you decide to sell customized mugs on Amazon, you won't have much luck because your brand will need to offer a personalized experience to your buyers.
In other words, Amazon's platform can act as an online mall for your products but it won't offer them the personal touch of a brand outlet.  
Also, remember that the online space is too overcrowded to expect to dominate through visibility alone. So, you need a clear positioning within your company and product/service category to have a profitable presence on Amazon.
To encourage customers to buy from you, you need to offer a good offer (price, convenience, and a high-quality customer experience). And once you subscribe to the FBA program to get a Prime status, there is no stopping you.
That being said, signing up for any AWS service can be a slightly expensive investment, especially if you are a small business with limited resources.
For Osome Clients
It is a good thing you found Osome because we are rewarding our clients with free AWS credits that they can use for any Amazon program. With $3,000 of AWS credits, you can launch and scale your business with Amazon's scalable infrastructure.
If you're looking to get your company registered, get help with company secretary services in Hong Kong or get help with accounting for e-commerce, we're here to help!
Osome Partner
This article was contributed by our partner Teikametrics. They are an AI-powered platform built to optimize and grow your e-commerce business on Amazon and Walmart.com.