6 Tips to Getting Paid on Time as a Freelancer or Small Business Owner
Having trouble getting your invoices paid on time? You're not alone. Thankfully, there are steps you can take to get paid quicker. Read on to find out how.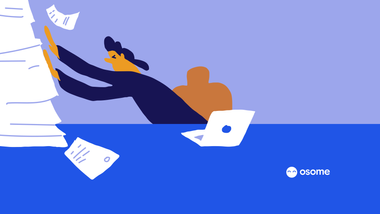 Negative cash flow is one of the biggest reasons small businesses fail. When you are running a business, poor cash flow is akin to getting stuck in quicksand as you sink deeper and deeper. The number one cause of poor cash flow? Late payments. Fortunately, there are feasible steps you can take to fix them – before it happens.
Read on to find out 6 ways you can get paid quickly as a freelancer or small business.
How Do I Get Paid Faster?
Being your own boss isn't always smooth sailing – one thing freelancers and small businesses always struggle with is being paid on time.
Pick Your Clients Wisely
Just signed a new client? Congratulations! But before you get ahead of yourself, remember to perform due diligence on your new client by running checks on their background. In Singapore, all businesses must register with the Accounting and Corporate Regulatory Authority (ACRA). You can check the company's profile to make sure they are a legitimate business.
Additionally, you can also carry out reference checks with other businesses they have worked with. This helps you decide if your new client has a good payment track record. For a start, you could get your new client to furnish two referees they have dealt with, and you can call their past referees to enquire if your new clients got their invoices paid on time.
Draft a Contract
Starting work without a contract is a mistake. Having a written contract with your client is always beneficial for you, providing you with the security and protection you need. Furthermore, a contract can help to lay out expectations, result in higher partnership satisfaction, and avoid non-payment. A good contract should include your name or company name, payment terms, description of work and services, agreed timeframe, terms and termination, and both parties' signatures.
Create an Invoice Template

Never be late on the delivery of your invoice. As soon as your work is completed, send an invoice to your client to make sure you are taking necessary times to get paid on time. Furthermore, doing so reflects your professionalism, and sends a message to your client that you are in a rush to receive payment. Fortunately, invoicing doesn't have to be a chore – you can easily streamline the task by creating a base template.
To create a professional invoice, remember to include the following:
Company name
Contact information
Invoice date
Invoice number
Outline of provided services or goods
Payment terms
Discounts
Goods and Services Tax (GST)
Amount due and due date
Improve Invoice Payment Terms
Some clients may take more time to process payments. In such cases, one way to get paid quicker would be to shorten your payment terms. Payment terms are an agreement that outlines your expectations for payment, such as when the client is required to pay you, as well as the late fees for missing a payment.
Instead of the standard 30 days payment term, you could speed things up by shortening your payment term to one or two weeks. Of course, you will also have to send your invoices promptly. If you dilly-dally, you may give clients the impression that you are not in a rush to receive payment. Additionally, sending invoices promptly also reflects your professionalism.
Accept Multiple Forms of Payment
The easier it is for your clients to make payment, the more likely they are to pay on time.  For instance, you could feature all your acceptable modes of payment on your invoices, including:
Direct bank transfer (listing your bank account details and number)
Credit card payments
International payments, through multi-currency wallets such as Wise
Other online payment methods:
PayPal: Reputable platform with over 400 million active users globally, supporting 25 currencies used in over 200 countries. However, PayPal imposes a relatively high transaction fee of 3.99 percent, alongside a $0.50 fixed fee.
eNETS: One of Singapore's most reliable payment methods, with relatively competitive transaction fees
Stripe: A relatively new mode of payment in Singapore, but known for its flexibility and reliability. Great for small businesses, with a transaction fee of 2.4 per cent on total selling amount, alongside a $0.50 fixed fee.
Hoolah: Popularised the concept of Buy Now, Pay Later in Singapore by allowing customers to pay through three interest-free installment plans. Merchants receive the full amount within four days, so this payment mode is recommended for eCommerce businesses.
eWay: An easy payment gateway that allows for site integration and accepts credit and debit cards at a transaction fee of 3.4 per cent on total sales, alongside a $0.40 fixed fee.
Follow Up Often
Always give your client the benefit of the doubt, unless proven otherwise. If your client has yet to pay your invoice, simply assume they forgot and nudge them with a friendly reminder. Being proactive before the payment due date can let your client know that the due date is near. Send a friendly, professional email reminder a few days prior to the invoice's due date, the day the invoice is due, and a few days after the invoice is missed. To simplify things, you can also automate these follow-up emails with invoicing software. If you are still not getting a response from your client, you may have to give them a call or even visit them personally in the office.
Use Automation To Improve Your Cash Flow
The most crucial thing in running a business is to ensure that your cash flow is running as smooth as butter.
Tip
Stay on top of your cash flow and make invoicing a breeze with Osome. With a dashboard in place, you can confidently keep tabs on which invoices are due, overdue, and have been paid. You can also set up automatic emails to remind your clients that it's time to pay, or if they have an overdue payment.
Additionally, you can automate your invoicing process, and streamline financial data by engaging a service provider like Osome to take care of this for you. This way, you can better use your time by concentrating on your core business areas.