A Design Guide for E-commerce Websites
If you're looking to improve your e-commerce page and improve sales, you might want to learn the fundamentals of how to design a good website.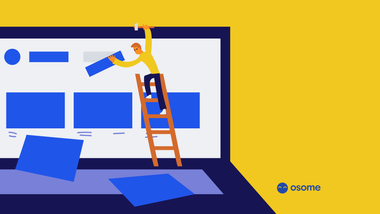 In today's digital era, a good website is a must-do on a business owner's list after setting up your company. A good website is a must for every business owner, and it becomes especially necessary when you own an e-commerce store.
Website design is highly critical when you're building your website. This is what attracts customers to your business at first sight and might be the deciding factor that a customer chooses to take up your service or product, over a competitor. With all the technologies, and resources available, it's not difficult to create a website that attracts your target audience. Let's take a look at what the ultimate goal of a website should be.
Determining the Main Aim of Choosing a Design for Your Website
Just like every e-commerce store has different goals to pursue. In the same way, every website has a different goal to achieve. Think hard and pick out one main goal that you want to go after with your website design. Some of those goals can be:
Support your brand
Showcase your personality
It helps in creating a loyal fanbase
It helps in spreading your message among your audience
Try out different marketing strategies
Sell/Promote your product
Raise awareness
3 Main Types of Website Designs
As you have picked out your goal, it's time to choose the website design that you want in your website. Usually, there are three different types of website designs- static, dynamic, or conceptual/experimental.
Static Website Designs
Static website design is one of the popular options that many e-commerce stores opt for. It is an HTML and CSS template that has fixed content. The goal of static website designs is to provide similar news to every customer. It doesn't have any dynamic effects, but here the content rules the website.
Static website designs are well suited for niche-based areas. Like, for the creative industry or for small business owners who have selected items to sell.
Another reason why people choose static website designs is because of their low development costs. Slides is a popular website builder tool.
Dynamic Website Designs
If you want a website focused more on functions, designs, and animations, you should go for dynamic website designs. Here, everyone keeps moving, and the focus is more on providing a beautiful user experience.
Dynamic website design functions are animations, swipe-able carousels, WebGL, mouse trails, 3D scenes, and morphing hamburger buttons.
Conceptual and Experimental Website Designs
Conceptual and experimental website design provides a more advanced version of website design. They focus on providing unique experiences. Games, virtual reality, or digitally generated backgrounds are some examples.
However, there are two main disadvantages of conceptual and experimental website designs: low browser compatibility and a need for a number of resources to make websites run smoothly.
Important Elements for Designing a Website
Whichever kind of web design you choose for your website, it's important to include some of these elements in your website following UI design tips to provide a better experience for your customers.
Grid
Whether your website design is chaotic or asymmetrical, it should have a core grid system that must align well with positioning and alignment. Grid is an important element of website design, and they make sure that your website has stability, predictability, and stability in behaviour.
To choose the size system of the grid, you can take help from Bootstrap. It's a popular option with a variety of choices.
Content
Another important element is sharing interesting and informative content on your website -- that provides value to your audience and gives them knowledge about your products. Some things to keep in mind while writing content is:
Format all of your content. Formatting helps in displaying good readability and makes sure that your message is delivered right.
Use simple, concise language that is easy to understand. Adjust your writing style according to your user's preference.
Use short sentences. Categorize your content and add images, CSS styles, headings to make it readable.
Make proper use of white space and always use the right side.
Call-to-action
In the previous sections, we asked you to create a goal for your website design. Now, that goal will help you to select the call-to-action button. The purpose of your call-to-action button can vary depending upon your mission. For example, you want to add a call widget for your customer to have the possibility to contact you immediately or collect your customer's email address to send regular updates, or you want to get feedback through comments or feedback button - all of this is done through a call-to-action button. One fancy type of call-to-action is the QR code (which can be generated using one of the best QR code generators).
Some of the basic principles to follow while creating a call-to-action button are:
Make your call-to-action stand out.
Make the button rectangle shape with round corners.
Use action words.
Blue, red, and green are commonly used for CTAs.
Use CSS styles at different places.
Make proper use of white space. Don't make it too cluttered.
Links
Links are similar to buttons which are an important part of the user interface. The main job of links is to connect with different pages that you have added the link with. Hence, links should be well-formatted and meaningful. Some basic tips while creating links are:
Links should always be blue and underlined. Anything other than that will confuse readers.
They should convey something important. Make sure to use action words.
Don't use redundant words; make them short and straight to the point.
Links should open in the same browser. If the link is a PDF file, open it in the new tab.
Try to differentiate links and anchors to avoid confusion visually.
Add a hover effect and use the mouse cursor to make the interaction design more appealing.
Navigation
Usually, navigation is a well-executed list, but it can still be attractive by using different features. Designers come up with new creative ideas like using interactive hero areas with hotspots or circle-based navigations. Whatever the design you use, it's important to note that a good navigation bar is necessary to provide a good user experience.
Colour
We all know the impact of colour on one's brand and human behaviour. A well-designed colour palette attracts your audience and increases the effectiveness of your business website. It sets the desired mood and atmosphere, strengthens the message, increases trust, and drives more conversions. Depending upon your industry and design, you can decide on appropriate colours.
Visuals
It becomes boring when your website is only filled with words, and no one wants to read paragraphs after paragraphs. Adding visuals becomes more important in your website designs. Visuals can be images, illustrations, videos, and icons that go well with your content.
Typography
Because of a number of free resources available online, like free Google directory, @font-face embedding techniques, and other affordable font services like Typekit, it has been easy to design typography of your choice.
And the many different choices out there, the temptation to use them all only increases. But, it's necessary to use only three fonts on one page that represents you the most. By following the brand guidelines, you can diversify your choice while creating a great personality at the same time.
You can start by choosing a combination of a sans serif font and serif font. Usually, sans-serif is used for body text, and serif font is used for headlines.
And if you want to keep it simple, you can choose any one font family and play with the weight, size, and style according to your requirements.
Accessibility in Website Design
It's a common myth that a proper inclusive website is not possible. But it is, because of assistive technologies, you can give a quality user experience to your users. All you have to do is to make sure that you add all accessibility requirements to your website. You can follow these steps to make your website accessible:
Use basic semantic markup for your website. It makes it easy to search through different search engines. It also provides helpful information for assistive technologies and helps in creating a strong foundation that can be easily repurposed.
Use HTML structure that can be used well with CSS.
Make proper use of colour.
Don't use more than three typefaces.
Use the font size in body up to 16px and line-height to 22-24px. Also, use only 18 words or 50-80 characters in every line.
Make proper use of white space and enough contrast for elements in the foreground to make it easily readable.
To communicate complex information, use images, different shapes in different sizes, and labels.
Add texture in labels to make it more accessible.
To make things more accessible, change the mouse cursor in different cases.
Use different styles of buttons to indicate different things.
Add different styles for hover states to highlight texts.
Add different styles for focus states.
Make sure to use focus indicators on form fields, links, buttons, menu items, and widgets.
CTA's text should be short and to the point.
The button areas should be large enough so that they are easily tappable.
For elements in the mobile screens include sliding navigation.
The elements should easily be reachable by the keyboard.
Add ARIA to every important element.
Make sure to add ALT text for images. You can omit the ALT text for purely decorative images.
Use H1, H2, H3 headings at appropriate places.
Try not to use redundant words.
Use tables only to display tabular data.
Do not use content that can be harmful or misleading.
To know more about accessibility in website design, check out the W3 Web Accessibility and Web Content Accessibility Guidelines (WCAG) Overview.
Conclusion
Every year, website design is becoming more sophisticated. But it's not that hard. With all the tools available out there, you can easily create a great website with beautiful features. However if you think you do not have enough time you can hire professional web design company who can ensure that your website does not have features that make visitors abandon your website.
On top of that, if you are running a new or mature e-commerce business and need help with your books, we have experienced accountants who know e-commerce on hand to help you with this.