What Important Records Must I Keep As A New Business Owner?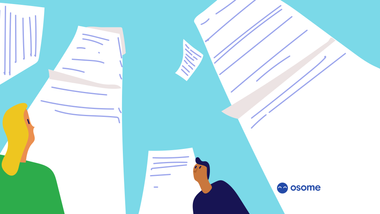 Good business record keeping is crucial, from managing costs for legal, regulatory or tax reasons to simply managing and improving your business. If you are just starting up your business in Singapore, recordkeeping might not be the first thing that comes to mind. However, practising good business recordkeeping can help you build a strong foundation and pave the way moving forward.
What Is Recordkeeping?
Recordkeeping is the art of recording transactions and events in an accounting system. Since accounting relies on accurate and thorough records, record keeping is the basic foundation of accounting.
Reasons to Maintain Records
Comply With Laws
Practising good recordkeeping is not just beneficial for your business's operations but is also a legal requirement in Singapore. A corporate service company like Osome can provide accounting and corporate secretary services to get your mundane and routine work done professionally at an affordable cost for you.
Prevent Theft or Fraud
Theft and fraud happen, but prevention starts with good business recordkeeping. Maintaining detailed records of your business transactions and expenses can help you better understand your cash flow, thereby preventing fraud. Additionally, this information will help you to produce accurate financial statements when audit season comes around.
Pay Taxes
You will need good records to support the expenses, income, and credits you report to prepare your tax returns. Typically, these are the exact documentations you use to track your company's progress and prepare financial statements. Staying on top of your recordkeeping means things will be a breeze when it comes to tax season since you do not need to maintain additional records for your tax returns.
What Business Records Must I Keep?
According to the Inland Revenue Authority of Singapore (IRAS), companies must maintain proper records and accounts of business transactions. These include:
Source documents that record all business transactions, such as invoices, receipts, bank statements, vouchers, and other relevant documents issued to or received from customers
Accounting ledgers, journals and schedules detailing your company's income and expenses, assets and liabilities, as well as profits and losses
Any other written evidence of transactions concerning your business
Whether your company is GST-registered or non-GST registered, the business records you must keep differ. For instance, a GST-registered business is required to maintain tax invoices issued for income purposes and records of disposal of business goods. However, these records are not required for non-GST registered companies.
Here's a handy recordkeeping checklist for you to refer to:
Type of record
Required documents
GST-Registered business
Non-GST Registered business
Income records
Record of goods taken for private usage
Required
Required
Credit notes for goods returned
Required
Required
Export-related documents
Required
Required
Serially numbered receipts issued or invoices issued
Required
Required
Tax invoice issued
Required
Not required
Evidence of payment received (i.e. bank statement)
Required
Not required
Business expense records
Receipt received or invoice received
Required
Required
Evidence of payment (i.e. bank statement)
Required
Not required
Employer's CPF contributions
Required
Required
Staff remuneration payment vouchers
Required
Required
Payment to individuals or companies for rendered services and related contracts
Required
Required
Purchase records
Receive invoices, receipts or tax invoices
Required
Required
Import-related documents
Required
Required
Evidence of payment (i.e. bank statement)
Required
Not required
Other records
Business goods used for non-business purposes
Required
Not required
Required
Not required
Required
Not required
Bank statement
Separate statements for personal and business purposes
Required
Not required, but recommended
Accounting records and schedules
Stocklist
Book of sales record or listing
Required
Required
Purchase listing or purchase record book
Required
Required
General ledgers
Required
Required
Balance sheet, profit and loss statement
Required
Required
GST account summary of input & output tax (including tourist GST refunds)
Required
Not required
What Are The Methods of Keeping Business Records?
Your company's business records can be kept either physically or electronically, as long as they are accurate, complete and can be auditeded.
Paper Method
If you prefer to remain loyal to traditional accounting by keeping paper records, make sure you have photocopies of your records as a backup. However, the fact is that there is no significant benefit of keeping paper records since they are more susceptible to incidents such as coffee spills or misplacing documents.
Electronic Method
In the age of digital advancement, the most efficient storing method would be to store them digitally or part of a software program. However, you should make security arrangements to make sure that your records are kept safe and cannot be tampered with. Since these records are kept electronically, there is no need for you to maintain the physical copies of source documents to support your business transactions when it comes to tax season.
Electronic records take place in various forms, but the most common two are scanned invoices and scanned receipts.
Scanned Invoices
You can easily keep a digitised version of your invoices, accounts payable and others simply by scanning them. This method saves you plenty of time since scanning an invoice or taking a picture of it takes merely a few seconds. Moreover, there is no need for paper and storage units to keep these records, reducing clutter in your office.
Scanned Receipts
The same benefits apply to scanned receipts. Did you know that you can easily scan and keep track of your receipts with the Osome app? This means that you can be ​​efficient and fast, storing your receipts securely n no time. Furthermore, your financial data can be processed almost instantaneously.
Where Should I Keep My Business Records?
Your business records should be preserved at your registered office or at a place deemed suitable by your company's directors. These business records should be made available for inspection by your company directors at all times.
How Long Should My Company Records be Kept For?
Your business records must be preserved for a minimum period of 5 years from the end of the financial year in which the relevant transactions were made.
The financial year of Elizabeth's e-commerce company ends in December. Therefore, the records for her company's financial year of 2018 should be preserved until at least 31 December 2023.
If your company has been dissolved or struck off, an officer of your company should make sure that all company books and papers are kept for at least five years after the date that the company was dissolved.
If your company is being wound up, your company's liquidator should make sure that all company books and papers are preserved for at least a minimum period of five years from the company's date of dissolution.
What Are The Consequences of Non-Compliance?
Non-compliance is a serious matter and can result in severe consequences. Your business records can be considered improperly kept if:
Your accounting and related records are not kept for a minimum period of five years
Your accounting and related records are not maintained and/or
Your accounting and related records are not kept in a proper manner or place
Suppose your accounting records are not adequately maintained. Your company and any related officer could face a jail term of up to 12 months, or a fine of up to $5,000, in addition to a default penalty under the Companies Act.
Furthermore, improper recordkeeping is considered an income tax offence that could lead to IRAS disallowing your company's capital allowances and expense claims.
Under the Income Tax Act, those guilty of improper business recordkeeping could also face a jail term of up to six months in default of payment or a fine of up to $1,000.
Start Practising Good Business Recordkeeping
After delving into the importance of recordkeeping and providing you with suggestions on how to do so, remember to stay vigilant and make sure that your business records are always properly maintained.
As a startup or small and medium-sized enterprise, you may have a small headcount and your current employees may lack the knowledge or capacity to practise good business recordkeeping. However, keeping accurate records doesn't have to be a struggle -- you can simply outsource to get work done affordably and professionally. Leave it to us at Osome, and experience hassle-free accounting for your e-commerce. In this way, you can spend your time and energy wisely and focus on your core business activities!
Talk to us today!