Fiscal Year: What Is It?
When you incorporate, you need to choose your financial year end date which determines when your corporate filings and taxes are due. Read on to find out how to choose the date for your company.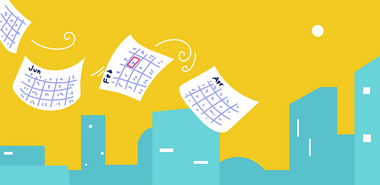 When you incorporate a new company in Singapore, you need to choose your first fiscal year-end (FYE). This is a date which determines when your corporate filings and taxes are due. In this article, we'll unpack how to decide what day is best for your company's FYE and how to change it.
Fiscal Year: Meaning
In business terms, a fiscal year is a reporting period for your company. As someone running a business, you're the one who knows best so you're able to choose whichever timeline suits you best and determine any day of the year to be your financial year-end (FYE). While the choice is yours, it's worth knowing that it's common practice to choose the last day of the month as FYE. For example, on March 31.
Once you've chosen your fiscal year-end date, it's then up to you to communicate it to the IRAS because the deadlines for unaudited financial statements, annual reports, and tax filings depend on it. If you use outsourced accounting services for Singapore companies, they'll keep track of this kind of info along with taking the hassle off your shoulders when it comes to preparing all the documents in accordance with the timeline.
What Is a Financial Year End in Singapore?
If you own or manage a business in Singapore, you need to comply with national legislation when submitting annual returns and tax documentation on a yearly basis. This is what your financial year-end determines and in accounting terms, this time period is called a fiscal year.
As we've mentioned, it doesn't have to coincide with a calendar year, which means it can start or end on any day within the year. However, the financial year is normally 12 months long (just like a calendar year). So, how do you know when your company's financial year begins or ends?

How To Determine an FYE for a New Company in Singapore
According to the Accounting and Corporate Regulations Authority (ACRA), common choices by companies in Singapore include 31 March, 30 June, 30 September or 31 December. Based on the Singapore Companies Act, a fiscal year normally begins on the day of company incorporation and ends on the day of your choice. However, your very first financial year cannot be longer than 18 months (unless the Registrar allows you to extend it). Any subsequent fiscal year should be 12 months long; it starts on the day following the end of the previous financial year and ends on the anniversary of your first financial year-end.
It's important to make an informed decision when selecting your company's FYE at the time of incorporation. Something else to keep in mind is that you'll also need to choose whether your accounting period covers 12 months or a timeframe of 52 weeks.
For example, if you incorporate a company on 1st January 2022 and set your first FYE on 31st December 2022, then your subsequent Financial Year starts on the following day - 1st January 2023 - and ends on the anniversary of the first FYE, which would be 31st December 2023.
How Long Should My Company's First Fiscal Year Be?
While your very first fiscal year can be as long as 18 months, the IRAS - national tax administrator - operates with 12-month-long periods. Any period longer than 12 months will be split and assessed as 2 independent periods, even if from your point of view, this period is a single financial year. When considering this, you can see how it may directly affect the amount of taxes you'll need to pay, especially if you want to enjoy tax exemption schemes. This is why it's important to consider what exemptions you'd like to file for before you set the date of your first FYE.
Can I Change My Company's Financial Year End?
You can change only for the current or previous fiscal year. However, you cannot change your FYE if statutory deadlines for the holding of your company's Annual General Meeting (AGM), filing of annual returns or sending of financial statements have passed.
You can change FYE by sending a notice to the Registrar to put this process into action, but you'll need the Registrar's approval if:
The change in FYE will make your financial year longer than 18 months,
It's the third request for the change of FYE
The FYE was changed within the last 5 years (from the last changed FYE)
Where Can I Get Advice About My Company's Fiscal Year-End?
If you have more questions regarding changing the FYE of your company, you don't have to figure it out yourself. Drop us a question any time of the day and our experienced corporate secretaries in Singapore will get you on your way!