1000 Entrepreneurs Share Their First Business Challenges
We spoke to new entrepreneurs about the most common challenges faced when starting a business. Here we share the results along with some expert advice on how to overcome them.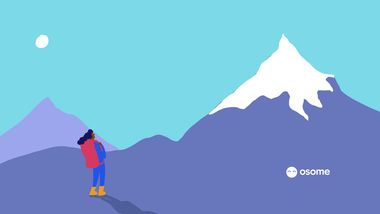 Looking to start your own business but not sure how to approach it? Perhaps you've identified a consumer problem that needs solving or want to follow a passion, but don't have the right skills or the confidence to get things off the ground. You're not the only one.
When building our Career Test tool, we spoke to budding entrepreneurs about all things side hustle. Our research revealed some of the key challenges faced by those trying to set up a side hustle, as they shared their thoughts on what kind of business they'd like to own and the best things about running a company.
In this guide for first-time business owners, we talk about some of the key reasons for starting your own company, the most popular new business ideas, and offer solutions to some of the most common challenges faced by entrepreneurs.
We've also included some expert advice to help you upskill and make your dream of running your own company become a reality.
Which Type of Business Suits You Best?
We found that almost everyone surveyed wanted to focus on a passion or solve a problem for prospective customers by setting up a side hustle.
One of the most popular areas for our budding entrepreneurs was hospitality, closely followed by ecommerce via platforms like eBay and Amazon. Our survey respondents were also interested in cryptocurrency investment, and import and export, with more than 85% of respondents saying their business would rely on ecommerce. If you're interested, here's our checklist for starting an ecommerce business in Singapore.
Pursuing these types of opportunities may offer a welcome change from your 9-5, but it's important to consider your personality and skill set too.
Despite over 40% of respondents wanting to launch their side hustle within the next 5 years, three-quarters didn't know what type of company they would be best suited to running. Almost all of them had never run a side hustle before.
So, why is it such a coveted idea?
Reasons To Start a Business or Side Hustle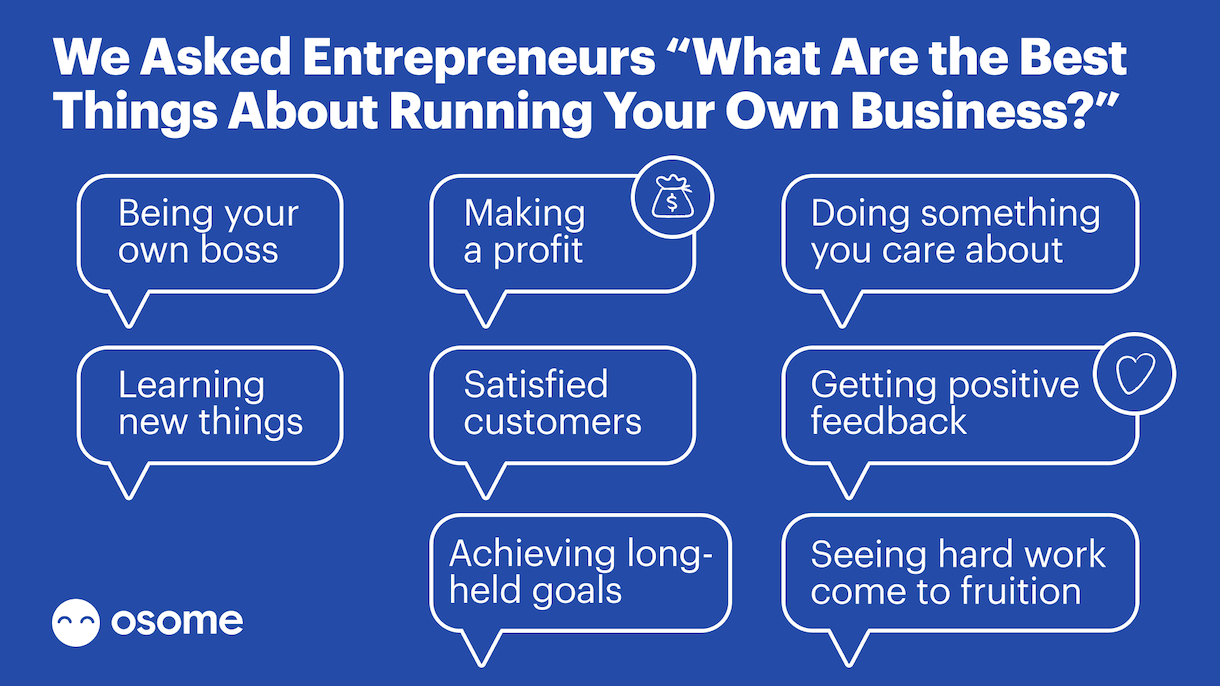 There are lots of reasons why people choose to start a side hustle or set up their own company.
We asked our survey participants what they considered to be some of the key benefits and responses included being your own boss, learning new skills and seeing all your hard work pay off. Another key reason was attracting new customers who give good feedback and then become returning customers as a result of being satisfied.
Other budding entrepreneurs were more focused on making a profit and contributing to the economy.
There are so many positives to setting up your own business, so why not start now?
Common First-Time Business Owner Challenges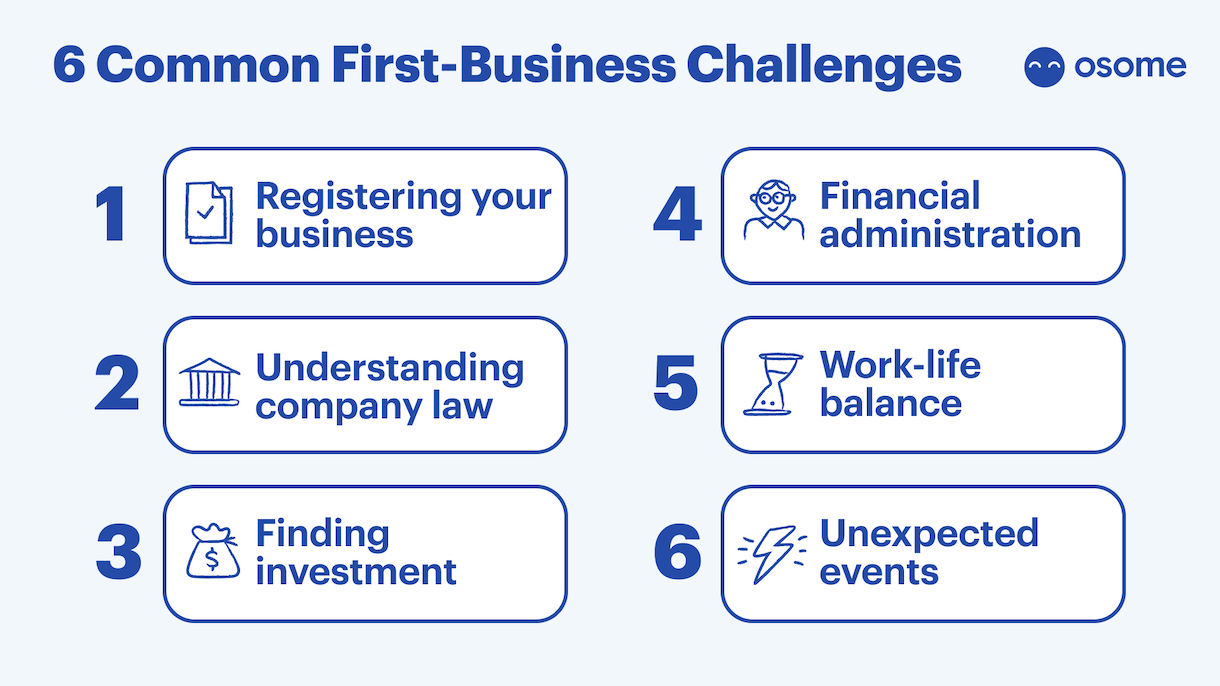 Almost 80% of participants agreed that running a business can be intimidating for those who haven't done it before, and their own inexperience ranked highly as one of main barriers to starting their side hustle.
Most of them admitted knowing very little about starting a company and said they would need to seek help from outside sources in order to achieve their goals.
So, what are the challenges and blockers first-time business owners might come up against when starting a side hustle?
Setting up and registering your company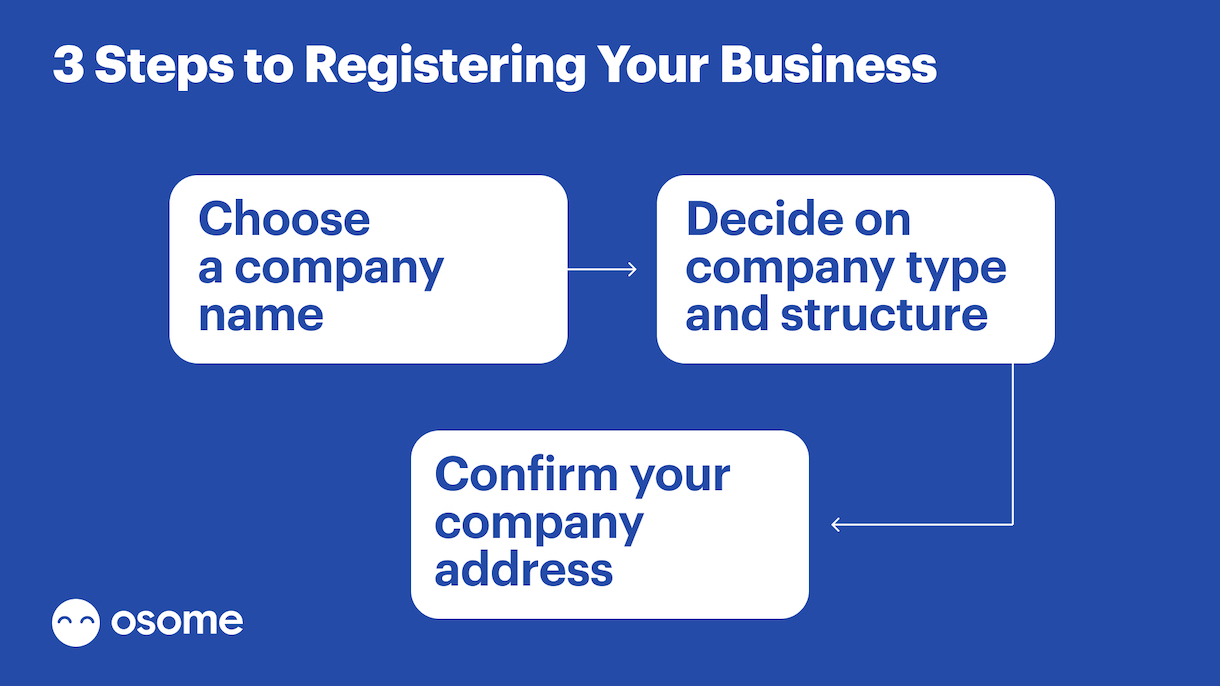 Singapore is one of the best places to do business in the world, with the freest economy and a top ranking in the Asia-Pacific region. However, there are a few factors to consider when setting up a company and it can be hard to know what it all means when you're starting out.
You can read our pre-incorporation checklist to help you get organised before starting your new company in Singapore but here's a quick look at the first keys steps on the road to setting up your side hustle:
Choose your company type and structure. There are five main types of companies to choose from: Limited Liability Company (Pte Ltd or LLC), Sole Proprietorship, Partnership, Corporation or Cooperative.
Decide on the registered address for your business. There are some differences between Sole Proprietorships/Partnerships and Limited Liability Companies.
Choose and reserve a company name that represents what you do. Choosing a business name is not as simple as it seems. You may agonize over choosing one, only to find out that ACRA did not approve its registration. Need some help? Check out our handy guide on how to choose a company name.
Once you've established all of the above, you need to figure out if you have to register your business. As a general rule, unless you are using your full name as your business name, you must register your company with the Accounting and Corporate Regulatory Authority (or ACRA). This gives you legitimacy and access to government funding (more on that later).
In 2020, another step was added to the process, which requires companies registered in Singapore to submit the Register for Registered Controllers. Before, your company only needed to maintain it internally. Now you need to file the Register with ACRA electronically and keep it updated at all times.
Once you're registered, there are lots of other things to do in your first 12 months to get your operations up and running. Find out more in this guide to what you should do after incorporation to kickstart your business operations. It covers all the key actions within your first year of running up your company, so save this article for later.
Legal advice and understanding business law
Another challenge raised in our survey results was lack of knowledge about business law, including drawing up some helpful resources such as this article on understanding business insurance to help you get to grips with the basics.
One of the other key processes you'll need to get your head around is your company constitution, which is a legal document you'll have to prepare in order to incorporate your company. Luckily we've created this step-by-step guide which explains what a company constitution is, why it's important and how to put one together.
If you need more personalised advice and would like our help setting up your company or proprietorship, take a look at our company incorporation services to find out more.
Securing investment and staying afloat
One of the other key challenges for entrepreneurs is knowing where the money is going to come from and the financial risk associated with setting up a business. When starting out, you need to think about funding options and the type of business you want to start, as this will affect how much money you'll have to find.
Securing investment, raising finance and just generally having enough money were some of the key considerations for entrepreneurs taking or survey. You need to establish your initial outgoings first, to get a better idea of how much money you need to raise. For example, will you be looking to rent office space or purchase essential equipment? Once you know your initial spend, you can start looking for sources of investment.
Since securing investment was a key challenge for our survey respondents, it's likely that you're looking for advice on how to talk to potential investors too. We've put together this guide to delivering the perfect pitch to give you a headstart but there are also a number of grants and government incentives for startups –  find out more about how to get a government grant here.
Taxes, bookkeeping and financial admin
Keeping the business afloat was the most common challenge experienced by our survey participants, and managing finances is a crucial part of this.
But, according to our data, many budding entrepreneurs need advice and support when it comes to financial admin. This could include anything from completing tax returns and chasing payments to managing the cost of equipment and utilities.
Recordkeeping is one of the best ways to keep your finances in check but it can be overwhelming for those who don't have much experience. We have a few resources which might help, including our guide to reporting on your business and this article about which business records you should keep as a new business owner.
Another stumbling block for new entrepreneurs is accounting and bookkeeping. Two of the other key weakness areas our survey highlighted included managing business finances and accounting skills. You can find out more about what bookkeeping is in this beginner's guide and learn how to read key financial documents such as a company balance sheet with this helpful guide for new business owners.
There are some other key areas of weakness for new entrepreneurs including understanding the Singapore tax system and general lack of confidence in managing finances. If this sounds familiar, you may find this three-minute guide to Singapore tax useful.
If, like some of our survey participants, staying organised and coping with admin are areas of weakness for you, consider whether having a dedicated accountant and automated software to manage all your finances is an option. It could save you hours every week, improve efficiency and leave you free to focus on making your company more profitable. Find out why you should consider having Osome take over your accounting.
Maintaining work-life balance
Participants in our survey rated coping with pressure, feeling overwhelmed and managing mental health as key challenge areas when starting a new business. Many were worried about not spending enough time with family or getting enough sleep, as well as working long hours to get everything done.
Learning how to manage stress effectively is fundamental in any role, but particularly for small business owners: here are our 10 top tips to staying in control.
If you want to maintain a good work-life balance, you need to be organised, especially when it comes to time-intensive tasks such as completing paperwork. Investing in someone to manage areas such as invoices reports and taxes can be a huge time saver, leaving you free to focus on growing your business.
Competitors and unexpected events
Life is full of unexpected occurrences, and running your own company is no different. There will always be factors which are out of your control, so it's all about how you prepare for and react to these when they do happen. Dealing with competitors and changing customer demands were key challenges raised in our survey and are common to all business owners, whatever your industry.
Similarly, some entrepreneurs were concerned about the impact of global or political events, such as COVID-19 pandemic or the rising cost of living. These can seem particularly challenging for small business owners and it's understandable to be concerned about changing political or economic conditions. However, there are so many opportunities for side hustlers in Singapore, so we've put together this cost of living guide to help make sure you've covered all bases when getting set up.
Conclusion
There's no denying that there are plenty of challenges when setting up your side hustle. But with all the benefits to setting up your own business, it's no surprise many budding entrepreneurs are hoping to start the next big thing.
Tip
Despite our survey participants sharing their personality type and reflecting on their strengths and weaknesses, 86% still didn't know which business type suited them best. If this sounds like you, take our free 90-second careers test to see how your person.