Renting Your First Office Space in Singapore: a Step-by-Step Guide
No matter what you want to lease, be it a coworking or traditional office space, there are some universal tips for both. We will help you draw up a plan and avoid some pitfalls. A calculator is included!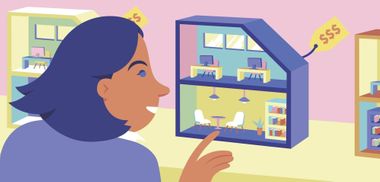 Congratulations on registering a business! While other preparation work like setting up accounting is mostly digital, finding and renting an office is an exciting way to make your company exist physically.
We joined forces with our partner spaceSense and prepared instructions on how to lease your dream office. Tips are inside!
Decide what you need an office for
Before you start looking, ask yourself as many questions as you can.
Do you need a nice place to host business meetings with clients or are you just looking for a space to house your team? Do you need a place close to your partners' offices?
What impression do you want to make with your office? What do you want to show to your potential employees and clients and partners?
How important is it for you that the transport nodes are nearby, like MRT and F&B? Do you expect to be working long hours in this place or do you think most of the team will be working from home and mostly come in for meetings?
Find the most pressing problem the office will be solving for you. Here are some examples:
Having the answer in mind, you will be able to sort and evaluate the offers. Otherwise, there is a risk of being distracted by an alluring price or a nice interior and ending up in an office that doesn't make your life better.
Figure out how much space you need
The amount of space you need depends heavily on the type of office and on what furniture will be there. But there are still some approximate figures you can rely on in the very beginning.
You need about 70 square feet per person. What will fit in 70 square feet? A working desk, a chair, and some air to breathe. Having less space per person is likely to mean working elbow-to-elbow.
| Number of employees you have | The minimum space you need |
| --- | --- |
| 5—10 | 350—700 sq ft |
| 10—15 | 700—1 050 sq ft |
| 15—20 | 1 050—1 400 sq ft |
| 20—30 | 1 050—2 100 sq ft |
If you need conference rooms for meetings and other collaboration, aim for at least 293 square feet of additional space per every 10 people.
Try this interactive calculator to better understand how big an office you need.
Tip
If you do not need to hold meetings every day, you might want to consider coworking spaces where you can rent conference rooms on a one-off basis. This way you will be able to cut your fixed costs.
Decide if you are okay with coworking or if you are not against office space sharing
Coworking spaces have mushroomed in Singapore over the last 3 years. They still make up only 5% of Singapore's total office space, yet finding an affordable place in Singapore has become easier than ever.
Coworking spaces are cheaper to lease in the short-term (less than 1 year) as compared to 2–3 years for a conventional office lease as you do not have to spend money on office furniture and other fit-outs — you just lease desks or rooms and move in.
Coworking spaces are also a more flexible option: if your team expands, you can lease more desks in the same space instead of packing up your things the moment you stop fitting into a traditional office.
There are cases when it makes sense to consider options going beyond coworking spaces:
you need a certain amount of warehouse space;
you need your own corporate branding;
you expect to host important corporate clients regularly;
privacy and security are your utmost concern and you want to have full control here.
If something from the list rings a bell, you have a predictable revenue stream as well as a more or less fixed headcount, then traditional office space seems to be a reasonable option for you.
Search for options
The most obvious resource to turn to is online aggregators. They consolidate all the information and let you compare options. The concern here is that you will have to reach out to many different parties who list on the online platforms.
If you are not ready to get in touch with all the landlords, you may hire an intermediary. Services like spaceSense assign you a tenant representative to guide you through the entire process of leasing an office. The person working with you typically helps to sort options, communicates with the office landlords on your behalf and gives advice on the pricing and contracts.
Arrange viewings
Viewings can be overwhelming, especially if you do a lot of them in a short period of time. So we prepared a list of things to pay attention to.
The condition of the office
Is there sufficient natural lighting? Sitting under electric light all day can be depressing.
Do you need a raised floor system to hide an extensive amount of electrical and network cables? Cables lying around are neither safe nor aesthetic.
What is the condition of the building's common area and office interior? Is the office building well-maintained to fit your corporate image?
The location
Is the place accessible by public transport?
How many allocated car park places are available to you as a tenant at the commercial office? If none are, where are the nearby car park facilities?
Are there places to eat nearby? Retail options? Pharmacies? If you like a certain place, spend some time exploring the area and find where you could have coffee or lunch.
The impact on your image
Does the design of the office building and lobby suit the company's image?
Do you require access control systems as part of the building's security? Some financial institutions and tech companies appreciate the additional safety l measures and security screening to protect their staff and property.
Who are the other tenants in the building? Check if your competitors are among them.
You and your partners may want to rank the key criteria for your ideal office space. Having clear selection criteria will let you have more efficient viewings.
Assess the offer
Check the lease duration. Normally offices are leased for 2–3 years, and coworking spaces sign contracts with a duration starting from 3–6 months depending on the coworking operator.
Make sure there is a rent-free period. This is the time when you don't have to pay any rental fee. It is typically granted if you need time for renovation. In most cases, this period will last from 1 to 3 months.
Double check the "dream" offers. If an offer appears too good, you should have misgivings about what you are getting yourself into over the next 2—3 years during your lease period. Check the rental pricing rate nearby for similar building types and profiles. If you find nothing, but you are still suspicious, review the rental and other lease terms with an office leasing consultant.
The office site possession date. It is important to confirm the office site possession date in your office leasing terms.
Allow for at least 2-3 months for office renovation. This mostly applies to traditional office spaces. Even if no renovation is required, you will still need to engage cleaners to get the space ready for business. Do ask for more time if the renovation period coincides with any major festivals like the Lunar New Year, Christmas or New Year's.
Confirm the office move-in date. Allow some time to renovate the new office space. You may need to exit your current office space earlier for office reinstatement.
Move-in and stay on top of your office lease. Congratulations on the move! Do keep your office lease expiry date in mind and review it at least 6 months prior to expiry.
Sign the papers
The most important thing here is to understand every word in the legal documents you sign. If you have doubts about some terms or if you think certain sentences are vague, do not hesitate to contact the landlord and ask for clarification. Suggest changes without doubt — you have the right to sign a contract you feel protected by.
After you make your choice, there are three steps to take:
You issue the Letter of Intent (LOI) — it is a non-legally binding document stating your intention to lease and the key terms. Having received it, the Landlord will conduct due diligence on you and start negotiations with you or your office leasing representative .
You approve and sign the Letter of Offer (LOO) — a legally binding document that explains terms that are found in the Tenancy Agreement. Once you sign it, you will make certain payments like the Security Deposit. As soon as the landlord gets the signed Letter of Offer and receives the payments, the finalised Tenancy Agreement will be issued.
You and your landlord sign the Tenancy Agreement — the contract between you and the landlord, where the rights and responsibilities are stated. Having signed the contract, you will have to make the final payments and execute your office move.
And that's it! Good luck with leasing your first office in Singapore!
FAQs
What is coworking office space?
In a nutshell, a coworking space is when office workers from different companies get together and share office space. Freelancers, start-ups, entrepreneurs and small teams are the people you can usually see working there.
What is virtual office space?
Generally speaking, if you don't want or don't need to rent a space for your business, that's when a virtual office space comes to help. It gives your company a physical address. Your employees can be anywhere, but still have the office-related services like mailing address, phone answering services and meeting rooms.
Does open office space work?
Judging by the recent studies Harvard Business School Conducted, they really don't. The surveys showed that those who worked at open space offices took more sick leave, reported their unhappiness and high levels of stress. No wonder, they were less productive doing their job.
How much do office spaces cost?
On average, the price for an office space per person can range between SGD 1000 – 5000 per month, depending on the size of the office itself, requirements and location.
We suggest that you look at the SINGAPORE OFFICE RENTAL RATES GUIDE BY DISTRICT and choose the best or your business.
Where to find office space for rent?
To find the perfect office for yourself, you can browse through a few different websites:
How much office space is required per person?
Usually the work area you work in should be between 125 and 225 square feet per person, about 50 square feet of which is your individual space. The rest is for meeting rooms, walking space, dining area and storage.
How office space affects productivity?
There are many things in your office space that could potentially affect the productivity of you and your workers.
Some of the factors include:
1. Lighting
Lighting can affect your eyesight and concentration.
2. Office furniture
The comfort level of your office furniture is important. Are your chairs ergonomic? Is the layout of your tables conducive for your business activities?
3. Air Quality
Is the air filtered? Do the paint smell? Air quality affects the immediate and long term health of your workers. Some smells stimulate clarity and peace of mind while others create migraines.
4. Sound Quality
Peaceful sounds or quiet may be what is optimum for you and your workers.