10 Best CRM Software for E-commerce Business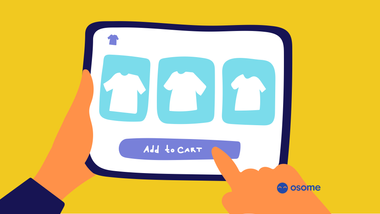 For every e-commerce business, it's important to keep track of customer relationships. Once your business reaches a certain size, that task becomes impossible without a professional e-commerce customer relationship management system or ECRM for short. E-commerce CRM (ECRM for short) is a customer relationship management system designed specifically to help eCommerce businesses manage customer contact information, purchasing behavior, and other analytics data.
We look at 10 best e-commerce CRM software tools on the market today and how to choose the right one for you.
Pipedrive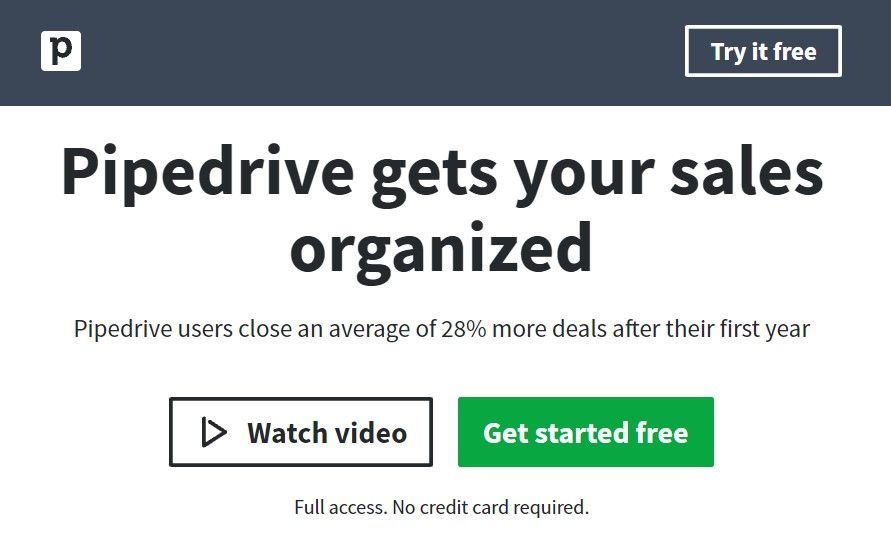 Pipedrive is a simple but powerful CRM service for managing customer communications based on tracking the transaction cycle. It also works as an account management tool, helping with marketing and the entire sales process.
Pipedrive is designed to help a small sales department manage complex and lengthy transaction processes. This allows sellers to focus on the actions and strategies that lead to the completion of transactions. The service is managed through a clear interface with a number of additional functions, such as email integration, tracking goals, reporting, forecasting.
Pricing
Pipedrive offers a 14-days free trial.
Essential plan costs $17.5 per month (per person).
Advanced plan costs $34 per month (per person).
Professional plan costs $68.5 per month (per person).
Enterprise plan costs $138 per month (per person).
LessAnnoyingCRM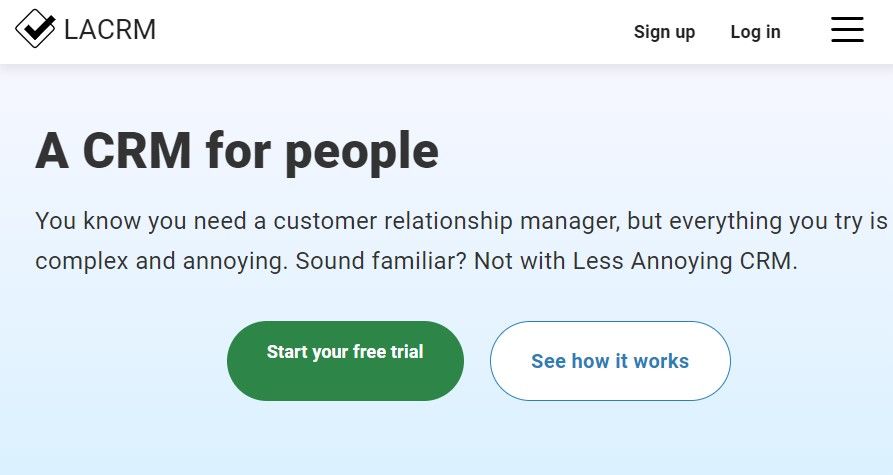 Less Annoying CRM (also known as LACRM) is designed specifically for small E-commerce businesses. It offers a single tariff for managing tasks, tracking contacts, tracking potential customers and sending follow-up messages.
LACRM's simple but flexible set of tools will help you manage all your clients and other contacts, track leads, and get data on all events and tasks (in the form of easy-to-use calendars and agendas).
Emails written and received outside of the CRM platform can be logged in to LACRM, which provides each user with a unique email address for logging.
Pricing
LACRM offers a 30-days free trial.
LACRM has one plan that costs $15 per month (per person).
Nimble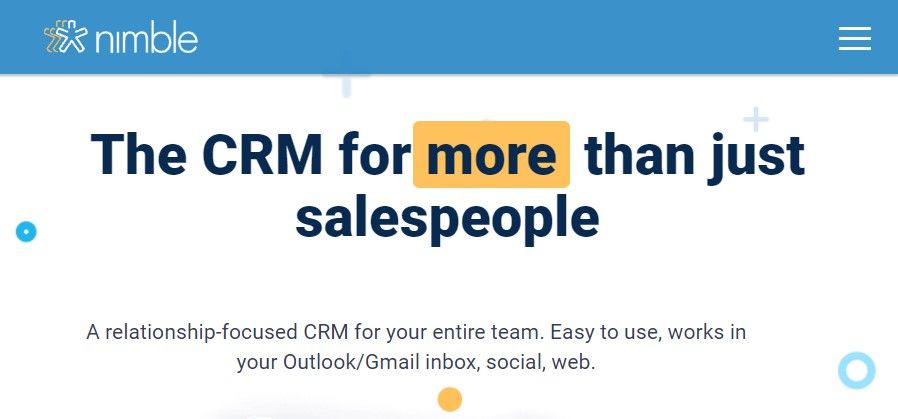 Nimble is a cloud-based tool for building relationships with customers and bringing them to a deal. The service helps to organize a database of customers, communicate with them, monitor the stages of movement through the sales funnel, analyze the activities of a specialist.
The platform is designed for the work of sales managers and marketers. The software allows managers to optimize their current activities and track their achievements, and their executives evaluate the employee's performance.
Nimble makes it possible to collect customer information from contact services and social networks. The system can link business contacts with Twitter, Facebook, LinkedIn accounts, as well as notify about employee mentions through the same platforms.
Pricing
Nimble offers a 14-days free trial.
Nimble Business plan costs $25 per month (per person).
Act! CRM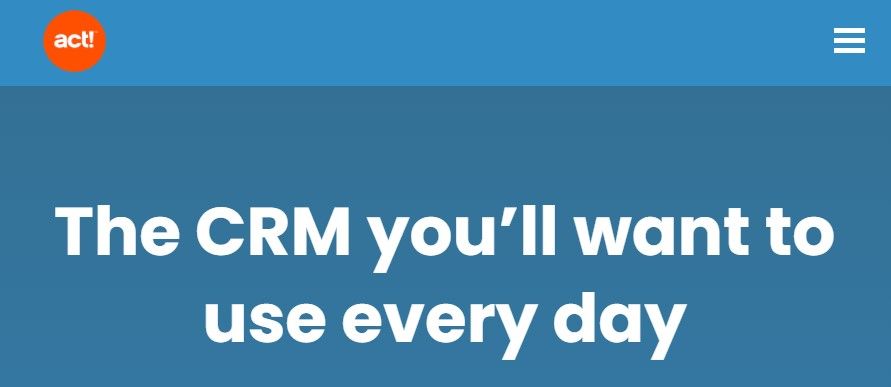 Act! is a CRM for collecting information about customers and leads in a single database. It can be integrated with Microsoft Word, Excel, Outlook, Google Contacts, Gmail and other popular applications for communication with customers. It has such features as contacts management, activity tracking and alerts, funnel management, email management, compatibility with iPhone, iPad and Android devices,  access to online self-help resources.
Pricing
Act! CRM offers a 14-days free trial.
Starter plan costs $18 per month (per person).
Professional plan costs $35 per month (per person).
Expert plan costs $65 per month (per person).
Copper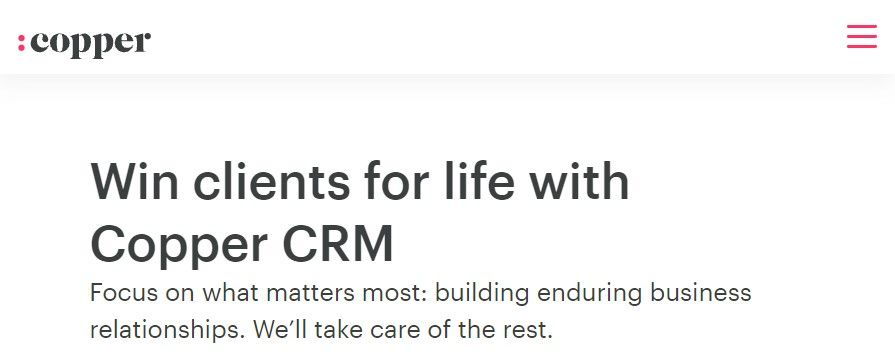 Copper is designed using Google's Material Design style, so even in the CRM platform itself, all the operations you need and that are related to contact management, such as email tracking and call logs, will look and feel like G Suite. The Copper sidebar, which is provided by the Chrome extension, gives you quick access to an overview of all the detailed data about your contacts. Powerful capabilities based on artificial intelligence are very useful for automating monotonous and time-consuming tasks: this software automatically records emails, calls, events and other materials indicating productivity so that sellers can focus on more important things – building real relationships with customers.
Pricing
Copper offers a 14-days free trial.
Basic plan costs $29 per month (per person).
Professional plan costs $69 per month (per person).
Business plan costs $129 per month (per person).
Really Simple Systems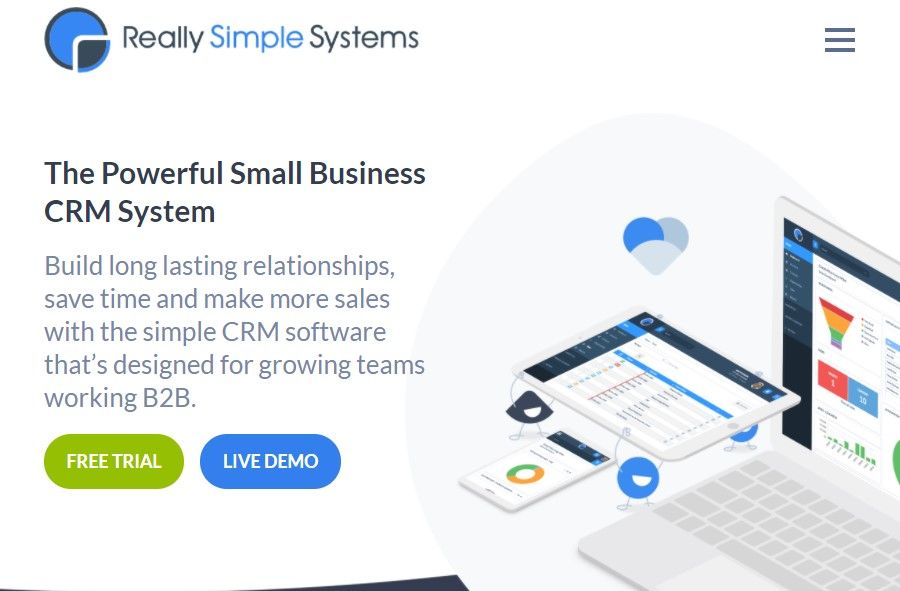 Really Simple Systems is an easy-to-use cloud CRM system that suits small and medium-sized E-commerce organizations. With built-in sales, marketing, service and support, you can work more efficiently by managing and tracking your customers and clients. All your data is in one place, which ensures team co-working, improved relationships and increased sales. CRM system will help you to develop your business. Сustomer support service is absolutely free and you will find plenty of "self-service" resources so that you can get the most out of your CRM. Really Simple Systems has a built-in mail marketing module with company management and database segmentation functions. You can launch your email marketing directly from CRM so that all your data is in one place.
Pricing
Free plan costs $0 (up to 2 users).
Starter plan costs $14 per month (per person).
Professional plan costs $30 per month (per person).
Enterprise plan costs $46 per month (per person).
Vcita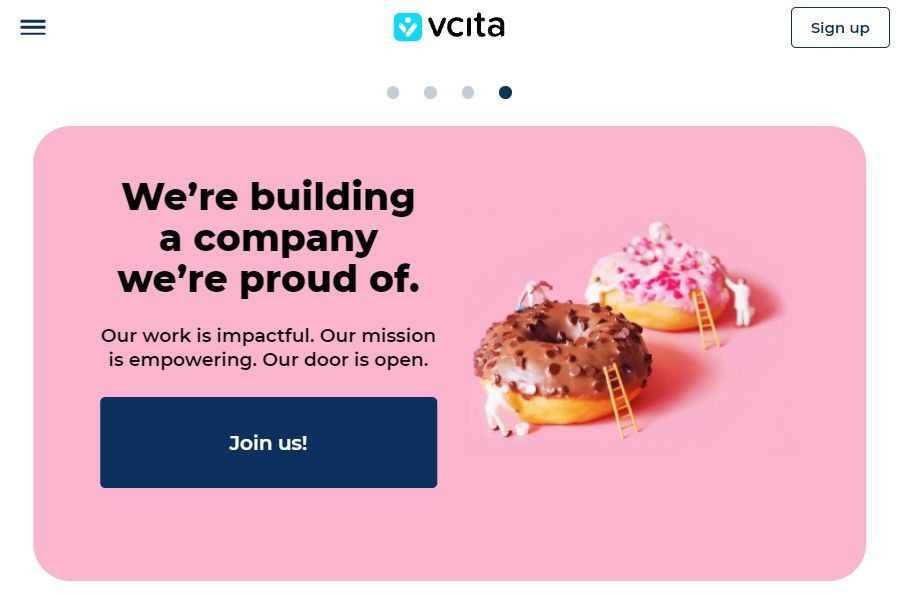 Vcita is a cloud-based customer relationship management system that will perfectly suit E-commerce businesses. Vcita offers a single platform for managing meetings, payments, sharing documents, marketing campaign management and it has a client portal.
The platform provides an opportunity to manage your leads, contacts and clients from a single online center. You will always be in touch with all your contacts at any time and never miss messages, requests or new opportunities. All the information about the client is at your fingertips, just open the client profile and view the history of your meetings, payments, invoices, documents and conversations.
Pricing
Vcita offers free trial or you can request a demo.
Essential plan costs $34 per month (per person).
Business plan costs $69 per month (per person).
Platinum plan costs $115 per month (per person).
Salesmate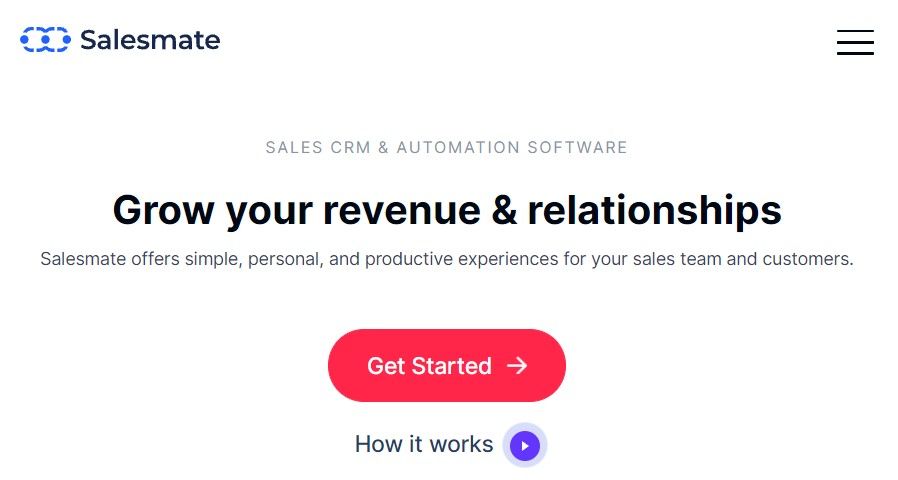 Salesmate is an intelligent CRM customer relationship management system that allows your sales team to take advantage of the opportunity to close deals faster. In Salesmate, a company can manage customer and counterparty contacts, build a sales funnel, conduct transactions by e-mail and use it to carry out marketing activities within the service, also you can integrate chat and telephony.
Salesmate includes some great features such as task creation, deadline tracking, email tracking, pipeline management, sales forecasting, and more. This CRM currently offers built-in call and bulk SMS functions. This means that you would not have additional integrations or additional hardware costs.
Pricing
Salesmate offers a free trial or you can request a demo.
Starter plan costs $15 per month (per person).
Growth plan costs $30 per month (per person).
Boost plan costs $50 per month (per person).
Enterprise plan has a custom pricing, contact Salesmate team for details.
vTiger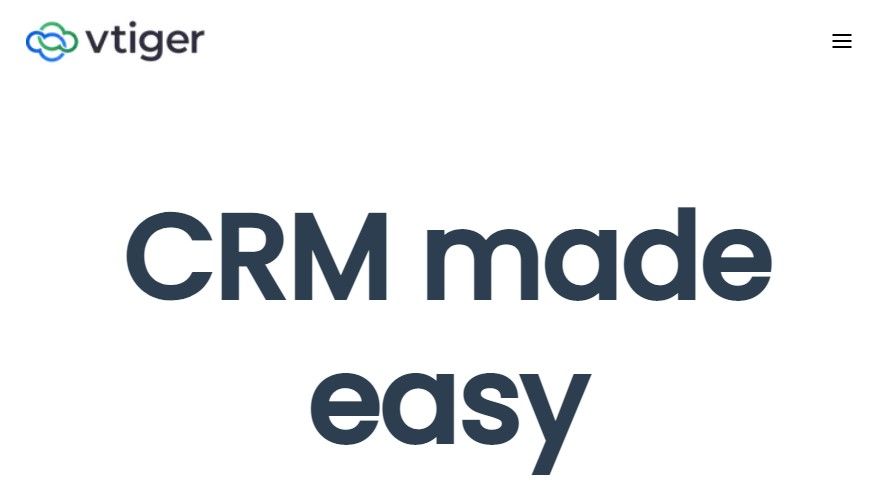 An online platform for building interaction with customers. It is aimed at representatives of small and medium-sized E-commerce businesses. Allows you to collect complete information about a potential customer and synchronize the work of departments using access to a common database: marketing, sales, support.
The accumulation of all information from telephone conversations, e-mail, chat, on the website or in social networks in one interface allows you to make decisions quickly, increase customer engagement and loyalty to the brand.
Pricing
Pilot plan costs $0 per month (max users 10).
One professional plan costs $42 per month (per person).
One enterprise plan costs $58 per month (per person).
Affinity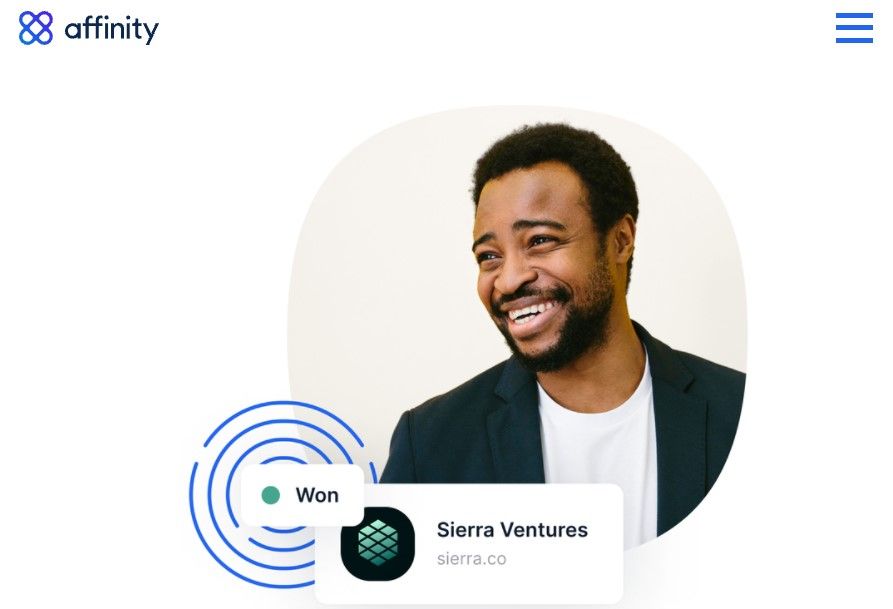 Affinity CRM is an intelligence relationship CRM that helps you to manage your deals, deliver relationship insights and has a fully automated data entry. With Affinity, your contacts and company profiles will be automated, you can manage your pipelines easily, and your deals will be closed faster.
Pricing
Affinity offers a demo that you can request.
Contact Affinity team for cost details.
Conclusion
To understand which particular CRM system is suitable for optimizing your workflow, it is necessary to identify the main features of your business, determine the number of people on staff and know your client. In this case, you will be able to choose the most efficient system!