How Small Businesses Can Protect the Environment in Daily Operations
Companies can do a lot to become an environmentally friendly business. Here are five simple steps to help your business become a green business.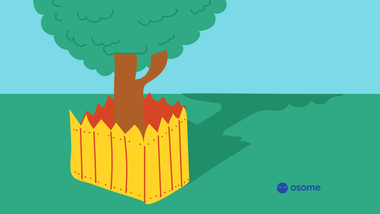 "76% of people expect companies, rather than governments, to lead the way on climate change."
- World Economic Forum
We all care about the environment, right? We do things in our personal lives that help reduce our carbon footprint and benefit the world, but do we do enough at work? Companies can do a lot to become an environmentally friendly business.
And it's not just the big companies. Erica Wolfe-Murray, who has worked with over 250 small companies and is author of Simple Tips, Smart Ideas says: "Interestingly, smaller companies in the UK are likely to find sustainability easier to build as they have smaller supply chains, closer relationships with business, and will also be getting direct pressure from customers and staff alike."
Here are five simple steps to help your business become a green business. If you want to concentrate more on improving your business, why not let Osome deal with the routine paperwork? Outsource administrative work like accounting to our experts.
Recycle Efficiently
A lot of offices already have recycling options. This is great, but recycling inefficiently actually makes the situation worse because other material can get contaminated, making it unsuitable for recycling. According to the United States Environmental Protection Agency only 35% of waste sent for recycling is actually accepted.
Check with your local government or waste supplier to see what can actually be recycled in your area, and how to do this correctly. Little tips like dividing recycling into different materials and washing out food containers before putting them in the recycling bin can go a long way to helping your sustainability business model.
Make It Someone's Responsibility
Every aspect of running a business is included in someone's job description. Sustainability should be no different. Large businesses will have a Chief Sustainability Officer, which might be a bit formal for an SME, but how about taking a leaf out of baby food manufacturer Ella's Kitchen who call their head of sustainability, "head of good stuff we do". That about says it all.
Take it seriously. Have targets and give them a budget so that this person, or if it's more than one, this green-team, can drive meaningful and lasting change.
Use Smart, Energy-Saving Tech
Smart technology may appear to save businesses small margins here and there, but according to the UK government's Potential of Smart Technologies in SMEs report, small businesses could save as much as £4 billion a year by adopting this technology.
The big three are:
smart energy meters—they show you your energy usage in real-time and can provide data for when this usage is too high, so that you can implement changes
smart lighting—lighting on motion-sensors means lights are only being powered when someone is in that certain space, saving electricity
smart water meters—a lot of people don't know that these exist for personal or business use, but they do. As with the energy meters, they allow you to see how much water you're using instantaneously. They can also identify unwanted water usage, such as leaks
Go Remote Or Encourage Sustainable Commuting
Since Covid-19 swept across the world, a lot more businesses are able to offer their employees the opportunity to work remotely. When you look at your business, do you need everyone in the office every day? Having someone work remotely even one or two days a week can have a huge impact on your company's carbon footprint. When people do have to come into the office, where possible encourage walking, cycling, public transport or car-pooling as a more sustainable commuting method.
For example, Amazon actively encourages sustainable commuting: "In Seattle, more than 20% of our employees walk or bike to work and another 50% use public transportation or carpooling options—and we provide free transit passes to all employees."
Use Green Suppliers
Environmentally friendly businesses have sustainability running throughout the whole lifecycle of their product or service. This starts with their suppliers and ends with their customers. You can't always control your customers, but you can control your suppliers. And a review of your suppliers could also highlight where savings can be made: a win-win.
Look for suppliers that, as much as possible:
use recycled materials
use bio and non-hazardous materials
are locally sourced
don't use excessive packaging
have a sustainability policy themselves
Better For Everyone
There are a number of benefits of introducing more sustainable business ideas to your daily operations:
employees feel better because they're working for a company that sees value in things other than profit margins
the health of employees who walk and cycle to work increases resulting in less time off work
you can market yourself as a company that is committed to being eco-friendly
you can save money by introducing energy-saving technology
supply chain reviews often highlight areas for increased profitability.
The UK government also has tax relief schemes for companies working towards sustainable business models. Osome can help you with all things tax-related, including finding out if you're eligible for tax relief. Contact our team to find out more.

___

This article was written by Simon Tate.