Invoice Best Practice for SMBs in the UK
In this article we'll unpack some best practice tips to help you improve your invoicing and streamline your biz to take the pressure off your cash flow. Take a look.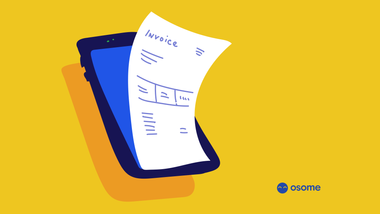 You may think that creating an invoice is something so basic but all business owners had to learn what it is and how to create their first invoice once!
When you feel like you are drowning in invoices and other paperwork that it's taking time away from you actually growing your business, don't worry, you don't have to carry it all on your shoulders. We offer affordable accounting in the UK and everything is done online, with your documents stored on the cloud and accessible anywhere.
Invoicing Best Practice: Why It Matters
When you invoice according to best practice, you're looking after yourself and your business - now and in the future. Doing it well means making it clear and easy for payments to be made and keeps your business tax-compliant. It's a must-do!
Invoicing also ensures a healthy cash flow, which is the lifeblood of any SME. Delayed payments due to unfinished, incomplete or incorrect invoices stop that cash from flowing which adds financial pressure and stress. We can help.
Tips To Improve Your Invoicing
Make the time
Prioritise, don't procrastinate. Book time in your calendar and treat the time you spend on invoicing as you would any normal client meeting. Set up a process (automated or manual) to complement the structure of your operations, whether it's a dedicated day per month or a weekly time slot.
Make it clear
Include all the necessary details and related information to make sure your invoice leaves no room for confusion.
An identifiable & trackable invoice number
Contact details (yours & theirs)
An itemised list of goods/services & their costs
Date & terms of payment
Make it easy
Different clients, suppliers and companies may have different ways of working or processes that streamline their payments. Check if those systems affect you, whether it's prerequisite vendor registration or compliance forms, so your invoice is primed for them to pay easily.
Make it simple
Make your payment methods easy so the money owed to you can get to you fast, safely and with minimal fees or transfer charges. Online payment platforms could be a good route for e-commerce SMEs. Consider what payment transfer method suits your business by asking the experts for advice.
Make it smart
There are loads of templates online, including ones easy-to-search on programmes like Microsoft Word or Google Docs. To go a step further for customisation, there are services that make designing and generating invoices automatically easy and personal. Finally, follow the regulations and keep a record.
Make it top-of-mind
Your invoice is your responsibility. Manage communication and keep it top-of-mind if there are unusual delays (even the best intended inboxed get clogged up sometimes) Reach out respectively for confirmation it's been received and processed.
Invoicing: Where To Start?
Start by knowing exactly what an invoice is and what sets it apart (hint, we've unpacked it below with a few comparisons). An invoice is a proof that you (as a business owner) sold something and are owed money for whatever that "something" is - whether customised porcelain water bowls for puppies or a fancy-dressed fairy that entertains a kiddies party. This "instruction to pay" features formal and useful details to get that payment underway.  
Related Definitions & How They Differ:

| INVOICE: | PURCHASE ORDER: | RECEIPT: |
| --- | --- | --- |
| An official request for payment (sometimes also called a proof of transaction) | A written intent to buy goods and services (think of something like an e-commerce cart) | Confirmation or tangible proof payment's been made (cue the Stevie Wonder hit) |
Invoicing: What To Include?
In short, you'll need to include the following:
Invoice number
Your company name
Date & Terms of Payment
Postal Information & Address
Invoice Number
Get this right from the word go 'cause invoice numbers form a key part of bookkeeping and accounting records for your biz. Establish a simple numbering system (as simple as sequential, for example?) and from there, assign every invoice a unique invoice number to keep track.
It's not only important when it comes to tax season. It also makes things a lot more straightforward if you need to chat confidently about a particular invoice with a client or find it quick-sticks. Name and save them in a way that helps you search and locate them easily, no matter where they're stored, for example:
Invoice number: 2982; 2983; 2984 (sequential & purely numerical)
Invoice number: INV02982; INV02983; INV02984 (sequential with letters)
Invoice number: LDN02982; SG02983, HK2984 (district or location related)
Invoice number: FullValet02982; DeepClean2983, Vacuum2984 (service-specific)
Company Name
Including your company name aka the most important element in your invoice is step one of creating an invoice. These professional details reflect who you are and validate the brand that's sending this official instruction to pay. Your brand.
Date & Terms of Payment
Payment Terms
Small businesses typically adopt 3 types of payment terms depending on your cash flow needs, and your relationship with your client.
Include the date you issued your invoice so your customers know exactly when it was created, along with how long they have to contractually fulfil the payment due. These "payment terms" or "terms of payment" are the dates by which the payment should ideally be done or the period of time it is expected (or both). Sometimes these are agreed with upfront but they can be specified on an invoice-by-invoice basis.
Postal Information & Address
Your and your client's details. Everything down to postcodes can be included. Other contact details like landline, a mobile number can also be mentioned if you think they'll be useful.
Include a "Bill to" section. In there, include the same details you know to be important or necessary about the client you're sending your invoice to. Nothing more (we don't need to be creepy) nothing less (save your clients' time by including all the information needed for them to pay you).  
Goods Or Services (Listed) & What You Charge
Neat line items are the best format for this section. Numbered or bulleted if they're a little more complex or if you know that it's important to unpack details where necessary.
Add item codes, SKU codes and model numbers if necessary. Include price and quantity of units like the number of hours (although this is up to you and your contract). A few more pointers for this section are to detail the VAT sum if it applies, along with any pre-agreed discounts, and of course the overall total due.
Examples:
Selling products:
| DESCRIPTION | MAN HOURS | PER HOUR COST | DISCOUNT % | VAT % | EXCL. TOTAL | TOTAL INCL. |
| --- | --- | --- | --- | --- | --- | --- |
| Customised rainbow bowls | 2 | 70 | Loyalty customer -25% | 10% | 105 | 94.5 |
| Water & Nibble combo | 1 | 55 | N/A | 10% | 49.5 | 49.5 |
Selling services:
DESCRIPTION
MAN HOURS
PER HOUR COST
DISCOUNT %
VAT %
EXCL. TOTAL
TOTAL INCL.
5th birthday party (live entertainment)
3.5
40 p/h
N/A
N/A
105
94.5
5th birthday party (props, prizes)

Prizes: x3

Balloons: x20

Prizes: 3.5

Balloons: 0.75

Balloons: Buy 20, get 10%
N/A
16
16
Invoicing: Do Looks Really Matter?
Think of this as an extension of your business' brand and while you may not be looking for romance, you're going to want to build lasting relationships. So yes, the impression you leave in the context of business matters. Make an effort to present your invoices consistently and professionally. That means laid out legibly, well-structured and well, all we've covered in this article.
There's also a lot that could inspire a little creativity if that's what you're after. Here are a few links to tools or free platforms with simple logo-creation.
Invoicing: All this Paperwork Really Needed?
Your invoices serve as a record of all your business sales and that means a direct link to your obligatory tax and accounting duties. This work may be a burden to you as sums, calculations and numbers may not be for everyone but taking that paperwork off your shoulders while you focus on growing your business, hey that's 100% what drives us.
So if you like the sound of zero paperwork, why not dump all your document woes into our hands. We'd be honoured to accept your biz-related accounting and bookkeeping duties.
Here's a final reminder of how sticking to best invoicing practices adds value so you can:
Get paid
Get paid on time
Get paid on time, on your terms
Get paid on time, on your terms, so your cash flow doesn't suffer
Get paid on time, on your terms, so your cash flow doesn't suffer and you stay tax compliant