See you in the future: the great pivot to the post-pandemic
Gilberto GaetaXA Network, member Director, Google Customer Solutions
The digital economy made 5 to 10 years of progress in the last 6 months. Across South East Asia, 40 million new users have come online, bringing the total to 400M, or 70% of The region's population. People who never used to buy online were forced to do so by the covid crisis. How do they feel? Which brands do they choose? And most importantly, will they stay?

What the tide brought
When we look at the digital economy, there are different reasons some companies emerged on top of the digitisation wave:
Digital natives Businesses designed specifically to thrive in an online environment have seen an increase.

Digital agents Businesses that enable digitisation, help move services and products online, connect sellers to customers etc.

Fast changers Businesses that performed dramatic pivots in a fast and decisive manner.
Nevertheless, being a digital business won't automatically protect you from the risks. There are segments that have suffered, such as hospitality, airlines, or transportation. But even there we've seen examples of adaptation. Take Cloudbeds as an example, a business offering hotel recommendations. They used their assets to help coronavirus patients look up available hospital beds.
It is the decisiveness and speed of making the pivot that made all the difference. Those who didn't wait for the status quo to come back and realised that the shift in the industry was going to be permanent, got to benefit from the new environment. For example, A Malaysia-based startup used to focus on providing POS solutions to F&B. As restaurants shut down during Covid, they expanded into adjacencies, offering food ordering. Not only did they retain their existing customers but continued to grow their customer base, helping restaurants to keep the lights on and find orders.
Another example is a Singapore-based SME in relocation services. People were not relocating during the "Circuit Breaker" period, and the business was struggling to keep utilization of their trucks. In a rapid pivot, the SME partnered with grocery delivery platforms and supermarket chains to offer last mile delivery.
Will the customers stay?
So we're dealing with 36% new users, who have experienced online consumption for the first time in the last year. Will they go back to their offline routines or stick with the new habits? 94% say they'll stick around. There are two big reasons why.
Trust

One of the major barriers preventing people from online consumption is trust. People feel uncomfortable having to share personal and payment information. When you input card details or a home address, it takes a level of trust in the platform. It was a necessity that pushed people to try it out. And when they did, the second reason emerged.

Positive experience

8 out of 10 new consumers report that their experience was positive and useful. That means they didn't experience fraud, the goods were delivered on time, they were easy to return if necessary and so on.
This level of trust supported by a positive experience suggests that a large portion of customers will stick around after the pandemic. We have already seen some industries scale back after the situation went back to normal in the region. Take medtech for example. If we compare the adoption of telemedicine pre-pandemic vs during the pandemic, the numbers went up 4 times across South East Asia. Once the lockdown was lifted, some users left. But if you look at the post-pandemic vs pre-pandemic penetration, it's still 3 times higher than it used to be.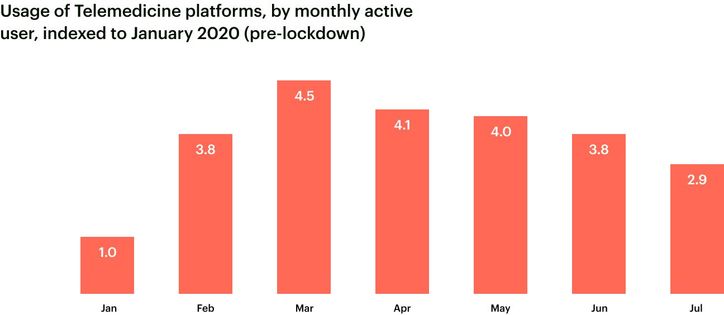 What the future holds
The necessity of being online forced consumers to adapt — whether to work from home, access entertainment or education. But once they are free to choose again, businesses will be up for a major test.
Complacency risk
The biggest risk for those who benefitted from the rapid growth is complacency. Take online grocery shopping as an example. Customers have massively gone online, and many industry players have adapted with very simple online platforms. They might even be selling via a listing service or chat platform. They may only accept cash payments or local bank transfers. Consumer demand exploded, and many players had no time to innovate further or optimize their digital assets for the best user experience. Customers appreciated their availability and fast deliveries over smooth processes.
But believing the customers will stay either way is a myth. Offline alternatives and more sophisticated online competitors will emerge soon. So if you're not delivering a great user experience, if you haven't developed your digital assets, you may soon see a rollback.
The return of the offline
So what happens when offline is back? Some industries will have rebalanced in favor of the digital experience and are unlikely to snap back to the pre-Covid dynamics, like grocery shopping or entertainment. In many other industries though, the offline experience will stick and is unlikely to disappear anytime soon, as consumers continue to value the "touch and feel". One example is luxury items such as jewellery. An increasing share of luxury consumers are buying online, but there's a high level of appreciation for the in-store experience.
What we are likely to see is a surge in hybrid online and offline approaches. Customers don't differentiate online and offline when thinking about a brand, they only experience one seamless journey across the two worlds. Brands are therefore asking themselves: how can we create an omni channel brand experience that goes seamlessly through online and offline touchpoints?
How to win
So what can you do to make sure your company continues to thrive in the post-pandemic world? There are a few simple pieces of advice. Build your online presence the same way you build your store. You want people to find your store, you want them to have a good experience there, and you want them to leave with a purchase.
Be discoverable
Search activity went up in multiples across every industry. People are obviously searching for products and services to buy. Make sure they find you. Build your online presence across the platforms where users are researching for your products or services.
Deliver a great user experience
Make finding products easy, navigation clear. Improve on the delivery timeline, return issues. Make sure check out is simple and seamless.
Build trust
Stay true to your promises. React to feedback, protect your customers' interests.
And see you in the future.