Best Business Recruitment Software
Hiring the right talent for the right job is no walk in the park. However, hiring software can help streamline the process. Read on as we cover the pros and cons of different recruitment software, along with their pricing.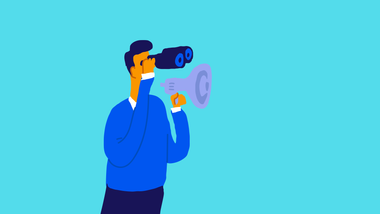 Talent makes or breaks your company's growth. If you gather the right people and give them the right tools they need to succeed, they will become valuable assets to your company. However, hiring talent is a challenge faced by small businesses. As a business owner, there's so much you need to do – from bookkeeping, accounting, marketing, to hiring.
Thankfully, you don't have to do all these on your own. With a variety of recruitment software available, you can make use of a hiring software to find your ideal candidates quickly. The best recruiting software should be easy to use and scale as your recruiting needs change. Read on for the best recruitment software review for your small business.
By the way, if you need bookkeeping help, our expert team at Osome is always there for you.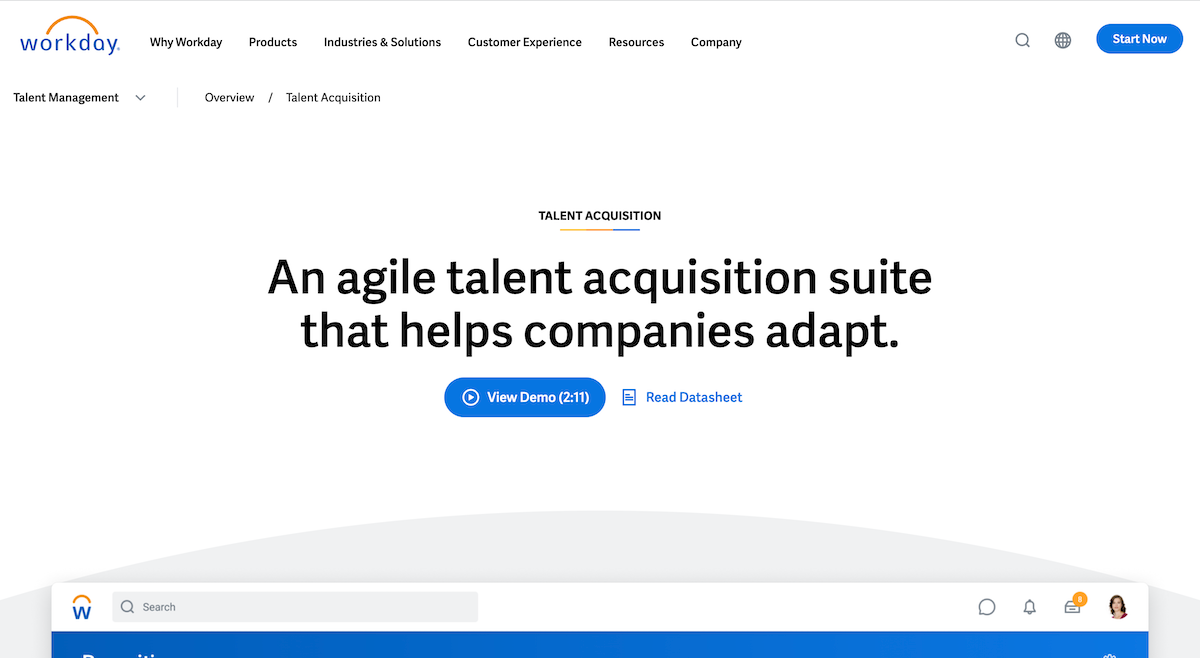 Workday Talent Acquisition is an enterprise resource management (ERP) software suite that is web based. With applicant tracking tools and recruitment software, Workday Talent Acquisition allows for businesses of all sizes to effortlessly use analytics to optimise the onboarding process, and track new employee performance as well.
| Pros | Cons |
| --- | --- |
| Has collaboration tools to optimise the hiring process | No free trial is available |
| Users can view resumes, automate workflows, schedule interviews, and measure important metrics from the dashboard | Does not offer advanced onboarding tools |
| Offers tailored landing pages and automated campaigns to enhance candidate engagement | Lacks transparent pricing on site |
| Includes HR services such as payroll, financial planning, and time tracking | |
| Provides live chat support | |
Pricing: Workday Talent Acquisition's site does not provide transparent pricing. However, users can request a quote through their online contact form.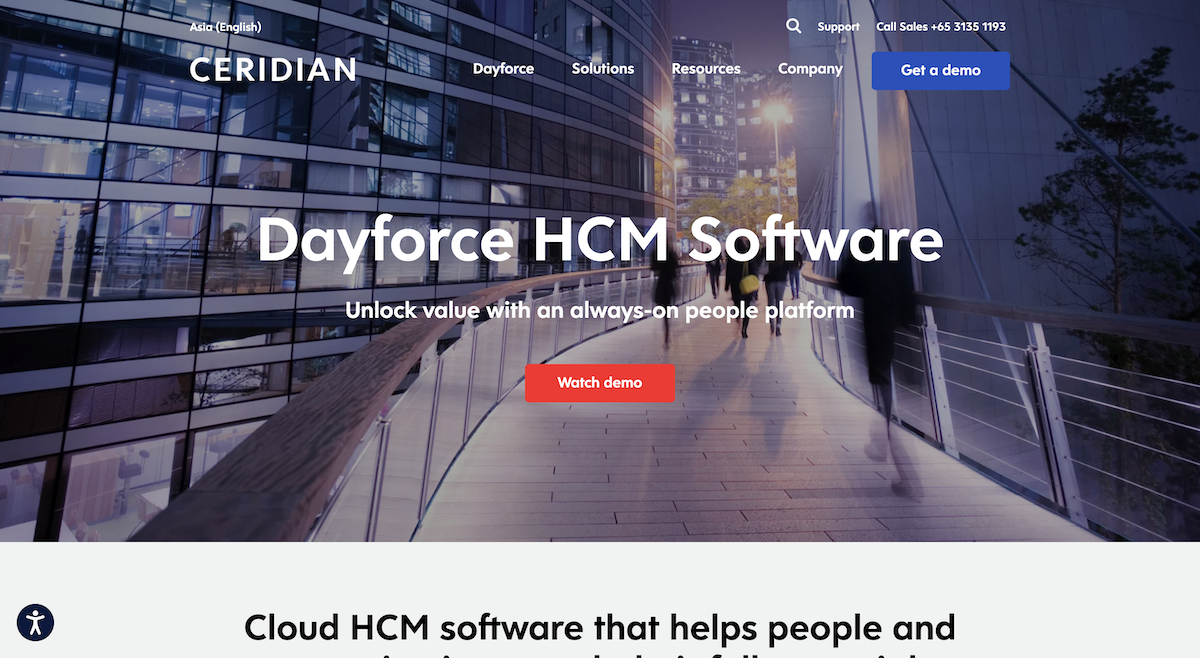 Provided by Ceridian, Dayforce HCM is a solutions provider for everything from payroll, workforce management, talent management, human resources, benefits, analytics, to document management. With just one application, businesses can easily access real-time data and results from all aspects of human capital management (HCM).
Using one rule engine and one employee record, recruiters like yourself can quickly find and hire the right candidates, manage employee development, create work-life balance schedules, process pay, and essentially monitor an employee's life cycle without any hassle brought about by disconnected applications.
| Pros | Cons |
| --- | --- |
| All HR data can be viewed in real time | Does not offer a free trial |
| Employers can monitor compliance throughout the employee lifecycle | Lacks transparent pricing on site |
| A one-stop platform for payroll, HR, and scheduling needs | |
| Offers a convenient mobile app through the App Store or Google Play Store | |
| Offers helpdesk support | |
Pricing: Dayforce HCM does not state its pricing on the website, but you can reach out to them through this form.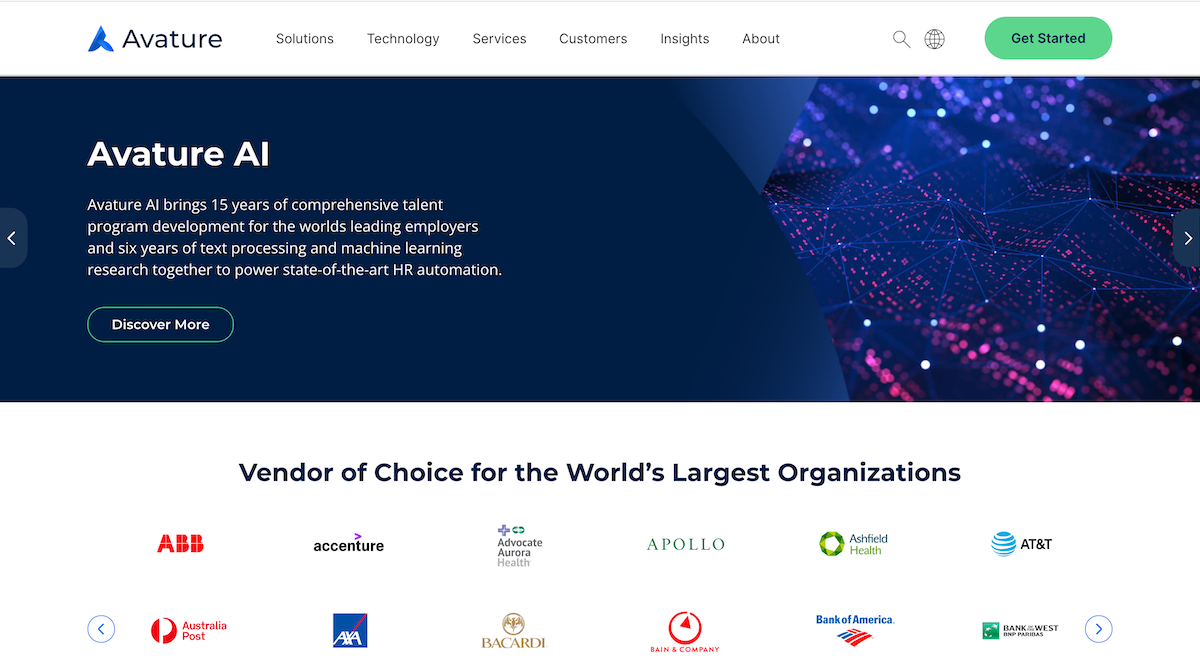 Avature is a Software as a service (or SaaS) platform that is highly configurable, made for talent acquisition and management. Powered by Artificial Intelligence (AI), Avature offers sourcing, career sites, recruitment marketing, video interviewing, applicant tracking, employee referral management, campus and events recruiting, social onboarding, employee mobility and contingent workforce management, and branded employee engagement and performance management.
| Pros | Cons |
| --- | --- |
| Allows for customisation of workflows | Not the most user-friendly and intuitive platform to set up |
| Comprehensive solution with a full-fledged applicant tracking system (ATS) | Does not offer a free trial |
| Leverages artificial intelligence to offer candidate ranking and automatic talent matching | Lacks transparent pricing on site |
| Provides a recruiter mobile app for you to perform hiring tasks on the go | Does not have a built-in automated reference checking feature, but integrates with third-party solutions |
| Robust candidate relationship management (CRM) system for you to search and bulk import leads from various job boards | |
Pricing: Avature does not disclose their pricing upfront, so you will have to contact a sales representative to get a quote based on your business needs.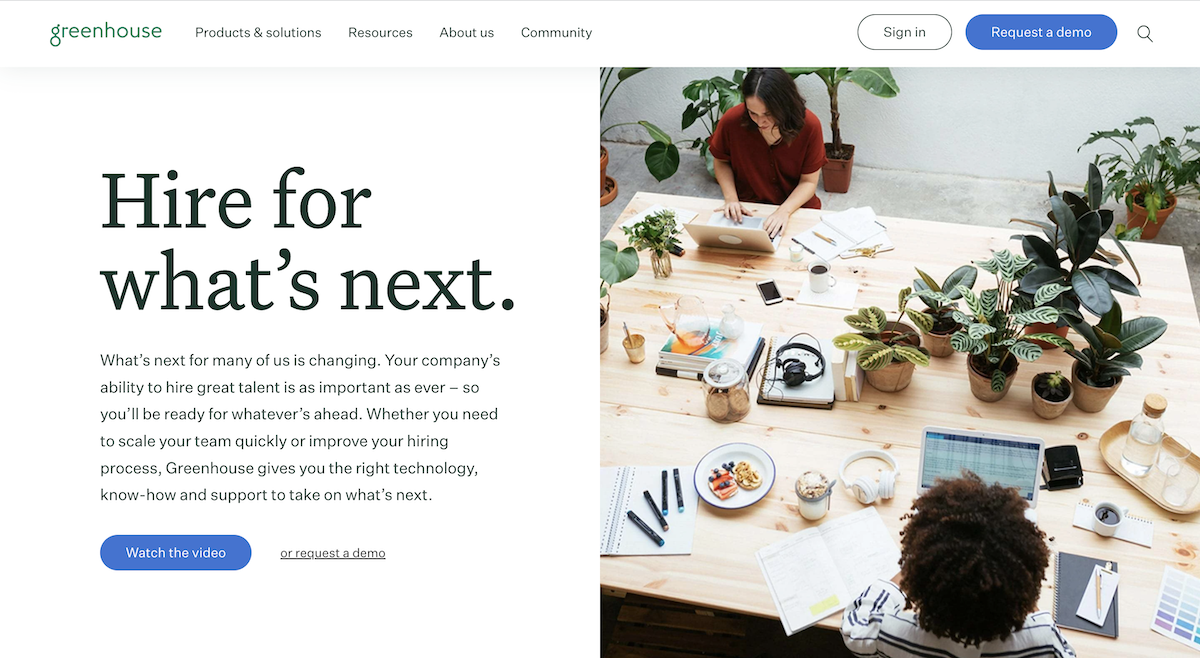 Leading the industry in diversity, equity and inclusion (DE&I) tools, Greenhouse aims to create a fairer recruitment process by mitigating bias. A recruiting solution that offers structured hiring, Greenhouse is perfect for you regardless of whether you are hiring just one employee, or 100 employees. With a powerful hiring approach, coupled with a comprehensive suite of services and software, Greenhouse encourages engaging candidate interactions and stamps out administrative burden. Their clients include HubSpot, SquareSpace, Harry's, InVision, J.D. Power, Wayfair, and more.
| Pros | Cons |
| --- | --- |
| Helpful dashboard | Lacks transparent pricing on site |
| Offers integrations with third party providers | Complicated user interface (UI) |
| Provides helpdesk for support | Does not offer a free trial |
| Customisable features | |
| Focuses on inclusion with its diversity, equity and inclusion (DE&I) tools | |
Pricing: Their plans are broken down into three – Essential, Advanced, and Expert. These plans include different features depending on the scale of your business, but you will have to request a demo to find out about their pricing.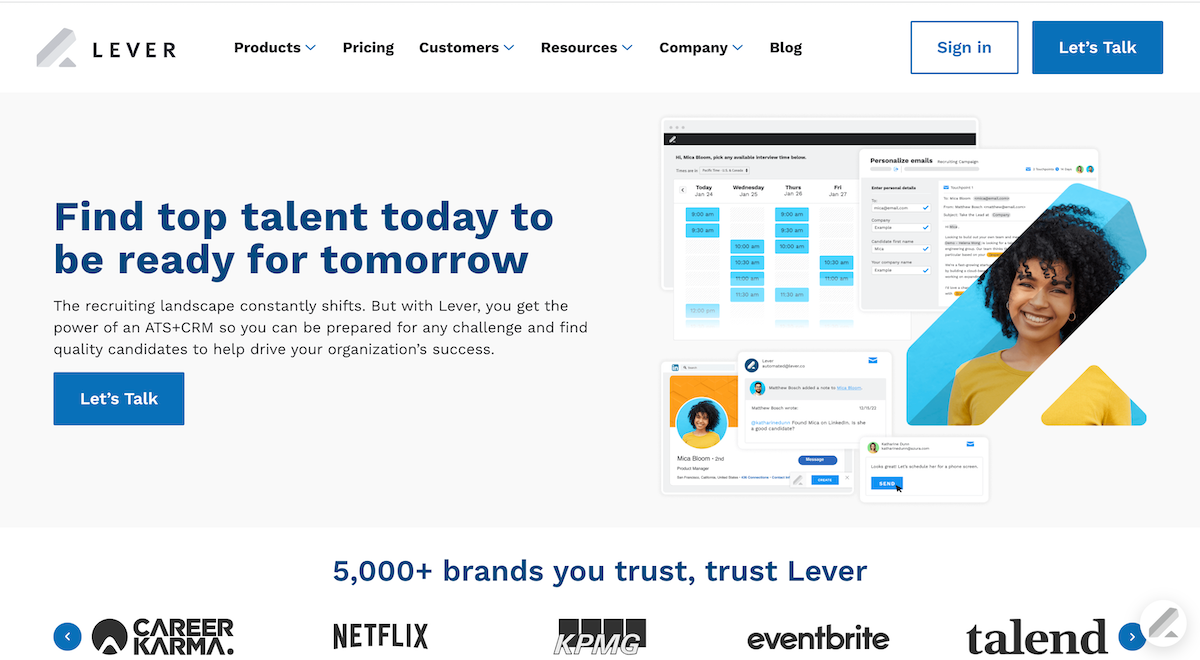 A leading Talent Acquisition Suite, Lever offers robust CRM capabilities and ATS. These features allow you to source the right candidates to recruit, scale and grow your talent pipeline, and build long-lasting relationships. Their analytics feature generates customised reports with data visualisation, so you can see interview feedback and offers completed.
Trusted by more than 5,000 companies worldwide including Spotify, Netflix, KPMG, Atlassian, and Nielsen, Lever also focuses on inclusivity and aims to eliminate any hiring bias.
| Pros | Cons |
| --- | --- |
| Reputable, and has worked with more than 5,000 companies worldwide | Lacks customisable analytics |
| Offers integrations with third party providers | Does not offer a mobile app for hiring tasks on the go |
| CRM with your existing candidates | Lacks transparent pricing on site |
| Tools for developers to do custom coding | |
| Advocates inclusivity and aims to eliminate hiring bias | |
Pricing: Prices are not clearly reflected on their website, but you can request for a personalised demo from their experts.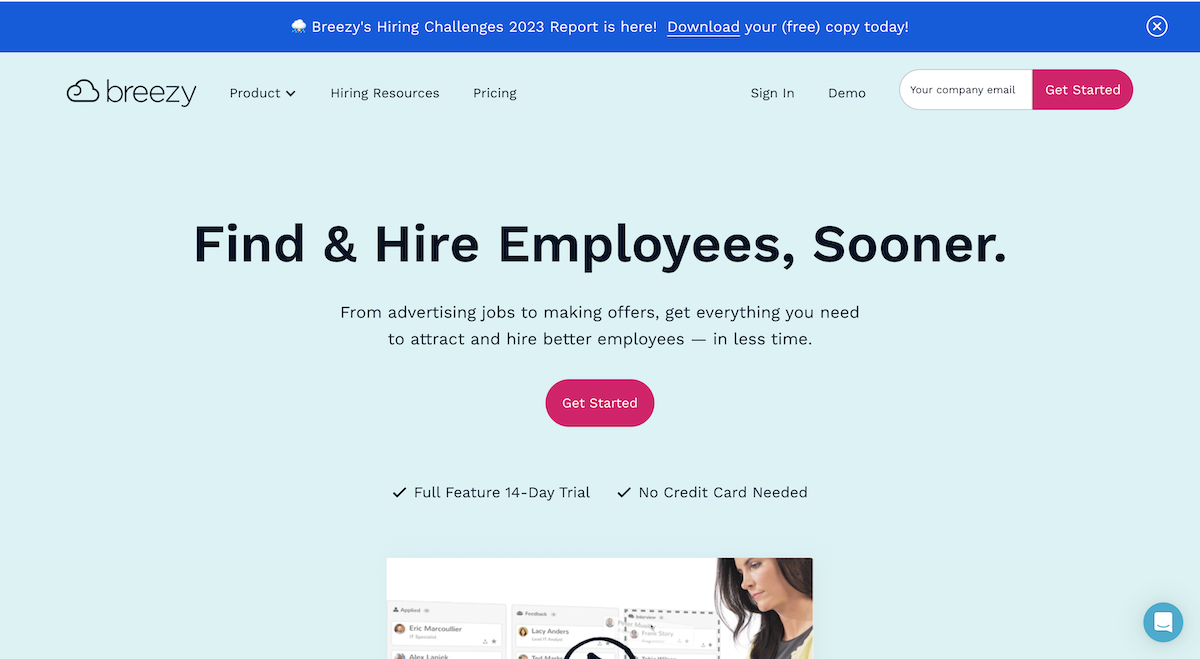 A cloud-based recruitment platform for small and mid-sized businesses, Breezy provides essential recruiting features such as Curriculum Vitae (CV) parsing, video interviews, background screening integrations, social publishing, Equal Employment Opportunity Commission (EEOC) reporting capabilities,posting on various job platforms, CV management, email templates, duplicate candidate prevention, and robust recruiting analytics and reporting. It also has a dedicated iOS app for hiring tasks on the go.
Best of all, Breezy HR integrates with popular apps that you may already be using, such as Google Analytics, Slack, Facebook, Linkedin, Twitter, Google Calendar, Microsoft 365, Zapier, GoodHire, and 1Password.
| Pros | Cons |
| --- | --- |
| Known for its user-friendly interface | Does not offer phone support |
| Easily integrates with your pre-installed apps such as Facebook and LinkedIn | |
| Has a free version | |
| User friendly, with strong team collaboration tools | |
| Offers full feature 14-day trial | |
Pricing: Depending on the number of job openings you have, Breezy HR is available in different tiers of pricing.
Bootstrap: Free
Startup: USD $143/month
Growth: USD $249/ month
Business: USD $399/ month
More information on pricing can be found here.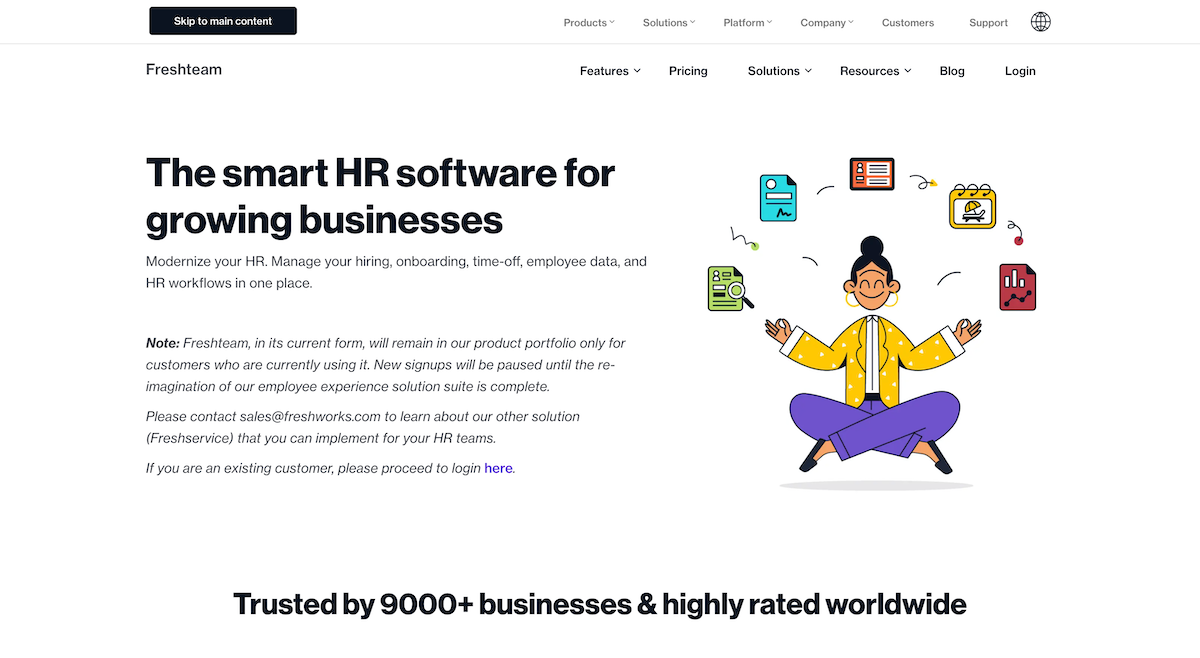 Perfect for growing businesses, Freshteam automates hiring processes so you can build a talent pool through a customisable career site, social media channels, as well as integration with multiple free and premium job platforms.
In fact, Freshteam claims to reduce recruiter workload by as much as 75% with their ATS, saving 50% in recruiting costs. Freshteam also allows you to manage employee information and time off, onboard your new hires quickly and offboard exiting employees.
You can also collect all necessary information, generate employee profiles, and manage access permissions, so you can collaborate with your hiring managers to screen and interview potential candidates by sharing feedback and leaving notes on the platform.
| Pros | Cons |
| --- | --- |
| Has a free version | Affordable software, but there are some hidden charges |
| Offers a free 21-day trial, without the need of a credit card | |
| User friendly | |
| One-stop platform for easy collaboration between hiring managers | |
| Reputable, trusted by over 9,000 businesses worldwide | |
Pricing:
The Free Forever plan (for organisations with up to 50 employees) includes up to three active job postings and a basic career site.
The Growth plan is USD $1.20 per employee per month, with a USD $71 per month platform fee (all paid in one go annually) and includes 20 active job postings and a customisable career site.
The Pro plan is USD $2.40 per employee per month, with a USD $119 per month platform fee paid annually, and includes 100 active job postings and everything else in the Growth plan.
The Enterprise plan is USD $4.80 per employee per month, with a USD $203 per month platform fee, and includes everything in the Pro plan, with unlimited active job postings.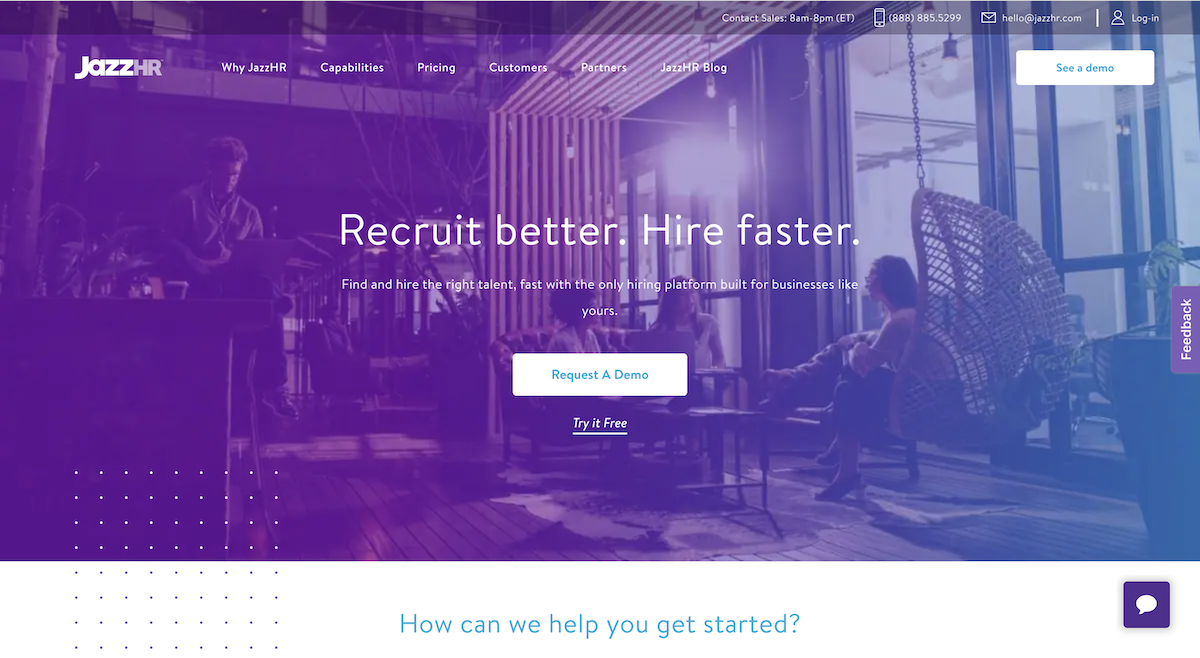 JazzHR is a SaaS ATS that aims to streamline the recruitment process for businesses of all sizes. Its sourcing tools allow users to list jobs, mirror internal approval processes, and synchronise jobs to multiple free and paid job platforms. On top of your usual ATS features, you can also automate new hire onboarding and digitise the offer management process. With branded message templates available, you can create a customised career page. That's not all – JazzHR also provides tools for employee referrals and social recruiting, such as requesting referrals, sharing jobs, and tracking applicant sources.
| Pros | Cons |
| --- | --- |
| Offers a free trial | UI issues reported |
| Priced specially for small and medium-sized businesses | Does not offer a free version |
| Ease of usability | EEOC questionnaire cannot be customised, and it might be difficult to make the hiring process look inclusive |
| Intuitive communication tools | Multiple reports of bugs |
| Unlimited users | |
Pricing: Different pricing plans are available, but they all require an annual plan sign-up.
Hero plan: USD $39 per month, great for intuitive recruiting for small teams and includes 3 active job postings.
Plus plan: USD $239 per month, a limitless hiring software with unlimited active job postings.
Pro plan: USD $359 per month, to streamline every stage with its unlimited active job postings and all-access support.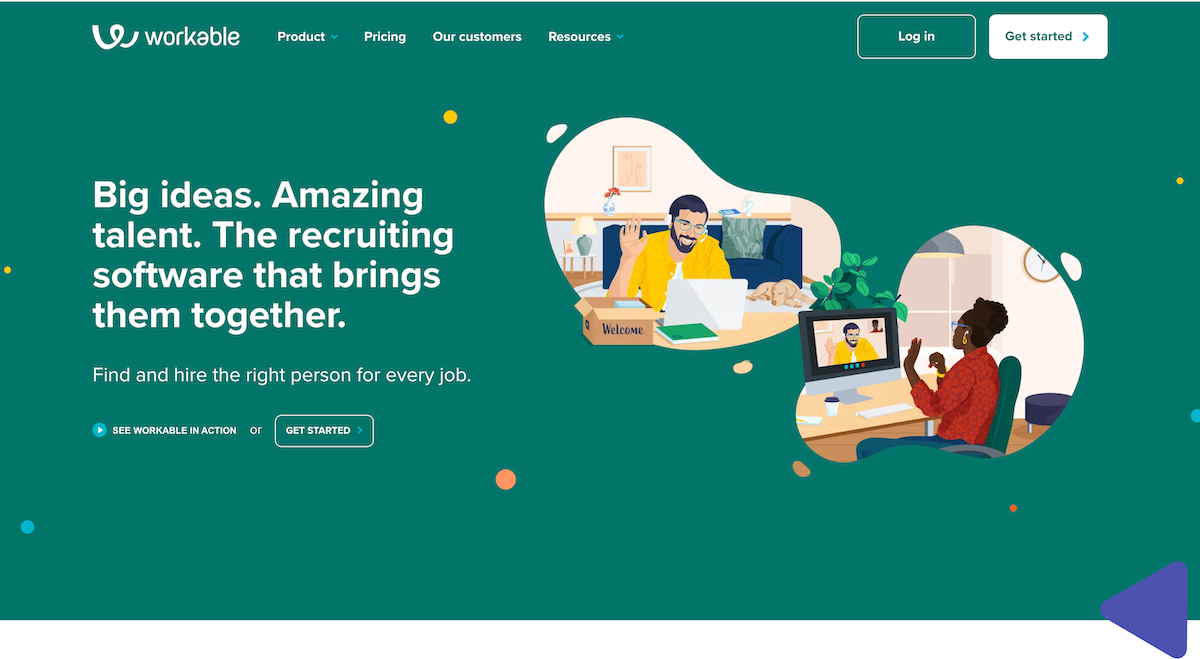 Workable is a recruitment software solution that allows you access to branded career pages, hundreds of job platforms, offer letters and eSignature, reports and self-scheduling. With an ATS, Workable leverages AI with more than 40 third-party integrations for a comprehensive hiring toolkit. Workable garnered over 27,000 companies in 5 years to use its platform to find and hire a million candidates. Suitable for companies of every type and size, Workable boasts more than 1,000 SEO-optimised job descriptions and one-click advertising across more than 200 job platforms and mobile-optimised career pages. Focusing on supporting fair and accurate evaluation, your hiring team can make use of real-time calendar sync and trackable communication.
Workable might not be the most affordable software out there, but they are pretty confident in their product that is designed with users in mind. 85% of their customers reportedly did not have the need to reach out for support – but when you do, you can expect to hear back in about 25 seconds by phone or chat.
| Pros | Cons |
| --- | --- |
| Instantaneous support in about 25 seconds by phone or chat | One of the more expensive options for small businesses |
| Offers a 15-day free trial, with no credit card required | |
| Allows for customisable of most processes | |
| One-stop platform to create jobs, list them, and make notes throughout the hiring process | |
| Offers SEO-optimized job descriptions | |
Pricing:
Paygo plan: USD $129 per month, a pay-as-you-go solution for occasional hiring that allows you to post to over 200 job boards globally
Standard plan: USD $279 per month that requires you to commit annually and pay upfront, but offers unlimited active job postings on more than 200 job boards globally
Premier plan: USD $559 per month that requires you to commit annually and pay upfront, and includes everything in the Standard plan.
Get a live demo to determine the most suitable plan for your company here.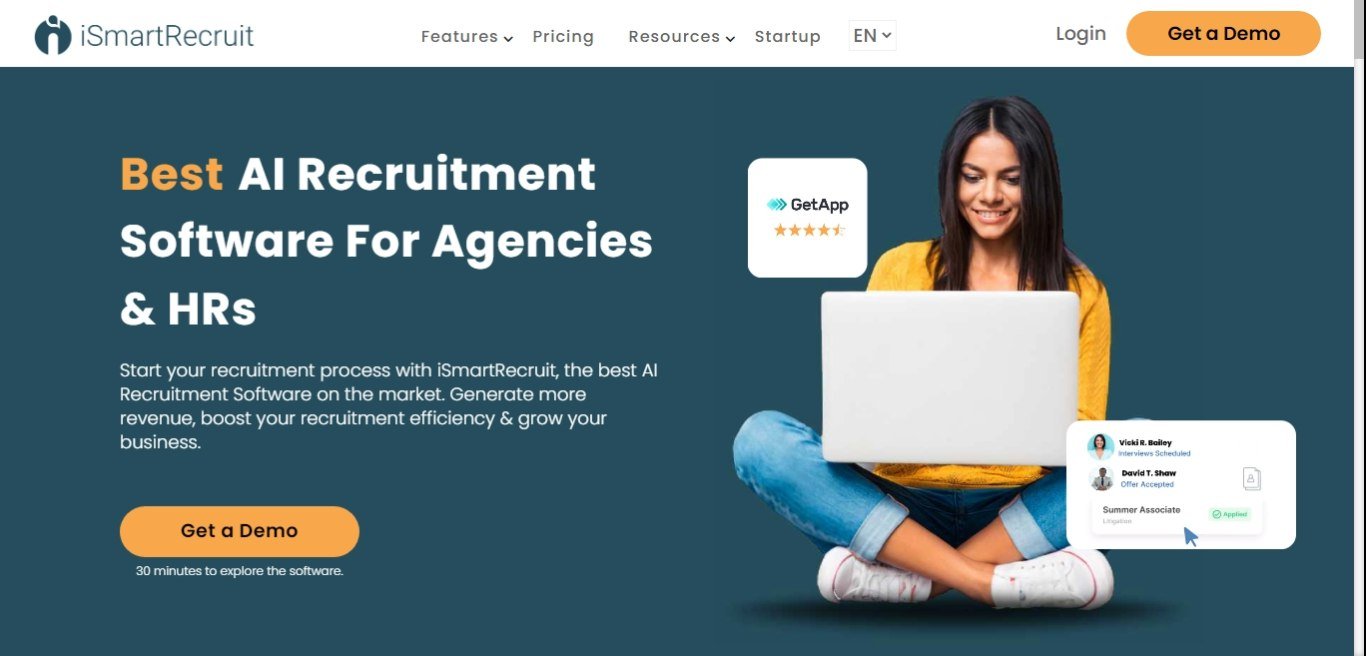 iSmartRecruit is an AI-powered Applicant Tracking System and Recruiting CRM software designed for recruiters, hiring managers, headhunters and recruitment agencies to streamline their hiring workflow and acquire highly-skilled talent faster in today's highly competitive job market since 2012.

From effortless candidate sourcing and hiring the most suitable candidates to seamless client/candidate management, iSmartRecruit is your all-in-one SaaS-based recruitment solution to achieve recruiting success. Experience the future of recruitment today with our 10000+ happy customers worldwide and unlock your full potential!

Key Features
-Online skills assessment tools
-Recruitment Chatbot - 24x7 support
-Social Recruiting - easy and efficient job advertising
-AI-based candidate matching
-Video Interview tools
-Resume parsing and management system
-Candidate onboarding
-Various hiring analytics - make data-driven hiring decisions

Pricing: They don't disclose pricing. To get a quote, kindly visit their pricing page.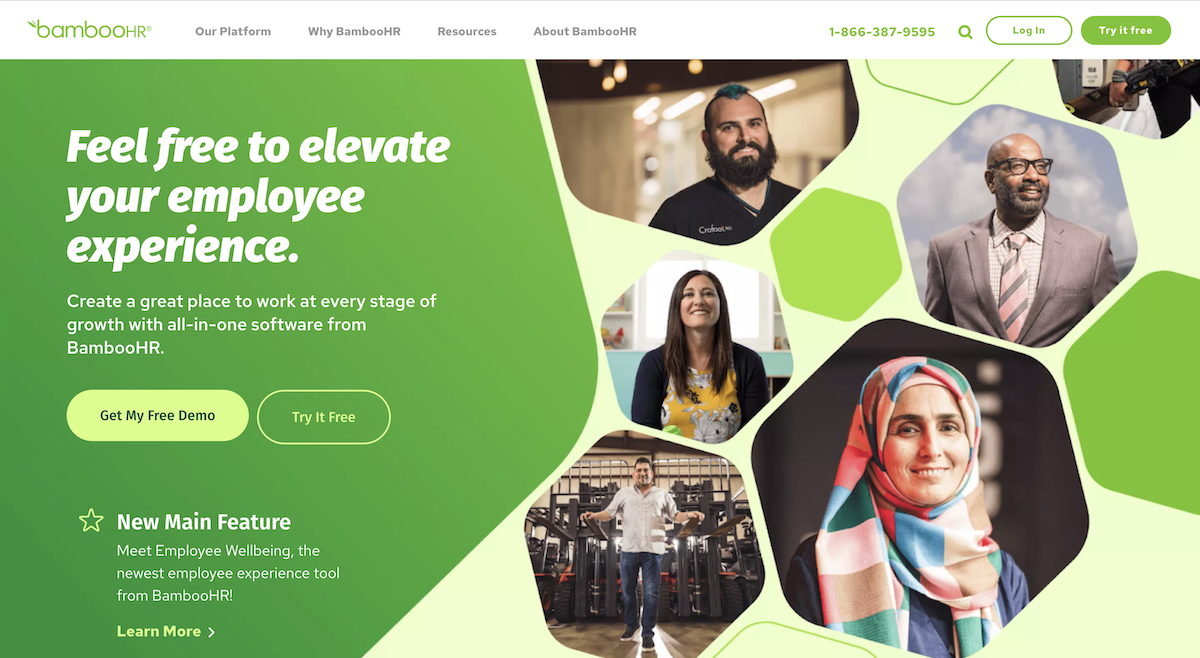 BambooHR is suitable for small to medium-sized businesses, combining multiple systems into one human resource platform.They offer ATS, payroll processing, time tracking, automated reminders, employee satisfaction and engagement tools, as well as workforce data analytics to manage the employee lifecycle. From applications to first-day orientation, the entire hiring process can be streamlined with BambooHR's onboard tools. They also support multiple administrator roles, inactive employee management, and customisation services.
| Pros | Cons |
| --- | --- |
| Offers a free 7-day trial with access to key features | Essentially a human resource tool with hiring features, which might not be suitable for all your HCM needs |
| Centralise all employee information in one platform | Lacks transparent pricing on site |
| Offers a mobile application for iOS and Android devices for recruitment on the go | |
| User friendly | |
| Offers data and analytics | |
Pricing: BambooHR offers a subscription-based model of two tiers – Essentials and Advantage. However, you will have to contact them directly for pricing.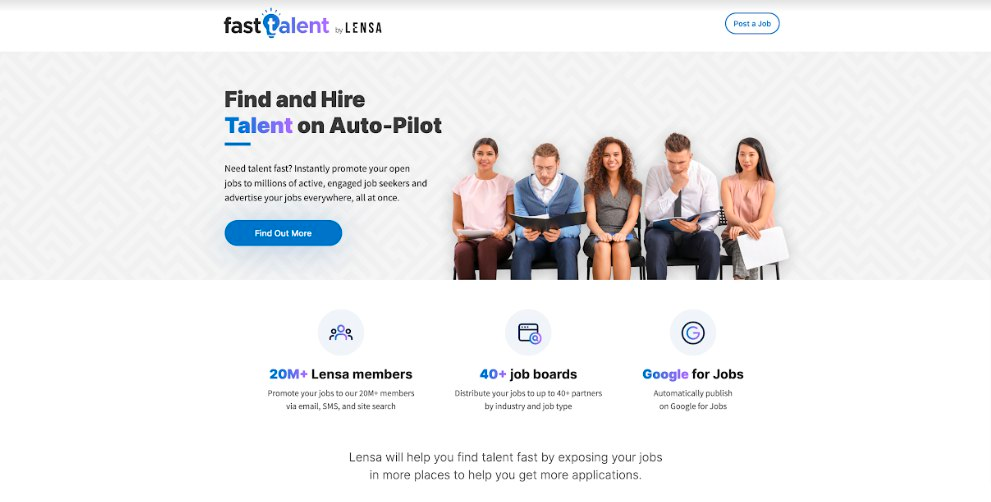 FastTalent is a recruitment software that helps employers instantly promote open jobs to millions of job seekers across the U.S. The product is launched through Lensa, a job search engine that helps millions of job seekers find the right talent through its match-making system. With FastTalent, hiring companies can purchase single ad postings and represent Lensa's first fully e-commerce solution for employers to find the best candidates for open roles.

FastTalent key features:
-Promote jobs through Lensa's 17+ million members via email, SMS, and site outreach
-Recruiters can purchase performance-based advertising and set their own bids at the job level.
-Accelerate a seamless recruitment process
-Employers and staffing firms can also advertise all of their jobs on Lensa with one low flat monthly or annual price.
-Generates reports for tracking the application process and finding suitable candidates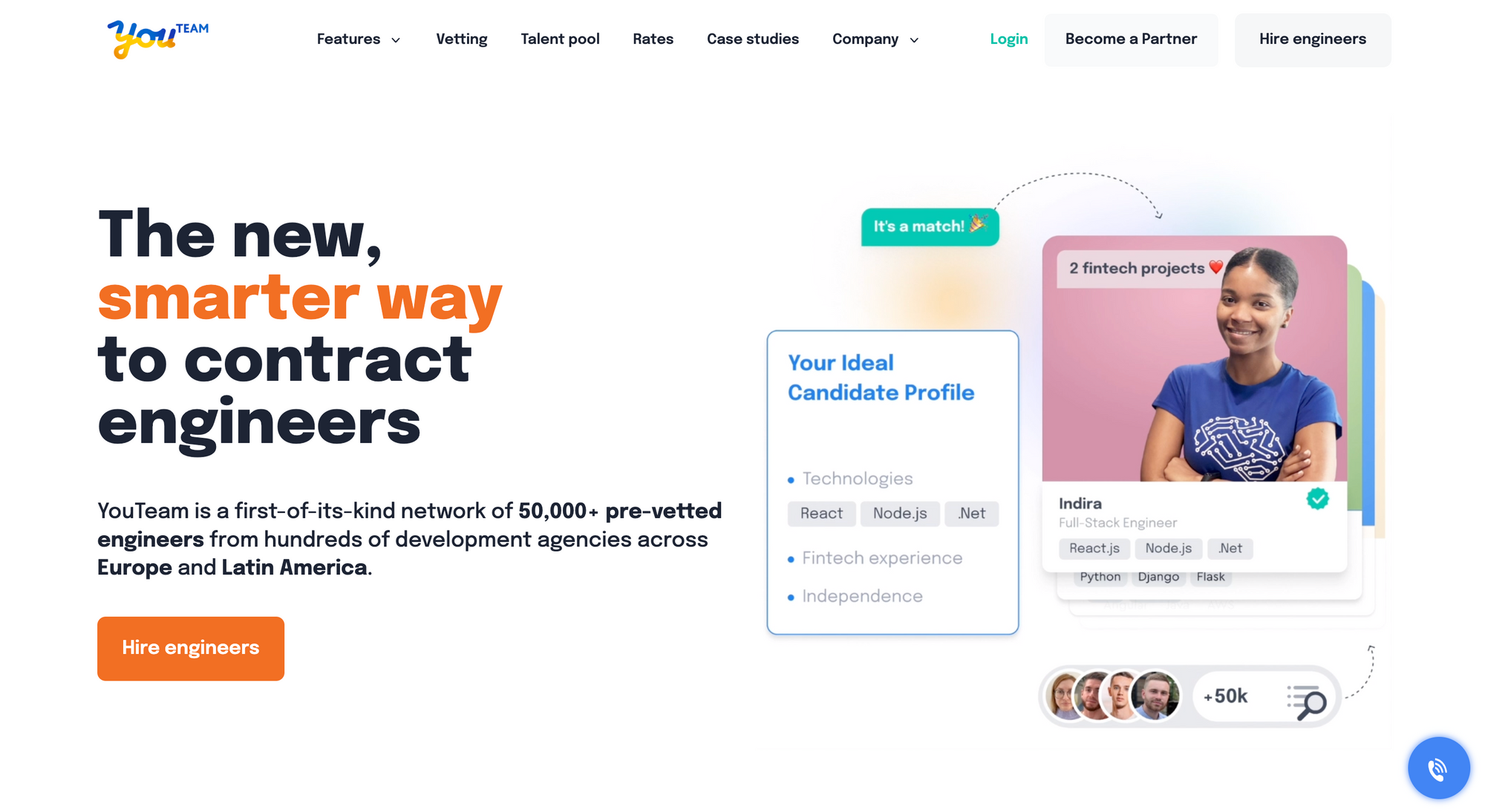 YouTeam is the new, smarter way to contract engineers. It's a first-of-its-kind network of 50,000+ vetted engineers from hundreds of development agencies across Europe and Latin America that matches tech leaders to precisely the talent they need. Thanks to its contractor network YouTeam can source precisely the talent tech leaders need, every time. Over the past 5 years, 250 US and EU tech companies, including 50 Y Combinator startups, and 2 Fortune 500 companies have met or exceeded their product development goals with the help of YouTeam engineers. Based in the heart of Silicon Valley, YouTeam is backed by Y Combinator (Winter 2018), Horizon Capital, and a number of other prominent VCs and angel investors.Backed by Y Combinator and Horizon Capital.
How To Choose the Best Recruiting Software
Of course, every business owner's needs are different. While there are no hard and fast rules when it comes to choosing the best recruiting software, you can make use of these tips when making your pick:
Differentiate your must-have features from the nice-to-have features
Make sure the software follows an unbiased recruitment process that promotes inclusion and diversity
Pick a software that easily integrates with the other apps and software that you already use
Consider whether you require a customisable software to cater to your small business's specific needs
Remember to stick to your budget and find a scalable solution as your needs evolve
Hiring the right talent doesn't need to be time consuming
Running a business is time consuming — but hiring the right talent shouldn't be. Take your business to the next level by cultivating your most important asset — your employees. From sourcing the right candidate to the job offer process, recruitment no longer has to be a feat.
Save time on your financial admin
We're all about helping you run your business better so you can focus on what matters most. Concentrate on your core business, and outsource your accounting to us.