Best Ways To Improve Cash Flow Management
What keeps your cash flow positive? Good cash management! That's why we've put together a list of eight actionable ways you can manage your cash flow and make more profitable decisions for your business.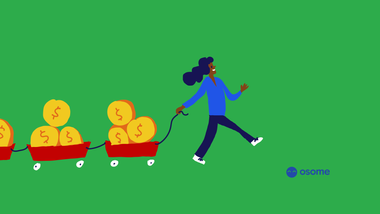 Cash flow, inflow, outflow. So much flow! But what exactly does good cash flow management mean, and why is it such a good thing for your business?
Cash flow, put simply, is the amount of cash that comes in and goes out of your company. The cash you receive indicates inflows, and the money you spend represents outflows.
What we want is positive cash flow. That means all your outgoing expenses are covered, your investors are happy, you're making a profit, and you have a buffer for anything unexpected. What you don't want is negative cash flow. Spending more money than your business makes creates problems for every entrepreneur or small business in the future.
What keeps your cash flow positive? Good cash management. That's why we've put together a list of eight actionable ways you can manage your cash flow and make more profitable decisions for your business. So, go get that positive cash flow rolling!
Let the Tech Do the Counting
Investing in some smart accounting software is the first step in improving your cash flow management. Technology that tracks your cash flow in real-time not only gives you better financial clarity but will also lead to you making smarter business decisions every day.
Having an organised system for managing your finances takes the guesswork out of managing your cash flow and helps you avoid any cash flow negative woes.  

Having the technology to create, send, and keep track of invoices means you are always on top of what's overdue and what's paid. At the same time, organising your expenses will direct you to where money is being lost and curb any overspending.
Instantly Send Better Invoices

A way to get paid faster and keep your cash flow stable is by sending your invoices straight away. Give customers a clear due date, and don't be too generous with the time you give them to pay. Always follow up on late payments, and don't let anything slide.
Again, with the help of good software, you can keep track of all your invoices and their status so you don't get caught up in an invoice slush pile mess.
Make Getting Paid Easier
Speaking of invoices, one way to get cash flowing is by making it easy for your customers to pay. It's important customers can make fast, secure payments so you get your cash faster with as little hassle as possible for your clients.
One way you can do this is by offering them various online payment options, including credit card, PayPal or bank transfer. The more options you give your customer to pay, the more likely you'll get paid faster.
Adjust Your Pricing
If your company is experiencing persistent cash flow issues, you may want to look at pricing to ensure your margins are sustainable. It may sound scary, especially when hiking your prices up can lead to a direct decrease in sales. If you make the right adjustments, you can potentially increase your cash flow, which could be a risk worth experimenting with.  
Spend Less on Expenses
It may seem obvious but spending less on unnecessary expenses is good for maintaining a healthy cash flow. But first, you need to know exactly what you're spending and where you're spending, this way you can make informed smart cuts.
Having up-to-date intel on expenses means you can accurately pinpoint where you are unnecessarily spending and where you can make cuts. It's important to know an overall balance of your company's revenue (often from multiple platforms) and have a breakdown of total inflow and outflow.
This information will also help you plan your budget, know exactly where you can cut costs, and ensure you have enough money to keep your business running.
Have a Smarter Inventory Strategy
Good inventory management is about balance. While running out of stock means you lose out on sales, having too much stock can result in unexpected fees. Lacking a sound inventory strategy is a guaranteed way that your cash flow will go into an unpredictable spiral, one that will cost you unnecessary losses.
Because you always want to increase sales, avoiding time-consuming manual strategies is good practice. Instead, rely on tech for a more automated time-saving approach that will also help you forecast sales and keep your cash flow trending upwards.
Have One Shop Stop for All Your E-Store Profits
Want to know how Amazon sellers can better sales & cashflow?
Here's our article with 10 tips on how you can improve your Amazon inventory management strategy
If you are selling on multiple platforms, there is a significant risk that you will lose track of your finances and your cash flow will get messy. Having all your e-commerce financials automatically uploaded from all connected marketplaces and bank accounts means you see your cash flow updated daily.
It's also a good idea to get smart on their inventory management rules when selling on an external online platform. Platforms such as Amazon can give you impressive returns, but if your inventory management system is lacking or goes awry, you can quickly run into problems. So it's smart business sense to get savvy on how to best manage this.
Ask an Expert
As a small business owner or entrepreneur, you don't also have to be a financial expert. Understanding the ins and outs of managing your cash flow can be complicated, and you're not expected to know everything.
Take the pressure off by talking to an expert accountant who can help you understand strategies to manage your cash flow. Invest in someone who will guide you through every step of better cash flow management and your accounting so you don't have to do it alone.
Get With the Flow
Being savvy entrepreneurs, you understand that a good cash flow management strategy is the best way to optimise your cash flow.
Tip
Osome gives you full financial visibility so you make more informed cash flow decisions, and more profit in the process. So what are you waiting for? Time to go with the cash flow.