2021 E-commerce Sales Dates in Hong Kong To Plan For
As an online retailer, you can prepare for sales to anticipate the Hong Kong demand throughout the year and plan for 2021. This article highlights some key dates and events in Hong Kong.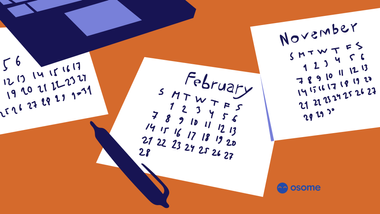 E-commerce is developing rapidly in Hong Kong as more retailers set up their online presence and shoppers change their consumption patterns and lifestyles. With more than 4.5 million e-shoppers, the e-commerce penetration rate in Hong Kong is at 59.8% in 2018 and is expected to hit 72.6% in 2022.
Although Hong Kong is still observing social distancing as a safe measure to curb the spread of COVID-19, as on online retailer, you can prepare for sales to anticipate the Hong Kong demand throughout the year and plan for 2021. This article highlights some key dates and events in Hong Kong.
Outsource your accounting to Osome! We are ready to answer your questions, just drop us a chat.
HONG KONG PUBLIC HOLIDAYS 2021
New Year's Day - Friday 1 January
Chinese New Year - Friday 12th February Friday, Saturday, 13th February, and Monday 15th February
Good Friday - Friday 2nd April and Saturday 3rd April
The day following Ching Ming Festival - Monday 5th April
The day following Easter Monday - Tuesday 6th April
Labour Day - Saturday 1st May
Birthday of the Buddha - Wednesday 19th May
Tuen Ng Festival - Monday 14th June
Hong Kong Special Administrative Region Establishment Day - Thursday 1st July
The day following the Chinese Mid-Autumn Festival - Wednesday 22nd September
National Day - Friday 1st October
Chung Yeung Festival - Thursday 14th October
Christmas Day - Saturday 25th December
The first weekday after Christmas Day - Monday 27th December
NOTABLE EVENTS
Mother's Day - Sunday 9th May
Father's Day - Sunday 20th June
Singles' Day - Thursday 11th November
Summer Sales - June–August
January
1 January – New Year's Day
January 1st is not yet a major shopping event, but millennials and gen-z are increasingly starting to celebrate New Year. This can be a good opportunity to have a New Year promotion for customer loyalty appreciation that builds up to Spring Festival.
February
12 and 13 February – Chinese New Year
In Hong Kong, Chinese New Year shopping tends to peak in the two weeks before the holiday where people buy gifts, clothing and home decor for the festivities and for the new year ahead. Busy enjoying the festivities and participating in family rituals during the two days of the Chinese New Year public holiday, they spend less time shopping online on those two days. In fact, online sales begin to dip five days before Chinese New Year.
E-commerce stores could sell unique Chinese New Year-related items from heritage brands during this season. Shoppers also like to purchase heavy home appliances then.
March
15 March – Consumer Rights Day
Many Chinese people watch "315" Gala, a TV program that highlights consumer rights, promoting education and integrity when it comes to spending money on brands. Many brands care a lot about this day as it can be used to promote customer appreciation through genuine campaigns that offer after-sales service.
April
4-5 April – Ching Ming Festival
Ching Ming Festival is for the Hong Kong people to commemorate their ancestors. They visit, maintain graves and burn "sacrificial money" in honour of the dead. Hence, the festival has evolved into an occasion for people to go on a short trip back home or for the younger generations to holiday destinations close by.
For brands, it is important to coordinate promotional campaigns accordingly. Promoting short-distance travel packages, travel-related products and sportswear about a month in advance is likely to bring additional traffic, especially when targeting the younger generation.  Hiking trips or sports-related activities are popular during this time of the year.
May
10 May – Mother's Day
The marketing promotion opportunities to market on Mother's Day are aplenty. Your brand promotion can consist of hyping up a product that a mum needs, or ways to show appreciation for mums. If you want to make the most out of this day, you should start promoting 2 to 3 weeks before the date with emotionally appealing campaigns.
June
20 June – Father's Day
Father's Day falls on June 20th this year. And as with Mother's Day, for many brands, there's a strong chance of increased traffic. Take time to do some targeted marketing. You could also offer free wrapping and delivery to boost sales.
July - August
1 July-31 August – Hong Kong Summer Sales
During the summer shopping season in July and August each year, the region of Hong Kong puts on special events and the stores put on sales. People like shopping in Hong Kong for better quality and prices than they can get in the Mainland and perhaps their own country. You could do major discounts at this period, especially for end-of-season fashion items.
September
21 September – Mid-Autumn Festival
Mid-Autumn Festival celebrates a community's successful harvest season. It is also known as the 'moon festival', as it takes place on the eighth full moon of the lunar calendar.
During this time in Hong Kong, you'll no doubt notice the shops are full of brightly coloured lanterns, which on the night of the festival are typically carried by children when families go outside to observe the full moon.
Also, families and friends exchange a traditional treat called mooncakes, a dense pastry with a salted egg yolk in the middle, representing the moon. Mooncakes can also have fillings of lotus paste or red bean paste.
October
5 October – World Teachers' Day
The United Nations' (UN) World Teachers' Day celebrates the role teachers play in providing quality education at all levels. This enables children and adults of all ages to learn to take part in and contribute to their local community and global society. You could feature gifts such as cards, chocolates and flowers in your campaign for this day.
November
11 November – Singles' Day
China's Singles' Day, which is the world's largest online shopping festival. Held on November 11 every year, the annual event is seen by many as an important barometer for economic health. Round-the-clock live streaming promotion is offered besides coupons and cash returns. More than 250,000 brands and 5 million merchants have participated in 2020's shopping spree, according to Tmall, the Hong Kong station of Alibaba's e-commerce platform.
So, how do you cash in on it? We'd recommend discounting those top-tier products, or items on your customers' wish lists — it's a great time to encourage a little self-indulgence.
Also, be sure to highlight your best bait products. The data tells us that brands typically do well on women's cosmetics, perfumes, and accessories, and for men, gadgets come out top -especially those targeted at young adults.
December
24th Dec – Christmas

Christmas is not a traditional Chinese holiday but has received popularity in recent years among the younger generation. Fashion and apparel related campaigns do well around this period. Try to make your campaigns creative and trendy to attract young consumers.
Preparing Your Business for 2021 Sales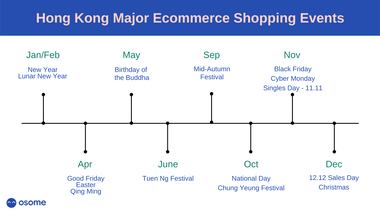 Make sure you have the necessary plugins available on your e-commerce store so that you can keep track of all the invoices and receipts you have. If you're using Shopify, some apps can easily export your orders during these sales as invoices. Integrate your store with the Xero app so you can have financial reporting with just a couple of clicks. If you need advice on how to stay on top of your e-commerce accounting, leave it to us.