Company Secretarial Services
Company Secretarial Services in Hong Kong
Osome's company secretary services in Hong Kong provide you with a dedicated company secretary who can answer questions when you need support. Our company secretaries have extensive experience. We track your deadlines, and organise and file documents for you.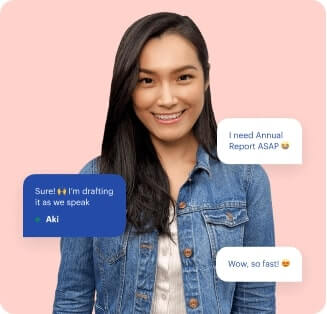 What do corporate secretarial services include for Hong Kong companies?
Checking the company for compliance with the requirements

A company secretary ensures that the business and its operation is thoroughly compliant with the laws and regulations set out in the Hong Kong Companies Ordinance. This includes your statutory returns and keeping company records up to date.

Maintenance of statutory books

Hong Kong-based companies must maintain statutory books. These provide data to company members; the government may request access if specific documents are needed. The documents include written resolutions, meeting minutes and accounting records.

Reporting on statutory changes to company's details

Some statutory changes - such as if a shareholder reduces the number of shares they own - require the corporate secretary to prepare and file documents. Osome's outsourced secretarial services arrange for these papers to be signed and filed.

Handling other important administrative matters

The company secretary applies for and renews the Business Registration Certification, assists in opening a corporate bank account and keeps track of the latest developments in corporate governance to advise the company's board of directors.

Managing customers obligations from a business perspective

Your dedicated company secretary will have over 10 years' experience. They are available to answer any questions you may have on demand and will take the time to develop a solution that's right for your business.
Get your answers from our experts
Schedule a call with one of our agents and get the answers straight away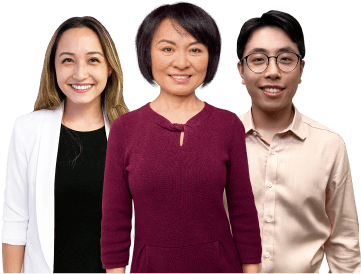 Our plans grow with your business needs
Start with an Essential package that covers all key business needs or switch to a more flexible Unlimited plan later
Essential Secretary

Annual General Meeting papers
Annual Returns Filing
Personal support by your Corporate Secretary via chat
Reminders on filing deadlines
Full service for 1 year
HK$300 government fees included

from

HK$1,100with any Accounting plan, or HK$1,600
Package fees for company secretary service
Compared with other solutions, we offer the most comprehensive secretarial and financial management solution at the most competitive price
Compare packages

EssentialHK$1,100+ any Accounting plan Our Essential Corporate Secretary is priced at HK$1,600. Enjoy it at HK$500 off when you buy it together with any Accounting package and pay HK$1,100 for the same service. Our Accounting packages start from HK$288 a month.

Corporate Secretary essentials

We'll keep you on top of the government filings and remind you about upcoming deadlines. Our Corporate Secretary services ensure your business is compliant with Hong Kong law, filing your annual returns on time and updating the government on the business.

Personal support by your Corporate Secretary via chat
Annual General Meeting papers
Annual Returns Filing
Forever free documents e‑storage
Automated and timely reminders on filing deadlines
Online shares distribution management & capital table
Corporate actions

You need to let the company registry know whenever your company changes, such as new directors or shareholders. Your corporate secretary will track any changes and file reports on time so your company always stays compliant. The unlimited package will be your go-to plan if you're predicting a lot of change in the early stages of your company life. And if you expect few to no changes, the essential package will be the best choice.

Change of directors or shareholders
Transfer of shares
Change in company name, address, etc.
Compliance add‑ons

Every new business must legally have a Hong Kong business registration certificate and apply for it within 30 days of starting up. You must also have a local registered address to receive government and bank correspondence. We'll sort your certificate, and we can provide you with a registered address for one year while managing all your incoming mail so you can get straight to work.

Business Registration Certificate (BRC) for 1 year
Registered address with notifications, scanning and forwarding
Switch to a corporate secretary who always answers
We've made sure the transition to a new company secretary is seamless. We get in touch with your company secretary, take over the documents and sign their resignation. Even if they don't respond, we can carry out the procedure without them and ensure you don't lose any time.
Additional services you might need
Registered Address

HK$2,500

All Hong Kong companies must have a local registered address to receive government and bank correspondence. We provide a registered address as a yearly subscription. And whenever you receive mail, we open, scan, and upload letters to your Osome account and send you a notification to ensure you never miss a thing.

Chop and Seal Package

HK$500

A corporate stamp is no longer a legal requirement for companies in Hong Kong, so not included in our incorporation packages. However, we can arrange one for you for HK$500, even taking care of delivery and typically getting them to you within 3–4 business days.

Business Registration Certificate

HK$2500

If you have a business in Hong Kong, you must apply for a Business Registration Certificate within 30 days of starting your business. This is issued by the Business Registration Office and displays all your company details. We sort this out for you before the deadline, so you're legitimate on paper from day one.
Trusted by Osome
entrepreneurs around the world
89%of customers recommend
Osome service
15,000+Osome clients
worldwide
1,508Hong Kong companies chose
Osome secretaries
40hours freed up from admin
work monthly
They replied quickly offering immediately useful details. One phone call set the path for my first incorporation. I highly recommend it for other first-timers.

Paolo Porchetti PP E&A LIMITED

I like that I can just post my questions to chat any time of the day, quite unlike having to remember to call within business hours only. For a startup owner working irregular hours, this helps.

Lim Sze-Szan Fiona BodyOwn Ltd.

One of the best experiences in incorporating a company in Hong Kong.

Beh Huey Ching Jenna FortNynja (HK) Limited

Fully digital, fast, easy to follow, great app. I highly recommend it.

Edwina Jane Barrington Rupert and Bird Limited

They helped me register my company in Hong Kong. I'm very satisfied with their services, flexibility, and reactivity.

Yannick Andre Martial Guyot HK TALENTS Limited

Osome has been extremely proactive, talking me through every step of starting my company. They now take care of my accounting. I love the app, it's so easy to use!

Harriette Foulkes-Arnold We are Contented Ltd.

I didn't have to go anywhere to work with Osome, I just used the web and mobile app to sign the docs.

Ivan Zeljkovic Evans Media Ltd.

I incorporated my own two companies with Osome and now manage them via the platform. I've been very satisfied and recommend Osome to all my friends.

Vlad Shchelkunov BTTR holdings Ltd.

The staff always answer, and they deal with all the admin on my behalf. So I can simply use my income and not worry about legal and administrative filings.

Pawel Wargan freelancer

It is impressive how fast and responsive they are! I feel very happy about my decision to go with Osome.

Randeep Sudan Multivertz Ltd.
4.9 out of 218 reviews
TC006825

Certified Public Accountants

Chartered Secretaries

Association of Chartered Certified Accountants
FAQ
What are corporate secretarial services?

Companies and firms in Hong Kong are required to have a company secretary. Corporate secretarial services allow business owners to outsource this role to an expert, so they can comply with their obligations in a straightforward, stress-free way.

Why do I need a company secretary?

Companies based in Hong Kong are required to have a company secretary to register a business. Company secretaries are responsible for reporting changes to a company's statutory details and books, filing returns and keeping records up to date.

Can a Hong Kong company operate without a secretary?

No, it is not legal to do so. Companies based in Hong Kong are required to appoint a company secretary under the Companies Ordinance. The secretary must live in Hong Kong and be at least 18 years of age to qualify.

What does a company secretary do?

Company secretaries ensure businesses comply with legal requirements and company records are accurate. That includes reporting changes to a company's statutory details and books, filing returns and keeping records up to date.

What is a company secretary in Hong Kong?

A company secretary completes certain duties while business is trading, including reporting changes to a company's statutory details and books and filing returns. Designate a corporate secretary when registering a company.

Which company must have a company secretary?

Every limited company based in Hong Kong must have a company secretary. Sole Proprietorships do not require a secretary, however, the use of this business structure is limited because the owner is responsible for all debts and unlimited liabilities.
I didn't find the answer to my question...
That's alright! Let us know your question