Company Registration
Hong Kong Company Registration
Osome takes care of the admin — from opening a bank account online, to making sure your company is compliant. Zero printed paperwork and same-day registration; it's sorted with Osome.
Hong Kong Business Opportunities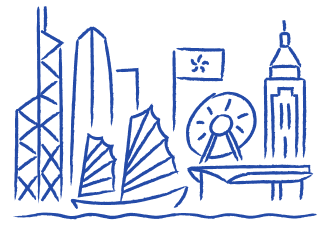 Modern commerce happens across borders. The days of defaulting to set up in your own country are over. Many entrepreneurs are seeking out opportunities in different jurisdictions.
One of the most popular choices is Hong Kong. Hong Kong is a unique, dynamic business city, home to a bustling finance and tech scene. The city is also a tax-friendly environment.
The city is also world-renowned as a great place to register and operate a business. It is usually near the top of global rankings for business-friendly jurisdictions. As such, Hong Kong business registration is geared up to help — rather than hinder — new entrepreneurs.
There are, of course, some legalities and paperwork. But once you are registered in Hong Kong, you will enjoy access to one of the world's most dynamic, open economies.
Hong Kong boasts a stable economy, a productive workforce, world-class infrastructure and a vibrant network of like-minded entrepreneurs. If you want to build a world-class business, Hong Kong could be for you.
Pros and Cons of Company Registration in Hong Kong
Pros
Hong Kong offers easy access to mainland China. If you are hoping to sell (or source) in China, Hong Kong is a great place to set up.
It's easy to get a visa and move to Hong Kong. The city is open to foreign entrepreneurs. While it is a process, it's much easier than in other places.
Cons
If you wish to move to Hong Kong, you might be shocked by the cost of living. Hong Kong is one of the world's most expensive cities and you'll likely live in a small apartment.
Opening a bank account in Hong Kong can be tricky. Especially if you want to use a traditional bank. Requirements can be onerous and quite pricey.
Requirements & Facts about Company Registration in Hong Kong
Hong Kong's company registration process is guided by the Companies Ordinance. This ordinance lays out the full details of what's required pre-incorporation, post-incorporation and other details. While it's worth looking at the whole ordinance, there are a few pivotal features worth familiarising yourself with. Let's take a proper look at the different essential bits.
Company name

Your new business needs a name, right? Your name can't be the same as another existing business's name. And the name should not be deemed as a criminal offence or contrary to the public interest.

Shareholders

A Hong Kong company must have a minimum of 1 and a maximum of 50 shareholders. Unlike in other places, there is no residency requirement for shareholders. And a director and shareholder can be the same person.

Share capital

Unlike in other business jurisdictions, Hong Kong has no minimum shareholder capital requirement. The barrier to entry in registering in Hong Kong is as low as it could be. Naturally, some share capital is perhaps a good idea for various functional requirements (especially in the long run).

Directors

A minimum of one director is required. There is no upper limit on directors. The director (or directors) must be over 18, can be any nationality and need not be resident in Hong Kong. This person should have no prior bankruptcies or convictions.

Registered address

A Registered address is the address of your company. It's what goes into Hong Kong's official government records. Under the Company Ordinance, every company must have a registered address in Hong Kong. This address is where you will receive all correspondence from the government.

Public information

Information about company directors, shareholders and your company secretary will be open to the general public. Any person can access this information on the company registry. Since 2021, however, directors are no longer required to show their usual residential addresses or their full identification numbers.

Annual General Meeting

According to the Companies Ordinance, every company in Hong Kong must hold at least one general meeting per year. This annual general meeting (AGM) should happen within 9 months of the financial year-end (FYE) and once per financial year.

Company secretary

A company secretary is your business's named representative. This person ensures the company and its operations comply with all aspects of Hong Kong company law. A company secretary is mandatory, and many businesses use secretarial services.

Tax

The Hong Kong government fee for incorporating is $HK1870. Once you're set up, you will have to pay corporate tax. This is set at 8.25% for corporations on the first HK$2 million of assessable profits. For anything over, the rate is set at 16.5%.

Ongoing compliance

Hong Kong is unusual compared to other places, in that there is no audit exemption for smaller businesses. An audit of financial statements is required for all companies (except dormant companies). A Hong Kong audit requires an extensive list of documents, including all invoices, financial statements, receipts and all accounting documents.
Required Documents for Company Registration in Hong Kong
When you register a business in Hong Kong, you need to collect an assortment of documents. These documents must be submitted to Hong Kong's Company Registry. The documents are usually as follows:
Your articles of association
This document specifies how your company will operate. For example, they indicate how the different essential tasks of the company will be carried out and how new directors will be appointed.
A company registration form
This is the official form supplied by the Hong Kong authorities. The form needs to filled with:
Your company name;
Your registered address;
A description of your company's activities;
Details of directors, shareholders and your company secretary;
If directors and shareholders are local, you need to provide their ID card information;
If non-residents, supply their passport information;
Any liabilities that directors may be exposed to;
Your share capital.
Remember
The official language of commerce in Hong Kong is English. If you provide this information in any language other than English, you need to provide a notarised translation alongside.
Check your Business Activity HSIC Code
Use our free search to find the code that best describes your business activities
Here's what you need to register a company in Hong Kong. We'll take care of it all
Deal with the official requirements

Opening a company in Hong Kong is quite easy. You have to fulfil just a few government requirements. We help you organise all of these:

Hire a local Corporate Secretary

All Hong Kong companies must have one. This officer communicates company structure and management changes to the government, maintains company records, and files statutory documents accurately on time, avoiding nasty penalties.

Get a Registered Address

All Hong Kong companies must have a local registered address. It goes on all legal documents. Government sends notices with deadlines here. We open, scan, and upload letters to your Osome account on the day they are delivered.

Receive a Business Registration Certificate

This must-have document shows important details of a company, including the company name, business nature, and address. It is typically issued for 1 year and has to be renewed annually. We'll arrange this document for your company and renew it every year.

Get your Hong Kong company registered

We handle the process 100% online: collect your documents in a chat, fill in all the necessary documents, and send them to you to sign them electronically. We need to know the company name, business activities, share structure, and paid-up capital — HK$1 is enough. We'll also ask for all directors and shareholders' names, addresses, and contact info, and complete online ID verification for each.

Here are the key documents we prepare:

Company Constitution
Articles of Association
Incorporation Application

Open an account: start paying, get paid

You will need a bank account to receive money and pay your invoices. We partner up with HSBC, the largest bank in Hong Kong, and other traditional banks. We also work with neobanks, such as Airwallex: you can open an account right on our platform. Whatever your needs, we can help find the perfect fit. We introduce you and help with the KYC, but the decision to open an account is always up to the banks.

Set up the accounting routine

As a business owner, you'll need to submit two reports and one audit every year. Even if you have no transactions, you still need to submit annual reports: prepare unaudited accounts, have an external auditor review them, and file Profit Tax Return. It's crucial to prepare them right and on time so as not to face fines and penalties.

We'll handle your day-to-day bookkeeping, prepare reports, and keep track of the timelines to submit them. You will get a Chartered accountant dedicated to your business who will proactively advise on exemptions and reliefs, so you pay taxes smartly.
Information for Foreigners
Hong Kong is a popular business destination for entrepreneurs from all nationalities. If you want to register a business in Hong Kong, it's worth noting the following (if you are not a Hong Kong permanent resident):
There is no restriction on foreigners owning and operating a business in Hong Kong. You can do this from overseas.
Despite there being no requirement for being physically present in Hong Kong in order to run a business, some banks do require in-person KYC checks.
Foreigners can be the sole shareholder and director of a Hong Kong company. There is no requirement to be a resident.
All in all, Hong Kong is a very open and friendly business environment for all nationalities. Not just locals.
Registering a Hong Kong Company Using an Agency
A powerful option for Hong Kong company registration — especially for foreigners — is to use an agency. The registration agent will make setting up a company in Hong Kong fast and effortless. The agent will prepare all necessary documents, and you will simply e-sign when required. No need to travel to Hong Kong.
Ideally, your chosen agent can not only help you set up but also help you get going once registered. Hong Kong companies have various compliance requirements. Your agent should take start-up to set up, all the way through to becoming fully operational.
Benefits of using Osome to register a company in Hong Kong
Zero paperwork

You send us all your details and documents via our Osome web portal. We do all of the legwork and form filling. All that's needed is your signature (which is provided electronically).

Same-day registration

Lightning fast incorporation. No need to wait: We file your paperwork with the Company Registry, and you'll be set up within one working day.

Set up your bank account

Setting up a bank account in Hong Kong can be tricky. Osome helps you with this step so you can pay people and, crucially, get paid! We can introduce you to our banking partners
Simple and fast registration
Our prices are fixed in Hong Kong Dollars. We use Hong Kong Monetary Authority rates to convert them to US Dollars, Euros and Pounds. The exact price you pay in $, € and £ depends on the rate and fees your bank applies.
Essential Incorporation

Certificate of Incorporation (CI)
Articles of Association
Business Registration Certificate (BRC) for 1 year
Business bank account
Corporate Secretary for 1 year

from

HK$3,600HK$1,975 govt fees included
How much does it cost to register a company in Hong Kong
The cost to register a company with Osome depends on what you need. We can simply handle the registration for you. Or we can handle your compliance and accounting needs too. Take a look at your options below:
Compare 2 packages

Incorporation essentials

Everything your new business needs to trade in Hong Kong legally. Osome will handle every single step required to get your company registered smoothly and then file your papers with the Companies Registry. We get your business bank account set up as a part of the company incorporation process.

Incorporation application
Certificate of Incorporation (CI)
Company constitution
Articles of Association
Business Registration Certificate (BRC) for 1 year
HK$1,975 government fees included
Forever free documents e‑storage
Bank Account Opening assistance

Osome makes it easy to set up a bank account in Hong Kong by setting you up with a free business bank account. We partner up with HSBC, traditional banks, and online banks to get you introduced. The decision is always up to the banks, but we do everything we can to set you up and get your business bank account rolling.

Free Business Bank Account
Cashback when opening a business bank account
Corporate Secretary

After registering your company, we'll keep you on top of the government filings and remind you about upcoming deadlines. Our Corporate Secretary services ensure your business is compliant with Hong Kong law, filing your annual returns on time and updating the government on the business.

Personal support by your Corporate Secretary via chat
Annual General Meeting papers
Annual Returns Filing
Automated and timely reminders on filing deadlines
Online shares distribution management & capital table
Annual Returns Filing
Unlimited coporate changes: changing a director, a shareholder, transferring shares, changing company particulars, etc.
Registered Address

All Hong Kong companies must have a local registered address to receive government and bank correspondence. We provide a registered address as a yearly subscription. And whenever you receive mail, we open, scan, and upload letters to your Osome account and send you a notification to ensure you never miss a thing.

Registered Address for 1 year
Notifications when you receive mail
Scanning and forwarding of the messages
Start your company today
Get your limited company registered, bank account open, and compliance sorted for the year ahead with Osome
Trusted by Osome
entrepreneurs around the world
89%of customers recommend
Osome service
15,000+Osome clients
worldwide
1,264companies opened
in Hong Kong
40hours freed up from admin
work monthly
They replied quickly offering immediately useful details. One phone call set the path for my first incorporation. I highly recommend it for other first-timers.

Paolo Porchetti PP E&A LIMITED

I like that I can just post my questions to chat any time of the day, quite unlike having to remember to call within business hours only. For a startup owner working irregular hours, this helps.

Lim Sze-Szan Fiona BodyOwn Ltd.

One of the best experiences in incorporating a company in Hong Kong.

Beh Huey Ching Jenna FortNynja (HK) Limited

Fully digital, fast, easy to follow, great app. I highly recommend it.

Edwina Jane Barrington Rupert and Bird Limited

They helped me register my company in Hong Kong. I'm very satisfied with their services, flexibility, and reactivity.

Yannick Andre Martial Guyot HK TALENTS Limited

Osome has been extremely proactive, talking me through every step of starting my company. They now take care of my accounting. I love the app, it's so easy to use!

Harriette Foulkes-Arnold We are Contented Ltd.

I didn't have to go anywhere to work with Osome, I just used the web and mobile app to sign the docs.

Ivan Zeljkovic Evans Media Ltd.

I incorporated my own two companies with Osome and now manage them via the platform. I've been very satisfied and recommend Osome to all my friends.

Vlad Shchelkunov BTTR holdings Ltd.

The staff always answer, and they deal with all the admin on my behalf. So I can simply use my income and not worry about legal and administrative filings.

Pawel Wargan freelancer

It is impressive how fast and responsive they are! I feel very happy about my decision to go with Osome.

Randeep Sudan Multivertz Ltd.
4.9 out of 160 reviews
TC006825

Certified Public Accountants

Chartered Secretaries

Association of Chartered Certified Accountants
Company registration for any industry
The Hong Kong market provides great opportunities for various businesses. Here's a few industries we regularly help with company formation in Hong Kong:
Retail Industry

Hong Kong's offline sales are actually on the rise with 57% increase over the past decade. Singaporean tourists have just been allowed in, and once the Chinese travellers get rid of the 14-day quarantine restriction, the industry will get back on track.

Construction Industry

Hong Kong spends lavishly on its construction: over HK$120 billion (US$15.4bn) is directed to developing the city infrastructure in the 2020-2021 Budget. Note that construction workers need to be registered.

Restaurants Industry

The restaurant industry took a hard hit from the pandemic, losing up to 26% of its turnover in the turmoil. As many players had to go out of the market, there will be space for the newcomers once business is back to normal.

Hotel Industry

The word "staycation" is one of the most searched words on Google Trends in Hong Kong. Hotels in Hong Kong are promoting staycation packages even more to attract locals with promotional packages.

Hospitality Industry

May readings on the short-term outlook among smaller retailers and restaurants rose above the 50 level, marking good business conditions for the first time since 2018.

Entertainment Industry

Between 1991 and 2018, total sales of fine art in its auction houses jumped from around $11 million to nearly $1.4 billion. In addition, Hong Kong's government is allocating HK$260M to boost the movie industry.

Education Industry

Hong Kong has invested lavish resources over the last decade to establish itself as an education hub acting as a gateway to China. It seems to work: 8 out of 10 foreign pupils come from mainland China.

Food Industry

Though Covid-19 pandemia and street protests have hit food industry quite hard, food delivery is gaining momentum. Hong Kong citizens started spending 55% more on ordering food, and when the turmoil ends, the habbits will remain.

Ecommerce Industry

Hong Kong has over 4.5 million online shoppers which account for the whoopping penetration rate of 59.8%. The number is projected to further grow to reach 72.6% in 2022, supporting the success of the booming industry.
Company Registration FAQs
What is an incorporation of a company?

Hong Kong is one of the top cities to incorporate a business. Incorporating a company into this city is a straightforward process. You would need a company name, a Companies Ordinance, and appoint one Designated Representative, one individual Director, one Shareholder, and one Company Secretary. You would also need a local Hong Kong-registered address.

How long does it take to register a company?

Once all the documents are ready, it usually takes us 1 business day to register a company. It mostly depends on when you are comfortable with providing all the details, as well as the service hours of the authorities.

What does the incorporation speed depend on?

Usually, it'll take us 1 business day to register a company, assuming all documents are ready and it's within the service hours of the authorities. Here's what we need to proceed:

Collect payment for our services
Receive all documents and information from you
Clear due diligence
Have the documents electronically signed on your end

How does Osome register a company in Hong Kong?

First, we check that the name you've chosen for your business is available. Next, you send us your passport copy and details of other directors and shareholders (if any). We prepare all the necessary documents, send them to you for electronic signature, and submit them to Companies Registry (a government entity that registers companies). We then register your company with the Inland Revenue Department which issues the Business Registration Certificate. On your end, it's just a message thread in a secure chat.

Is incorporation fees tax deductible?

In Hong Kong, expenses have to be incurred in the production of chargeable profits to be tax deductible. That means you had to spend the money to make sales. As such, expenses related to incorporating a company are tax deductible. Our accountants can advise you on how to file taxes correctly.

What language is allowed when selecting a name for company registration in Hong Kong?

Your company can be registered with an English name, a Chinese name, or both. However, your company name must not be a mix of both English and Chinese letters. Additionally, if your company has an English name, it must end with the word "Limited". On the flip side, if your company name is in Chinese, the last word should bear the meaning of "Limited".

What are the minimum statutory requirements for registering a company in Hong Kong?

Most business owners register their companies in the form of private limited companies in Hong Kong. To do so, you must meet the following requirements:

At least one shareholder of over 18 years old is required. The shareholder can be local or a foreigner.
At least one director of over 18 years old is required. The director can be local or a foreigner.
One person can act as both the shareholder and the director.
You must have a registered address.
While you do not need a minimum share capital to register a company in Hong Kong, the common practice is to have about HK$10,000 in share capital. Since the minimum paid-up capital per share is HK$1.00, your share capital can be represented by 10,000 ordinary shares of HK$1.00 each.
Your company needs to have a Designated Representative (DR) in the form of a company or a person to provide assistance to the company's Significant Controllers Register (SCR).
A company secretary who is a local. If you would like to use an incorporated entity as your secretary, it will need to have an office in Hong Kong.
I didn't find the answer to my question...
That's alright! Let us know your question