Choosing To Hire or Outsource a Bookkeeper or Accountant: How to Decide
As your business expands, the amount of paperwork would increase. To ease your load, you may think of getting help by hiring or engaging a service provider. Let's look at the pros and cons of these two options.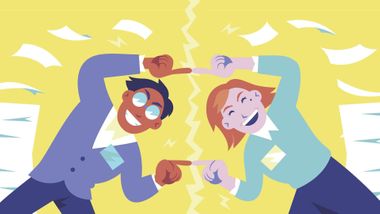 Bookkeeping and accounting are essential to all businesses. When you're running a small business, you may want to undertake these functions yourself. However, when your registered company in Hong Kong expands, the amount of paperwork would inevitably increase. You may want to get help by adding to your headcount or engaging a service provider. Let's look at the pros and cons of these 2 options.
What's the Difference Between a Bookkeeper and an Accountant?
It's a common mistake to assume that bookkeeping and accounting are interchangeable. However, both roles are different. Bookkeepers and accountants work towards the same goals, but with varying levels of responsibility.
The bookkeeper's responsibility is to take care of your business's day-to-day details, record transactions and keep you organised financially.
On the other hand, accountants are the ones you can consult for in-depth analysis. These professionals also have a better understanding of your personal and business finances and are more qualified to advise on tax-related enquiries. They also help to file your personal and business income tax returns.
Elizabeth runs an export company. She has run into some problems with her business income tax. Her bookkeeper prepares her accounts and documents her daily financial transactions and hands this information over to her accountant. Her accountant is then able to provide sound advice on how she can file her tax to get some tax relief.
3 Things to Consider When Choosing to Hire or Outsource Your Bookkeeper or Accountant
When managing your business's bookkeeping and accounting, in-house and outsourced services differ in terms of workflow. How do you then decide whether you should hire someone to do your bookkeeping and accounting in-house, or simply outsource this service?
Here are three key differences that in-house and outsourced bookkeeping and accounting services can offer your company.
1. Quality and expertise
Hiring someone in-house means having to screen for a qualified candidate with experience and a proven track record in this field. This is an important process, as you might end up with a self-taught worker who could risk producing a low quality of work.
On the other hand, outsourcing means you will have a team of professionals with a variety of industry expertise since they continually undergo training in accounting. With this team, the years of combined experience surpasses the expertise from a single in-house employee. You can also save time and cost since there is no need to train this team of professionals to hone the financial skills required for your business.
2. Cost-effectiveness
The cost will be a key determining factor for many small and medium businesses. For instance, an in-house bookkeeper costs approximately HK$205,474 while an in-house accountant costs approximately HK$288,444 annually. Together, both employees will cost you HK$493,918, excluding overheads like hiring cost, working space, laptop, MPF, insurance, medical, company benefits, employee training, sick leave and more.
On the flip side, outsourcing means not having to worry about incurring additional costs. Depending on the services you require, outsourcing is significantly cheaper than hiring an in-house bookkeeper and accountant, and you should still be able to enjoy some cost savings even if you engage top tier outsourced services.
3. Work hours
Having in-house employees means it is inevitable that your employees might not be at his best performance throughout the day. Social lunches or pantry conversations are bound to happen, which means that you will still have to pay your employee even when he might not be working productively.
Outsourcing means you will only be charged for the billable time spent on your company, so there will not be unnecessary expenses spent on wasted time.
Signs That You Should Outsource
As a business owner, you always have 101 things to do. Keep your current situation in mind and decide whether you should seek extra help.
Here are five telltale signs that you should outsource your bookkeeping and accounting:
The thought of taking on overhead costs and managing another employee sounds like a feat
Your company does not have an internal accounting function at the moment
You don't have an accounting and bookkeeping system established due to a lack of resources
You struggle with maintaining adequate books and records
Bookkeeping and accounting takes up too much of your time and you find it difficult to answer questions from auditors
5 Advantages of Outsourcing Bookkeeping and Accounting
If any of the above sounds like something you're facing, why not outsource this and leave it at the hands of the expert? Besides, there will always be someone reliable for you to turn to if you require advice.
1. Have more of your time and energy back to focus on other key business aspects
Instead of fretting over work that is not core to your business activities, outsourcing means you'll get your energy and time back, so you can concentrate on growing your business. With extra help in your bookkeeping and accounting, you can be assured that your business's financial details will be organised with nothing overlooked.
2. Experts for you to consult when you're looking for advice
Running a business means having to make difficult decisions. At times when you're looking for advice, there will always be experts that have your back.
For instance, during the company registration stage, you might struggle with the different legal structures available. Whether your business is best suited for the limited companies, limited liability partnerships, sole traders or proprietors model, you may want to seek an accountant's opinion on the legal business structures so you can pick what works best for your company.
When your business expands, you can also get your accounting firm to scrutinise your contracts so you can make better decisions with greater confidence.
3. Seamless audit process
In accordance with Hong Kong's Companies Ordinance, it is mandatory for all companies in Hong Kong to file annual audits. Failing to do so may get you in trouble with the law.
With your bookkeeping and accounting outsourced, you can get help in preparing your financial statements so you can rest easy. These experts can be your company's point of contact with the auditors and tackle the complicated accounting matters. During the audit process, auditors will examine your company's financial statements to make sure they are in line with Hong Kong  Accounting Standards. If these financial statements are well prepared, it's highly likely that your audit will proceed smoothly.
4. Tax compliance
Every Hong Kong company is required to maintain their books and manage their financial data properly, with information updated in accordance with the Inland Revenue Department's requirements.
Corporate tax filing can often be a taxing and time-consuming process, but with the help of your bookkeeper and accountant, you can be relieved of all this paperwork and have peace of mind knowing that they will follow the proper procedures. When planning your tax strategies, you can even get tips and allowance suggestions! In this way, you don't have to fret about missing out on tax relief or non-compliance.
5. Better business cash flow
Cash flow management is of utmost priority to any business owner. With your day-to-day bookkeeping and accounting needs taken care of, it's easy to be aware of your company's cash flow situation at any point in time and know how much cash is flowing in and out of your business. This makes it effortless to identify if there's a shortfall of working cash flow and take precautions to ensure an optimal amount of money available today or nine months from now.
What's the Cost to Outsource Bookkeeping and Accounting?
Think of this decision as a healthy investment that will free up your time and energy. In fact, at Osome, we provide affordable online accounting services for busy founders like you. With no-tricks pricing, we charge a flat fee that covers your bookkeeping, financial statements, management reports, and tax filing. So no extra charges out of the blue!
You'll have an expert who has your back and assists with your queries, and you can rest assured while experienced accountants in Hong Kong take over your invoices, receipts, bank statements to sort, reconcile and prepare reports.
Have more questions? We'd be more than happy to chat!