Best Timesheet Software For Efficient Time Management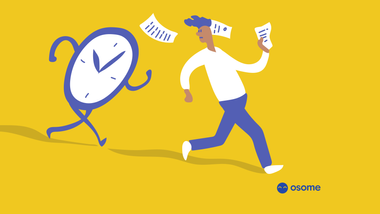 Everyone has to-do lists that can't be completed. Due to procrastination and inability to manage time, you or your employees have a lot of work to be done, a lot of missed deadlines and a lot of work that is taken home. As a result, it is not possible to work properly, nor to rest normally. Everything can be fixed if you use time management software.

We look at the top 10 common time management softwares you can consider.
Scoro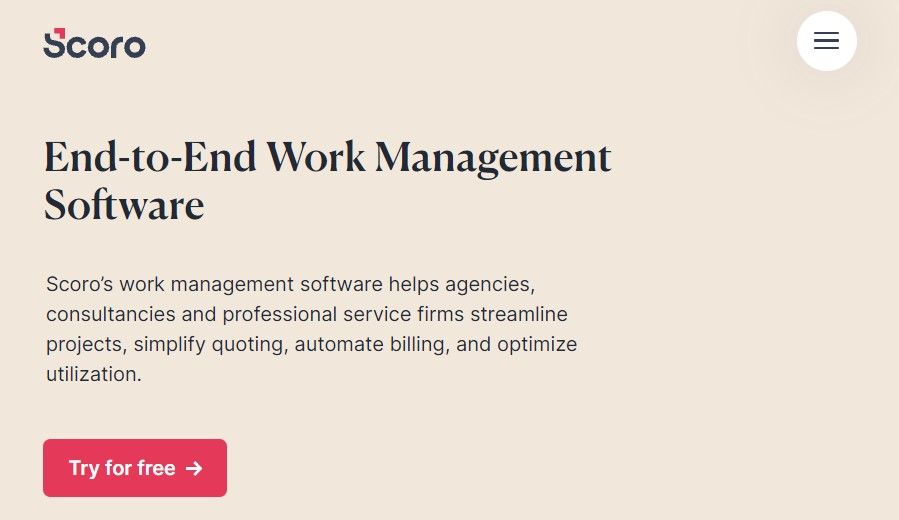 Scoro is a time management software for agencies, consultancies and different companies that helps with project optimization, simplification of quotations and automation in invoicing. Scoro software solution is convenient because it does not require a huge number of applications to perform various tasks.
Scoro will help you not to be distracted by secondary tasks and really work on priority tasks. Manage your time competently to understand what tasks require your attention here and now and evaluate what factors (changes or delays) affect your workflow and monitor all this data in an up-to-date view.
Pricing
Scoro offers a 14-days free trial.
Essential plan costs $28 per month (per person, minimum 5 users)
Work hub plan costs $42 per month (per person, minimum 5 users)
Sales Hub plan costs $42 per month (per person, minimum 5 users)
Ultimate plan has custom pricing, contact Scoro team for details.
Beebole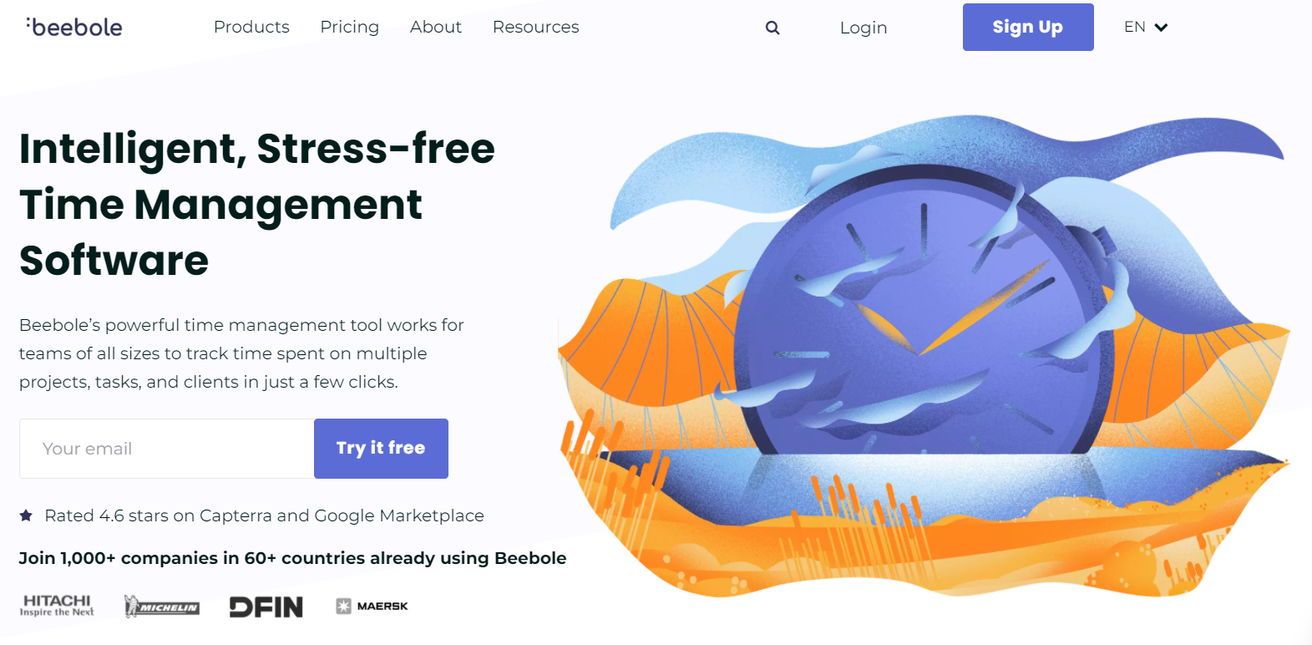 Beebole is a time management tool that helps to understand how many resources your team spent on tasks, projects, and clients. Also, it allows recording personal days and vacations. The system has a desktop version, as well as a mobile application, and can be used offline.
The platform will be useful for any company that creates timesheets for payroll records, drafts of employees or invoices to the clients. With the help of the service, executives can set up and control the project budget, as well as collect data for different reports. Also, the software allows employees to get the opportunity to record their absence and on what they spend their working time on.
Pricing
Beebole offers a 30-days free trial.
Simple and Flexible plan costs $6.99 per month (per person).
actiTime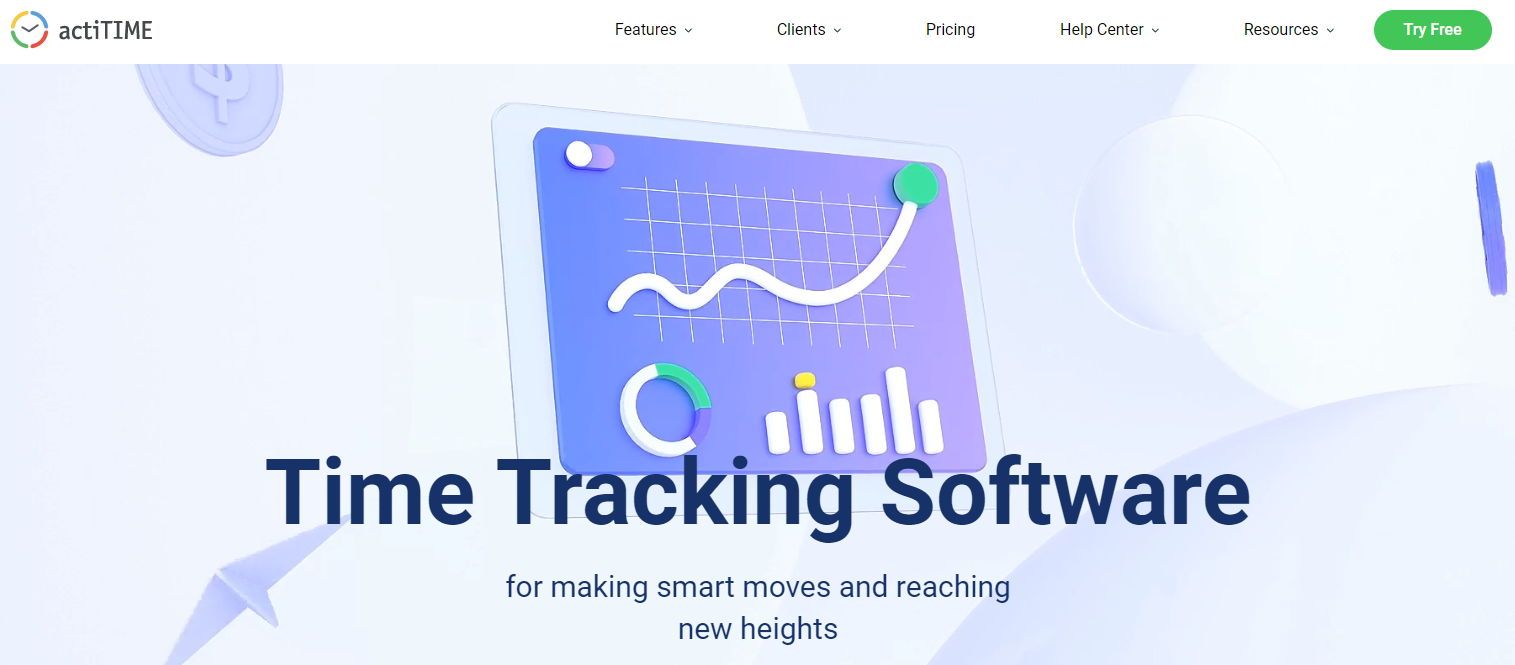 A smart and multifunctional time tracking tool, actiTIME, offers a well-organized system for project planning and progress monitoring. Some of its most valuable productivity-boosting features are automatic timers, insightful performance reports, visual estimate tracking, automated invoicing, task comments, and more. Thanks to them, actiTIME not only allows for keeping track of hours spent on work but enables users to control project progress and analyze business performance in depth.
actiTIME assists in making more insightful management decisions. It provides you with data to see what requires improvement, eliminate time wasters and boost efficiency.
Pricing
actiTIME offers a free 30-day trial.
actiTIME for 1-3 users is free.
actiTIME for 3-40 users costs from $6 per user a month.
actiTIME for 40-200 users costs from $5 per user a month.
actiTIME for 200+ users can be purchased at a fixed price (discussed individually).
ClickTime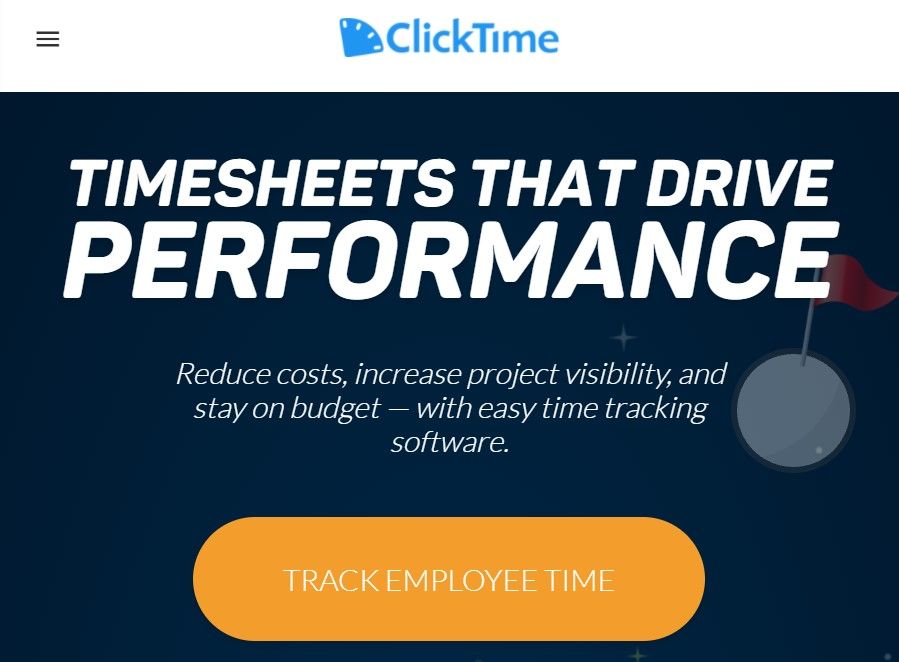 ClickTime is a time management service that helps to record working hours, including personal days and time overworked. Using this data you can compile your budget and reports. Clicktime has a software solution for PCs and mobile applications and provides opportunities to optimize time-consuming processes such as the need to count the man-hours.
The software solution can be used by different companies from diverse areas of business. Mobile application gives the employees the ability to make changes, edit and add information about how much time they spent on each project. Also, you can add notes, goals and other elements to each project. Project executives and managers will be able to track which of the projects is out of budget or behind the schedule, and the reporting system will allow you to evaluate the effectiveness of specific members of the team, their cost and occupation and moreover to receive and coordinate timesheets for invoicing clients.
Pricing
ClickTime offers a 14-days free trial.
Starter plan costs $12 per month (per person).
Team plan costs $16 per month (per person).
Premier plan costs $28 per month (per person).
Enterprise plan has custom pricing, contact ClickTime team for details.
ReplicOn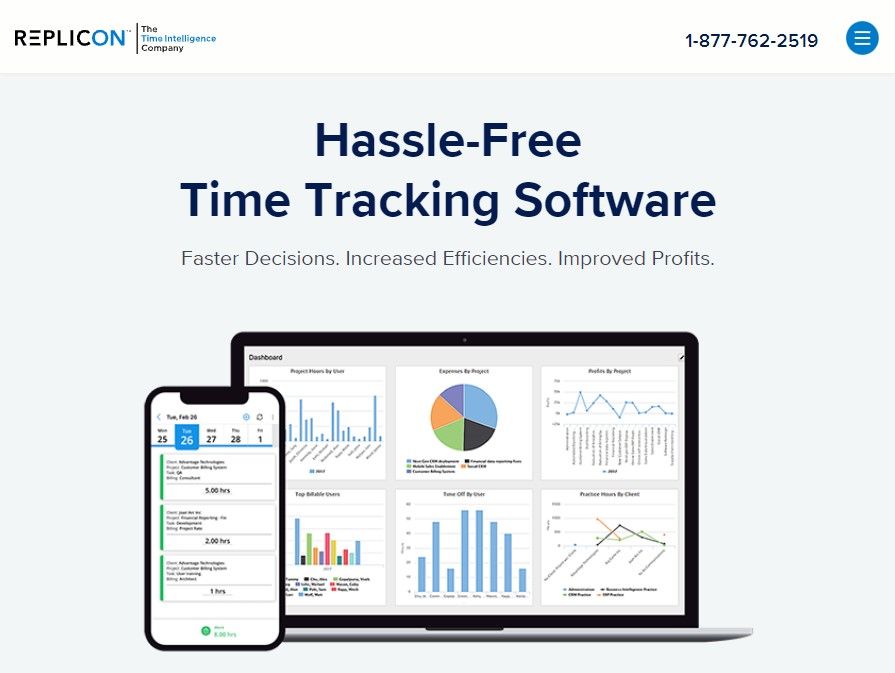 ReplicOn is a great time management software option that allows you to easily manage every aspect of your employee's time and attendance. You can track your workforce from a centralized dashboard, which will help you to avoid gross errors in labor remuneration and the need to double-check after.
ReplicOn time management software solution lets you track the employee's weekends, as well as the work schedules and gives you the ability to add adjustments, notes, images, and other elements in real-time. This feature makes it easy to organize all your schedules in one workspace. searchable, and easy to understand.
Pricing
Replicon offers a 14-days free trial or you can request a demo.
Expense Quick Start plan costs $3 per month (per person).
TimeBill Quick Start plan costs $60 per month (up to 5 users, $10 per additional user).
TimeBill Plus plan costs $22 per month (per person).
Project Time plan costs $18 per month (per person).
TimeOff Plus plan costs $6 per month (per person).
Expense Plus plan costs $5 per month (per person).
Project Time plan costs $22 per month (per person).
TimeOff Enterprise plan costs $8 per month (per person).
Enterprise Time Tracking plan has custom pricing, contact the Replicon team for details.
Avaza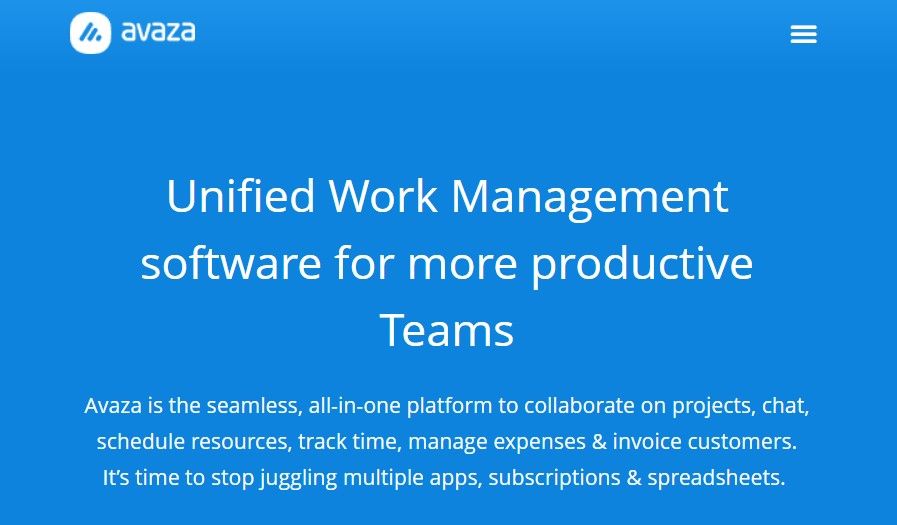 Avaza is a cloud-based solution that will help in project management, work schedule creation, time management and invoicing. Avaza will facilitate co-working with contractors and remote employees and flexible development methodologies, such as Kanban will help to expand the business. Also, the platform helps in the simplified collection of information about expenses through receipts scanning.
Avaza software solution would be a great choice for creative and marketing agencies, IT, law firms, and consulting agencies. Managers will have the ability to set and track the progress of tasks, set up time trackers and have a simple tool to record corporate expenses, executives will be able to optimize the control of employees work using workload schedules and a reporting system, and financial departments will be able to quickly collect data on personnel expenses and draw up invoices.
Pricing
Free plan costs $0 ( unlimited project collaborators and 5 active projects).
Startup plan costs $9.95 per month.
Basic plan costs 19.95 per month.
Business plan costs 39.95 per month.
Toggl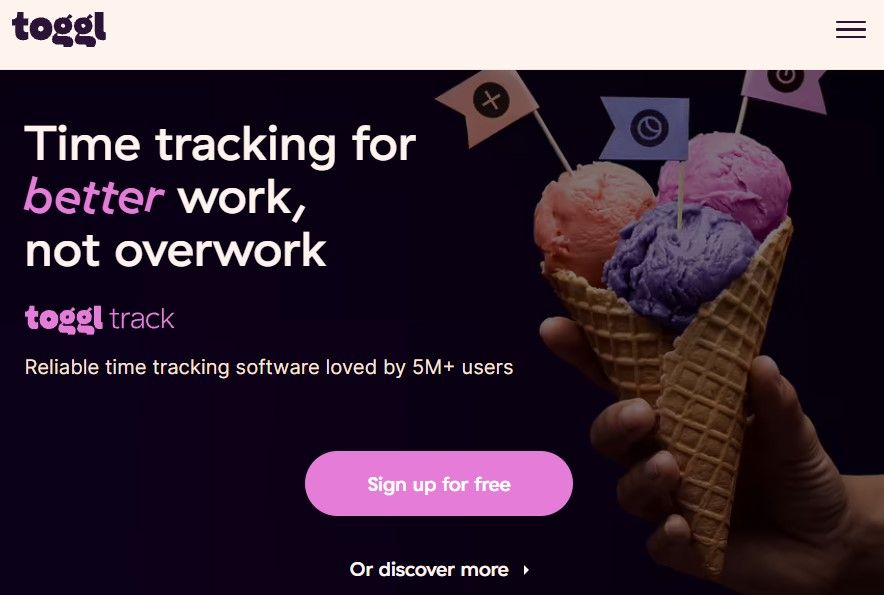 Toggl is one of the most popular time tracking services. Suitable for tracking the activity of individuals or teams. The time tracker is available on desktop for Windows or macOS, has and Chrome or Firefox extension and has a mobile application.
Toggl can be synchronized with Trello, GitHub, JIRA, Asana and many other applications. This allows you to quickly add tasks that are already in progress to the time tracker. It is also possible to import tasks directly from the website.
Pricing
Toggl offers a 30-days free trial or you can request a demo.
Free plan costs $0 per month (up to 5 users).
Starter plan costs $10 per month (per person).
Premium plan costs $20 per month (per person).
Teamwork

Teamwork is a project management and time management tool that helps to speed up communication between departments by keeping all emails, files and other documents in one system. Teamwork is aimed at the organization of processes so that each member of the team could easily see all of their tasks and deadlines, and the managers could monitor the workload of all members of the team and control the work processes.
Teamwork has a desktop version and mobile application. Such features as calendar synchronization help to reduce the risk of schedule overrun. Employee statuses are updated in real-time, which allows everyone to see who does the work on a specific project and at what stage is the project. The software has a wide range of access settings and the function of creating private comments available only to specific persons.
Pricing
Teamwork offers a 30-days free trial.
Free forever plan costs $0 ( basic tasks and project management).
Deliver plan costs $12.5 per month (per person).
Grow plan costs $22.6 per month (per person).
Scale plan has custom pricing, contact Teamwork company for details.
Hubstaff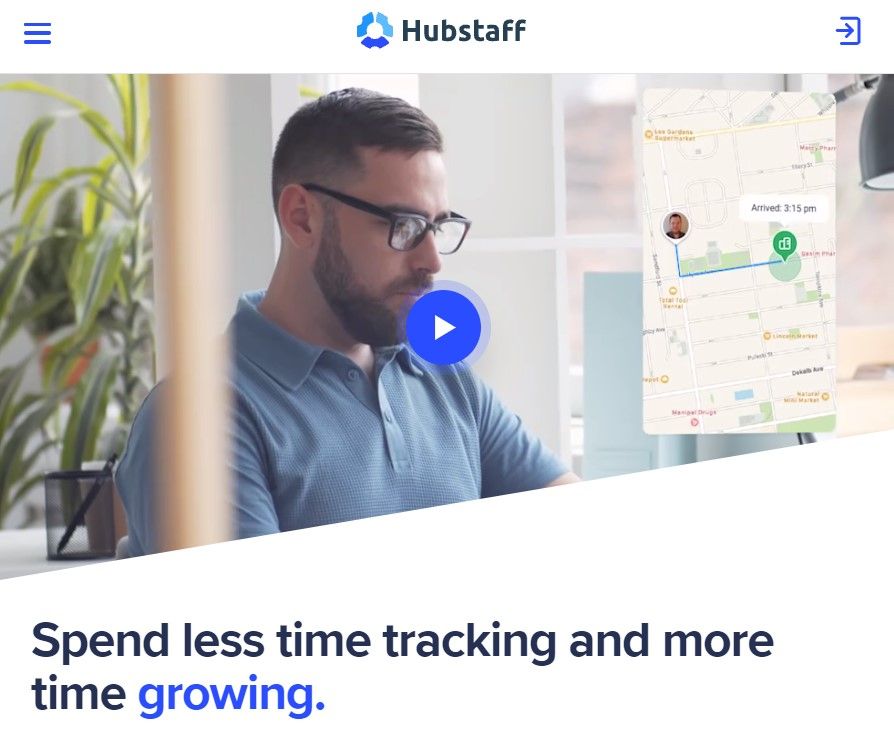 Hubstaff is an easy-to-use solution for time tracking, which also contains some functions for personnel control.
Hubstaff has excellent monitoring and control capabilities. The administrator can find out what employees do during business hours and how much they need to be paid when the work is completed. The platform has such features as accounting for working hours, salary schedule manager, 24/7 support and individual user settings. Also, Hubstaff allows you to find out whether employees are actually working or not. There is a screenshot function, as well as a function of monitoring keystrokes and mouse movements. Hubstaff is among the few tools that offer such a high level of workflow control.
Pricing
Desk free plan costs $0 forever ( for one user only).
Desk starter plan costs $7 per month (per person).
Desk pro plan costs $10 per month (per person).
Enterprise plan has custom pricing, contact Hubstaff team for details.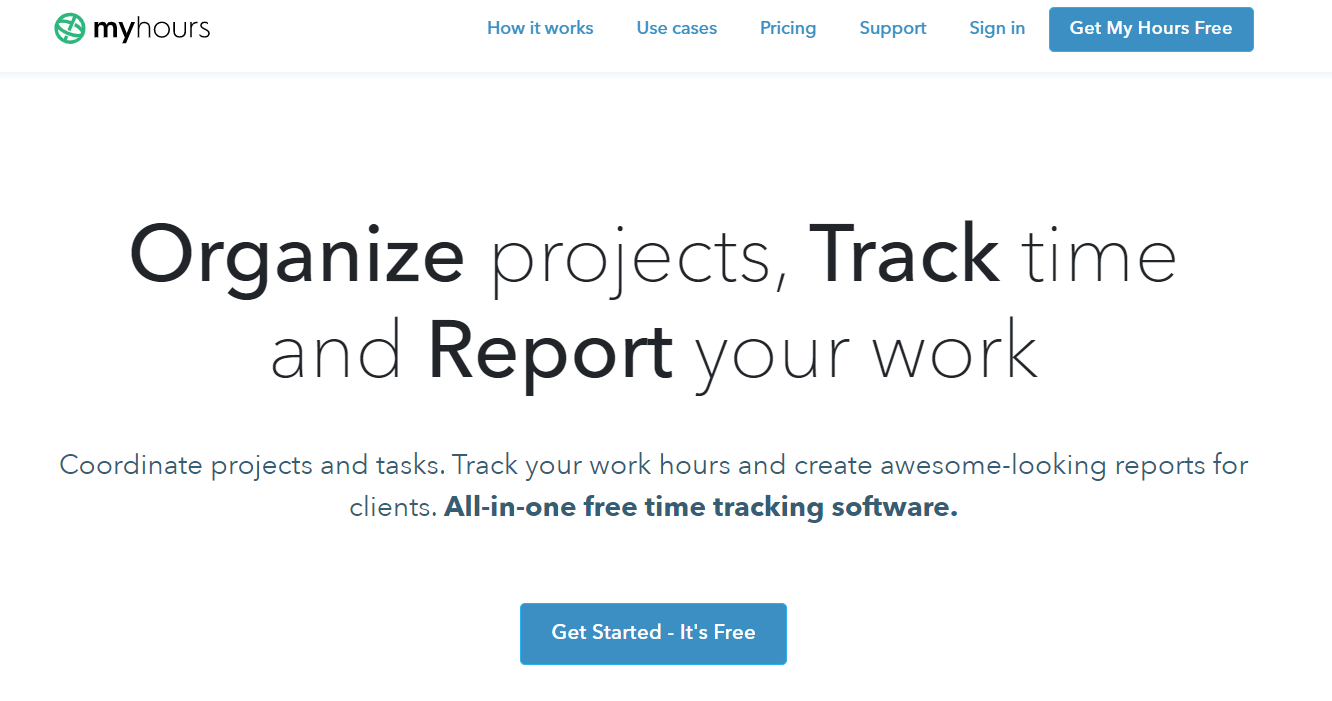 All-in-one free time tracking software modified for your specific needs and desires to save your time.

With the help of My Hours you can get out of your inbox mess: create projects, assign tasks and write down or attach details. It makes it easy to track project profitability with hourly rates. Set up budgets and get reminded when you're close. You get an opportunity to add a detailed description to your time logs and expenses. The advanced benefit provides from  Dashboard to more advanced time analytics. There is no need for extra spreadsheet work, even though you can export your data.
Pricing
Free - 0$
(For individuals or teams just getting started with time tracking.)
Pro- 6$ per active team member, per month billed annually
(For freelancers and teams actively managing their time.)
Conclusion
All of the time management services provide a free trial period. Also, most of them have a free plan with limited functionality. Before choosing a specific time management solution, you should understand the "wants and needs" of your business, take into fact the number of employees you have and only then decide what type of software solution will fit your business.