10 Tips How To Sell Digital Products Online
Digital products are easier to sell than physical products. There is no need to keep stock or worry about expiration dates, packaging, or shipping. You earn revenue as long as you keep them available for download online. Pretty attractive, what say you?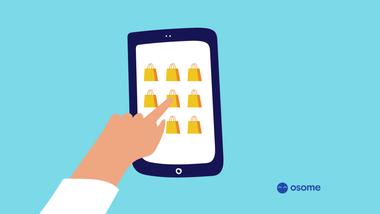 Creating YouTube content? Check. 10k followers on Instagram? Check. Selling your own apparel line online? Check. How about selling digital products as your next milestone?
Digital products are easier than physical products to sell inventory-wise. You do not need to keep stock or worry about expiry dates, packaging or shipping. You earn revenue as long as you keep them available for download online. Pretty attractive, what say you?
We love seeing e-commerce businesses grow. That's why if you own one, we'd rather you speed things up by letting us help you with the routine administrative paperwork like accounting and bookkeeping. Talk to us to find out how you can get the help of expert accountants in the UK to help you do that. Isn't it a relief when you get to know accountants who understand how e-commerce businesses work?
What Is a Digital Product?
A digital product is an online asset or form of media where the ownership is transferable (either paid or free)  from the content creator to the buyer. It can be sold and distributed many times without ever needing to replenish your inventory. Digital products could be downloaded or streamed online, e.g. PDF, audio or video files, webcam program, software, and plug-ins, and can also be subscription-based, e.g. website membership access, and online lessons. Digital products could be turned into physical products though. For example, a poster could be printed from a digital photograph that you bought, or a 3D print of a mug from a print model you purchased online.
Digital products are mostly from these product categories:
Writing: e.g. Ebooks, online magazines and newspapers, academic papers;
Audio: e.g. Instrumental tracks, sound effects;
Video: e.g. Video animation intros, documentaries;
Design: e.g. Wallpapers, photographs and prints, presentation templates;
Photography: e.g. Stock photos, Photoshop or Lightroom presets;
Software and tech: e.g. Apps, domain hosting, games;
Education Services: e.g. Language lessons, financial planning and consultation, audits and proofreadings.
Here are some examples of popular digital products sold from the United Kingdom:
Where Can I Sell Digital Products?
The best place to sell your digital products is on your own website. You could use tools and plugins such as SendOwl, Easy Digital Downloads, and DPD to generate a buy now button for your website or a payment link for your products that you could display across all of your social media platforms. Depending on the tool, you could even send abandoned cart emails, view sale statistics and generate reports, and opt for upselling and cross-selling for your published products.  
If you do not have a website yet, you could create an online store on Sellfy or Selz to sell your digital products. These sites allow you to host and distribute large digital files that your customers would download. You can run promotions, generate discount codes and have access to a basic email marketing platform on Sellfy, while Selz features SEO options like adding a meta description for your products.
All these services range between USD $10 to $200 per month depending on the options and plans that you select.
When you have the download and payment links in order, you could then sell your digital products to a wider audience on online marketplaces such as Amazon, eBay, Etsy, and Facebook Marketplaces.
How Are Digital Products Taxed?
In the United Kingdom, according to Her Majesty's Revenue and Customs (HMRC), only digital products that fall under 'digital services' which are electronically supplied are taxed.
Electronically supplied means payment processing and delivery of digital goods or products are done automatically (or almost everything done automatically) by the seller's online store system. Radio and television broadcasting services, telecommunications services, electronically supplied services are all taxed.
These digital services are taxed:
The supply of audio and audio-visual content for simultaneous listening or viewing by the general public on the basis of a programme schedule by a person that has editorial responsibility;
Supplies of images or text, such as photos, screensavers, e-books and other digitised documents, for example, PDF files;
Supplies of music, films and games, including games of chance and gambling games, and programmes on demand;
Online magazines;
Website supply or web hosting services;
Distance maintenance of programmes and equipment;
Supplies of software and software updates;
Advertising space on a website.
On the other hand, these digital services are not taxed:
Supplies of goods, where the order and processing is done electronically;
Supplies of physical books, newsletters, newspapers or journals;
Services of lawyers and financial consultants who advise clients through email;
Booking services or tickets to entertainment events, hotel accommodation or car hire;
Educational or professional courses, where the content is delivered by a teacher over the internet or an electronic network (in other words, using a remote link);
Offline physical repair services of computer equipment;
Advertising services in newspapers, on posters and on television.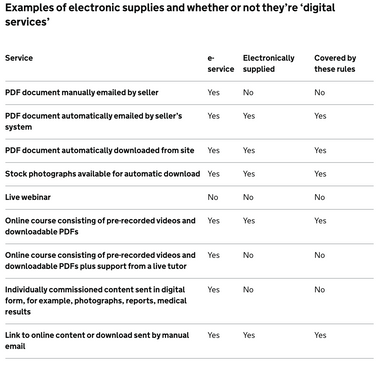 As an online digital products seller, you are expected to charge 20% Value-Added Tax (VAT) if you sell taxable digital products to British residents currently residing in the United Kingdom. This rule applies even if you made one single sale from the U.K., as there is no sales registration threshold.
Remember to include this information in your invoices to customers in the United Kingdom for taxation purposes:
Your business name and address
Your business VAT number
Invoice date
Invoice sequencing number
Description of the goods or services
Rate of VAT applied to each item
The total amount charged including VAT
You could apply for a VAT registration number online here -without the need to appoint a tax representative in the U.K.- if you are living abroad. A VAT number recognizes you as a legal business and registers you in the United Kingdom's tax system. This number tracks the amount of tax you charge customers, how much taxes you pay, and the tax credits you receive.
10 Tips How To Sell Digital Products Online:
Quality Text and Images
When you are selling digital products online, the only customer touchpoint is through their screens. Thus, make sure the published text (or copy) on your website is grammatically correct, easy-to-read, and sounds professional and reliable. Never make your customers question the legitimacy of your offerings with sloppy write-ups. Engaging in digital products copy merits the extra time and effort that you need to come up with it.
Use a tone and style that is consistent with your products and brand image;
Proof-read your content for an error-free copy;
Consider engaging a professional copywriting service if writing is not your forte;
To complement good copy, include high-quality and high-resolution images on your website.
High-quality images speak volumes of the quality and trustworthiness of your digital products. Provide online shoppers with several images of each digital product if possible. High-quality images help convert visits to your website into sales by garnering more views to your site, increasing user engagement, and decreasing bounce rates. All of which would translate into more time spent on your site and increasing the conversion rate. Engage a photographer or designer if you want custom images, or you could also download or buy stock photographs from websites like Getty Images and Shutterstock.
Clear Product Specifications
Digital products such as software need technical product information to be presented clearly and concisely. Customers take product specifications and documentation into consideration when deciding on a big-ticket digital product purchase. Digital products shoppers increasingly prefer searchable online documentation and FAQs over downloadable PDF guides. Think about the questions that consumers would have about your products and make sure that they are addressed. Aid your customers with photos and videos for them to learn how to get your template, software or application, up and running quickly.
Your product information and documentation:
Uses easy-to-understand, succinct, and not too technical language;
Has pages with clearly defined sections, is easy-to-navigate and user-friendly;
Includes SEO-optimized content and is mobile-friendly.
Provide Product Demo and Promote 'Live'; Showcase Customer Testimonials
Besides recording a product demonstration video, you could also conduct a 'live' product demonstration or promotion for your digital products.
Choose a social media platform that suits your brand image, like Facebook, Instagram or TikTok.
Highlight the features, functions, and quality of your digital products through these demonstration videos or 'live' sessions.
These videos would build rapport and trust with your customers and manage their expectations better. Word-of-mouth recommendations and referrals are invaluable for an online seller, notably for new digital product sellers.
Customers who had good experiences using your products would most likely write a review for you. Feature them on your landing page.
Invite or incentivize them to leave a review for you and rate your app on app stores or online marketplaces.
Use social listening to see what others are talking about your products and brand and listen to their feedback to improve.
Redefine Value Proposition and Appeal Emotionally
Your value proposition, or how your products or services benefit your customers, should be at the heart of your marketing communications and online content. Check if your value proposition could be easily identified on your landing page copy, and your sales and marketing materials.
Convey site visitors how your digital products would solve your customers' problems and the specific benefits they offer. For example, ebooks or online courses would improve a buyer or subscriber's understanding regarding a certain subject and even his life.
Differentiate your products' value propositions and explain how they are superior to your competitors'.
Moreover, you could make a connection with your prospective buyers when you use language that appeals to their emotions. Help prospects visualize how your digital products make them feel good, be successful, or feel secure. Explain to them how your products save their time and hassle or help them gain a new skill.
Engage With Users on Social Media
One of the best ways that a brand can increase customer satisfaction, brand awareness and sales is by engaging with their prospective buyers or current consumers via social media.
Strive to respond quickly to customers' queries in a polite and friendly tone;
Be honest with them, e.g. if you are unable to fulfil their customization requests.
Most big brands set up Twitter accounts to interact and respond to their customers' queries. Puffin Books in the U.K. for example created a community around their products by holding online polls on Twitter, as a way of creating conversations with their readers.
Use Remarketing
Remarketing or retargeting is an online marketing strategy that promotes your website or products again after your customers have visited and exited your site. A tracking pixel placed on your website allows you to follow which other sites your prospects visit after yours. It would then place an advertisement of your product or services there, as a reminder for them to visit your site again.
Target recent visitors to your sites, shopping cart abandoners, and/or repeat customers in this remarketing strategy;
Schedule your ads so that they are not too frequent, else it would overwhelm and irritate prospective buyers;
Test which part of the ad (visual, promotion offer, or headline) helps convert visits into sales (A/B testing).
Create a Sense of Urgency
During its 2020 Black Friday sale, Shopify reported $2.4 billion in sales globally, 75% growth in sales from 2019, despite being conducted during the Covid-19 pandemic. Black Friday sales signal a sense of urgency, and consumers would buy more 'just because it's on sale'.
Similarly, you could apply the same concept when selling your digital product online. These are some of the strategies that create a sense of urgency for you to employ to sell your digital products:
Create a sense of scarcity and instil fear of missing out (FOMO). For example, Booking.com prompts that there is just one "last room left" when customers are browsing to book hotels.
Use short call-to-action words such as "hurry", "one time offer", "today only", "clearance", etc.
Set deadlines when giving out discount coupons, and free delivery.
Incorporate countdown timers to indicate the hours, minutes and seconds that pass by before your promotion ends.
Neuroscience Marketing reported that adding a countdown timer increased revenue by 9% in a test where time left for next-day delivery was displayed. This method is really effective on impulse and repeats buyers.
Use the Voice of Your Customer
It is useful to conduct market research, surveys and focus group testing before launching your digital products online. From there, you gauge the voice of your customer and find out their wants and needs, expectations, pain points and aversions. Take note of the language and lingo of your target market, and use the voice of your customers across your ads and website copy to relate and engage with them better.
Smooth Payment Processing With As Many Payments Methods As Possible
Alright, so your prospective buyer viewed your ad and clicked it. She scrolls and browses through your product catalogue and adds three prints into her shopping cart. At checkout, she needs to select the paper type, confirm her print dimension sizes, agree to the copyright terms, fill in her name, address, email, delivery address, billing address… and her doorbell rings and she abandons her cart. Barclaycard reported that in 2018 in the U.K., £18 billion is lost each year in abandoned shopping carts.
Try these methods when you sell your digital products on your websites to avoid cart abandonment:
Make sure that your checkout page is easy to navigate and the payment processing smooth.
Skip unnecessary form-filling and make sure that any information entered would be saved automatically if the buyer happens to navigate away for a while. This is to avoid them from needing to start all over again.
Provide as many payment options as possible. Debit and credit cards, PayPal, digital wallets, etc. Ensure that your region's most popular payment options are included.
Follow Up, Follow Up, Follow Up
Follow up with your customers after their purchase. Send them a thoughtful follow-up email to thank them for their purchases. Offer and remind them about your after-sales services and support should they face any problems when accessing and using your digital products. Doing so would increase customer retention and create brand loyalty.
Amazon has 'Customer Obsession' as one of its 14 Leadership Principles. Amazon's understanding of customers, personalised services, plus their attentive and reliable customer service team have bagged them the first place in the U.K. for excellent customer service across a decade. That is no small feat. The Institute of Customer Service in the United Kingdom published a report that Amazon received an average customer service score of 87.4 (out of 100) on the U.K. Customer Service Index (UKCSI) between January 2010 and January 2020. Never underestimate the power of good after-sales support and services. It will leave a good impression on your customers.
Tip
Ultimately, an important digital service that you need is accounting for e-commerce businesses. With Osome, you focus fully on promoting and selling your products online, without the hassle of filing for VAT and tax yourself. Leave that to us, and just concentrate on your business.