What Are Directors' Duties In The UK?
We bring you through what kind of directors there are, who can become a company director, a director's duties and what the role entails.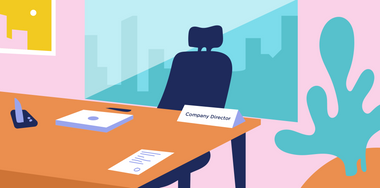 If you're reading this, you are probably either looking for a director for your newly formed company or have been appointed as a director of a company in the UK. In the below guide, we bring you through what kind of directors there are, who can become a company director, a director's duties and what the role entails.
By the way, if you're looking for help to open your company, or to finding out how to outsource your bookkeeping to a trusted company in the UK, we can help you with that. As business owners, you don't have to do everything alone! Drop us a chat to find out more, meanwhile, do read on.
What Is A Director?
First and foremost, all companies must have at least one director appointed by the shareholders who form the company. However, a common misunderstanding is that the director of a company is automatically the company owner. This is not entirely true - you may be the person starting up the company, but are not the director.
Company directors are legally responsible for running the company. This widely applies to directors who appoint company secretaries to assist with the director's job, although company secretaries are not legally responsible for the company's records, accounts and performance.
The role of a company director is stated in the Companies Act 2006 and is usually defined in the company's Articles of Association. Below, we will list out what your role as a director of a company is and how important it is to a company.
What Kind Of Director Are You?
There are two major types of company directors - executive and non-executive. There is a difference between the two, and you have to be sure of what kind of director you are appointing or taking on. To put it simply, directors participate in board meetings and are in charge of helping the board make strategic decisions for the good of the company.
Shareholders can choose to appoint a certain director who has higher power over the rest of the board members as well. Ultimately, this will come down to the Articles of Association on what you can or cannot do as a director.
Executive director
An executive director must be registered at the Companies House as the director of the company, while a non-executive does not necessarily have to. The appointment must be registered with Companies House within 14 days of their appointment. As there is no legal distinction between executive and non-executive directors, their details will need to be filed with Companies House in the usual way.
Non-Executive director
A non-executive director still has the same legal responsibilities as an executive director. However, he or she is not involved in the day-to-day operations of the company business. Instead, they sit on the company board of directors and provide strategic input to improve the business. Non-executive directors are most often paid on a part-time basis.
Who Can Become A Company Director?
The general rule states that almost any individual or corporate body can become the director of a company. There are no specific law requirements and no need for any formal qualifications, skills or experience for a director. Nonetheless, there are some restrictions that can hinder your appointment as a director.
You cannot be appointed as a company director if you are:
Under the age of 16
The auditor of the company you are being appointed at
An undischarged bankrupt
A disqualified director by court
What Are The General Duties Of A Company Director?
According to the Companies Act 2006, there are certain responsibilities a company director has to comply with.
A director must act within powers under the company's constitution
A company's constitution includes the most important aspect - the Articles of Association. This is a set of rules that have been set by the company and must be followed. Failure to do so can and may result in legal penalties depending on the severity of the situation.
In any case of not adhering to the Articles of Association, related decisions you make could result in you having to compensate the company for any financial losses.
A director must promote the success of the company
One of the most well-known responsibilities of a company director, larger companies with more than 250 employees have to explain in their annual report how directors have fulfilled this job duty.
This means that as a director, you must act in good faith for the benefit of the entire company and its members. This includes deciding whether it is appropriate for the company to take on a certain course of action, and if it will promote the success of the company.
Tip
These decisions can be made based on the following:
Any likely bad consequences in the long term
Whether it will affect the employees in the company
Relationships with external parties
The impact on the environment and community
A director must exercise independent judgement
As a director, you should have your own informed view on what the company should or should not do, based on research and your opinions. Simply put, decisions you make should not be based on what other parties command you to do. This could be difficult if you do not have enough prior experience or knowledge in similar roles or the company itself.
A director must exercise reasonable care, skill and diligence in the role
Previously, directors were appointed purely based on name and reputation, without having to perform any work as a board member. Today, an appointed director must be equipped with the proper knowledge, skill and experience to carry out director duties.
A director has to avoid any conflict of interest situations
A conflict of interest can arise when the director:
Has prior business or personal relationships with persons or entities that are affected by the company's activities
May be considered taking advantage of property, information or opportunity that rightfully belongs to the company
Receives personal benefits or gifts from third parties
A director has the legal duty to disclose and report any direct or indirect interest with any persons or entities. This applies to whether or not the company decides to follow up with the particular third-party person or entity.
What Are The Consequences If I Breach My Duties As A Company Director?
If a breach in director's duties is found, the company should take the necessary action. For instance, one or more shareholders can refute the director and make a claim against said director.
Some consequences of breach include but are not limited to:
An interim injunction to prevent any extended loss or damage
Removal of the director from the board subjected to shareholders voting decisions
Compensation for financial losses incurred
Restoration of company property
In more serious cases, criminal fines and court hearings can be held, which can result in grave consequences for you as a director.
Am I Responsible For A Company's Failure If I Am The Director?
Generally, directors are not normally liable for the company's debts if a decision has resulted in financial loss and liability for the company. Nevertheless, to prove that you have fulfilled your legal duties as a director, it is always a good idea to keep a record of all minutes of board meetings, so that you can show your role in the board's decision-making process.
According to UK law, these minutes of meetings must be kept for ten years. In any case you are unable to recall a certain decision you made that resulted in a certain consequence for the company, these minutes can provide a record and evidence that you acted in good faith of the company.
Next Steps You Can Take
If you are still unsure of how to go about with forming your company in the UK, we are here to help. Other than company formation, we are also more than happy to assist with accounting for SMEs and E-commerce companies as well. Just drop us a message for an instant callback!