Accounting Firms in Leicester: Your Guide to Accounting and Finance Services
Looking for reliable accounting firms in Leicester? Read on to discover how outsourcing accounting services can benefit your business and find out why Osome is the top choice for online accounting services in Leicester.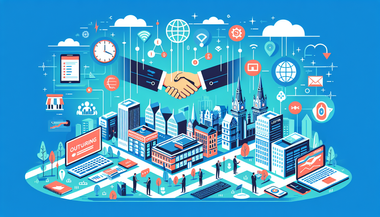 When it comes to managing your business finances, it's crucial to have the support of a professional accounting firm. If you are based in Leicester, you're in luck. The city is home to a wide range of accounting firms that can help you with all your accounting and finance needs. In this article, we will explore the benefits of outsourcing accounting services and why Osome is the top choice for online accounting services in Leicester.
Why Outsource Your Accounting Services?
Outsourcing your accounting services to a reputable firm can provide numerous advantages for your business. Here are a few key benefits:
Expertise and Experience: Accounting firms specialize in financial management and have the expertise and experience to handle all aspects of your business's finances. Their knowledge of tax laws and regulations can help you maximize your deductions and avoid costly mistakes.
Time and Cost Savings: By outsourcing your accounting services, you can free up valuable time and resources. Instead of spending hours on bookkeeping and financial tasks, you can focus on growing your business. Additionally, outsourcing can be more cost-effective than hiring an in-house accountant.
Access to Advanced Technology: Accounting firms use the latest accounting software and technology, which can streamline your financial processes and provide real-time insights into your business's financial health.
Scalability: As your business grows, your accounting needs may become more complex. An accounting firm can easily scale their services to meet your changing requirements, ensuring that your financial management remains efficient and accurate.
By outsourcing your accounting services to a trusted firm, you can focus on what you do best while leaving the financial management in the hands of experts.
Why Choose Osome for Online Accounting Services in Leicester?
When it comes to online accounting services in Leicester, Osome stands out from the competition. Here's why:
Convenience: Osome offers a fully digital and hassle-free accounting service. You can access your financial information anytime, anywhere, and collaborate with your dedicated Osome accountant seamlessly.
Expert Accountants: Osome's accountants are highly qualified professionals with extensive experience in accounting and finance. They stay updated with the latest tax laws and regulations to ensure your business remains compliant.
Personalized Service: Osome understands that every business is unique. Their accountants take the time to understand your specific needs and tailor their services accordingly, providing personalized support and advice.
Affordable Pricing: Osome offers transparent and competitive pricing with no hidden fees. You can choose a package that suits your business's requirements and budget.
Excellent Customer Support: Osome prides itself on delivering exceptional customer service. Their friendly and knowledgeable support team is available to assist you whenever you have questions or need assistance.
With Osome, you can enjoy the benefits of professional accounting services without the hassle and paperwork traditionally associated with it. Their online platform simplifies the accounting process, allowing you to focus on growing your business.
FAQ: Your Questions Answered
1. How can accounting firms in Leicester help my business?
Accounting firms in Leicester can provide a range of services to support your business's financial management. They can handle tasks such as bookkeeping, payroll processing, tax preparation, and financial reporting. Their expertise can help you make informed decisions and ensure compliance with tax laws and regulations.
Yes, online accounting services are reliable when you choose a reputable provider like Osome. With secure and advanced technology, you can trust that your financial information is protected. Online accounting services offer convenience and real-time access to your financial data, making it easier to manage your business's finances.
3. How do I choose the right accounting firm for my business?
When selecting an accounting firm for your business, consider factors such as their expertise, experience, reputation, and pricing. Look for firms that specialize in your industry and have a track record of providing excellent service. Additionally, consider their technology capabilities and the level of support they offer.
4. What are the benefits of online accounting services?
Online accounting services offer several advantages, including convenience, accessibility, cost savings, and scalability. With cloud-based technology, you can access your financial information anytime, anywhere. Online services also eliminate the need for physical paperwork and can integrate with other business tools, streamlining your financial management processes.
5. How can Osome help with company incorporation?
Osome offers company incorporation services to help you set up your business in the UK. They handle the entire process, including registering your company, obtaining necessary licenses, and ensuring compliance with legal requirements. With their expertise and efficient service, Osome makes company incorporation a smooth and hassle-free experience.

In Conclusion
When it comes to accounting and finance services in Leicester, outsourcing to a trusted accounting firm can provide significant benefits for your business. With their expertise and experience, accounting firms can handle all aspects of your financial management, allowing you to focus on growing your business. Online accounting services, like those offered by Osome, offer added convenience and efficiency, making it easier than ever to stay on top of your finances. Whether you need assistance with bookkeeping, payroll, tax preparation, or company incorporation, Osome is the top choice for reliable and professional online accounting services in Leicester.