Unlocking the Benefits of a UK-Based Stripe Account in Kiribati with Osome
Unlock the potential of a UK-based Stripe account in Kiribati with Osome. Although Stripe is not supported in Kiribati, Osome can help you open a UK-based company, granting you access to a verified Stripe business account.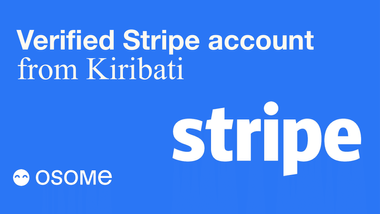 How to Leverage a UK-Based Company to Open a Stripe Account in Kiribati
If you're a business owner or entrepreneur in Kiribati, you may have encountered the frustrating reality that Stripe, one of the most popular payment processing platforms, is not supported in your country. However, don't let that discourage you from expanding your business and accepting online payments.
With the help of Osome, a company incorporation service, you can open a UK-based company and unlock the benefits of a verified Stripe business account. In this article, we'll guide you through the process of setting up a Stripe account in Kiribati using a UK entity and explain why Osome is the ideal partner for this venture.
1. The Limitations of Stripe in Kiribati
Kiribati, a beautiful island nation in the Pacific Ocean, offers a unique landscape for business ventures. However, due to certain regulatory restrictions, Stripe is not available for local businesses. This poses a significant challenge for entrepreneurs looking to accept online payments and streamline their operations.
But don't worry! With the right approach, you can overcome these limitations and leverage the power of Stripe to grow your business in Kiribati.
2. The Solution: Opening a UK-Based Company
To open a Stripe account and start accepting online payments in Kiribati, you need a UK-based entity. This is where Osome comes in. With their expertise and efficient services, they can help you establish a UK company quickly and effortlessly.
By setting up a UK entity, you gain access to a wide range of benefits, including:
A trusted and globally recognized business location: The UK is renowned for its robust legal framework and business-friendly environment.
Access to Stripe and other leading payment platforms: A UK company allows you to easily integrate with Stripe and other popular payment gateways.
Enhanced credibility and trust: Operating a UK-based business adds credibility to your brand and instills trust in your customers.
Expanded market reach: With a UK entity, you can target customers worldwide, expanding your market reach beyond Kiribati.
3. The Osome Advantage
When it comes to company incorporation services, Osome stands out as a trusted and reliable partner. Here's why you should choose Osome to open a UK-based company:
Efficiency: Osome streamlines the entire process, ensuring a fast and hassle-free company incorporation experience.
Expertise: Their team of experienced professionals understands the nuances of company formation and can guide you through the entire process.
Cost-effectiveness: Osome offers competitive pricing plans, making their services accessible to businesses of all sizes.
Compliance: Osome ensures that your company is fully compliant with all legal and regulatory requirements, giving you peace of mind.
Ongoing support: Even after company incorporation, Osome provides ongoing support and handles administrative tasks, allowing you to focus on growing your business.
4. Opening a Verified Stripe Account
Once your UK-based company is established, it's time to open a Stripe account. Follow these steps to get your Stripe account up and running:
Sign up for a Stripe account: Visit the Stripe website and sign up for a business account.
Provide necessary documentation: Depending on your business type, you may need to provide documents such as ID proofs, business registrations, and bank statements.
Link your UK-based company: During the registration process, you'll be asked to link your UK entity to your Stripe account.
Verify your account: Stripe may require additional verification steps, such as confirming your identity or providing business-related information.
Start accepting payments: Once your Stripe account is verified, you can integrate it into your website or app and start accepting payments from customers worldwide.
5. Conclusion
While Kiribati may not have direct access to Stripe, you can still harness the power of this leading payment platform by opening a UK-based company with the assistance of Osome. By establishing a UK entity, you unlock a world of possibilities for your business, from global payment processing to enhanced credibility.
Don't let geographical limitations hold back your entrepreneurial ambitions. Embrace the opportunities offered by Osome and take your business to new heights, all while seamlessly integrating with Stripe and accessing a world of online payment possibilities.
FAQ
Q1: Can I open a Stripe account in Kiribati without a UK-based company?
No, as of now, Stripe is not directly supported in Kiribati. However, by opening a UK-based company with Osome, you can overcome this limitation and enjoy the benefits of a verified Stripe business account.
Q2: How long does it take to open a UK-based company with Osome?
The timeframe for opening a UK-based company with Osome depends on various factors, such as the type of company and the availability of required documentation. However, Osome's efficient services ensure a fast and streamlined process.
Q3: Can I use my existing Kiribati business to open a Stripe account in the UK?
No, to open a Stripe account in the UK, you need to establish a UK-based company. Osome can assist you in setting up a new UK entity quickly and efficiently.
Q4: Are there any ongoing compliance requirements for a UK-based company?
Yes, as a UK-based company, you must fulfill certain compliance requirements, such as filing annual financial statements and maintaining accurate company records. Osome provides ongoing support to ensure your company remains compliant.
Q5: Can I use my UK-based Stripe account to accept payments from Kiribati customers?
Absolutely! With a UK-based Stripe account, you can accept payments from customers worldwide, including Kiribati. This opens up new possibilities for your business and allows you to serve a global customer base.
Interested in opening Stripe account from another country?
Here's the list of articles that might help you with that.