Best Accounting Tools for E-Commerce Businesses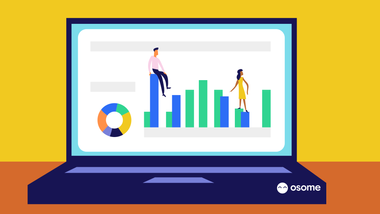 Today, there are a lot more options to help e-commerce businesses keep track of the boring but necessary information like invoices, cash flow, to help company owners maintain a detailed financial record for when tax season comes.
For small e-commerce businesses with little time or expertise, not making the right choice would be costly and time-consuming. However, there are so many options today. A cheaper option is great but would miss out on some features that you would find useful in your daily operations– like inventory management and payroll.
To help you with your selection, we've taken a look at the best accounting tools for E-commerce companies in the market:
Features
Sage
Xero
QuickBooks
ZohoBooks
Osome
Personal Accountant & Bookkeeper
No
No
No
No
Yes
Monthly Management Reports
Yes
Yes
Yes
Yes
Yes
Calculate and submit VAT returns
Yes
Yes
Yes
Yes
Yes
Multi-currency support
Accounting plan only
Premium plan only
Yes
Yes
Yes
Payroll
Optional, extra charges
Optional, extra charges
Optional, extra charges
Optional, third party integration
Yes
Cloud-based
Yes
Yes
Yes
Yes
Yes
Cost per month

Accounting Start: £12

Accounting: £26.40

Starter: £10

Standard: £22

Premium: £27.50

Essentials: £18

Plus: £27

Basic: £6

Standard: £12

Professional: £18

Starter: £145

Booming: £245

Rocking: £345
Sage

Sage has been around for over thirty years. It has established itself as an industry standard for user-friendly accounting software packages. Their accounting software makes it easy to manage income and expenses, unlimited bank transactions, and even generate reports for better decision making.

Their Accounting Start plan includes cashflow statement service and bank account integration. You can record income and expenses as well as calculate and submit HMRC VAT returns. However, it only offers one user support.

Upgrade to their Accounting plan for unlimited users, inventory management, cash flow forecasts and multi-currency invoicing. The Accounting package offers all of the above as well as unlimited user collaboration, inventory management, cash flow forecasts, quotes and estimates, purchase and multi-currency invoicing among others.

Xero

Xero deals with all aspects of eCommerce bookkeeping, from generating invoices and quotes to reconciling your bank balance.

For the Starter plan, you'd be restricted to sending a maximum of five invoices, entering five bills, or reconciling only 20 bank transactions. As you have more bank transactions, you'd need to pay more. However, you would still need to do your accounting work on your own. If you were to use Xero for accounting, you would have to manually go to Xero, choose the 'Accounts' tab, and press 'reconcile' each time.

Intuit QuickBooks

QuickBooks Online has a reliable and cost-effective Quickbooks eCommerce integration. It also has the benefit of being based on the framework of its global PC-based bookkeeping system. It can also integrate with shopping cart platforms like Shopify, and other aspects of your e-Commerce business.

The Essentials and Plus plans are for small e-commerce companies which have registered for VAT registered companies only. For the Essentials Plan, you can calculate and file VAT, manage bills and payments as well as CIS deductions. The Plus plan includes all of the above plus support to create and purchase orders, manage stock and track costs by project, location and budget. Up to 5 users can use this plan.

ZohoBooks

Zoho Books is one of the cheapest accounting software around, with a variety of features. A unique one is that you can send invoices in 13 different languages. Good for if you have customers across the world.

The Basic plan offers the option of two users, bank reconciliation, custom invoices, expense tracking, recurring transactions, and automated workflows. Their Professional plan allows you to track inventory, create sales orders, bills and vendor credits. However, they lack an integrated payroll which can be an issue if you are looking for an all-in-one accounting software.

Osome

Relatively new on the market, Osome is your personal accounting assistant within your phone or your laptop, assisting you around the clock. As you can see in the table above, Osome's premium price is because you get the perks of having an accountant and an accounting app rolled into one. The accountants are experienced in dealing with e-commerce businesses as they understand that each platform you are selling on has different reports. You simply hand over all your accounting tasks to Osome and they will deal with it for you, which makes it really useful for new e-commerce business owners in the UK and Europe.

Osome uses Xero as their bookkeeping software. If you were to use Xero on your own, you would have to manually go to Xero, choose the 'Accounts' tab, and press 'reconcile' each time. Osome connects the e-commerce platform you're using to Xero and upload the data every 24 hours automatically.

Key Features:
AI-powered chat to ask questions to your personal chartered accountant and bookkeeper 24/7 round-the-clock
Reads documents from any platform and produces reports and tax returns for you
Daily bookkeeping with consolidated numbers for each of your SKU, product group and market daily
Monthly management reports for Profit & Loss, and Cash Flow
Calculate and file taxes in the countries you are selling your products
Secure bank-level encryption for your documents
Direct connection with Xero and your bank to exchange data securely
Check out Osome's accounting services for E-commerce companies here.
Making the Best Accounting Software for eCommerce Choices for Your Business
No two businesses are the same and where your business is right now is not where it will be in a year's time. In making the right decision for your business, consider the cost, if the features suit your operations, the user interface, whether you are able to access it on the go, and your level of accounting expertise.
Choosing the right accounting software for your business will save you time and money while allowing you to sell more products.