The Best Project Management Tools for Small Business Owners
Managing projects involves the use of specific monitoring and management tools – as a rule, these are specialized programs in which all the necessary functions are combined in a convenient and intuitive interface.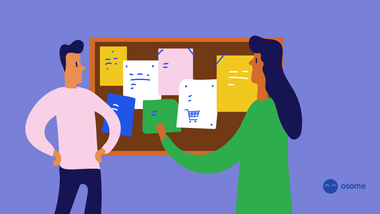 Managing projects involves the use of specific monitoring and management tools – as a rule, these are specialized programs in which all the necessary functions are combined in a convenient and intuitive interface.
The modern software market offers an extensive range of such services, each of which has its own distinctive features and characteristic features. To help you optimize project management, we have prepared an overview of solutions that are already popular and well-known.
Kissflow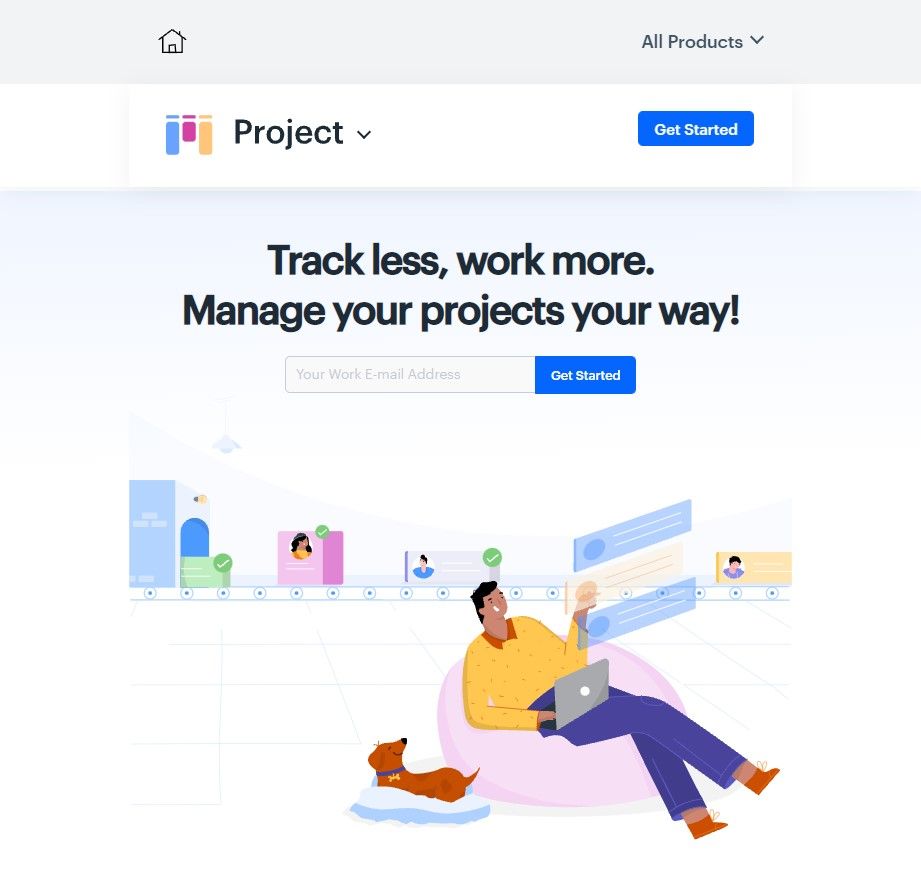 Kissflow Project is a cloud-based collaborative project management solution that helps businesses to manage tasks, create project plans, create automatic deadline reminders, share files and more on a single platform.
It allows team members to use Kanban boards, task lists, matrix representation, and a subproject interface to visualize and track the progress of tasks.
Kissflow Project allows team leaders to assign tasks, generate custom tags, and create forms using a drag-and-drop interface. With the help of the collaboration module, employees can mention colleagues, add comments, leave feedback, share files and attach images to task cards. This allows employees to organize tasks based on deadlines, priorities, and performers, among other parameters.
Managers can also visualize team productivity, identify bottlenecks, and evaluate the speed of task completion. Administrators can configure role-based permissions and monitor user activity logs, ensuring data and user security.
Pricing

Kissflow project offers a free trial for 14 days.
Starter plan costs $9 per month (per user) and includes 3 projects.
Professional plan costs $15 per month (per user) and includes 5 projects.
Enterprise plan requires to contact Kissflow team for details.
Wrike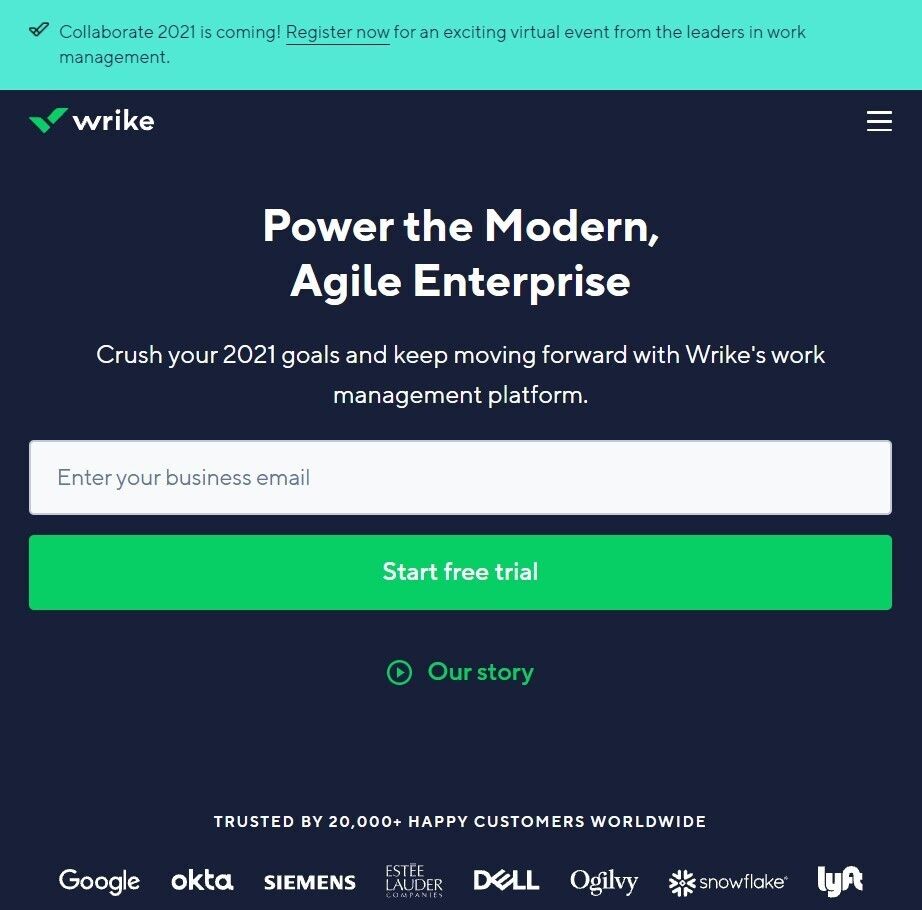 Wrike is a full-featured project management service that has been in existence since 2007. Wrike claims that its success is due to its emphasis on ease of collaboration and effective project management. By creating a digital space for project status updates, resource allocation, and group communication, Wrike is moving forward in it's mission to rethink productivity.
Wrike's powerful feature set is particularly impressive, including organizational functions and time tracking tools for specific tasks and subtasks. In addition, Wrike presents adaptable Gantt charts, customizable reports, and flexible resource management tools.
However, to access these features, you will have to overcome a steep learning curve. Wrike is a complex solution that requires time and patience to learn. This makes it a less attractive option for some users.
Pricing
Free plan costs $0 per month (per user)
Professional plan costs $9,8 per month (per user)
Business plan costs $24.8 per month(per user)
Enterprise plan requires contacting the Wrike team for details.
Pinnacle plan requires contacting the Wrike team for details.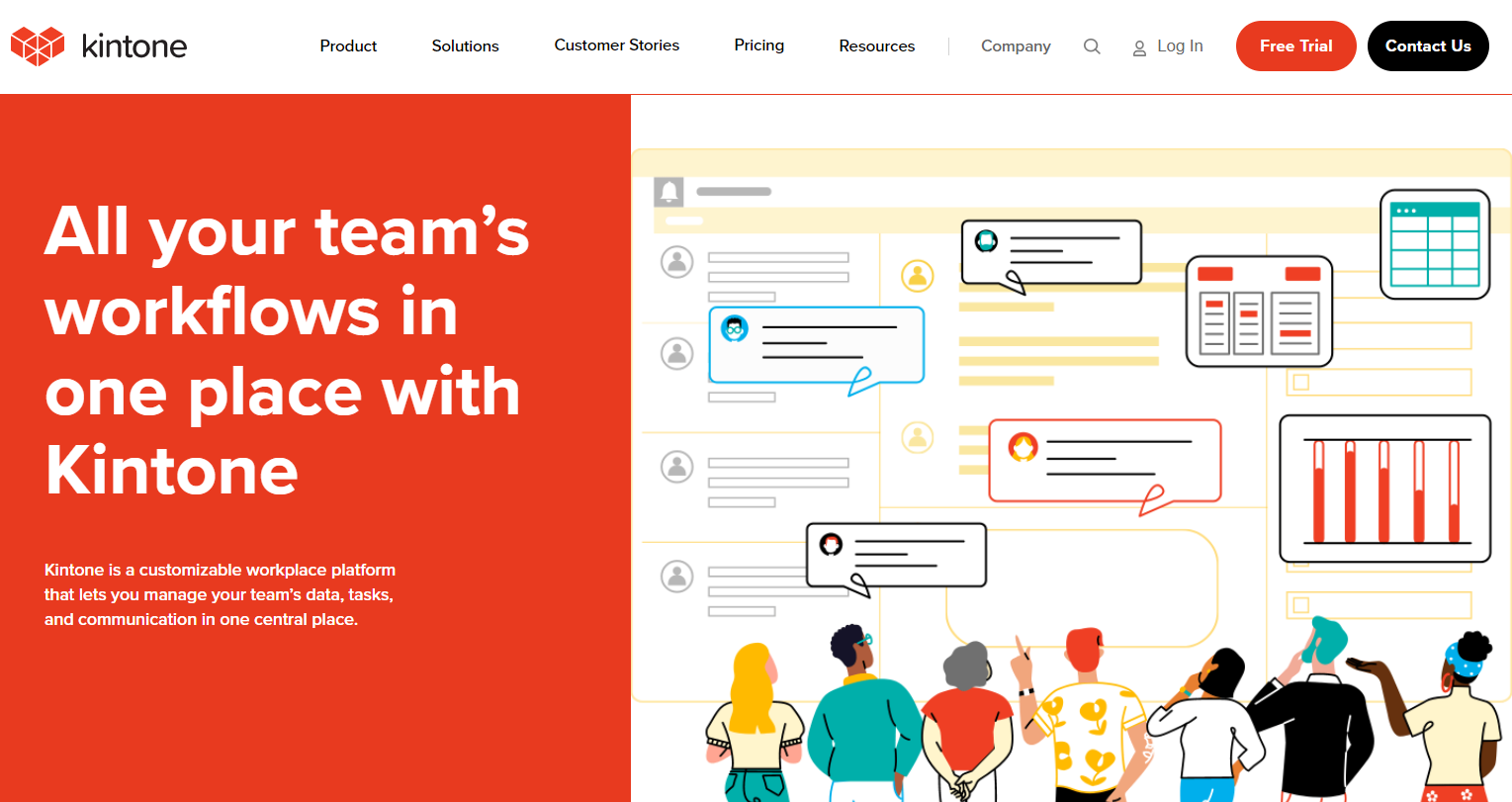 Kintone is a customizable project management software for small businesses that is used by teams from McCormick Distillery (Missouri), A-B Emblem (North Carolina), Michael Callahan & Associates (Virginia), and over 23,000 organizations worldwide. Their unique approach to project and task management lets you build a wide variety of customizable "apps" either from scratch, using templates or from your existing spreadsheets, for data management, business processes, and workflows. Kintone apps can be customized for project management, sales CRM, customer databases, expense reports, shared to-do lists, equipment management, product feedback, and much more.

Kintone lets you build no-code, project management apps for your small business by dragging and dropping elements that you want to see onto the page: rich text fields, date fields, drop-down menus, number fields with built-in calculations, spaces for attachments, user or group selection menus, related data from other apps, tables, and more.

Once you've built the app you want, you can use it to more easily manage whatever data and tasks you and your team need to track. And with custom notifications and reminders as well as detailed permissions settings, your project management solution can look and work however you want it to.

With Kintone's customization features, small businesses are able to manage all of their workflows for every department within one central platform instead of across dozens of tools (CRMs, expense reports, project trackers, and spreadsheets, to name a few). Save time and effort for your team with clear assignments, filtered lists to help prioritize tasks, and automated reminders and handoffs to manage multi-step workflows.

Kintone's built-in communication features also allow teams to discuss projects directly in the app and in topic or project-based threads. Dedicated "spaces" organize everything your team needs for your project, including task-tracking apps and searchable conversation threads.

Kintone lets you expand its capabilities with both free native plugins built by the Kintone team as well as integrations with other tools like Slack, Gmail, Google Calendar, Outlook, Tableau, Dropbox, Salesforce, HubSpot, Eventbrite, WordPress, QuickBooks, MailChimp, and many more through a paid plan with Zapier or via API integrations.

Pricing
Professional Subscription - $24/user/monthEducation & Government
Subscription - $15/user/monthNonprofit - $15/user/month30-day free trial (no credit card required)

All plans: minimum requirement of 5 users, annual discounts available, access to all features
LiquidPlanner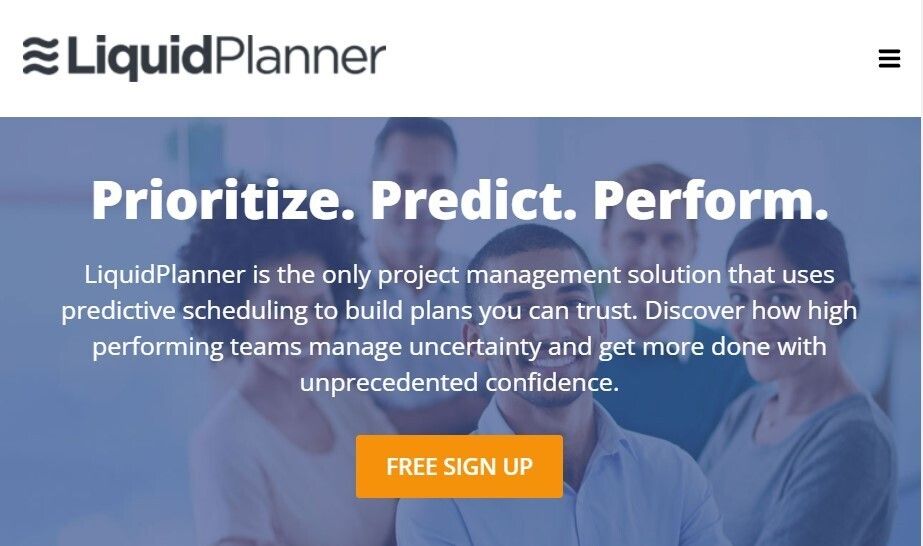 LiquidPlanner is a project planning and management system that can automatically change the order of work of participants when priorities change and new tasks appear, as well as predict project deadlines. This software will answer the questions if you have time to launch at a certain date and how many launches will you have in a certain period of time, reduce the load on the manager and speed up the process of reassigning tasks.
The software is suitable for representatives of small, medium and large businesses, with teams of 5 people or more. It will be useful for technology startups, advertising agencies and corporations with a large number of employees and a volume of work.
LiquidPlanner will help you manage resources, budget, risks and predict real launch dates, taking into account the best and worst scenarios. In addition, the software is useful when calculating time and costs based on several parameters, as well as to build a scheme to achieve the desired result. The system also allows you to create analytics and reports for management and shareholders, available without logging into the program. This software is designed primarily for the organization and planning of a specialist's work. There is an API with the ability to automate standard managerial actions. LiquidPlanner is available both on the desktop and from a mobile phone or through an application.
Pricing
Free plan costs $0 per month.
Essentials plan costs $15 per month (per user)
Professional plan costs $25 per month (per user)
Ultimate plan costs $35 per month (per user)
Monday.com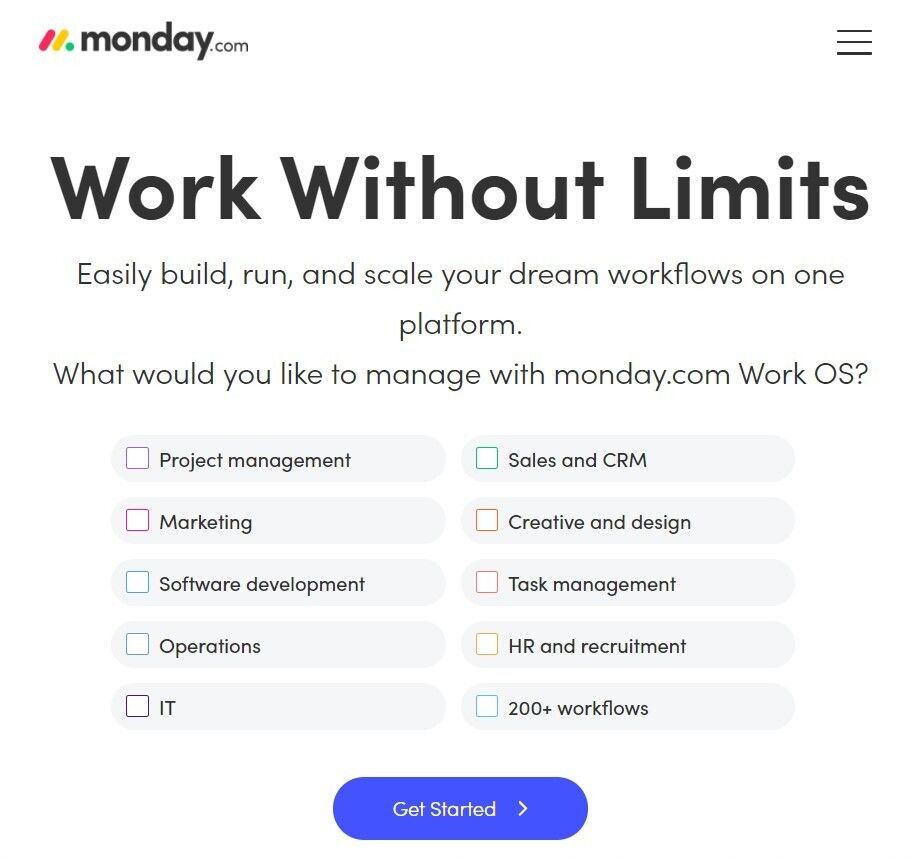 Monday.com – It is a full-featured visual project management tool with an easy-to-use interface for adding and managing team members, projects, process development and monitoring. The architecture of the job management software promotes accountability by ensuring that the relevant departments are always aware of what is going on.
For projects to be effective, they must be successfully implemented. Although the implementation team may have the necessary set of abilities, project management is necessary for the effective organization of tasks and group interests. Monday.com provides its clients with reliable project and team management services.
In addition to customizable workflows, task prioritization, file sharing, mouse dragging, context-sensitive communication, and progress and milestones monitoring, Monday.com also provides time tracking, dashboards, integrations, multiple methods for data validation,  automations.
Pricing
Free plan costs $0 per month ( up to 2 persons)
Basic plan costs $10 per month (per person)
Standard plan costs $12 per month (per person)
Pro plan costs $20 per month ( per person)
Enterprise plan requires contacting Monday.com team for details
ClickUp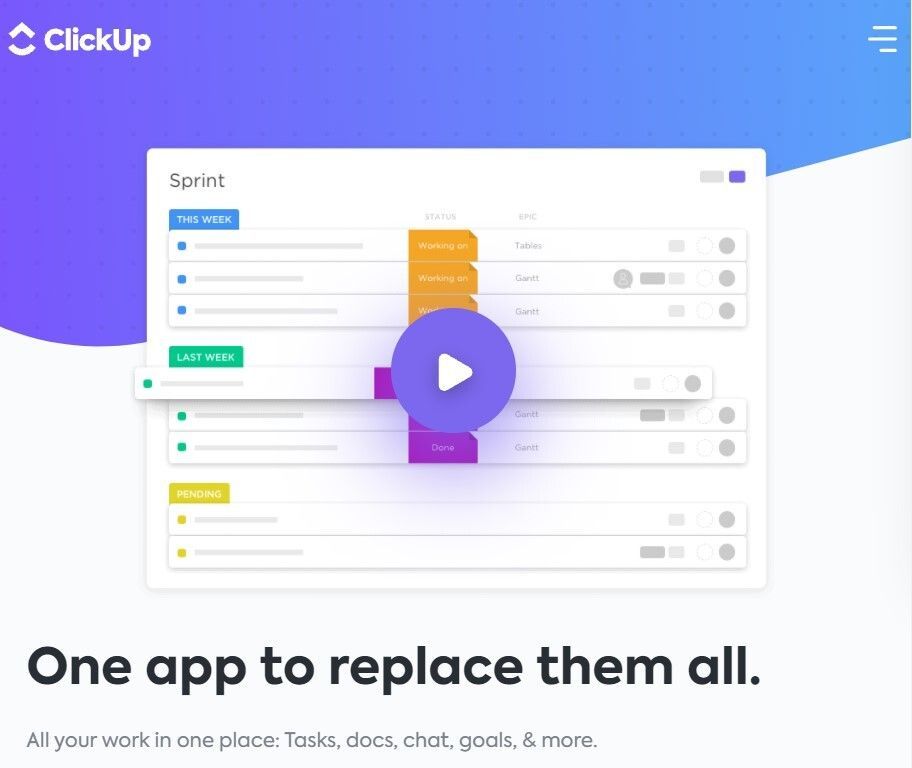 ClickUp is a project management software created to save your time. It provides you with a wide range of effective tools. It tries to solve a common problem with existing productivity software: there are too many features to keep track of. ClickUp solves this problem by making things simple and using easy-to-understand functions.
ClickUp provides a variety of tools to ensure a positive user experience. Custom statuses are the first of more than a dozen options. Comments can be added to each project to inform you of up-to-date information. As a consequence, it is designed to improve the workflow. Custom status templates can be created for marketing, programming, operations, and sometimes for personal use. Status templates work in a similar way, but with the participation of the entire team.
You can use "Allow Comments" to find specific comments related to the project if necessary.
Checklist templates are another tool that allows product managers to create procedures. By marking each item on our to-do list, you can keep your team responsible. Items can also be moved and thrown easily and quickly. Use recurring checklists in conjunction with this feature as it allows you to repeat specific schedules that suit your team. In this case, these checklists can be used together with the Gantt chart.
If a job requires multiple people to work on it at the same time, you can use multiple performers for each project. Dependencies window also can be used to manage projects using only a structured work plan. Dependencies window informs your team about which projects can be worked on at any given time. If it's not ready, it will tell you a list of requirements that need to be met before the project can begin.
Pricing
Free forever plan costs $0 per month (Best for personal use)
Unlimited plan costs $9 per month (per person)
Business plan costs $19 per month (per person)
Business plus plan costs $29 per month (per person)
Enterprise plan requires contacting ClickUp team for details
ProofHub
ProofHub is counted among the most easy-to-use and powerful suite of project management and team collaboration software available today. Whether your small business is looking to streamline workflows, plan and track projects, monitor employee performance, or improve productivity, ProofHub helps you do it all in the most efficient manner possible.
To ensure timely project completion and delivery, every team member should be clear about their respective job roles and responsibilities and be able to communicate smoothly with others. ProofHub, with its Smart Task Management and Communication features (Instant chat, Discussions, @Mentions, etc,) helps small businesses avoid vagueness and keep every team member infomed and accountable for the work assigned to them.
Project delays can derail your project, but ProofHub's Multiple views (Gantt, Board, Table, Calendar) lets you check the progress of all your tasks and projects, identify bottlenecks, and take timely actions to stay on top of deadlines.
For any small business, effective time management is the key to success. With inbuilt Time Tracking software, your employees can record how much time is spent on different tasks, which helps them manage their time effectively.
Pricing:
Essential plan costs $45 per month when billed annually (unlimited users are allowed)
Ultimate Control plan costs $89 per month when billed annually (unlimited users are allowed)
Zoho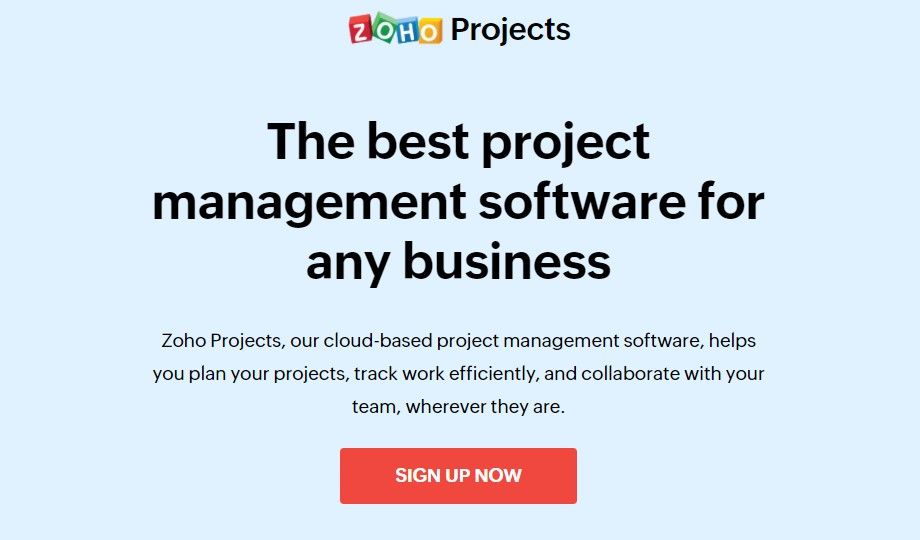 Zoho Projects is an effective planning, tracking and collaboration system. It allows you to create a project plan and task lists, work in a team of employees and clients, as well as receive in-depth reports and schedules based on the results.
The platform is designed for businesses of any size and orientation. The accounting department will evaluate the possibility of creating invoices and payslips from timesheets, and executives can control processes using the reports section. Managers will be able to improve performance by automating processes and quickly interacting with customers via chat.
The service allows you to track and correct errors in projects, code changes or step-by-step activities of participants. Staff and third-party employees will have constant access to the project documentation, including documents, presentations and spreadsheets. All participants are connected to an hourly report card, in which you can calculate wages and automatically generate invoices. Complex projects are easy to break down into lists, a Gantt chart will provide a detailed visual progress report compared to what was planned, and business analysis and analytics applications will provide insight into progress. Here you can track the time spent thanks to schedules, export data to XLS, PDF and CSV formats in order to send them to the client in the future.
Pricing
Free plan costs $0 per month (up to 3 persons)
Premium plan costs $5 per month (per person)
Enterprise plan costs $10 per month (per person)
Backlog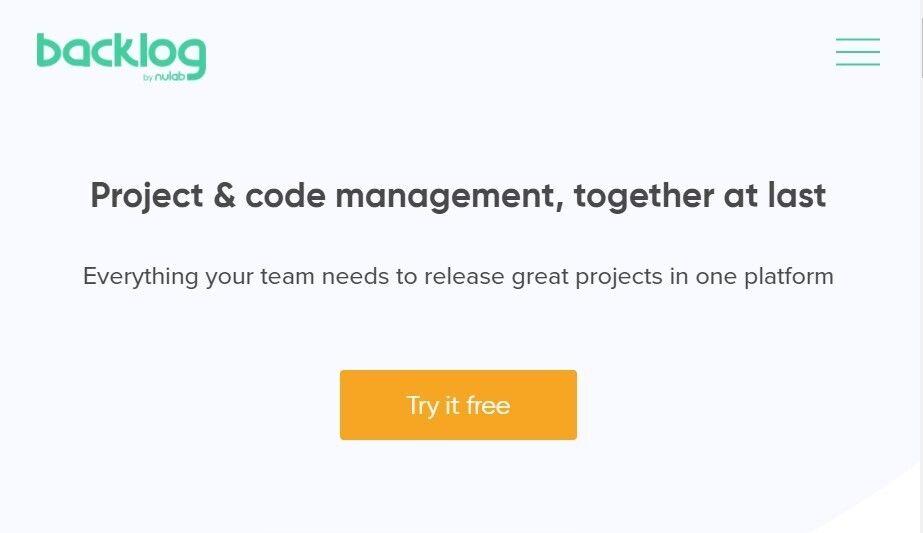 Backlog is an online tool for developers that allows you to organize team activities for building and releasing software. The software has a powerful interface with a large set of functions that facilitate the process of creating a product. It simplifies the setting, prioritization and tracking of tasks, all files and program code are combined in an application that simultaneously allows you to fix bugs. The service is available in the browser and in Android and iOS apps.
The platform will be of interest to companies working in the field of development, product management, marketing, design and IT. A large number of role settings in the system make it possible for all team employees to use it. So, programmers can use it to receive tasks, discuss them, upload ready-made code to the system and leave comments to each other, managers can control a specific product, and administrators get the right to create them. In addition, the service provides access with limited functionality for customers.
The main unit of the Backlog is the task. The employee's occupation is formed from them, taking into account the priorities of work on cases. The task can be assigned to a specific specialist with a deadline, colleagues can be involved in it, and it can also be used to fix a bug. You can always view the full history of work on the issue, starting from the date of its creation. The functionality of working with the code makes it possible to organize private repositories through the Git application, propose changes, compare versions and comment.
Pricing
Free plan costs $0 per month ( includes 10 users and 1 project)
Starter plan costs $35 per month.
Standard plan costs $100 per month.
Premium plan costs $175 per month.
Contact the Backlog team for more details on the Enterprise plan.
Proworkflow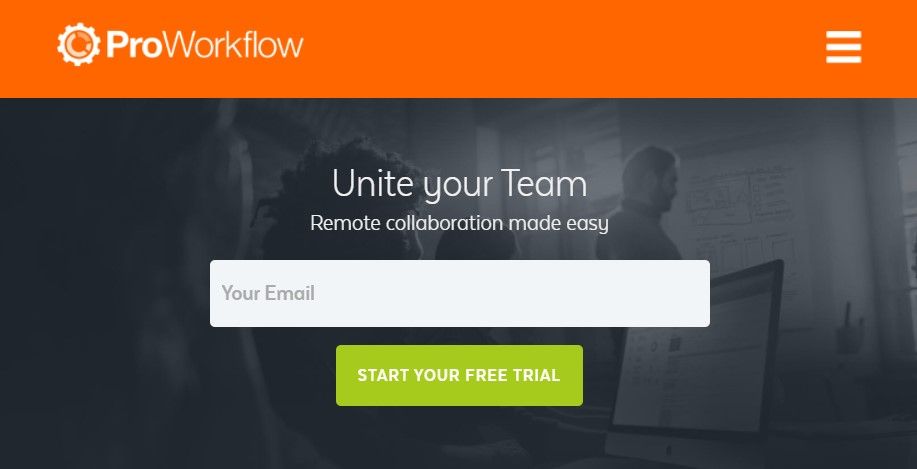 ProWorkflow is a project management tool with which you can optimize business processes and the distribution of tasks among employees to improve the efficiency of the company as a whole. The platform allows you to track the time spent on specific projects, tasks, clients and upload analytical data on all processes.
The software is designed for individual and collective work. Freelancers can use the basic tariff for 1 participant, and organizations can connect up to 500 people together. The service is suitable for marketing and advertising agencies, educational and medical institutions, startups, and government organizations. The application can be used simultaneously by the company's staff, its customers and contractors, depending on the access levels.
ProWorkflow helps to control the entire process of working on a project, including the distribution of tasks, the employment of specialists and real costs compared to plan. The user sees his entire horizon of tasks with time limits, deadlines and priorities. The time control tool makes it possible to predict resource costs by various indicators and generate timesheets for each employee. The built-in contact database helps to combine data on employees, customers, contractors and track activity. The reporting system allows you to get analytics based on any software data.
Pricing
Proworkflow offers a free trial.
Professional plan costs $20 per month (per person)
Advanced plan costs $30 per month (per person)
Enterprise plan requires contacting the Proworkflow team for details.
Celoxis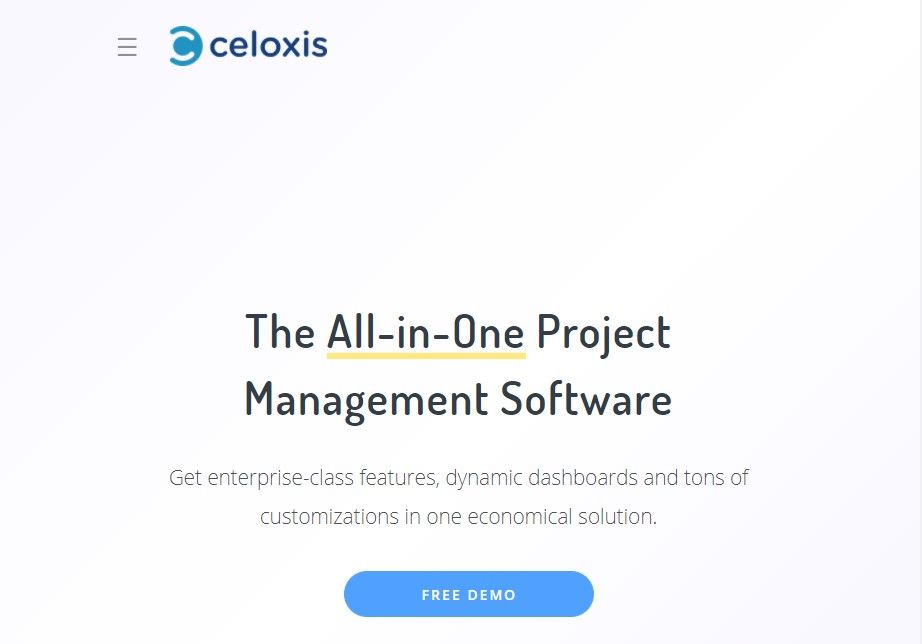 Celoxis Project Management Software provides a comprehensive project and team management solution packed with powerful planning tools, ease of use, amazing features, and integration with nearly 300 other business tools.
Celoxis suits for teams (at least 5 people) software can be used to view, manage and optimize current and upcoming projects, track project progress, expenses and budget, and create reports based on this information on a single platform. It is used by small and large teams in different fields such as design, construction, manufacturing and IT.
In fact, Celoxis helps to optimize your business and gather all the important information instead of switching tabs to get an idea of how your projects are developing.
Celoxis is one of the best project management tools if you are looking for a complete management platform. First, having a single unified tool like this means wider distribution. In addition, built-in integration means deeper understanding. For example, with JIRA integration, you can take a look at all the issues your testing team is working on and track their planned and actual efforts and overall progress. This means that you don't need to change windows or programs to see what is happening on different platforms used at the same time.
Celoxis has a lot of useful functions for project planning, tracking, accounting, collaboration, reporting, portfolio management, workflow management and others.
Pricing
Celoxis offers a Free demo.
Cloud plan costs $25 per month (per person)
On premise plan costs $450 and is billed once (per person)
Conclusion
As a user, you should put into perspective all the advantages and disadvantages of project management programs and determine your priorities according to specific preferences and needs. Of course, the described tools are not a complete list of programs that will help in managing tasks and projects. The listed systems are popular all over the world. They have proven their effectiveness. You will definitely choose something for yourself: more intuitive, with more features, or all together.