How Amazon Sellers Can Better Manage Inventory To Improve Sales & Cashflow
Brand owners and sellers of all scales struggle to seek a well-balanced supply chain. Additionally, Amazon has its own inventory management rules, which makes everything even tougher.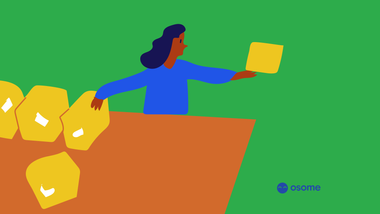 Ready to start selling on Amazon? While the process can be rewarding, it is not an easy feat.  When you start selling in volume, your inventory needs will increase as you see a surge in orders.
This is where inventory management comes into play – it is crucial for you to master the entire process of Amazon selling in order to achieve success on the platform. Inventory management goes beyond merely listing your products on Amazon. Other factors including order volume, cash flow and sales forecasting also play a huge role in your selling.
Thankfully, you don't have to deal with everything on your own, especially when you're trying to increase sales. You can link up your Amazon platform with Xero to automate invoicing and categorising tax with a one-time click using Osome.Connect. Otherwise, read on for 10 tips on how you can improve your Amazon inventory management strategy.
Why Is Amazon Inventory Management Crucial?
Inventory management is crucial to any e-commerce business and involves two important stakeholders – Amazon and your shoppers.
In the event that you keep running out of stock, you run the risk of losing potential sales to your competitors. To solve this issue, you will have to keep tabs on your stocks to make sure you can meet consumer demand. Additionally, if you constantly run out of stock, Amazon may lower your ranking on the list of retailers for a product.
On the flipside, having too much inventory on hand also has its drawbacks due to the hefty cost of Amazon's fees. In this scenario, you could possibly face cash flow problems by having too much stock. If you are a Fulfillment By Amazon (FBA) seller, you may even have to fork out long-term storage fees.
How Do I Improve My Amazon Inventory Management Strategy?
Use Amazon Inventory Management Software
Tracking your inventory on spreadsheets or documents manually is a time consuming process, and also susceptible to human error. Instead, consider outsourcing this task to inventory management software. Automating your inventory management tasks helps you ensure that you carry sufficient inventory throughout the year without overbuying.
Amazon Seller Central dashboard offers a suite of built-in tools for you to access for free.
Within the Amazon Seller Central dashboard, the Amazon Selling Coach provides key inventory data to help sellers monitor inventory levels and purchasing needs. By monitoring your inventory trends and sales, Amazon inventory management tools allow you to see how many units of each item you sell on Amazon on a daily, weekly, and monthly basis. You can then make use of this data to identify trends and assess required inventory levels for different products over certain periods of time. This in-depth understanding of your sales and inventory trends is important to help you make sound purchasing decisions.
Understand Your Inventory Turnover Rate
Inventory turnover rate refers to how fast you sell through your Amazon inventory in a certain period of time. To work out your inventory turnover rate, you will have to know how fast your products sell on Amazon on average. Once you figure this out, you can better gauge the amount of stock you require to maintain stock levels between inventory shipments, and avoid underbuying or overbuying when you repurchase stock.
Typically, Amazon sellers expect to sell their stock in three months. To better predict your inventory turnover rate, Amazon's Selling Coach tracks sales against your available unit of stock and recommends required quantities to fill orders over a specified period of time.
Set Inventory Minimums
It can be tough to know when the right time to restock your inventory is, especially during times of sales fluctuation. However, you can set inventory minimums to remind you to replenish your inventory, instead of waiting for your products to completely run out of stock. In this way, you maintain a safe level of inventory for your to restock, and avoid running the risk of selling out while your supplier delivers your repurchase.
Know Your Supply Chain Lead Times
Supply chain refers to the movement of inventory from initial sourcing to your warehouse. The lead time is the time required for your stock to get to the inventory stage once ordered.
With a comprehensive understanding of visibility in supply chain and lead times, you can then stay on top of your supplier's manufacturing delivery schedule and work on your contingency plans. This is especially important if you source your products from overseas suppliers, since shipping delays can take extended periods of time to resolve. Make sure you have some inventory in reserve just in case there are unexpected supply chain delays.
Prepare For Seasonal Sales Fluctuations
As an Amazon seller, it is important for you to anticipate shopper demand during certain times of the year, such as the holiday season. Holiday shopping and seasonal demand affect inventory due to peaks in customer demand and longer supplier turn-times. Therefore, you will need to know which products are fast moving and which are slow moving.
To give yourself time to prepare for sufficient stock levels of popular goods in the upcoming sales period, be sure to forecast your inventory levels a few months in advance. You will want to increase quantities of products that sell quickly during peak sales cycles and decrease quantities of products that move slowly.
Maintain Great Supplier Relationships
No man is an island, and no business operates solely on its own. Maintaining great supplier relationships can also improve your efficiency and service to your customers.
Be sure to maintain open communication with your suppliers, so you can avoid late shipment issues and unexpected delays especially when it comes to peak periods, which could make or break your sales.
Consider dropshipping
Dropshipping is an online business model that has become increasingly popular. From shipping, delivery to inventory management, dropshippers will handle everything. Simply put, you will act as the "face" for the dropshipper. When consumers purchase products from your store, the dropshipper will fulfill these orders by packaging and sending them directly. This means that you do not need to hold and manage inventory.
If you are not overly concerned about profit margins and intend to keep your startup costs low, the dropshipping model could work for you. For those who are just getting started with e-commerce, dropshipping can be a great start, especially if you have strong customer service and marketing expertise.
Advantages Of Dropship
Low startup costs: The biggest perk of dropshipping is its low costs to start. Inventory costs usually incur the bulk of an ecommerce business's investment. Since there is no need to carry inventory, you will only need to fork out a small investment.
Minimise business risks: Dropshipping means you don't have to purchase your products upfront, so you don't risk having inventory you are not able to sell.
Flexibility in working: Your dropshippers will manage everything from order fulfillment to shipping, which means you can have the flexibility of managing your business anywhere in a convenient and efficient manner.
Disadvantages Of Dropship
Extremely slim profit margins: You will also have to choose your dropshipping supplier wisely so you can earn profits. Many of them charge added fees, resulting in your cost of goods to be higher than the typical retail markup. To make a decent profit, you will have to move many units. With such low profit margins, you might face difficulties in paying for advertising space, which could affect your ability to stand out from your competition.
Little control over brand reputation: When you are relying on your dropshipping for inventory, your brand's reputation lies in their hands. In the event that the product is sold out after you've placed a shipment request, your customer may face longer-than-usual delivery times. If your dropshipper ships low quality products, your customers may lose confidence in your brand.
Risk having your seller account suspended: Amazon has a strict dropshipping policy since drop ship orders are not within sellers' direct control. Make sure that your dropshipping supplier is Amazon-compliant and has to ship as promised and update inventory levels to avoid you selling out-of-stock items. If these rules are not closely adhered to, you run the risk of having your seller account suspended.
Coordinate Sales and Promotions Carefully
Shoppers love finding a good bargain, so sales and promotions can be effective ways to grow your Amazon business.
However, make sure that the shopper demand is within your anticipation – otherwise, the sales spike can drain your inventory level which may lead to backorders, angry customers and a decline in your Amazon ranking.
A wise way to run your sales and promotions is to allocate a fixed number of stock in your inventory. Once that number is sold, remove the promotion and sell the rest of the stock at their normal price. If you plan to sell out your stock completely, remember to set a fixed amount that covers four promotional hours of sales. You can also work out the required number in Amazon Seller Central. Since Amazon requires up to four hours to remove a promotion after you stop it, the four hours here is key and gives you enough stock to cover sales.
Alternatively, you can also hold a successful promotion by ordering a reserve of the products on promotion from your supplier, but with a ship date that is in the future. If the promotion goes successfully, you can contact your supplier to receive the stock shipment fast. If the promotion is lackluster in performance, you can extend or cancel the ship date to avoid overstocking.
Slow Down Inventory Demand When Necessary
When your sales and promotions are well executed, you may find your products moving quickly out of your warehouse. While that is a good thing, you may risk losing shoppers to your competitors and potentially have your Amazon ranking lowered in the event that you are not able to meet your customers' demands.
To counter this, keep tabs on inventory levels and if you are running low on stock for a certain product, consider increasing the prices and pausing any advertising campaigns to slow sales down until you have restocked. This may cause you to have a few days of slow sales, but it is better than hitting zero-stock levels entirely.
Liquidate Old and Surplus Inventory
There are many reasons why liquidation is the best option when it comes to your Amazon inventory, especially when it's in an Amazon warehouse. It all boils down to not racking in too much storage cost that it slowly eats through your capital.
Sometimes when a product is not moving, liquidation could be your best option especially when your stocks are in an Amazon warehouse. You would want to avoid sitting on it, since it leaves less room for fast-moving products. The storage cost for these slow-moving products can also eat through your capital. Some ways to liquidate your inventory include:
Lowering the price
Selling on other platforms
Giving them away as freebies
Giving them to reviewers
Once you have managed to liquidate the slow-moving products, be sure not to reorder it again.
Focus On Growing Your Business Without the Stress
We know how stressful it can be to handle a business, but you don't have to take it all upon yourself.
At Osome, we are always here for you. Selling via Paypal on Amazon? Sure. Whatever your case, someone who's handled it before will answer in a chat within 24 hours. Work with a dedicated accountant who specialises in e-commerce businesses. We help you with your filing deadlines, finding reliefs for your company, and arranging documents perfectly.
Simply connect your Amazon, Shopify, or any platform you use, in just 2 minutes. We convert their statements into easy-to-read reports. See fees from platforms, warehouses, delivery etc. as separate lines, all with correct tax categories. If you sell outside the UK, we help you file VAT there too.