E-commerce Photography: 8 Tips You Need to Know
Want to kickstart your start-up or bolster an existing online business? These 8 e-commerce photography tips could have a direct impact for small businesses owners in the UK, take a look.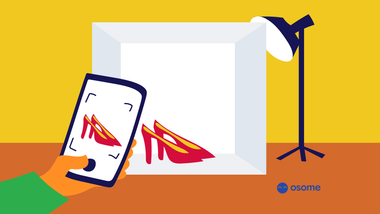 Photography may not spring to mind when one thinks of business but it can be a powerful way to accelerate your online sales. In this article, we'll share some top tips for e-commerce photography that could have a direct business impact for entrepreneurs - whether you want to set up an online shop or bolster an existing one.
By the way, did you know that there are benefits to registering a company in the UK before setting up your e-commerce business? Talk to us to find out if you need to formalise your company.
Cater to the Right Audience Mindset
Before we dive into tips and technicalities, let's start with what keeps your business in business: Your customers.
E-commerce photo editing plays an important role for two distinct online audiences, which we'll represent with 2 characters:
Limited time & intent-driven Lauren
Lauren goes online when she has a mission that your product could help them solve. The role of photography for someone like her is to offer clarity, detail and practical info that gives her the most direct route to that checkout button.
Unlimited time & escape-driven Danny
Danny's a "window shopper" who browses the virtual halls of whatever strikes their fancy whenever inspiration strikes, often jumping between categories. For him, photography should entice, persuade, or convince him to stop browsing and click "Buy".
Tip #1: The Best Camera for E-commerce Pics
Your equipment is a tool to showcase your products. It's an extension of your brand so be willing to pay for a quality camera (or even a photographer) who shoots with one. There's also a wealth of extremely proficient phone cameras out there, which are just as effective for e-commerce photography if you apply the right techniques.
While you plan the setup of your storefront, our expert team can handle accounting, taxes and reports for your e-commerce business.
Tip #2: Apps & E-Commerce Photography Editing Software
You know your business best, so don't be a Danny in this case. Decide what necessary editing could serve to improve your bottom line and then seek the software that specialises in that. For example if you are looking for batch image editing then BeFunky's image resizer would be very useful for an ecommerce business website. Some require a subscription fee or are limited to specific operating systems, but lots are free.
Here are just a few free options at a glance:
Snapseed
BeFunky
Photoshop Express
Lightroom
Canva
STORE Camera
iPiccy
VSCO
Pixlr
Tip #3: Shoot Smart Photos from the Start
Update or photograph as many e-commerce products as possible in one go. Doing it in batches could reduce your shoot budget and mean the images (and their differences) are less likely to be jarring to Danny who's meandering through your product catalogue.
If you're pressed for budget or time restrictions, you could approach the image overhaul of products on a category-specific or themed-basis. That way, you can work through each according to your wallet and timeline (while you work your photography magic behind the scenes).
Tip #4: A Balance of Looks & Logic
Make what you're selling be the hero. Don't let filters, effects or app extras detract from the focal item. Remember, a lawnmower may not scream visual appeal or Pinterest board goals, but for someone like Lauren who's looking for something specific, it's all she wants to see. Give yourself permission to lose the fluff where it matters.
Here are a few things to keep in mind to give your e-commerce photography a sense of relative consistency:
Contextual size anchor (i.e an object next to it)
Not too many props or scenic cues that the utility is lost or focus detracted
Lighting source and shadows not to hinder features
Editing enhancements (contrast / brightness / highlights/ colour distortion etc)
If you're using a tripod, keep it at the same height
Stick to a couple of key angles (eye-level, top-down, slanted, low angle)
Rely on presets that enhance what you're showing
A bright idea:
Document a simple and clear product photo style guide or editing presets so you can reference, use as a "brief" if working with an external photographer(s) or send it on to affiliate suppliers.
Tip #5: E-commerce Image Galleries
Here are a few considerations to enhance the way Danny and Lauren scroll through your e-commerce product galleries:
Number of images: It's common practice for most e-commerce platforms to allow for single product galleries with between 5 - 10 images or photos.
Arrangement of images: Plan the order of your photos when you upload so it makes sense (i.e before close-ups of textures or materials start with a full view)
Selection of images: Use your discretion to add the must-haves for Lauren and the nice-to-haves for Danny.
Quality of images: If something tactile like upholstery or even paint, ensure your gallery pics are easy to zoom in on or even feature close up of NB features. Shoot high res, then crop.
Tip #6: Considering Context and Photo Crops
Building on tip 4, let's look at how the context you provide in each pic adds functional value. Before you hit upload, use the list below as a guide to making sure you're appealing to the Dannys and the Laurens out there and helping them imagine how what you're offering can fit into their homes, lives or lifestyles:
Show item in the right context: A kitchen knife shouldn't be shot on the beach but it could be a useful shot on a cutting board.
Humanise it: It's not imperative but showing the product with a person, on a person or relative to a lifestyle setting is an effective way for e-commerce to resonate with it.
Support with specs: Fashion e-commerce that relies on models should be supported by written descriptions (i.e model wears size Large, model wears size 38) so the shopper can consider it relative to their needs.
Crop comfortably: Image gallery sizes may vary across platforms and even display differently across devices. To stay safe and avoid pics getting cut off, allow a "safe zone" around your image.
Tip #7: Update, Optimise, Evolve (and Repeat)
Whether your product catalogues are updated, expanded or streamlined toward a niche, all e-commerce business owners should be open to maintenance. This doesn't need to be complicated or even require new product photos. Consider updating the product title or even adding a disclaimer to the item description.
Some examples of instances where this is useful:
When a specific colour is no longer in production (featured for reference only)
When a new item has been added to an existing range
When a product that's discontinued appears alongside others still available
When items are on sale or discounted
This helps manage Lauren's expectations so she doesn't land up frustrated or click on a search result that leads to a dead end. It also allows Danny to easily spot visual cues that could sway a final decision or catch his attention during his retail therapy session.
Tip #8: Mobile-first Photography Principles
Most people shop on their phones. It's not a surprise. It's second-nature. Anticipate the need for responsive layouts (across devices) but try to cater to mobile-centric design principles from the start, such as:
Allow easy "pinch to zoom" functionality
Make it easy to toggle or swipe through pics
Make it clear how many pics are available to view
Allow your photos to scale appropriately without losing context
A Little Less "New" and a Little More "Normal"
Our post-covid business world that's seen a meteoric rise in digital commerce and as the numbers increase in this competitive landscape, customer expectations also soar. Finding the right camera to shoot e-commerce product photos, knowing what software to use and keeping everyone from Danny to Lauren top of mind is sure to enhance your virtual storefront to stand out in this "new normal".
Tip
You focus on the pictures and how to make your products look good. We'll focus on the numbers. To lessen the load on your shoulders, chat with us about e-commerce accounting services. We're always just a click away.