How to Launch a Successful Clothing Business from the Comfort of Your Home in the UK
Thinking of starting a small clothing business from home in the UK? Look no further! In this comprehensive guide, we will walk you through the step-by-step process of launching a successful clothing business from the comfort of your own home.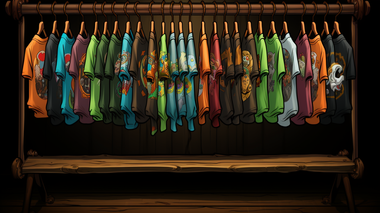 Starting a Small Clothing Business from Home in the UK: A Step-by-Step Guide
Are you passionate about fashion and dreaming of starting your own clothing business? With the rise of e-commerce and the convenience of working from home, now is the perfect time to turn your dream into a reality. In this comprehensive guide, we will walk you through the process of starting a small clothing business from the comfort of your home in the UK. From designing your products to marketing and selling them, we will cover everything you need to know to succeed in the competitive world of fashion.
1. Find Your Niche
Before diving into the clothing business, it's crucial to identify your niche. What makes your brand unique? Do you specialize in sustainable fashion, children's clothing, or trendy streetwear? Finding your niche will help you target the right audience and differentiate yourself from the competition.
2. Conduct Market Research
Once you have identified your niche, it's time to conduct thorough market research. Who are your target customers? What are their preferences and buying habits? Are there any gaps in the market that you can fill? Understanding your target market will guide your product development and marketing strategies.
3. Create a Business Plan
A well-crafted business plan is essential for any successful venture. It serves as a roadmap for your clothing business and helps you stay focused on your goals. Your business plan should include an executive summary, market analysis, financial projections, and marketing strategies.
4. Set Up Your E-Commerce Website
In today's digital age, having a strong online presence is crucial for the success of your clothing business. Set up an e-commerce website where customers can browse and purchase your products. Make sure your website is visually appealing, user-friendly, and optimized for mobile devices.
5. Source Suppliers and Materials
Next, you'll need to source suppliers and materials for your clothing business. Look for reliable and ethical suppliers who can provide you with high-quality fabrics and materials at competitive prices. Building relationships with suppliers is crucial for maintaining a steady supply chain.
6. Design Your Products
Now comes the fun part – designing your products! Whether you have a background in fashion design or not, there are various tools and resources available to help you bring your creative vision to life. Consider hiring freelance designers or using design software to create unique and eye-catching clothing items.
7. Manufacture Your Clothing
Once you have finalized your designs, it's time to manufacture your clothing. Whether you choose to work with local manufacturers or outsource production overseas, make sure to maintain quality control and ensure ethical manufacturing practices. Don't forget to factor in production costs and lead times.
8. Develop a Strong Brand Identity
A strong brand identity is crucial for standing out in the competitive fashion industry. Develop a captivating brand story, logo, and visual identity that resonates with your target audience. Your brand should reflect your unique selling propositions and values.
9. Market Your Clothing Business
Marketing plays a vital role in the success of any business. Utilize various marketing strategies to promote your clothing business, including social media marketing, influencer collaborations, content marketing, and email marketing. Engage with your target audience and build a loyal customer base.
10. Fulfill Orders and Provide Excellent Customer Service
As orders start pouring in, it's crucial to have efficient order fulfillment and customer service processes in place. Ensure timely shipping, quality packaging, and responsive customer support. Happy customers are more likely to become repeat customers and recommend your brand to others.
11. Analyze and Adapt
The fashion industry is constantly evolving, and it's essential to stay up-to-date with the latest trends and consumer preferences. Continuously analyze your sales data, customer feedback, and market trends. Adapt your product offerings and marketing strategies accordingly to stay ahead of the competition.
12. Seek Professional Assistance
Starting a clothing business from home can be overwhelming, especially if you're new to entrepreneurship. Consider seeking professional assistance from a company incorporation service like Osome. They can help you with company formation, accounting, and compliance, allowing you to focus on growing your business.
13. Expand Your Product Range
Once your clothing business gains traction, consider expanding your product range to cater to a wider audience. Introduce new designs, collaborate with other brands, or explore accessories and complementary products. Keep innovating to keep your customers engaged and excited.
14. Build Strong Relationships with Customers
Building strong relationships with your customers is key to long-term success. Engage with them through social media, email newsletters, and personalized customer experiences. Encourage customer reviews and use their feedback to improve your products and services.
15. Stay Inspired and Passionate
Lastly, but most importantly, stay inspired and passionate about your clothing business. The fashion industry can be challenging, but with dedication and perseverance, you can turn your small clothing business into a thriving brand. Remember why you started and let your passion drive you towards success.
Conclusion
Starting a small clothing business from home in the UK is an exciting journey filled with opportunities and challenges. By following the steps outlined in this guide and leveraging the expertise of professionals like Osome, you can turn your passion for fashion into a profitable venture. Remember, success doesn't happen overnight, but with the right strategies and a strong brand identity, you can carve a niche for yourself in the competitive world of fashion.

FAQ
1. How much does it cost to start a small clothing business from home in the UK?
Starting costs can vary depending on factors such as the scale of your business and your chosen niche. However, setting up an e-commerce website, sourcing materials, and manufacturing products are some of the key expenses to consider.
2. Do I need any qualifications or experience to start a small clothing business?
While qualifications and experience can be beneficial, they are not essential. Passion, creativity, and a willingness to learn are more important. You can also consider collaborating with experienced designers or taking online courses to enhance your skills.
3. How can I ensure the quality of my clothing products?
Working with reputable suppliers, conducting regular quality checks, and seeking feedback from customers are some ways to ensure the quality of your clothing products. Don't compromise on quality, as it plays a crucial role in building a loyal customer base.
4. How can I effectively market my clothing business?
Utilize a mix of digital marketing strategies, such as social media marketing, influencer collaborations, content marketing, and email marketing. Understand your target audience and tailor your marketing messages accordingly. Engage with your customers and build a strong online presence.
5. How long does it take to see success in the clothing business?
Success timelines can vary greatly depending on various factors, including your niche, marketing strategies, and market conditions. It's important to stay patient, persistent, and adaptable. Celebrate small wins along the way and be open to learning from failures.