What's the Cost of Living for a Foreign Business Owner in the UK?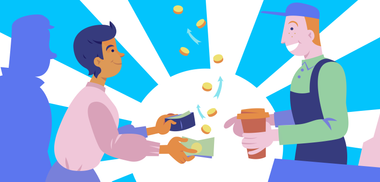 The UK is an attractive place to settle given its fairly high standards of living, state healthcare system, and reasonably strong economy. However, if you're a foreign business owner considering moving to the UK to set up a company there, then there's another major factor that you must first consider: the cost of living.
In this blog, we'll cover the UK's overall cost of living, examine how this compares to other nations, briefly delve into regional differences, and explore whether the cost of living is set to rise (or fall) in the near future.
The Cost Of Living In The UK
It's pretty hard to determine a single 'cost of living' for the UK. Someone living in London will require far more disposable income than somebody who has decided to settle in rural Scotland, for example.
However, according to Expatisan, the average cost of living throughout the UK is as follows:
Single person (estimated monthly costs): £1,945
Family of four (estimated monthly costs): £3,482
How UK's Cost Of Living Compares To Other Nations
The figures we listed above mean little unless we compare them to other nations around the world. This makes for fairly grim reading — the UK is more expensive than 61% of countries in Western Europe and 80% of countries globally.
Yikes.
It's worth noting, however, that estimates vary on an ongoing basis. Some stats suggest that the UK is the 14th most expensive country globally, while others put it in 32nd position. While this is obviously still not great, it's a lot better than 14th.
By means of comparison, recent figures suggest that the UK is in fact cheaper than the U.S. The impact that the UK's cost of living will have on your pockets is all determined by where you're coming from. If you're coming from somewhere like Switzerland, it will seem comparatively inexpensive. But if you're coming from Pakistan, on the other hand, then you might be in for a nasty shock.
Regional Differences
And now we get on to the elephant in the room: regional differences. If you ask someone in the UK about the cost of living, they'll probably respond blankly with "Where?".
London — the capital city — is by far and away the most expensive city in the UK. For instance, rent prices in London are a massive 98% higher when compared to Edinburgh (Scotland's capital city, and the second most expensive place to live in the UK).
In fact, London is reportedly 66% more expensive than Madrid, 58% more expensive than Brussels, and 21% more expensive than Paris. On the flip side, it's 4% cheaper than New York.
But aside from London and Edinburgh, where else could you settle in the UK — and how much would daily life set you back?
If you're looking for a buzzy, cosmopolitan city with a cheaper living cost then Manchester and Glasgow are great bets. Alternatively, Liverpool, Sheffield, Birmingham and Cardiff are also very vibrant cities that won't cost you a pretty penny.
How Will The Cost Of Living As A Foreign Business Owner In The Uk Change?
Of course, you might not be ready to move just yet but you're still keen on finding out more about the UK's cost of living. It's been suggested that the UK's Consumer Price Index will experience inflation of 1.5% in 2021, 1.8% in 2022, and 1.9% in 2023.
So what does that mean for you?
Well, if we take the above monthly living costs (£1,945 for a single person and £3,482 for a family of four) then these figures will increase to:

| | 2021 | 2022 | 2023 |
| --- | --- | --- | --- |
| Single Person (per month) | £1,974.18 | £2,009.72 | £2,011.69 |
| Family of four (per month | £3,534.23 | £3,587.24 | £3,651.81 |
So the cost of living increase in the UK won't be too drastic in the next few years, but life will indeed slowly become more and more expensive.
The Key? Where You're Coming From
It's clear that the UK definitely isn't the cheapest country in the world — though it's also not the most expensive. This means that while some foreign business owners might actually see the UK as a fairly inexpensive place to move to, the vast majority will see their cost of living rise when moving to the UK.
However, the cost of living is just one factor when deciding where to move. The UK's political freedoms, strong social services, multicultural nature, and high standards of living mark it out as one of the world's best places to live.
Tip
If you're a foreign business owner who wants to find out more about how far their money could go in the UK, get in touch and have a chat with one of our expert accountants