Start Your Own Shop in the UK: A Comprehensive Guide
Are you dreaming of opening your own shop in the UK? The process may seem overwhelming, with legal requirements, business registration, and financial obligations to consider.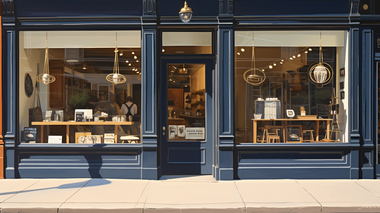 Opening Your Own Shop in the UK: A Dream Come True!
Are you tired of the daily grind and dreaming of taking control of your own destiny? Opening your own shop in the UK can be a thrilling and rewarding venture. Imagine being the boss, setting your own hours, and curating a unique shopping experience for your customers. But where do you start? How do you navigate the complex world of business registration, legal requirements, and financial obligations?
i want to open my own shop uk: The First Steps
The first step towards opening your own shop in the UK is to choose the right business structure. One of the most popular options is setting up a limited company, also known as incorporation. This allows you to separate your personal and business assets, providing you with limited liability protection.
When incorporating your company, you must choose a unique name that represents your brand and is not already registered by another business. Conduct a thorough search to ensure that your chosen name is available and not infringing on any trademarks.
Next, you will need to define the nature of your business activities. Are you planning to open a clothing boutique, a specialty coffee shop, or a vintage bookstore? This information will be crucial when registering your business with the relevant authorities.
Company Incorporation: Simplifying the Process
Setting up a limited company in the UK involves a series of legal and administrative procedures. From registering with Companies House to obtaining the necessary permits and licenses, the process can be daunting for new entrepreneurs. This is where Osome can help.
Osome is a trusted company incorporation service in the UK, providing a seamless and hassle-free experience for aspiring business owners. With their team of experts, Osome handles all the necessary paperwork, guides you through the registration process, and ensures compliance with legal requirements.
Benefits of using Osome for company incorporation:
1. Time-saving: Osome takes care of all the paperwork, allowing you to focus on other aspects of your business.
2. Expert advice: Osome provides professional guidance throughout the entire process, ensuring that you make informed decisions.
3. Compliance assurance: Osome ensures that your company meets all the legal requirements and obtains the necessary permits and licenses.
4. Cost-effective: Osome offers competitive pricing packages, tailored to the specific needs of your business.
5. Peace of mind: With Osome handling the incorporation process, you can rest easy knowing that everything is being taken care of.
The Importance of Business Planning
Before diving headfirst into your entrepreneurial journey, it's crucial to develop a solid business plan. A business plan acts as a roadmap, outlining your goals, target market, marketing strategies, and financial projections.
Consider conducting market research to understand your target audience and competition. This will help you tailor your products or services to meet the needs and preferences of your customers. Additionally, a thorough analysis of your competitors can provide valuable insights into industry trends and potential gaps in the market.
When creating your business plan, don't forget to include a comprehensive marketing strategy. How will you promote your shop and attract customers? Will you leverage social media, traditional advertising, or word-of-mouth recommendations? By outlining your marketing tactics, you can effectively allocate your resources and maximize your reach.
Finding the Perfect Location
Choosing the right location for your shop is crucial to its success. Consider factors such as foot traffic, accessibility, competition, and target market when scouting for a location. A prime location can significantly increase your chances of attracting customers and generating sales.
Additionally, don't forget to negotiate your lease terms carefully. Ensure that you have a fair agreement with favorable conditions and clear clauses regarding rent increases, lease duration, and any restrictions on renovations or signage.
Creating a Memorable Shopping Experience
One of the key factors that set successful shops apart is their ability to create a unique and memorable shopping experience for customers. Consider the layout, ambiance, and overall atmosphere of your shop. Can you create a welcoming and aesthetically pleasing environment that reflects your brand and entices customers to explore your products?
Invest in visual merchandising to showcase your products effectively. Use creative displays, lighting, and signage to draw attention to your shop's best features. Incorporate innovative technologies such as virtual reality or augmented reality to enhance the customer experience.
Online Presence: Expanding Your Reach
In today's digital age, having an online presence is essential for any business. In addition to your physical shop, consider setting up an e-commerce website to reach a wider audience. This allows customers to browse and purchase your products from the comfort of their own homes.
Invest in search engine optimization (SEO) to improve your website's visibility on search engines like Google. This involves optimizing your website's content, keywords, and meta tags to rank higher in search results. By appearing on the first page of search engine results, you can attract more potential customers and increase your online sales.
Conclusion
Opening your own shop in the UK is an exciting and rewarding endeavor. By following these steps and leveraging the expertise of Osome, you can navigate the complexities of company incorporation and set yourself up for success. Remember to develop a solid business plan, find the perfect location for your business, and create a memorable shopping experience for your customers. With dedication and perseverance, your dream of owning a successful shop can become a reality.
Frequently Asked Questions
Do I need to incorporate my business to open a shop in the UK?

While it is not mandatory to incorporate your business, setting up a limited company provides benefits such as limited liability protection and a professional image.

What permits and licenses do I need to open a shop in the UK?

The permits and licenses you need will depend on the nature of your business. Common requirements include a business license, health and safety permits, and food hygiene certificates (if applicable).

How long does the company incorporation process take?

The company incorporation process typically takes around 7-10 working days. However, this can vary depending on the complexity of your business structure and the efficiency of the registration authorities.

What are the advantages of having an e-commerce website?

An e-commerce website allows you to reach a global audience, operate 24/7, and expand your customer base beyond the limitations of a physical shop.

How can Osome help with my company incorporation?

Osome provides comprehensive company incorporation services, handling all the necessary paperwork, guiding you through the process, and ensuring compliance with legal requirements.