Start Your Business in Birmingham: A Comprehensive Guide to Company Registration and Incorporation
Looking to start a business in Birmingham? This comprehensive guide will walk you through the process of company registration and incorporation. Birmingham offers a strategic location, excellent transportation infrastructure, a talented workforce, and a thriving business ecosystem.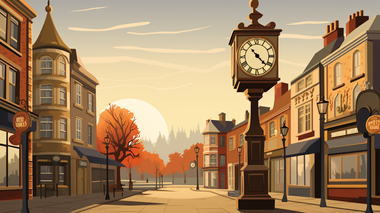 Company Registration in Birmingham: How to Start Your Business Successfully
Welcome to Birmingham, a vibrant city in the heart of the UK that offers endless opportunities for entrepreneurs like yourself. If you're looking to start a business here, you've made a smart choice. But before you can dive in, you'll need to navigate the process of company registration and incorporation. Don't worry - we're here to guide you every step of the way.
Why Choose Birmingham for Your Business?
Birmingham, often referred to as the "Second City" of the UK, is a bustling hub of commerce and innovation. It's not only the largest city in the Midlands but also the second most populous city in the UK, after London. With a rich history of industrial development and a thriving business environment, Birmingham is an ideal location to start your entrepreneurial journey.
Here are some key reasons why Birmingham is an attractive destination for businesses:
Strategic Location: Birmingham's central location makes it easily accessible from all parts of the UK, making it a convenient base for both local and national operations.
Transportation Infrastructure: The city boasts excellent transportation links, including an international airport, major motorway networks, and a well-connected railway system.
Talent Pool: Birmingham is home to several universities and colleges, providing a steady stream of skilled graduates ready to contribute to your business.
Thriving Business Ecosystem: The city has a diverse range of industries, including manufacturing, finance, technology, and creative sectors, creating a vibrant and supportive business community.
Government Support: The local government actively encourages and supports business growth, providing various incentives and grants to help entrepreneurs thrive.
Company Registration in Birmingham: Where to Begin
Now that you're convinced that Birmingham is the place to start your business, let's delve into the process of company registration. Registering your company is a crucial step that establishes your business as a legal entity. It also provides you with credibility, protection, and access to numerous benefits and opportunities.
1. Research and Choose a Business Structure
Before you can register your company, you need to determine its legal structure. The most common options for businesses in the UK are:
Sole Proprietorship: As the sole owner, you have complete control and responsibility for the business.
Limited Company: This structure separates your personal assets from your business liabilities, offering more protection.
Partnership: If you're starting a business with one or more partners, a partnership structure may be the right choice.
Limited Liability Partnership (LLP): This structure is suitable for professional services firms and offers personal asset protection.
Consider the nature of your business, your long-term goals, and the level of personal liability you're comfortable with before making a decision.
2. Choose a Memorable Business Name
Your business name is your brand identity, so choose wisely. Make sure it reflects your vision, values, and offerings. Conduct a thorough search to ensure that your desired name is unique and not already registered by another entity. You can check the availability of business names through the Companies House website.
3. Prepare the Necessary Documents
Before you register your company, you'll need to gather the required documents. The specific documents may vary depending on your chosen business structure, but generally, you'll need:
Memorandum of Association: This document outlines the company's name, registered office address, and the type of business it will conduct.
Articles of Association: These articles define the internal rules and regulations for governing the company.
Statement of Capital: This document details the number and value of shares in the company.
Additionally, you'll need to provide personal identification documents for all directors and shareholders.
4. Register Your Company with Companies House
Once you have all the necessary documents in place, it's time to register your company with Companies House, the official government registry for businesses in the UK. You can complete the registration process online or through a formation agent. Make sure to provide accurate information and pay the required registration fee.
Upon successful registration, you'll receive a Certificate of Incorporation, which confirms the formation of your company. Congratulations - you're now officially in business!
Why Choose Osome for Company Incorporation Services
While you can handle the company registration process yourself, enlisting the help of professionals can save you time, effort, and potential headaches. Osome is a trusted company incorporation and bookkeeping services provider in the UK, offering a seamless and hassle-free experience for entrepreneurs.
Here's why Osome stands out:
Efficiency: Osome's online platform simplifies the entire registration process, allowing you to complete it quickly and effortlessly.
Expertise: Osome's team of experienced professionals understands the intricacies of company registration and can guide you through every step.
Compliance: Osome ensures that your company registration is compliant with all legal requirements, giving you peace of mind.
Additional Services: Osome offers a range of complementary services, including accounting, tax filing, and corporate secretarial services, making them a one-stop solution for all your business needs.
Affordability: Osome's services are competitively priced, providing excellent value for money.
With Osome by your side, you can focus on building and growing your business while leaving the administrative tasks to the experts.
FAQs about Company Registration and Starting a Business in Birmingham
1. How long does it take to register a company in Birmingham?
The company registration process usually takes around 24 hours if done online. However, it may take longer if there are any delays or errors in the application.
2. Can a foreigner start a business in Birmingham?
Absolutely! Birmingham welcomes entrepreneurs from all over the world. As a foreigner, you'll need to follow the same company registration process as UK residents.
3. What is the best business to start in Birmingham?
Birmingham offers opportunities in various sectors, including manufacturing, finance, technology, and creative industries. Choose a business that aligns with your passion, skills, and market demand.
4. How much does it cost to register a company in Birmingham?
The registration fee for a company in Birmingham is £12 if you choose the standard online registration option. Additional fees may apply for certain services or expedited processing.
5. Can I change my company's registered address after incorporation?
Yes, you can change your company's registered address after incorporation. You'll need to notify Companies House and update the necessary documents accordingly.

Conclusion
Starting a business in Birmingham is an exciting venture that can lead to tremendous success. By following the steps outlined in this guide and leveraging the services of Osome, you can streamline the company registration and incorporation process, ensuring a strong foundation for your business. Birmingham's thriving business ecosystem, supportive government, and strategic location make it an ideal destination for entrepreneurs. So, don't wait any longer - take the leap and start your business in Birmingham today!