Company Registration in Belfast: A Comprehensive Guide
Looking to register a company in Belfast? Read our comprehensive guide for step-by-step instructions and expert advice on starting your business in the vibrant city.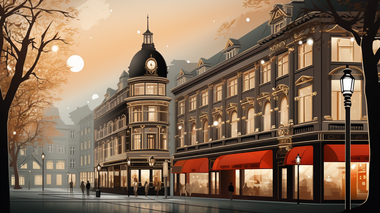 Introduction
If you're considering starting a business in Belfast, you're in the right place. With its growing economy and supportive business environment, Belfast is an ideal city for entrepreneurs. However, the process of company registration and incorporation can be daunting, especially if you're not familiar with the local regulations and requirements. This comprehensive guide will take you through the necessary steps to register your company in Belfast successfully.
Why Choose Belfast for Company Registration?
Belfast is not only the capital city of Northern Ireland but also a thriving hub for businesses. It offers a range of benefits that make it an attractive location for company registration:
Strategic Location: Situated in close proximity to Europe and the rest of the UK, Belfast provides easy access to both local and international markets.
Skilled Workforce: The city boasts a highly skilled and educated workforce, making it easier for businesses to find and attract talented employees.
Supportive Business Environment: Belfast has a supportive ecosystem for startups and small businesses, with various organizations and initiatives offering mentorship, funding, and networking opportunities.
Low Costs: Compared to other major UK cities, the cost of living and doing business in Belfast is relatively low, allowing for greater profitability and cost savings.
Step-by-Step Guide to Company Registration in Belfast
Registering a company in Belfast involves several important steps. Let's walk through them in detail:
1. Choose a Business Structure
The first step is to decide on the legal structure of your company. The most common options in Belfast are:
Sole Trader: The simplest and most common form of business structure, where you are the sole owner and operator of the company.
Limited Company: A separate legal entity that provides limited liability protection to its owners. This structure is preferred by many small and medium-sized businesses.
Partnership: A business structure where two or more individuals share ownership and responsibility for the company.
Consider the nature of your business, your long-term goals, and the level of liability protection you require before making a decision.
2. Choose a Name for Your Company
Next, you'll need to choose a unique and memorable name for your company. Make sure the name reflects your brand identity and is not already in use by another business. You can check the availability of your desired company name through the Companies House website or seek professional assistance.
3. Register Your Company
Once you have chosen a business structure and name, it's time to register your company with the relevant authorities. In the UK, this process is handled by Companies House. You can either register online or through a formation agent who can provide expert guidance and support throughout the process.
During the registration process, you'll need to provide details such as your company's registered address, directors, shareholders, and the nature of your business activities. Make sure to double-check all the information before submitting your application to avoid any delays or rejections.
4. Obtain Necessary Licenses and Permits
Depending on the nature of your business, you may need to obtain specific licenses and permits to operate legally in Belfast. This could include permits for selling alcohol, running a restaurant, or providing professional services. Research the requirements for your industry and ensure compliance with all relevant regulations.
5. Set Up Your Business Bank Account
Separating your personal and business finances is crucial for proper accounting and financial management. Open a business bank account to keep track of your company's income, expenses, and financial transactions. Choose a reputable bank that offers business banking services tailored to your needs.
6. Register for Taxes
As a business owner, you'll need to register for various taxes, including income tax, national insurance contributions, and Value Added Tax (VAT). Familiarize yourself with the tax obligations for your business type and seek professional advice if needed to ensure compliance with tax regulations.
7. Consider Professional Accounting Services
Managing your company's finances and ensuring compliance with accounting regulations can be time-consuming and complex. Consider hiring professional bookkeeping services, such as Osome, to handle your company's accounting needs. Osome specializes in company incorporation and accounting services in the UK, providing expert advice and support to entrepreneurs.
FAQs
1. How to start a company in Belfast as a foreigner?
Starting a company in Belfast as a foreigner is relatively straightforward. The process is the same as for local residents, and there are no specific restrictions or additional requirements for foreigners. Follow the steps outlined in this guide, and consider seeking professional assistance to navigate any legal and administrative complexities.
2. What is the best business to start in Belfast?
The best business to start in Belfast depends on various factors, including your skills, interests, and market demand. However, some thriving industries in Belfast include technology, tourism, hospitality, and creative sectors. Conduct market research to identify opportunities and consider your own passion and expertise when choosing a business idea.
3. How to start a cleaning business in Belfast?
Starting a cleaning business in Belfast can be a lucrative venture. To get started, you'll need to register your company, obtain necessary licenses (if applicable), invest in quality cleaning equipment and supplies, and develop a marketing strategy to attract clients. Consider targeting both residential and commercial sectors to maximize your business potential.
4. How to start a street food business in Belfast?
Starting a street food business in Belfast can be an exciting and profitable venture. Begin by researching local regulations and requirements for street food vendors. Obtain necessary licenses and permits, find a suitable location for your food stall or truck, and create a unique menu that caters to the tastes of Belfast residents and visitors. Social media can be a powerful tool to promote your street food business and attract customers.
5. How to open a company in Belfast for Indian nationals?
Indian nationals can open a company in Belfast following the same process as any other foreigner. There are no specific restrictions or additional requirements for Indian nationals. Ensure that you have the necessary documentation, such as valid identification and proof of address, and follow the steps outlined in this guide to register your company in Belfast successfully.

Conclusion
Registering a company in Belfast is an exciting and rewarding journey. With its vibrant business environment, supportive ecosystem, and strategic location, Belfast offers numerous opportunities for entrepreneurs. By following the steps outlined in this comprehensive guide and seeking professional assistance when needed, you can navigate the company registration process with confidence and set your business up for success.