How Many Shareholders Does Your Business Need?
While some businesses choose to have a large number of shareholders, the total for yours could be as few as one or two. The rules are simple and your choosing must suit your company.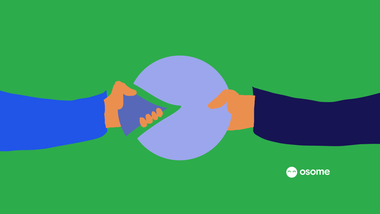 The number of Brits launching their own companies reached record numbers in 2021. You may be one of them.
Welcome to the confusing world of ownership, equity and shares. So how many shareholders does your business need?
How long's a piece of string? Ultimately, there are no right answers because the number of shareholders your business needs depends on the nature of your business.
How Many Shareholders Should My Business Have?
Businesses in their early stages must have a minimum of one shareholder, but they often have more than one (multiple co-founders, and subscribers - shareholders at the time of incorporation).
Large corporations, such as alcoholic beverage company Diageo PLC, have thousands of shareholders. However, Grosvenor Group Limited, a family-owned private limited company, has only one.
You're entitled to try to keep it in the family if you wish – however, it's often inadvisable. You may have to be wealthy, skilled and tenacious all at once if you want to benefit significantly from a close company.
Regardless, it's advisable that you understand the different aspects of ownership, and how they can be used to cater to the unique needs of your business.
They are as follows:
Number of shares issued
Accurate calculation of equity
Types and classes of shares issued
How Many Shares Should I Issue?
The number of shares you issue when you incorporate a company should be determined by how many shareholders the company has any plans to have. If the company is going to have more than one shareholder, you need to issue at least one share to each shareholder.
Brian sets up a company with three co-founders. Therefore, he needs to issue at least three shares. Brian issues one share each per co-founder (at a nominal value of £1 each). The minimum share capital is £3.
However, you may plan to sell shares to bring in new business partners or raise capital to grow the business. You may also want to give yourself the option of selling a portion of your shareholdings to your business partners when the company is more established.
By issuing more shares than you require at present, you can sell (transfer) some of them when the need arises. A transfer of shares is quicker and simpler than allotting new shares.
Often companies issue 100 shares, or even 1000. These quantities are preferred because they are easily divisible, which simplifies the task of allocating or working out a shareholder's ownership percentage.
However, in the case of the earlier example, as there are three co-founders, they may want to ensure that they are all equal one-third owners of the business. This would grant them one-third of the votes each, one-third of any dividends and entitlement to a one-third share of any net assets remaining if the company winds up. Therefore they would likely issue some shares that were divisible by three.
E.g. They might issue 333 shares each, for £1 each. The company's issued share capital would then be £999. 999 shares of £1 each.
How To Split the Pie
Providing a provision for selling shares in the future might suit the ambitions of your company's directors – you may want to provide equity to bring in partners, or investors. The value they bring you, be that skill, expertise, ideas, soft assets (such as intellectual property), or the hard assets they bring (such as cash, and equipment), might be of use to the development and growth of your business.
These key people that join your team will likely want some form of ownership if they are making a valuable contribution for which they are not being paid in cash. But how do you work out how much equity to hand over?
That all depends on the contribution that the individual or organisation in question provides toward the whole company. How do you work out their contribution to the whole company? How do you split the pie? You'll first have to find out the value of your company.
How Much Is My Company Worth?
Put simply, your company is worth the amount an investor, or strategic acquisitor is willing to pay for it. However, there are plenty of quite complex methods you can use to assess the total economic value of your business and its assets.
You may need to consult a specialist. Once you've evaluated your company, you'll need to assess the prospective contribution of the new partner or investor regarding the other contributing shareholders. Be warned, seldom does an even split represent a fair division.
What Do Different Types of Shares Offer?
Once you've worked out who gets how much of the pie (percentage of shares), there are different ways to serve it up.
You can issue four types of shares:
Ordinary
Non-voting
Preference
Redeemable
They carry with them different rights to dividends, voting rights and rights to capital, should the company be wound up. These share types can also be split into further sub-classes. For example, Ordinary shares can be split into Alphabet shares.
What Are Alphabet Shares?
Alphabet shares are the most common example of different share classes seen in Small and Medium Enterprises (SMEs), named for the letters used to differentiate each class i.e A Shares, B Shares, C Shares etc.
Alphabet can be used to amend one or all of a share's core rights. Each class can be given different rights, for example, weighted voting rights or preferential dividend payments. Weighting in this way can be used to reflect the level of input some shareholders have in the business over others.
They can also reflect any initial working capital provided by certain shareholders to the company, meaning they are repaid before any other shareholders receive a dividend. They can also provide different rights to capital distribution, should the company have any assets left, if it is wound up. These amendments can be especially useful for both owner-managed businesses (OMBs) and SMEs.
Osome frees entrepreneurs from red tape
All SMEs are different. What unites them all? They don't want to waste time struggling to stay compliant with the ever-changing regulatory world. Osome does it all for you. Save money. Save time. Stay compliant. Sign up with Osome now.