8 Best Accounting Software for Small Businesses In Hong Kong for 2024
If you're a small business owner in Hong Kong looking for a reliable and efficient accounting solution, look no further. We've done the groundwork and compiled a list of the top 8 accounting software options for small businesses in Hong Kong, complete with features, pricing, and user reviews.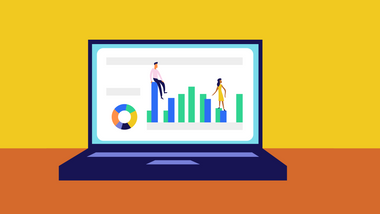 Accounting is a key part of your business, and while it can be complex, the right tools can make it much simpler. That's where we come in.
In this article, we've compiled a list of the 8 best accounting software options for small businesses in Hong Kong for 2023. These platforms offer easy-to-use interfaces coupled with powerful features to streamline the payroll process and other financial tasks. Each software has a unique set of features and offers various pricing plans, ensuring you find a perfect match for your needs. So, let's take a look.
Osome
Osome gives you control of your business finances through an easy-to-use app and an expert accountant available whenever you need them — you get your tools to manage the day-to-day finances and an expert accountant, for one transparent fee.
When you're ready to take your business to the next stage of growth, you'll want to hand over the routine and administrative tasks like accounting and bookkeeping to trusted experts who know what the entrepreneurial grind is like.
So, we've developed our own software that recognizes invoices and receipts, reconciles them with transactions, and updates your documents and outstanding bank balance daily. Osome supports single and multiple currencies, shows you the actual list of all unpaid invoices and reports to you if there are any missing documents. Plus, everything is stored securely on the cloud.
Osome helps small businesses in Hong Kong with all the necessary accounting services. We prepare financial statements and handle bookkeeping. Plus, our friendly accountants' advice saves you time and costs by being compliant with the local authority — instead of paying late fees or penalties which can add up to a huge sum.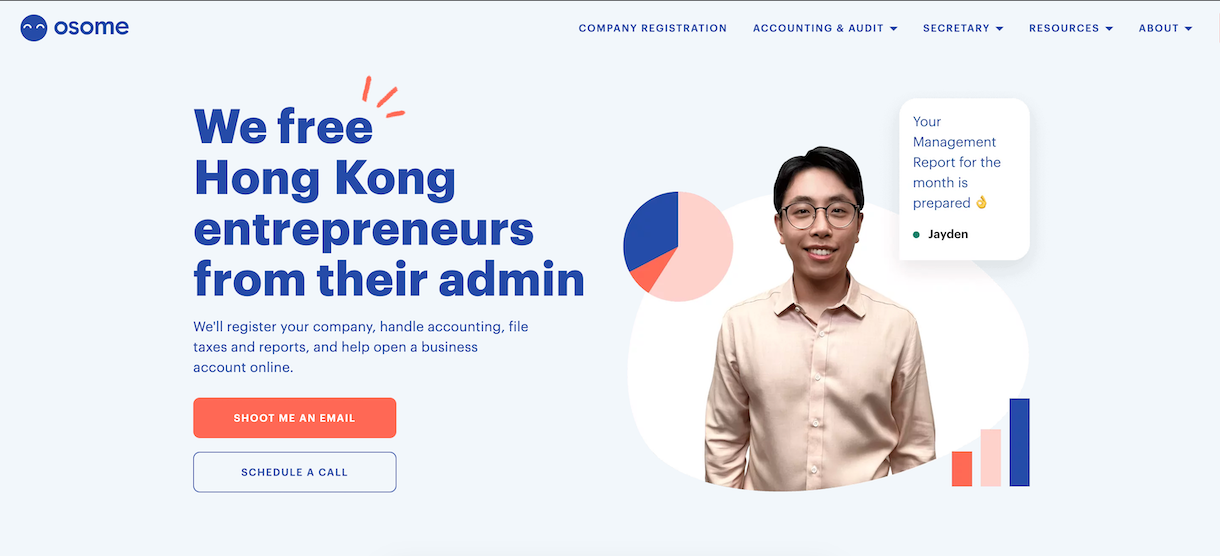 Features:
Prepares unaudited accounts like income statements, balance sheets, and cash flow statements;
Files annual profits tax return;
Accessible via the app from any computer or mobile device;
Provides regular updates and reminders regarding finances and filing deadlines.
Price:
Osome's prices depend on your business' yearly turnover. You can check out our pricing here.
Website:
What Accounting Software Does Osome Use?
At Osome, we do accounting differently. We use our own exclusive cloud-based software to deliver user-friendly services to Hong Kong's small businesses, with absolute accounting accuracy. Imagine having automated processes, payroll management, online invoicing, and tax compliance services all in one place.
We make daily updates easy by recognising your invoices and receipts, reconciling transactions, and keeping tabs on your bank balance. Single or multiple currencies? No problem. We display all unpaid invoices and flag any missing documents.
Our real-time dashboard offers a bird's eye view of your financial performance, so you can easily track expenses, revenue, and cash flow. Plus, our software syncs with various platforms, like payment processing and e-commerce, to streamline your operations and boost efficiency.
We're entrepreneurs too. We've felt your pain, and we're here to help. Choose Osome for your accounting services and see your business efficiency soar as you grow.
How Is Osome Different from Alternative Software?
Osome stands apart from other accounting and financial management platforms due to its unique blend of advanced technology and human expertise. Here's how:
Smart Tech: Osome harnesses AI and Machine Learning power, turbocharging tasks like data crunching and bookkeeping while keeping mistakes to a minimum.
Round-the-Clock Help: Got a burning question at 2am? No problem, Osome's customer service is awake, ready to sort it out.
Tailored Touch: With AI doing the heavy lifting, our top-notch accountants have more time to give you a bespoke service, helping you make smart financial moves.
One-Stop Shop: More than just an accounting tool, Osome offers a full package – think company set-up, secretarial tasks, and payroll handling. Ideal for start-ups and small businesses keen on a tidy, all-in-one solution.
Real-Time Updates: With Osome, your financial data is always fresh out of the oven, aiding sharper, better-informed decisions.
ABSS (formerly MYOB)
ABSS is the new face of MYOB. This Australian business offers cloud accounting software for Small Medium Enterprises, and it's been doing so since 2009. What makes ABSS stand out? It's the simplicity. Instead of accountant jargon, ABSS uses plain language: "the money customers owe you" instead of "debtor outstanding", and "the money you owe suppliers" instead of "creditor outstanding". Mac users rejoice! ABSS is one of the few offering accounting software on Mac. Their AccountEdge is a comprehensive and user-friendly system, tailor-made for Mac operating systems.
Features:
Installation language could be in either Traditional Chinese or English
100+ sample business start-up templates given
Sends invoices and manages debtors
Tax compliant
Ensures your inventory is never empty
Price:
Microsoft Windows Operating System
ABSS Accounting's standard software starts at HK$4,188 (>140 reports) for a single user account which includes a software CD, user manual(pdf), 5 company files, 4 hour basic course and between 8 to 12 hours of advanced Courses, remote installation and multi-user setup.
The Premier software costs HK$4,788 for a single user and HK$8,688 for up to 3 users (>170 reports), while the PremierPlus is HK$5,888 for a single user and HK$10,488 for up to 3 users (>200 reports).
Mac Operating System
The AccountEdge is ABSS's accounting software for Mac. The difference with the Windows software is that it could be used for an unlimited number of companies. The price is HK$4,788 for a single user and HK$8,888 for up to 3 users (>170 reports).
MAS-Account
MAS-Account is a comprehensive system designed for different kinds of business in accounting and trading management. It uses Microsoft SQL Server database and is compatible with different devices such as desktop, tablet, and smartphone. Professional consultation, installation and training courses are available for free.
MAS-Account is a versatile accounting and trading management system. It's adaptable, using the Microsoft SQL Server database and compatible with desktops, tablets, and smartphones. It comes with a free consultation, installation, and training. A simple software to make accounting simpler.
Features:
Supports English and Traditional/Simplified Chinese
Supports multi-currency
Sales and purchase documents
Voucher, AR & AP
1-year free basic App basic service for MAS-Account 9.0/10.0
Price:
Prices are not listed for MAS-Account. However, you can contact them through their website for a quote.
Microsoft Dynamics GP
Meet Microsoft Dynamics GP — the business software that simplifies back-end operations like accounting. It's an enterprise resource management programme that excels in managing financial transactions, generating financial reports, and monitoring cash flow. It's especially handy for businesses dealing with multiple currencies or complex financial operations. Primarily, it's a game-changer for larger businesses (think US$3–5 million turnover), particularly those in distribution.
Features:
Manages your cash, assets, and banking;
Manages your inventory, track product movements, and optimise supply chain;
Manages employee data, track employee benefits, and monitor employee performance;
Manages project budgets, track project expenses, and monitor project progress.
Business intelligence and reporting
Manages your contacts, sales opportunities, and service contracts
Price:
Starter Pack: US$5,000 for 3 concurrent users
Additional Full Users: US$3,000 each
Optional (one-time fee):
Extended Pack: US$10,000
Customisation Pack: US$6,000
Extended Human Resources & Payroll Pack: US$7,000
Express Accounts Accounting Software
Express Accounts is a budget-friendly accounting tool that small businesses find helpful. It focuses on the basics, making it suitable for independent businesses with straightforward accounting needs.
Features:
Available for both Windows and OS X
Tracks sales and accounts receivable information
Records recurring orders and repeat invoices
Creates quotes, sales orders, and invoices
Price:
If you're a team of fewer than five, Express Accounts is completely free and won't expire. If you need a few more features designed, an outright license for Express Accounts Basic is yours for just US$99.
SunSystems Financial Management System
SunSystems Financial Management System could be a better accounting solution for large enterprises. Whether it's financial services, hospitality, or non-profits, SunSystems is a great choice for businesses that are spread across locations, growing fast, or have complex analysis needs.
Features:
Strong on reporting and data entry, integration and holding multiple different currencies;
Can consolidate multiple legal entities;
Scalable: deployable in any environment from a single-user PC with remote access to their cloud hosting, to your single or multi-server IT environment.
Price:
Depending on requirements it varies and starts roughly at US$25,000 in the first year and then in the following years, it can cost between US$1 – US$$5,000 if you decide to host it yourself.
Macola
Macola isn't just an Enterprise Resource Planning (ERP) software, it's a fully integrated system for small to mid-sized companies. Known for automating workflows and offering personalised workspaces, Macola is a lifesaver for manufacturers and distributors. It oversees the whole production process —- planning, manufacturing, delivery — so you can focus on efficiency and cost reduction.
Features:
Cash management and payroll
General ledger accounts payables (AP) and accounts receivables (AR)
Document management
Personalised workspaces
Quickbooks
Quickbooks allows you to keep track of all your financial transactions in one place. From tracking expenses, customising invoices, to monitoring reports, Quickbooks can help you do all that – and much more.
QuickBooks also offers strong financial reporting capabilities. You can generate a variety of financial reports, including balance sheets, income statements, and cash flow statements. These reports can provide your business with valuable insights into its financial performance and help you make informed decisions about your business operations.

If you're dealing with a lot of financial transactions, Quickbooks could be the way to go. It's a simple solution for tracking expenses, customising invoices, and keeping an eye on reports. Plus, its robust financial reporting features let you generate balance sheets, income statements, and cash flow statements — to help you keep your finger on the pulse of your business operations.
Features:
Syncs your bank information and your favourite apps
Accesses your data on multiple devices
Secured online database
Price:
Between HK$69/month to HK$139/month
How To Choose the Best Accounting Software
With so many options out there, choosing the best accounting software for your business can feel like searching for a needle in a haystack. Fear not, we've got you covered with a rundown of key factors to consider.
Types of accounting software
Cloud-based accounting software: Hosted on remote servers and accessed via the internet, offering real-time financial data. Ideal for small to medium-sized businesses.
Online accounting software: Accessed through a web browser with real-time financial data. Generally cloud-based and tailored for small businesses.
Desktop accounting software: Installed locally, offering control and customisation but may require more maintenance and may not be remote-work friendly.
Open source accounting software: Free, modifiable software typically designed for small businesses with basic accounting needs.
Enterprise resource planning (ERP) software: A comprehensive suite of tools including accounting, inventory management, and customer relationship management (CRM) features. Ideal accounting software for big businesses with complex operations.
Industry-specific accounting software: Accounting software catering to specific industries such as construction, healthcare, or retail, offering specialised features.
Essential features
Invoicing: Your chosen software should effortlessly create and send invoices to clients, keeping tabs on payments coming in.
Expense Tracking: Look for software that makes tracking and categorizing expenses a breeze, with the ability to whip up expense reports when needed.
Bank Reconciliation: Your software should seamlessly match your bank statements with the transactions recorded, automating a task that can otherwise be tedious.
Financial Reporting: Financial accounting software will let you conjure up key financial reports like profit and loss statements, balance sheets, and cash flow statements with ease.
Payroll Management: Payroll calculations should be a cinch with your software, along with the creation of detailed payroll reports.
Inventory Management: If your business juggles inventory, your accounting software needs to keep track of inventory levels and costs effectively.
Tax Compliance: No more tax headaches. Your software should calculate and track taxes due, generate tax forms, and reports to keep you in line with the taxman.
Multi-Currency Support: Dealing with multiple currencies? The software should handle conversions and exchange rate calculations smoothly.
Security and Data Backup: Your sensitive financial data needs to be in a secure vault. Your accounting software should have robust security measures and a reliable backup system to prevent data loss.
Limitations and challenges
While accounting software can be a true game-changer in automating and simplifying your business accounting, it's also important to weigh the potential hurdles and challenges:
Cost: Depending on your business's size and financial demands, investing in accounting software can be a significant outgoing.
Getting Up to Speed: While most accounting software is designed with user-friendliness in mind, there's still a learning curve, especially for team members who aren't familiar with using such software.
System Requirements: Some accounting software may need specific system requirements like a certain operating system or hardware specs that might not seamlessly fit in with your business's existing tech setup.
Customisation Roadblocks: Though accounting software can be tailored to your needs to an extent, it might not always fit your business's unique requirements.
Data Security: Digital storage of financial data may leave it vulnerable to security breaches or cyber attacks, so ensuring your software packs robust security measures is crucial.
Technical Hiccups: Even the best accounting software may run into technical glitches or crashes, which can put a spanner in your business operations.
Regulatory Compliance: It's vital that your accounting software ticks all the boxes in terms of local laws and regulations — from tax laws to data privacy regulations.
How Much Does Accounting Software Cost?
The price tag for accounting software for small businesses in Hong Kong can fluctuate based on several aspects, including the features, user count, and level of support on offer. While there are free accounting software options available, they typically offer limited features. Ppopular choices like QuickBooks, Sage Business Cloud Accounting, Xero, and Osome have pricing plans falling between HK$150 to HK$468.
Remember, these are ballpark figures, and the actual cost of accounting software for a small business in Hong Kong will be influenced by several factors. Before zeroing in on an accounting software, it's important to carefully assess your needs and budget to find the most fitting solution for your business.
Method
Choosing the perfect accounting software isn't a one-size-fits-all affair. Here are some guiding points to aid your decision-making process:
Identify your business needs: Itemise the features and functions that are paramount for your business, like invoicing, expense tracking, and financial reporting. Consider your business's size, the complexity of your financial operations, and any regulatory compliance requirements.
Do your research: Investigate and compare potential accounting software options that cater to your needs. Look at aspects like the company's reputation, pricing, user-friendliness, and customer support. Read reviews and ratings from other small business owners to aid your decision.
Try out the software: Make the most of free trials or demos offered by software providers to get a feel of the software. This can assist you in evaluating its user interface, compatibility, and how well it dovetails with your existing tech setup.
Consider scalability: Your financial needs may evolve as your business expands. Choose software that can grow with you, whether that means accommodating new users, integrating with other software, or offering advanced features.
Evaluate security: Consider the security measures in place to shield your financial data, such as multi-factor authentication, data encryption, and frequent data backups.
Review customer support: Opt for software providers that offer comprehensive customer support, be it online tutorials, user forums, or dedicated support teams. This is particularly crucial if you or your team are novices in using accounting software.
Set Yourself Up for Success
Using accounting software that aligns with your business's needs saves time and helps shift your focus to where it's best spent. Always make the choice from your business's viewpoint, rather than what your competition does. Hopefully our list of accounting software helps you make the right decision — letting Osome sort your financial admin, that is.

Make sure your company adheres to Hong Kong's corporate governance laws, too. Osome can help you manage documents with our corporate secretary services in Hong Kong.
FAQs
What does accounting software for a small business do?
Accounting software is an effective tool that small businesses can use to manage their finances efficiently. It keeps a record of their financial transactions, including sales, expenses, and taxes, in a centralised system. The software is capable of generating invoices, reconciling bank accounts, and creating financial statements like balance sheets and income statements. Also, it offers real-time updates on the company's financial status, helping you make informed business decisions. Essentially, accounting software for small businesses streamlines financial processes, reduces errors, and enhances the accuracy and speed of financial reporting.
How does accounting software work?
Accounting software powers through accounting processes, automating tasks and streamlining workflows. When you input financial data — sales, expenses, invoices — the software registers it, instantly updating relevant accounts. It automates tasks like tax calculations, payment reminders, and bank reconciliations. Relying on a double-entry system, each transaction impacts at least two accounts, ensuring balance and accuracy. Plus, it generates critical financial reports, providing valuable insights into your company's financial health.
What is the simplest accounting software?
The simplest accounting software is Osome. Its user-friendly interface makes it ideal for entrepreneurs seeking a cost-effective accounting solution.
Is accounting software secure?
Security is a paramount concern for businesses using accounting software in this digital era, and most trusted accounting software providers take security extremely seriously. They put various protective measures in place, including data encryption, secure data storage, and multi-factor authentication. They also typically have backup and disaster recovery plans to safeguard against data loss in case of a security breach or unexpected events. However, like any software, accounting software isn't exempt from security risks such as malware attacks, phishing, or social engineering. So it's critical to keep to best practices like using strong passwords, regularly updating software, and being cautious when opening emails or clicking links. Ultimately, accounting software can be secure if users take appropriate precautions and select a reputable provider adhering to industry standards and best practices.
What is the difference between ERP and accounting software?
While both ERP (Enterprise Resource Planning) and accounting software help manage business finances, they have significant differences. Accounting software concentrates on financial management tasks, such as recording transactions, generating financial reports, and managing accounts payable and receivable. ERP software offers a comprehensive solution that encompasses all business aspects, including finance, supply chain management, human resources, customer relationship management, and more. ERP systems integrate various business processes into a single system, enabling businesses to streamline operations, improve efficiency, and reduce costs. ERP software often provides advanced features like workflow automation, inventory management, production planning, and business intelligence, which are typically not present in accounting software. Overall, accounting software is suitable for businesses needing basic financial management, while ERP software is ideal for larger organisations requiring a comprehensive solution for managing their operations.