How Many Shareholders Can You Have in Your Business?
With many options for selling shares in your business, it can be overwhelming deciding how you'd like to structure your shares. We at Osome have created this guide to help you understand all possible options.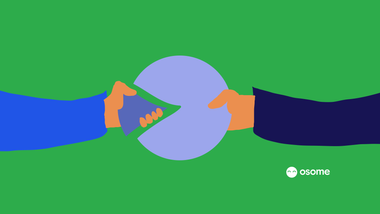 For private limited companies, the number of shareholders is between one and 50. If the number of shareholders exceeds 50, the company will become a public company. The same goes for the number of directors, with a minimum of one director and no maximum limit.
A shareholder may or may not be a resident of Hong Kong. They can be a person, or legal entity, for example, liquidator, sole proprietor or company.
Let's learn more about the shareholder's rights, requirements and responsibilities.
What Is Shareholding?
Shareholding is a particular portion of power held by the shareholders in a joint company for any private company. In other words, all the people that bought the shares together own the company.
In return for investing in a company, shareholders get certain rights that can vary depending on the percentage of shares they have bought.
If a person holds more than 50% of shares in a company, it gives that person more power and they can make more important decisions, such as who to hire as a director.
If the person has about 75% of shares in a company, they can change the organisation's name, buy other shares from other shareholders, reduce the share capital, or close the company.
If a person has 100% of the shares, they are known as the sole shareholder, giving them complete power under the company regulation.
Commonly, private companies have only one type of share (ordinary shares). Though, some private companies do issue more than one class of shares.
The onboarding process of shareholding is done on paper by drawing a contract with a list of rights for that kind of class of shares, which are written in the company's articles. It helps to understand the difference between each class of share so that shareholders can make a choice.
The process:
Company directors do an allotment of shares to those who will buy shares.
The set number of shares are issued to the shareholders when their relevant particulars are written into the company's register of shareholders.
The assignment of other shares needs to be in the general meeting with everyone's approval. Shareholders can give their approval concerning a specific share or in general.
After the shares have been allotted, form NSC1 should be filed to get the return of allotment of shares with the Registrar of Companies within one month. This also includes disclosing the name of the shareholders and their shares. The form can be filled out for the allotments made in a day or for a particular period.
Main Types of Shares Issued by the Company
In Hong Kong, there's a lot of flexibility in the types of shares and other kinds of security issued by the company.
Ordinary shares
One of the most common shares is the ordinary shares issued by the company. Usually, companies only share ordinary shares.
Those who have ordinary shares have equal rights depending upon the number of shares owned by the shareholders, in addition to voting, receiving dividends or distributions in liquefaction.
Preference shares
These shares hold more power on dividends and distributions in liquidation than ordinary shares. The number of dividends assigned to a shareholder is proportional to the value of shares. The same goes for voting preferences, where only preferential votes can be assessed in some cases.
Non-voting shares
They have almost all the rights of ordinary shares, except they don't get voting rights.
Deferred shares
They get only a set number of rights to distributions and dividends. Deferred shares are a kind of non-voting shares and rank behind preference shares and ordinary shares.
Redeemable bonds
They can be redeemed at a shareholder's or company's expense, according to the terms discussed during the meeting.
Shareholder Requirements
A shareholder must disclose their name to include in the company registry and their identification details such as their address or phone number.
They are obliged to get their dividend payment when the company starts making a profit. Also, when the company is liquidated, they are eligible for a part of the surplus of assets (if any is left) when all the financial debts is paid off.
Shareholder Rights
Certain kinds of rights are included in the Articles of Association. Some of the rights added in the Articles of Association are:
Shareholders are entitled to receive a specified portion of dividends when the profits are available.
When the company winds off, shareholders receive a surplus of assets after the debts are paid off.
Some shares only allow voting during meetings. Usually, each share carries one vote with them, but some shares with no or multiple votes in exceptional circumstances.
Shareholders have a right to appoint a proxy.
They also have a right to make decisions to appoint management staff in the company.
They receive a part in liquefaction once the debt is paid off.
They can ask for the audited accounts along with the director's report and the company's audited report.
Shareholder responsibilities
Duties of shareholders include:
Buying the shares of a company ensures that the company has the required capital to run the business. Shareholders must pay for the shares in full or partially as agreed with the company.
In Summary
Although the directors usually run a company, the shareholders also have specific powers and can tell what changes could be made to the articles of association. All election of directors, company liquefaction, changes to the article of association and memorandum, increasing or reducing the company capital and other things should be done in a general shareholder's meeting.
Osome frees entrepreneurs from red tape
All SMEs are different. What unites them all? They don't want to waste time struggling to stay compliant with the ever-changing regulatory world. Osome does it all for you. Save money. Save time. Stay compliant. Sign up with Osome now.