10 Best Website Builders for E-commerce Businesses
An e-commerce online store should be pleasing to the eyes, easy to navigate, with a simple checkout process. While these are the most basic features of an online store, website builders nowadays offer so much more to online entrepreneurs.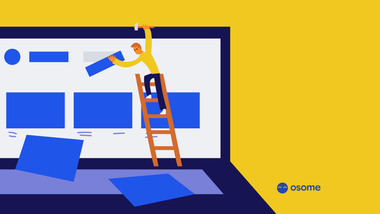 Websites are online shoppers' first impression for an e-commerce store or brand. For online and mobile browsing and shopping, an e-commerce online store should be pleasing to the eyes, easy to navigate, with a simple checkout process. While these are the most basic features of an online store, website builders nowadays offer so much more to online entrepreneurs. So which website builder fits best for your e-commerce business? Read on to find out more.

By the way, to receive the best support from the UK government in terms of building a business, it's recommended for you to register your company. If you need to learn more, reach out to us. Otherwise, we can help you with it.
What Is An E-commerce Website Builder?
A website builder is a platform or program that allows everyone -from amateurs to experts- to design and create a website quickly and easily. E-commerce website builders help online businesses establish their online presence: a website with the brand's own elements, content, and offerings, tailored to its business goals.
Website builders usually have visual drag-and-drop editors that let users customize elements on a page with layouts chosen from a range of available web page templates. Most offer online tutorials for support too.
How To Choose The Best E-commerce Site Builder?
Currently, there are many e-commerce website builders available in the UK for you to choose from. Choose one that fits your business goals, products, brand identity, and business management style.
These are some things to consider:
The range of available templates
While surveying website builders, see if you like the templates that they offer and if they fit your e-commerce needs. Choose one that you are most comfortable and confident with. If you need a tailor made theme, you could develop that on your own, or by hiring a website developer, but it would cost more money and time.
Integration with your current online applications and tools
If your business is already up and running and you are presently selling on e-commerce platforms, make sure that the website builder you are considering integrates well with the softwares and tools you currently use. Check that the applications and tools you use for your e-commerce such as customer data, logistics, and email marketing, are compatible with the website builder of your choice. By syncing customer data between all your applications and tools, Hightouch makes sure that everything works seamlessly together.
Factor in your budget
As a website could be considered a long-term commitment for your online business, ensure that the price plan and options that you choose suits your budget over time. You could also consider website builders that have upgrade or premium options if you were to expand your e-commerce store.
Time needed to complete your website
Prepare a timeline for building your website. Building a website most probably couldn't be completed overnight, especially if you have a wide range of products. You would need to ensure that the back-end work and site build-out are thoroughly completed before your website launch.
Add additional weeks or months to that timeline if your business requires a tailored build-out or developer work because more back-end work would need to be done before the final launch. Make sure to integrate proper CMS like WordPress and integrate a good web hosting for WordPress so that your content appears in front of the search engines and your audience.
DIY or hire a website developer?
Website builders usually offer tutorials and resources on navigating and using their service. Depending on the price plans that you choose, most also offer live chat or 24/7 customer support. Create a checklist of website features that are essential for your business and ensure that the website builder that you choose offers them. You could also hire a website developer if you prefer, especially if you need custom elements on your website.
12 Best Website Builders For E-commerce

BigCommerce
Bigcommerce is an e-commerce hosting platform that makes it easy to create and set up your online store without the need to know and write software code, as well as to have design skills. It provides a full package of services: hosting, design, SEO, payments and marketing software necessary to create an online store.
The biggest advantage of BigCommerce is that it has a plugin for WordPress. It allows you to launch a fully functional online store on an existing WordPress site.
Features:
Unlimited number of products in your store
Unlimited orders
Unlimited disc space
Unlimited bandwidth ( no limitation in the number of visitors your store can handle)
Real-time chat 24/7 + Phone support
Fully functional online store + shopping cart functionality that your customers can use
Visual and drag-and-drop tools to create your store
Optimized for mobile devices
Card processing + multiple online payment gateway systems
Delivery integration
Tax calculation automation
Customer accounts
Search engine optimization
PCI Compliance Level 1
Free integration with SSL
Tools for selling via social networks
Stock management
Sales report
Pricing:
BigCommerce has four plans and free 15 days trial version.
Standard plan: USD $29.95/month.
Plus plan: USD $79.95/month.
Pro plan: USD $299.95/month.
Enterprise plan: Contact the BigCommerce team for details.
The features listed above are included in the Standard plan. You can sell up to USD $50.000 annually, but if you want other features or sell for a much bigger amount, have a look at a Pro plan.
Wix
Wix is a really popular website builder worldwide and in the UK due to its ease of use. Its tools are crafted with small businesses in mind. With 119 professionally designed online store templates, you probably would find one that works great for your business. You could also connect your Wix to your online marketplaces. The templates available suit different product categories such as services, event bookings, electronics, groceries, etc. and there are no transaction fees.
Features:
Easy-to-use;
Drag-and-drop website builder;
Abandoned cart recovery to recapture lost customers;
Multichannel selling across social channels like Facebook and Instagram;
Reservation management to make your life easier;
Product zoom built into ecommerce templates;
50+ payment options so you can choose your best fit;
24/7 customer support.
Pricing:
Wix has three business and e-commerce plans that let you sell online and accept online payments:
Business Basic: USD $17/month.
Business Unlimited: USD $25/month.
Business VIP: USD $35/month.
The features above are for the Business Basic plan. If you upgrade to Business Unlimited and Business VIP, you would unlock other features such as subscriptions, selling in multiple currencies, automated sales tax, and selling across other marketplaces.
Website:
Weebly
Weebly is a website builder which is user-friendly and suited best for small e-commerce businesses and local stores wanting to sell online. Weebly's application for mobile and tablet lets you launch, edit and analyze your business easily wherever you are. Its drag-and-drop builder feature is great for beginners.
Features:
Intuitive interface;
Easy to add new products, remove out-of-stock products, push updates, and track  inventory levels;
Built-in shopping cart;
Quick shop option that lets customers check out in a matter of seconds;
Search engine optimization: built-in tools and features that let you rank higher on search engines such as Google;
Unlimited videos, images, mp3 files, etc. storage on your website;
No Weebly ads on your site;
Community forum, chat, email and phone support.
Pricing:
For online stores, Weebly has three price plans:
Pro (for groups and organisations): USD $12/month (billed annually).
Business (for small businesses and stores): USD $25/month (billed annually).
Business Plus (for power sellers): USD $38/month (billed annually).
The features listed are for the Pro option. With a Business or Business Plus account, you are eligible for creating custom coupons, offering digital gift cards, managing inventory in real-time as customers order, automatic tax calculations and abandoned cart emails.
Website:
Squarespace
Squarespace started as a traditional website builder first, and added on the e-commerce website feature later, thus it suits online entrepreneurs with a little technical knowledge. Squarespace templates are well-designed and customizable to your brand.
Features:
Drag-and-drop builder with customizable templates and starter layouts to build your store;
Responsive designs and image scaling;
Custom WYSIWYG editing to support content types and complex layouts;
Unlimited products listings;
Automatic post-purchase email sequences;
Finance, marketing, shipping, and sales extensions.
Pricing:
Options for both annual (up to 30% savings) and monthly payments are available for this website builder in the UK. These are the annual price plans:
Personal: £10/month (billed annually).
Business: £15/month (billed annually).
Basic Commerce: £20/month (billed annually).
Advanced Commerce: £30/month (billed annually).
Additional features for Business and Commerce accounts include professional email from Google, direct checkout on your domain, and selling gift cards and subscriptions.
Website:
https://www.squarespace.com/ecommerce-website  
GoDaddy
GoDaddy is famous for its domain registration and hosting services. It is now venturing into website building with its 'GoCentral Website Builder' platform; competing with Wix, Squarespace and Weebly. This lets you create a website for your personal or business needs without needing to use coding and programming. GoDaddy's website builder is really easy to use and is recommended for those who are not tech-savvy.
Features:
Bring Your Own Blog (BYOB). Link an existing blog on another platform to GoDaddy Website Builder;
Trusted and secure website with browser padlock and SSL certificate which encrypts data to protect from hacking;
GoDaddy InSightTM which ranks your website and proposes a custom action plan for improvement;
Access to professional templates and posting contents directly to your social media channels;
Allows customers to book for recurring appointments and sends email and text reminders;
Sets up free or paid shipping or curbside pickup.
These features are for the e-commerce website builder plan option.
Pricing:
GoDaddy's price plans are as follow:
Basic: £6.99 /monthly (billed annually).
Standard: £9.99/monthly (billed annually).
Premium: £14.99 /monthly (billed annually).
E-commerce: £19.99 /monthly (billed annually).
Although there are different price plans, only the e-commerce option allows you to sell products online.  GoDaddy's website builder accepts credit card, PayPal, Apple Pay and Google Pay payments for purchases. With PayPal, GoDaddy charges 2.7% + 30¢ per transaction.
Website:
Jimdo
With Jimdo, you can create business, personal and portfolio websites. for business websites, it offers a professional homepage and site for your business with custom domain, SEO tools, automated business listings. Jimdo was launched in 2007 and it has been helping small businesses create their websites without having experience in design or coding ever since.
Features:
Customize your website's design with built-in design features. The website's colors would automatically match the logos and images that you upload. Your website would be compatible and look good across many devices: smartphones, tablets, laptops, PCs;
Has a legal text generator for your website's terms and conditions are General Data Protection Regulation (GDPR)-compliant and water-tight for EU websites;
Access to high-quality, and copyright-free images that you can use on your website without paying for royalties.
Pricing:
Pro (for personal or creative projects): USD $10/month.
Business (for entrepreneurs and freelancers): USD $20/month.
SEO Plus (for a Google-ranking boost): USD $30/month.
Platinum (for website or online shop): USD $40/month.
Business, SEO Plus, and Platinum accounts are all comparable to each other in terms of features. Only the Pro account has less storage at 5GB.
Website:
SITE123
SITE123 is easy to use and intuitive, and you do not even need to drag and drop. You would just need to upload your content and SITE123 would handle the website structure and design. However, the Israel-based company's website builder is pricey compared to the other website builders because you would need to take the Premium plan to remove ads. Furthermore, you will not have access to the website's codes in case you run into any coding problems.
Features (for e-commerce websites):
Various payment options including PayPal, wire transfer and integration with credit card processing systems;
Create and manage coupons;
Custom product pricing according to variants like color and size;
Store inventory system to automatically or manually track product supply.
Pricing:
Free: $0/month.
Premium: $7.80/month.
The free account gets you 250 MB Storage and a subdomain, while the Premium plan removes SITE123's floating tag and accords you with e-commerce features. If you want to connect a custom domain, you will be charged an additional $10.8 per month (annual plan, paid up front).
Website:
https://www.site123.com/
123 Reg
This is a UK-based web host that offers shared hosting, VPS, and WordPress hosting. 123 Reg's dedicated servers are EU-based while its email hosting data is stored in their data center in Leeds. 123 Reg prides in their green data centers while striving to minimize their carbon footprint.
Features:
Set up an e-commerce website with flexible shipping rates;
Sell up to 10 products;
Dozens of free third-party apps available;
Free domain, SSL certificate and hosting included.
Pricing:
Online Shop Starter: £30/year for the first year, minimum contract duration 1 year, thereafter £179.88/year. Prices exclude 20% VAT.
Online Shop Standard: £149.94/year for the first year, minimum contract duration 1 year, thereafter £299.88/year. Prices exclude 20% VAT.
Online Shop Pro: £299.94/year for the first year, minimum contract duration 1 year, thereafter £599.88/year. Prices exclude 20% VAT.
Standard and Pro accounts increase the number of products that you can sell, and give additional payment methods to your customers, among other additional features.
Website:
Ucraft
Ucraft launched in 2014 to provide reliable tools for designing websites. Two years later, it launched a website builder tool for businesses and personal use. It focuses on quality and dedicates itself to simplicity. Ucraft provides a free ucraft.me but you can upgrade to a custom domain name later.
Features:
50+ customizable online store templates. Just upload your products, set up checkout, and start selling;
Dropshipping. Ucraft allows you to integrate a dropshipping option for you to deliver products from reputable vendors;
Manage your sales across all top marketplaces like Amazon, eBay, and Google Shopping from a single dashboard;
Ucraft's mobile app permits you to add new products, manage orders, and accept payments on the go.
Pricing:
Pro Website: USD $10/month (billed annually).
Pro Shop: USD $21/month (billed annually).
Unlimited: USD $69/month (billed annually).
For an e-commerce website, you would need at least a Pro Website account to start accepting payments. With an Unlimited account, you could sell an unlimited number of products and have access to 50+ payment options. A Pro Shop account onwards would also unlock the abandoned cart recovery email feature.
Website:
Rocketspark
Rocketspark was initially launched in 2009 to help New Zealand's small business owners create and maintain their own websites easily. Since then, Rocketspark has served clients worldwide and has offices in the United Kingdom.
Features (for e-commerce website builder):
Product catalog, product and stock management features, a shopping cart and checkout process, and payment processing;
Product image zooming, toggles between grid and list views for your product lists, and search and sort functionality;
Pricing:
Website builder: £16/month.
Ecommerce Grow: £24/month.
Ecommerce Pro: £49/month.
You save 20% of the account subscription fees if you pay in full for the year ahead. You could sell 10 products with the Website Builder account, 400 products with an Ecommerce Grow account, and unlimited products with the Ecommerce Pro account.
Website:
https://www.rocketspark.com/uk/
Strikingly
What sets Strikingly apart from other website builders is its single-scrolling page format. This is to ensure that the website building process is smooth and the design attractive. However, this reduces customization and control. (Its Pro account, however, offers multiple pages per site).
Features:
Powerful tools to engage your audience. You can register memberships, create and manage signups, forms, live chat, and newsletters all in one place;
Blog feature. Update your visitors regularly with blog posts. Each blog post gets its own page;
Coupons, shipping, digital goods, and much more are all fully built-in.
Pricing:
Limited: USD $8/month (billed yearly).
Pro: USD $16/month (billed yearly).
VIP: USD $49/month (billed yearly).

The Limited plan allows you to link a custom domain, increase the monthly data transfers to 50GB, and sell five products. Pro account offers unlimited monthly data transfers, allows for 300 products, and removes Strikingly's logo. A Pro account also lets you create multi-page sites.  The VIP account level adds priority phone support and 500-product stores.
Website:
Voog
Most website builders focus on simplicity and ease of use, sometimes with the loss of website control and customization. Voog, on the other hand, caters to the tech-savvy e-commerce store owners. Pro users, such as businesses, developers, designers, etc., profit from Voog's professional extras such as support for up to three website languages, full access to CSS and HTML, an API and developer tools for in-depth customization, and an online store.
Features (for online stores):
Send automatic invoices or payment receipts to buyers;
Be notified of each sale;
List orders sorted by payment and fulfilment status;
Offer multiple shipping options and different prices for different regions;
Powerful API to manage websites' content, templates, files, data, settings and user rights.
Pricing:
The Standard plan: USD $9.32/month.
The Plus plan: USD $15.15/month.
The Premium plan: USD $45.44/month.
The Standard plan includes an SSL Certificate, unlimited bandwidth, and website analytics with the Voog Domain. The Plus plan qualifies you to include your own domain name, unlimited pages, SEO tools, and the ability to create an online store. It also comes with up to 20 GB of storage space and you can add unlimited contributors. The Premium plan gives access to custom SSL Certificates, a redirecting tool, and unlimited storage space.
Website:
We hope that this guide has shed some light for you and made it easier for you to choose a UK website builder that is best for your own e-commerce store.
Once you have built your website and started selling, you might need the help of accountants who specialise in e-commerce operations. That's when we can help out, do bookmark us till then. We wish you the best growth in sales as you scale up!