The Only List You Need to Plan E-commerce Sales in 2021
If you're the owner of an e-commerce store, it's important to know the holiday dates throughout 2021. An e-commerce calendar is crucial for keeping up-to-date with seasonal sales, official holidays and celebrations.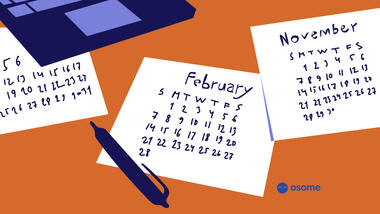 UK BANK HOLIDAY DATES 2021 QUICK GUIDE
New Year's Day - Friday 1st January
St Patrick's Day - Wednesday 17th March
Good Friday - Friday 2nd April
Easter Monday - Monday 5th April
Early May bank holiday - Monday 3rd May
Spring bank holiday - Monday 31st May
Battle of the Boyne - Monday 12th July
Summer bank holiday - Monday 2nd August (Scotland only)
Summer bank holiday - Monday 30th August (England, Wales and Northern Ireland only)
St Andrew's Day - Monday 30th November (Scotland only)
Christmas Day - Monday 27th December (Substitute day)
Boxing Day - Tuesday 28th December (Substitute day)
UK IMPORTANT CALENDAR DATES 2021 QUICK GUIDE
Burns Night - Monday 25th January
Chinese New Year - Friday 12th February
Valentine's Day - Sunday 14th February
Shrove Tuesday - Tuesday 16th February
Ash Wednesday - Wednesday 17th February
St David's Day - Monday 1st March
Mother's Day - Sunday 14th March
Daylight saving time starts – Sunday 28th March
St George's Day - Friday 23rd April
Ramadan start - Monday 12th April
Eid al-Fitr - Wednesday 12th May
Summer Solstice - Monday 21st June
Father's Day - Sunday 20th June
Eid al-Adha begins - Monday 19th July
Islamic New Year - Monday 9th August
Rosh Hashanah - Monday 6th September
Yom Kippur - Wednesday 15th September
Daylight saving time ends - Sunday 31st October
Halloween - Sunday 31st October
Guy Fawkes Night - Friday 5th November
Remembrance Day - Thursday 11th November
Diwali - Sunday 4th November
St Andrew's Day - Tuesday 30th November
Hanukkah begins - Sunday 28th November
Winter Solstice - Tuesday 21st December
The UK is the world's third-largest e-commerce market, with nearly £200 billion in sales in 2019. Whether you're an international or UK-based online retailer, doing business in the UK provides plenty of opportunities to grow your business. Even as other industries have been impacted by a downturn in sales since the beginning of the COVID-19 pandemic, online retail continues to grow, especially in major e-commerce markets like the UK.
If own an e-commerce store, it's important to know the holiday dates throughout 2021. An e-commerce calendar is crucial for keeping up-to-date with seasonal sales, official holidays and celebrations. After all, you don't want to miss out on a chance to make use of those all-important dates, do you?
Here are the days to put in your diary for the next 12 months:
January
17 January – Blue Monday

The third Monday in January is also known as Blue Monday because it's thought to be the most depressing day of the year. It was devised in 2005 by a British holiday company, which calculated factors such as the weather combined with debt levels, as part of a publicity campaign.
As an e-commerce entrepreneur, you could utilize the day with marketing campaigns designed to spread cheer among your consumers.  Lots of them will gladly indulge in some online retail therapy or start looking for where to book their summer holiday. It is also a time for consumers to kickstart their fitness regime so health and wellbeing brands should also take advantage.
Shoppers will be looking for discounts though so be sure to promote offers like free shipping, discount codes and clearance sales.
February
16 February – Shrove Tuesday/Pancake Day
Shrove Tuesday marks the last day before Lent, traditionally a period of abstinence, associated with clearing your cupboards of things like sugar, fat and eggs. It's known as Pancake Day because it represents a good opportunity to use up such ingredients.
Although the usual events and pancake tossing races are off this year, those in the F&B industry could consider celebrating Pancake Day by preparing meal kits and deliveries from their restaurants.
March
14 March – Mother's Day
With Mother's Day applying to such a wide audience, many brands notice a decent surge in sales in the run-up. This year, UK Mother's Day will fall on 14th March. Central England Co-op found that a large spike in the purchase of flowers in the morning of Mother's Day itself – suggesting that givers wait until the last minute to buy their gifts, -retailers who could fulfill same-day delivery could bank in on this.
April
5 April – Easter
If your product offering includes kids' gifts or chocolate, Easter is the season for you to get creative with your designs and products. Think seasonal themes and limited-time flavors. You may also 'organize' Easter eggs hunts on your social media, with giveaways for winners.
May
1 May – Wedding Season Begins
May marks the start of the wedding season in the U.K. Weddings are a growth area for e-commerce, with bridesmaids leading the global charge away from bricks-and-mortar shopping – almost 40% of bridesmaids' dresses are now bought online. 1 May is also May Day when retailers typically offer special 'May Day deals.'
June
20 June – Father's Day
Father's Day falls on June 20th this year. And as with Mother's Day, for many brands, there's a strong chance of increased traffic. Take the time to do some targeted marketing. You could also offer free wrapping and delivery to boost sales.
July
13 July – Amazon Prime Day
Amazon's biggest shopping event, exclusively for Prime users, is set to be a 48-hour parade of non-stop deals during which shoppers pile onto the marketplace to bag great deals on tech to luxury items to clothing and everything in between. In  2019,  Amazon Prime Day sales amounted to an estimated $7.16 billion. But it's not just Amazon retailers who benefit; thanks to the 'halo effect,' businesses that run discounts on Amazon Prime Day see, on average, a 40% increase in sales, according to research by Criteo.
August
8 August – International Cat Day
This day was created by the International Fund for Animal Welfare to raise awareness about cat adoption. No matter how tough we might think we are, all of us tend to melt in the paws of our purring four-legged friends. If you're a cat lover, consider bringing awareness to cat adoption—perhaps your customers have considered getting a new fluffy friend? Or cat-themed merchandise? Or, if you are a cat groomer, special packages for feline owners to pamper their darlings?
September
1 September – Back to School
The start of a new academic year nearly always means the need to replace outgrown clothes and shoes. This year children are likely to look forward to the return to school more than ever and will be hankering after a new wardrobe and kit bags. With kids going back to school, those who have been juggling working from home and homeschooling are also likely to start returning to their normal workplace.
Another excuse for new wardrobe additions, so why not add to your usual back to school promotions with some back to work offers. Make it about Mums and Dads as well as the kids!
October
14-20 October – National Baking Week
This year's National Baking Week falls between the 14th and 20th October.
Pyrex originally founded National Baking Week back in 2007 with other like-minded baking brands, with the aim of encouraging people of all abilities to bake at home.
With Britain's fascination with baking and cooking shows growing year on year, baking at home is as popular as ever, no matter what the level of ability.
November
26-29 November – Black Friday Cyber Monday (BFCM)
Black Friday traditionally starts the weekend after Thanksgiving, which would mean this year it would fall on 26 November, with Cyber Monday following shortly after on 29 November. If you have a  blog alongside your e-commerce business, post weekly at least 2-3 weeks before the big weekend to remind them of the date. Do send out topical emails a few weeks before, e.g. Amazon's effective email marketing. Also, have a dedicated Black Friday homepage to entice your customers, and hype them with a countdown there too.
December
25 December – Christmas
December 25th is the most important retail date of all – the end date of the Christmas build-up. However, it's a quiet day retail-wise as most shops are shut, and buyers are otherwise occupied!
26 December – Boxing Day
The Boxing Day sale is a bittersweet day for most Brits, who have spent a fortune on Christmas gifts for their loved ones, only to see them on sale at half the price just a few days later. Although shoppers spent more than £4 billion in the 2019 Boxing Day Sale, Black Friday is now the UK's biggest sale. However, the sales are still a good opportunity to update your graphics and offer new products and lines for extra revenue ahead of January.
Preparing Your E-Commerce Business for 2021 Sales
It is important to make sure your e-commerce store has the plugins needed so you can track all the receipts and invoices. You can easily export orders during these sales as invoices if you're using Shopify. Your store can be integrated with Xero so you can access financial reports with only a few clicks. If you need advice on how to stay on top of your e-commerce accounting, feel free to drop us a line.