Best Platforms for E-commerce Entrepreneurs To Sell
As an e-commerce entrepreneur, to get into the UK e-commerce market, you would need to get on the best e-commerce platforms which will help you grow your retail business and help more customers find you online.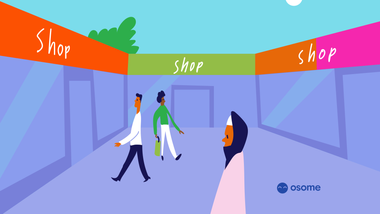 The United Kingdom is the third-largest e-commerce market in the world, with online retail sales reaching USD $142 billion annually, behind only China and the US. The UK is also one of the most developed markets for e-commerce in the world, with online sales making up 19% of total UK retail sales. This is far ahead of the US, where online retail accounts for less than 12% of total sales.
As an e-commerce entrepreneur, to get into the UK e-commerce market, you would need to get on the best e-commerce platforms which will help you grow your retail business and help more customers find you online.
2 Types of E-commerce Platforms
Generally, there are two types of e-commerce platforms for you: self-hosted and hosted platforms.
Self-hosted e-commerce platforms are managed and maintained by you, the merchant. If you aren't technically proficient, self-hosted platforms can be a bit daunting as they require a fair bit of technical work to get up and running, but they allow for greater personalisation.
Hosted e-commerce platforms are hosted and maintained by a third-party. Online retailers usually pay a subscription fee to the third-party to use the system. Hosted platforms are usually more user-friendly and are geared towards less technical users.
We will list the UK's best e-commerce platforms according to these two categories:
Self-hosted Ecommerce Platforms
Shopify
Wix
BigCommerce
WooCommerce
Self-hosted Ecommerce Platforms
Hosted Platforms
Amazon
eBay
ASOS
Gumtree
Self-hosted Ecommerce Platforms
Shopify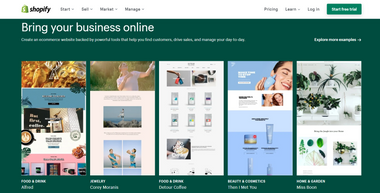 This is currently the most popular e-commerce platform in the UK. Shopify allows you to create and set up your e-commerce site, add products, customise the look of your site and accept payments without the need for an external payment gateway.
The website builder works similar to blogging platforms like WordPress, with a simple editor to add text and images to pages, and a range of templates for sites and individual pages.
Pros
It's easy to set up and requires no previous e-commerce experience.
Pricing for new businesses is cost-effective.
Unlimited file storage is available, as well as an unlimited number of products.
Payment options are built-in so no need for a separate payment gateway.
There is a large community of developers offering plugins and advice for retailers.
24-hour support for retailers.
Cons
Limited free store templates choice.
Advanced, further customisation and reporting options come at extra costs.
Pricing
There is a free 14-day trial available, then pricing starts at £23, with further tiers at £63 and £240. The extra price plans provide better reporting and analytics options, as well as cheaper card fees per transaction.
Website: https://www.shopify.co.uk/
Wix
Wix has become one of the world's most popular website builders and the London-based company has expanded its platform to cater for e-commerce brands in recent years. Wix provides most of the basics for retailers with simple e-commerce needs but its real selling point is how easy it is to get your site up and running. In terms of features, it won't have enough for many merchants but not everybody needs or wants an all-in-one e-commerce solution.
Pros
Wix offers an affordable option for small retailers and it's a capable enough solution if you've got a relatively small or simple range of stock.
One of the easiest-to-use website builders around especially if you're a brick and mortar store that only needs some basic online selling features to expand your business into online selling.
Multiple payment options: accept payments from credit cards, PayPal and other options.
Cons
Not a fully-featured system compared to the likes of Shopify or Lightspeed.
Lacks a lot of the more advanced e-commerce and business management features you'll get elsewhere if selling online is the main component of your business.
Pricing
Wix 'business & e-commerce' packages start from £13 /month – No Contract.
Website: https://www.wix.com/
BigCommerce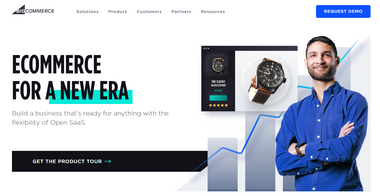 BigCommerce should be your go to e-commerce platform if you're an ambitious, growing business as most of its e-commerce features are in-built (rather than from third parties like Shopify's), which means they're generally of a much higher quality.
Its multi-channel retailing feature sets it apart -allowing you to manage all your listings from one location. BigCommerce supports Facebook, Instagram, and Pinterest 'inhouse', and you can add a 'buy' button to blogs, social media posts, and marketing emails. Amazon and eBay are only available if your store's default currency is set to dollars.
However, its editing interface might be quite tricky to use, the technical jargons difficult to understand, and it has limited design templates.
Pros
Fantastic SEO guidance.
Offers more features than any other website builder. It does provide everything you need to be successful.
International Hero – 12 languages offered, which will convert any BigCommerce-specific template related text.
Managing currencies and selling in multiple currencies at one time is easy and widely supported.
Cons
The editing interfaces little challenging to navigate and understand. The terminology used wasn't user-friendly for non-tech savvy users
Does not have a mobile app to allow you to sell or manage your store on the go.
Restrictive design control that requires users to rely on templates, features, and functionality.
Pricing
BigCommerce offers a good range of plans, increasing from £24/month to £242/month, so you can find one that meets your unique needs. BigCommerce also offers excellent custom pricing solutions for businesses with more customised needs.
Website: https://www.bigcommerce.com/
WooCommerce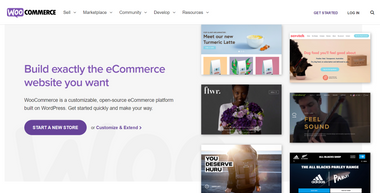 WooCommerce is an open-source e-commerce plugin that can only be used on WordPress websites. Before installing WooCommerce, you need to subscribe to any web host you like (e.g. DreamHost, BlueHost, SiteGround), buy a domain, set up a WordPress site and install a website theme compatible with WooCommerce. Then you can download WooCommerce and cherry-pick the features relevant to your online store.
It is best for e-commerce entrepreneurs with website experience, who want full control over all aspects of the online store. Everything is customisable, including costs.
WooCommerce is not a simple solution, given all its customisations, open-source features and reliance on you to securely host and update the WordPress website. But it is certainly an ambitious contender for total control over your online store.
Pros
Fully customisable down to the choice of web host, costs, payments and website features.
If you need it, you can hire a WooCommerce developer to build your online store with the exact e-Commerce options you had in mind.
Cons
Not easy to use with limited website knowledge.
For WordPress only.
Pricing
The total cost per month can end up being anywhere from £10 monthly for a super-simple online store to £1,000+ monthly for a unique, high-turnover store.
Website: https://woocommerce.com/
Amazon UK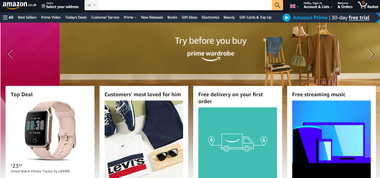 Amazon dominates the landscape of online marketplaces favoured by UK consumers. Amazon has 417 million visits per month from the UK (UK's population is around 68 million people).
Businesses could sell across multiple countries within Europe from one Amazon account. Signing up for a seller account allows you to reach tens of millions of customers on Amazon.co.uk and Amazon sites in Europe unless you opt to sell only in the UK.
There is also Fulfillment by Amazon (FBA), where you store your products in Amazon's fulfilment centres, and they pick, pack, ship, and provide customer service for these products. With FBA, Amazon can help you scale your business and reach more customers. Amazon has several European fulfillment programs that make it easier for businesses to sell to multiple European countries (including the UK).
How Much Does it Cost to Sell on Amazon UK?
For casual sellers (less than 35 products per month), you pay £0.75 per product. For more than 35 items, your subscription fee is £25 per month, excluding VAT. Fulfilment by Amazon services also cost extra. You can use this calculator to get a feel for what your costs might be.
Website: https://sellercentral.amazon.co.uk/
eBay UK

eBay is the second-most popular online marketplace in the UK, with just under 245 million visits per month. This places the UK second for eBay globally, behind the US and just ahead of Germany.
eBay was traditionally an online flea-market mainly consisting of used products sold via auction by individuals. Although that type of trade still takes place on eBay, most transactions are now for fixed-price new products sold by businesses and other professional sellers. eBay buyers tend towards a bargain-hunting mentality in the UK, as they do in other countries.
Selling on eBay is the same in every country, as eBay has a global account system. However, listings are specific to each eBay site and do not automatically show in the standard search results across all global marketplaces.
Sellers have a few options for selling internationally, from simply setting international shipping rates and using eBay's Global Shipping Program, to creating individual localized listings for each eBay marketplace and arranging their own shipping.
How Much Does it Cost to Sell on eBay UK?
eBay offers 1,000 free listings a month. The site charges sellers two fees for basic listings:
'Insertion' fee. This is the basic fee to list an item – normally a flat 35p per item. However, you can list up to 1,000 items a month (at any start price) without paying any charge.
Final value fee. If and when an item sells, you have to pay a flat 10% of the final sale price, including postage. This applies to every item, including those listed for free. The final value fee is capped at £250, ie, you pay 10% on items up to the value of £2,500.
If the buyer pays by PayPal, eBay usually takes 2.9% of the total sale price, plus 30p per transaction.
However, by the end of 2021 eBay sellers will be paid directly into their bank accounts, rather than by Paypal. It means Paypal will no longer take a slice of your earnings, but eBay's hiking its fees slightly too. The changes are gradually being rolled out to private sellers until the end of the year.
Website: https://www.ebay.co.uk/sl/sell
ASOS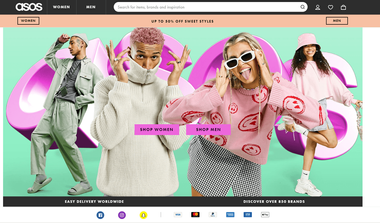 Asos.com is a British online fashion and beauty store. Primarily aimed at young adults, ASOS sells over 850 brands as well as its own range of clothing and accessories. ASOS recently acquired British high-street retailer Topshop.
In 2020, ASOS boasted 7 million active customers in the UK alone, with premier subscriptions for customers seeking free next-day delivery expanding by 30%.
With a presence in 240 countries and territories, ASOS invests heavily in creating a robust delivery system. The company offers free 24/7 worldwide delivery for all orders above £15, and free returns in the US, UK, France and Germany. UK customers also enjoy a comprehensive pick-up/drop-off network and home collection returns.
ASOS' broad product mix is another key source of differentiation. Customers can browse through 800 different brands and over 80,000 products, with 3,000 new lines added each week. Product offerings include women's wear, menswear, swimwear, shoes, accessories and beauty. ASOS also retails its own brand that includes label lines like ASOS Curve, Maternity, Tall and Petite. With such diverse stock, ASOS ensures that every customer is attended to.
How Much Does it Cost to Sell on ASOS UK?
The site also hosts a Marketplace through which individual designers can set up boutiques to sell their new and used fashions. ASOS collects £20 monthly rent and 20% commission on sales from these boutiques.
Website: https://marketplace.asos.com/my/boutiqueapplication/information?ctaref=mktp%7Cfooter%7Cselling%7Copenboutique
Gumtree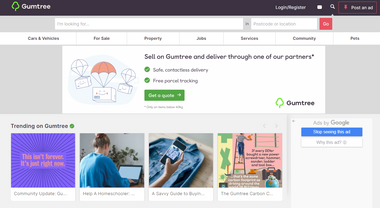 Gumtree was the first site for free classifieds ads in the UK, allowing visitors to buy and sell items from cars through to properties, and even find or offer jobs in the local area.
Today, Gumtree is still the number one classifieds site in the UK, with 13.8 million estimated monthly visitors, and it is used by one in three adults every month. Gumtree is an online marketplace where you can buy and sell just about anything. Gumtree users can post classified ads across hundreds of product categories.
How Much Does it Cost to Sell on Gumtree UK?
It's free to post an ad on Gumtree.
However, you can also choose from three paid options to increase your ad's exposure to potential buyers: Urgent, Featured and Spotlight. The cost of these ad packages varies depending on the category you're posting your ad in.
For example, if you're listing a barbecue in the Garden category for 7 days, fees are £5.40 (Urgent), £6.49 (Featured), or £7.49 (Spotlight).
Website: https://my.gumtree.com/login/postad