How One Woman's Vision Is Changing the World of Female Wellness
Jemma's journey to overcoming startup challenges in the sexual wellness industry. Check out Osome's insights and takeaways for female entrepreneurs, including research, networking, self-belief, creating supportive environments, and empowering women in all aspects of business.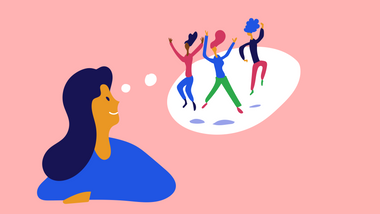 March was Women's History Month, a time to recognise the achievements of women throughout history and celebrate the contributions of female entrepreneurs in modern society. It may be April now, but we won't let that get in the way of championing ambitious female entrepreneurs.
Introducing Jemma Sawyer, and ILOH, the UK's first by women, for women sexual health and wellbeing e-tailer — a business that empowers women and promotes sexual wellness. ILOH was launched in November 2020 to provide a shame-free shopping experience and address the taboos often associated with pleasure and menstrual products. The name ILOH is an abbreviation for I Love Herbs, inspired by Jemma's passion for herbs and herbal remedies.
How It All Started
Jemma started researching the idea in-depth when the first lockdown began in 2020, and attended webinars on FemTech, female-founded brands, start-up workshops, and networking events to turn the idea into a functional website. She curated the products with the help of a team of creatives, so they'd live out in the open, and not be shamefully stuffed away in a drawer.
"We recognised that there was a need for a safe space for women to explore their sexual wellness."
Overcoming Obstacles
Like any startup, ILOH has faced challenges and barriers along the way, including the difficulty of being a female founded company in a male-dominated world.
Presenting pleasure products on social media also comes with its obstacles; due to censorship, there are many blockages and restrictions in place. Education is misinterpreted as something vulgar. Nevertheless, Jemma remains positive.
"ILOH is different from other sexual wellness brands because we focus on the whole woman, not just the physical aspects of sex."
Support = Success
ILOH's recent collaboration with The Old Bank Vault and One Hundred Shoreditch Hotel, an art installation and Self Love Pop Up Shop featuring inspiring female artists and founders, was a huge step forward. With the collaboration came visibility for ILOH and a community of likeminded founders.
Support is essential, and it doesn't go unnoticed. Jemma's supportive network of females came through The Stack World network, a group she joined in 2021. It's jam-packed with inspiring women from varied industries. It's the most supportive room of women she's ever been in as a business owner — and something we recommend all entrepreneurs seek out in their own way.
In Jemma's eyes, there are many benefits to having an all-female team, including more honest feedback and a more accepting environment.
"Our all-female team brings a unique perspective to the table, and we believe that this is reflected in the quality of our products and the strength of our community."
Defining Female Empowerment
Female empowerment doesn't seem to have a concrete definition. Its meaning differs from one individual to the next. For Jemma, it means supporting women and being supported. Within ILOH, it means opening up space for women to have safe, frank, and honest conversations about their sexual wellbeing. It's essential that we as a society allow women to be heard and respected.
As a female-founded business, ILOH is committed to amplifying the voices of women through their products and services, whether they're customers or employees, so they can feel empowered in all aspects of their lives.
"We are proud to champion the voices of women and to provide them with a platform to discuss and explore their sexuality openly and honestly."
Key Takeaways for Female Entrepreneurs
Research your idea as much as possible before starting out.
Establish and grow your network. Seek out a good mentor within your industry and set up regular meetings to keep yourself on track with your goal setting.
Believe in yourself and your vision. Don't let the challenges and barriers you may face discourage you from pursuing your dreams.
Create a supportive environment for yourself and those around you. Building a community of like-minded individuals can help you stay motivated and focused on your goals.
Be committed to championing the voices of women in all aspects of your business. Empowerment means supporting women and being supported by them.
Stay open-minded about potential collaborations and opportunities for growth. Be willing to adapt and evolve your vision as your business expands.
Celebrate your achievements, no matter how small. Take pride in the progress you make and use it to fuel your passion for your business.
By following these key takeaways, you can set yourself up for success as a female entrepreneur. Remember that building a business takes time, dedication, and hard work, but with the right mindset and support, you can achieve your goals and make a positive impact in your industry.
What Does the Future Have in Store?
Jemma's goals for the future are to expand the business to become the number one destination for female sexual wellness by bringing in more brands and products, growing the community, and exploring future collaborations. The ILOH team already has plans to expand their product range with new lines including lingerie, lubricants, and condoms. They also have plans to launch their own line of sex toys in the near future.
Jemma's dedication and hard work have created a space where women can feel empowered to take charge of their own sexual health and wellbeing.
We'll sort your finances out, you sort the world out
Problems are there to be solved, not tolerated. And entrepreneurs have the power to solve society's problems. If you're thinking about starting your own business to impact the world around you, why not ask one of Osome's expert accountants to help?