5 AI Tools Every Small Business Owner Should Know About
Discover how AI can boost your small business with Osome's article. Learn how AI tools can transform operations, drive growth, and elevate customer experience. From automating repetitive tasks to creating compelling product imagery and managing finances, these top 5 AI tools have got you covered.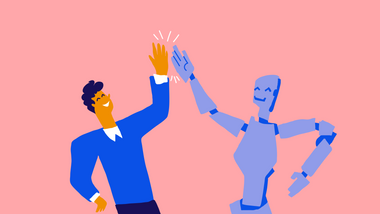 Entrepreneurs that embrace AI can streamline their operations, drive growth, and improve the customer experience. But don't just take our word for it, we chatted with Ben Alistor, 7-figure Amazon FBA seller, to uncover how he's embracing AI for his ecommerce business.
In this article, we'll cover five ways AI tools can transform the way you start, build and scale your company as a small business owner.
Why Embracing AI Matters for Small Businesses Owners
You might see AI as a tool only large enterprises with deep pockets can access. However, AI can be just as beneficial for freeing business owners from repetitive tasks and reducing external costs.
Maximising your time
One significant advantage of AI is that it can automate repetitive tasks and reduce the time taken to complete them. The benefit? Freeing you and your employees up to focus on more strategic work.
Ben tells us,
"Time is crucial, and being efficient is key. With AI, we can get things done in 10 minutes that used to take us half an hour. It's a game-changing difference."
But it's not just about saving time. It's what you do with that time that will give you the edge over your competition. Reframing this approach to AI is what Ben believes will set solopreneurs up for success.

"For me, it has reduced the time spent on tasks. So instead of researching one product per week, I can now do three." —- Ben Alistor
The risks of not using AI
Ben shared with us the importance of staying ahead of a changing world. He compares it to the shift from brick and mortar stores to online platforms, saying,
"Businesses that didn't believe in online shopping were left behind during the pandemic. If you don't move ahead with the times, you'll face lower productivity, reduced efficiency, higher costs, and fierce competition from businesses using AI."
Getting started with AI
We get it — knowing where to start with AI can feel overwhelming. But Ben's advice is simple:
"Read as much as possible. Learn as much as possible. Everyone should dedicate time every week, even just an hour or two, to think about how they can use AI to be more productive and more efficient. Start with education first, and then actually find practical applications to test it out."
6 Ways AI Tools To Help Your Business Thrive
So, let's break down five ways AI tools can help every entrepreneur with their business, and recommend a few tools to get you started.
Create Compelling Product Imagery
Creating stand-out product imagery just got easier — and cheaper. AI tools offer image editing functions, such as automatically adjusting lighting, colours, and backgrounds.
For you, this means saving time by automating the editing process, or reducing costs from outsourcing. They even allow you to take it one step further and eliminate the need for extensive styled photo shoots.
Recommended tools
Build a Website in 30 Seconds
The next evolution in easy website development is here. Gone are the days of spending thousands of dollars on building a website. With AI, you won't need to externally resource a good portion of the website build process. From writing SEO-optimised copy to imagery, design and development — these tools will get you up and operating in no time.
Recommended tools
Free Yourself From Financial Admin
AI-driven accounting software can automate data entry, extract information from invoices and receipts, and categorise transactions, saving time and reducing errors. The result? More time for you to focus on core operations and strategic decision-making.
Recommended tools
Craft Convincing Sales Materials
Needing to level-up your marketing and sales materials on a shoestring budget? AI might just be the answer. Across a broad range of tools, you can create personalised emails in your brand's tone, professional presentations, plus automate sales processes. These will help founders wanting to lightly test marketing ideas, or create better sales resources without outsourcing.
Recommended tools
Complete Product Research in Minutes
Chatbot-like AI tools can be used for more than just answering questions. For example, they can generate human-like responses, providing a deep understanding of customer needs. Or, offer advanced search capabilities and data analysis, so you can gather market data, customer sentiments, and identify trends effortlessly.
So how do you best leverage this? Take a page out of Ben's book:
"Instead of manually reading through customer reviews or scouring the internet, I can quickly summarise the last 50 reviews using ChatGPT. Then, I can ask the chatbot or any other AI tool specific questions about what people look for when buying a product, such as a yoga mat. This helps me gain valuable insights beyond what I may have considered, such as factors like slipperiness and size, which are important factors when working with suppliers."
QuicktoolsbyPicsart
An AI text generator is an advanced AI tool designed to generate textual content using artificial intelligence algorithms. It has the ability to analyze and understand human language patterns, gather information from vast datasets, and generate coherent, contextually appropriate text based on the given input. This powerful tool can creatively produce written content, whether it be for articles, reviews, social media posts, or even creative writing tasks. It is a valuable tool for businesses, writers, and individuals looking to streamline content creation processes and enhance productivity while maintaining high-quality and engaging written content.
Recommended tools
Pass your financial admin over to AI
It's time to archive the spreadsheets. Osome's AI-backed software automates your mundane financial and accounting tasks, and our expert accountants lend you the support needed to grow.
Further Reading