Top 8 Features You Need On Your Online Shop To Increase Conversion Rate & Average Order Value
Content Partner
Better Business
Every e-commerce merchant wants to increase their sales conversion rate and boost their average order value. But not everyone goes about it the right way. However, if getting more conversions was easy, everyone would be running a super-profitable store, right?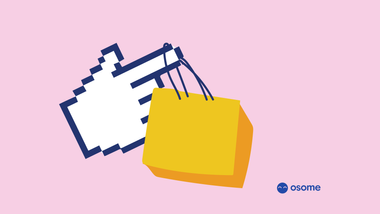 Every e-commerce merchant wants to increase their sales conversion rate and boost their average order value. But not everyone goes about it the right way. If getting more conversions was easy, everyone would be running a super-profitable store, right?
While getting more conversion ain't easy, it doesn't have to be very difficult either. Especially if you know the core website features that drive customer action.
In this post, we'll break down the essential features you need to both improve your conversion rate and boost your average order value. Because when you manage to drive more purchases, and increase the size of those purchases, it's a potent recipe for business growth.
By the way, if the administrative side of growing your e-commerce business is getting to you, don't worry about asking for help! We handle accounting, file taxes and reports, and help you open a business account online for e‑commerce sellers. E-commerce accountants with years of experience take over your accounting documents and convert them into actionable numbers, tax filings and reports. If that's not what you're looking for yet, no worries, read on to learn more about growing your business.
Sounds good? Let's get to it!
What Does Conversion Rate Mean?
Put simply, a conversion rate is the percentage of visitors who land on your website that complete a desired action.
Most commonly this desired action is purchasing your product. But there's many conversions you may wish visitors to take. For example:
Adding a product to cart
Signing up for your mailing list
Sharing something on social media
Adding an item to a wishlist
Or any other metric that's valuable for your business
So, as you can imagine conversions can be influenced by just about every aspect of your site's user experience.
Conversion rate optimization is about analyzing the pages on your site and ensuring that they are designed in the best possible way to drive the desired action.
What Is a Solid E-commerce Conversion Rate?
The average e-commerce conversion rate hovers somewhere between 1-2%. And although that may seem low, a small increase in conversion rate can lead to big results in profit.
For example, let's suppose your site currently converts 1% of all traffic into paying customers. So, for every 100 visitors you drive to your site, you win one customer.
If your average order value is $100, you'll make $100 for every 100 people you send to your site - simple, right?
Now imagine we bump your conversion rate up to 2%. Now you'll make two sales (or $200) for every 100 people you send out the site. Double your money, for the same traffic acquisition cost.
Ok, now imagine bumping up your average order value from $100 to $125. All of a sudden you're making $250 dollars for every 100 visitors you drive to your store.
Of course, this example is a huge increase ($250 vs $100), but even more modest improvements in conversion rate and average order value can be the difference between your business flourishing and flopping.
So, with that in mind, let's look at specific strategies and features that'll help you send your conversions and cart values through the roof.
How To Increase Conversion Rate: 5 Essential Features For Your Store
There's buckets of ways to increase your conversion rate, but here we'd like to present the tactics that'll give you the biggest bang for your book. Let's dive in.
Add a Pop-up With a Limited Time Coupon
One excellent way to convert browsers into buyers is with a well timed and non-intrusive pop-up.
Think about it - if customers are thinking about buying something, and all of a sudden they get an offer of a 10% off, it can be enough to push them over the edge.
Plus, even if customers don't end up buying right away, you've still convinced them to hand over their email address. That means you can market to them for free in the future. Here's how Frank Body does it: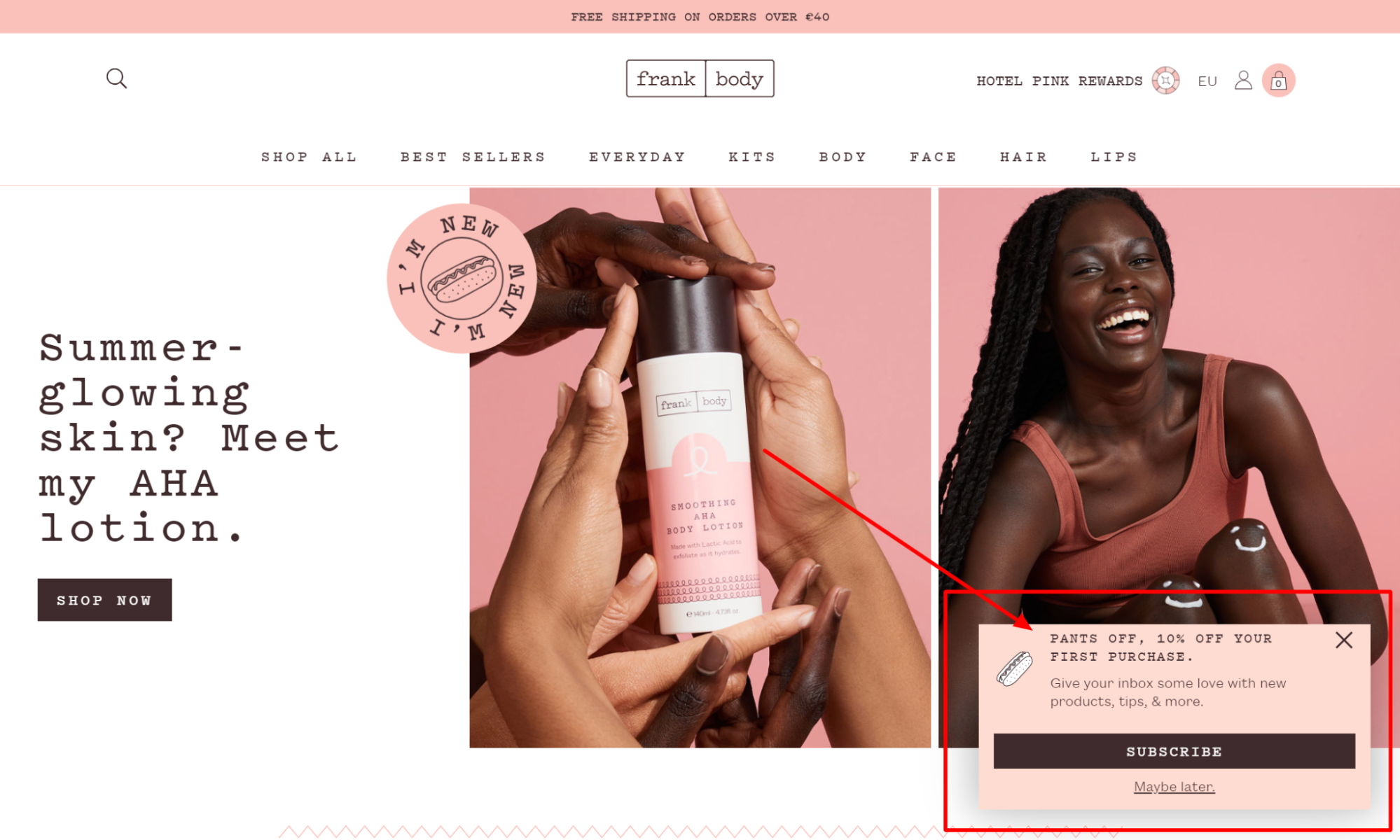 Notice how this pop-up isn't one of those full-screen ones that makes you feel trapped. It doesn't detract from their e-commerce merchandising. In recent times, shoppers have become a little sick of those, so stick to something more toned down for best results.
ProTip:
Build an automated nurturing flow for new sign ups with emails that trigger based on their interaction with your emails.
Stock Counters on Your Product Pages
Us humans are very loss-averse. We hate to miss out. Deploying subtle scarcity and urgency on your store can compel customers to take action.
One of the best ways to do that is by showing customers when an item is running low in stock. For example, if I want this pair of jeans from H&M, I better order quickly or they'll be gone.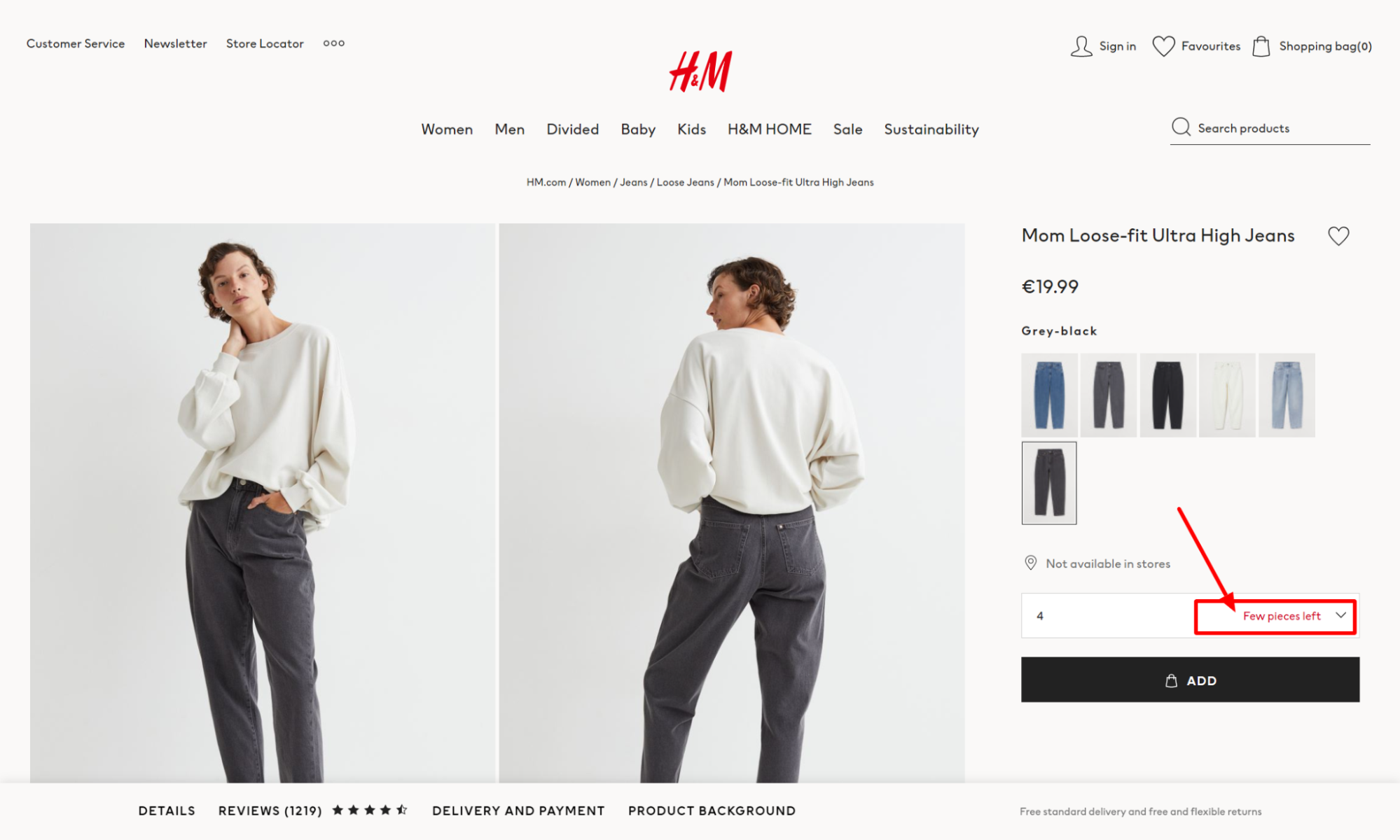 The most important thing with scarcity and urgency is that you don't over do it. If you're spamming customers with countdown timers at every step, they'll run a mile in the opposite direction.
Seriously, while blackhat tactics might make you a few more sales in the short term. But ultimately, they'll do more harm than good to your brand over time.
Social Proof and Customer Reviews
We place a crazy amount of trust in what other people say - even if those people are total strangers online. No joke, 79% of folks say that they trust online reviews as much as personal recommendations.
Seriously, think about the last time you bought something online. I'm willing to bet my bottom dollar that you went to check out reviews before buying, right?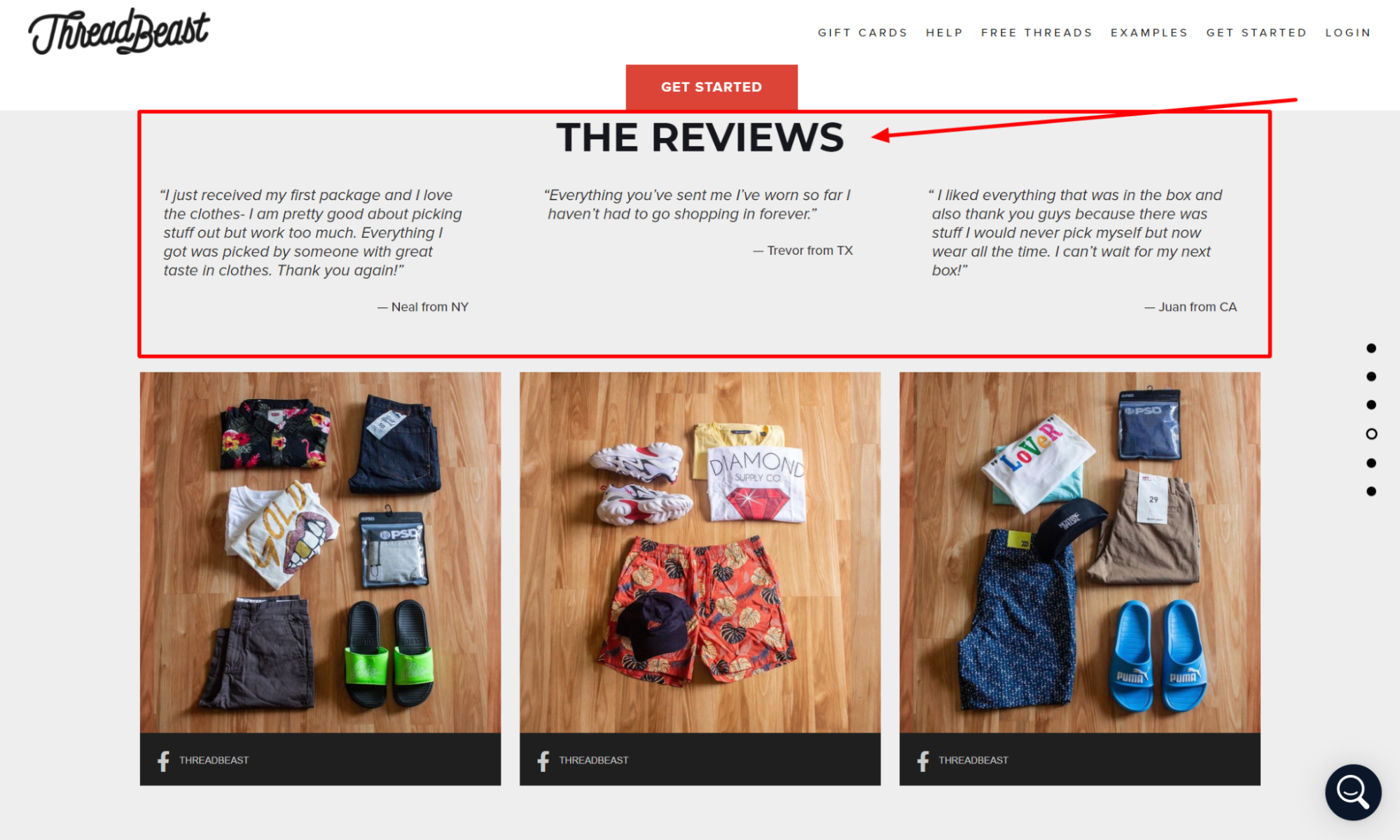 In a similar way, visitors to your store want to know that you're legit and that your products do what they're supposed to. In fact, 89% of them are actively looking for reviews before buying.
Use reviews and social proof liberally throughout your site and e-commerce marketing collateral.
Place testimonials and media mentions on your homepage, landing pages, product pages and thank you pages for best results.
Start a Referral Program
Happy customers can be an amazing source of conversions. Referrals from existing customers are up to 400% more likely to convert than visitors who found you on their own.
It all comes down to trust - we trust our friends and family only to recommend products and services that are good, So, when you encourage your customers to tell their friends you're essentially building your own army of marketers and conversion experts.
Here's how Lunya does it: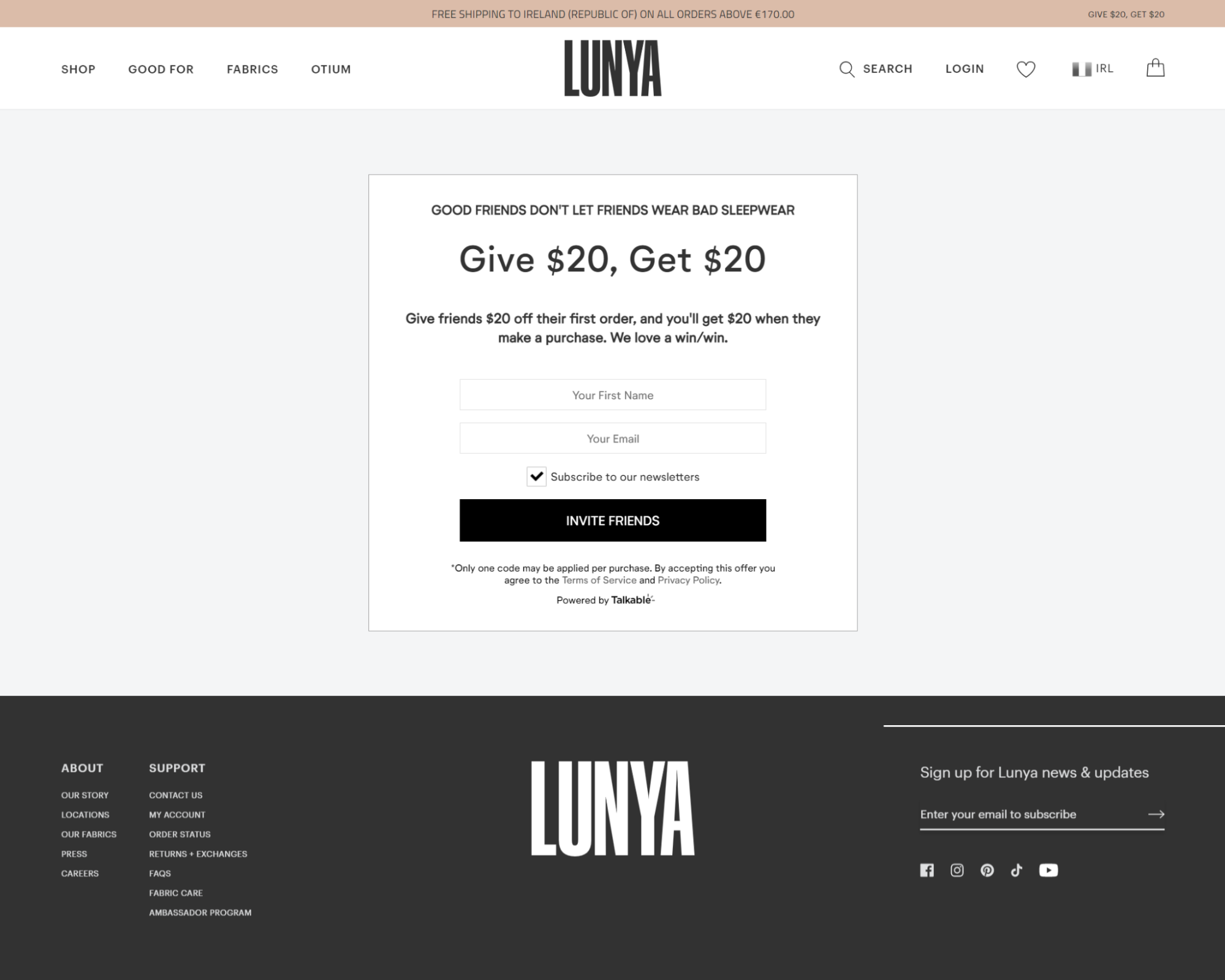 The key thing here is to give your customers an incentive to tell their mates about you. Notice how Lunya offers customers $20 credit when the folks they refer buy something.
Plus, the referee also gets $20 off their first order which means it's more likely they'll convert and eventually tell their friends about you too. A win-win all round.
Cart Abandonment Recovery
Roughly 7 out of 10 customers who add an item to cart, won't complete their purchase.
While this can be disheartening, the good news is that with a well crafted abandoned cart strategy, you can recover a sizable chunk of these.
The first port of call is the old reliable; the abandoned cart email. Seriously, an abandoned cart email is probably the highest return on investment form of marketing you'll ever do.
Here's how allbirds does it: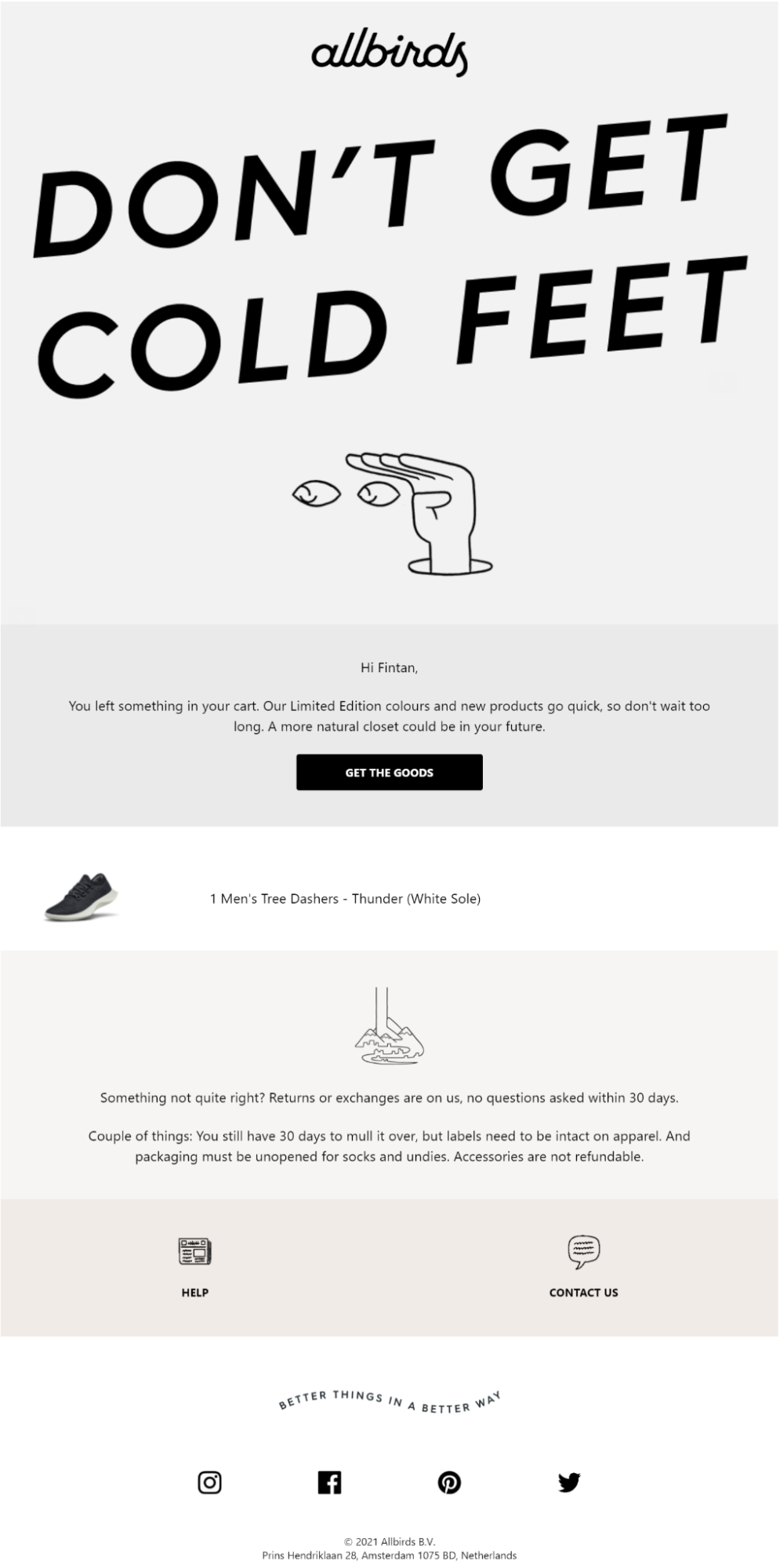 You don't need to overthink things here: just use a simple reminder along with a product image  and some short copy to remind shoppers what they've left behind.
If you want, you can also send a second and third abandoned cart email with a small discount or a free shipping offer to tempt shoppers to come back.
If you're ready to step things up to the next level, consider implementing a multi-channel cart recovery strategy. Combine SMS and Push notifications with your email reminders to recapture maximum revenue.
ProTip:
Use an app like Carti from the Shopify App store to help you build a proven multi-chanel cart recovery strategy in a couple of clicks.
How To Increase Your Average Order Value: 3 Proven Tactics To Use
Ok, by now you should have implemented the five conversion optimization tactics from above. Now let's discuss how you can get all of your newly converting customers to spend more money.
Post Purchase Cross-Sells
When most merchants think about cross-selling they think about doing it pre-purchase. While this can certainly work, it often makes more sense to move your cross-sells to the thank you page.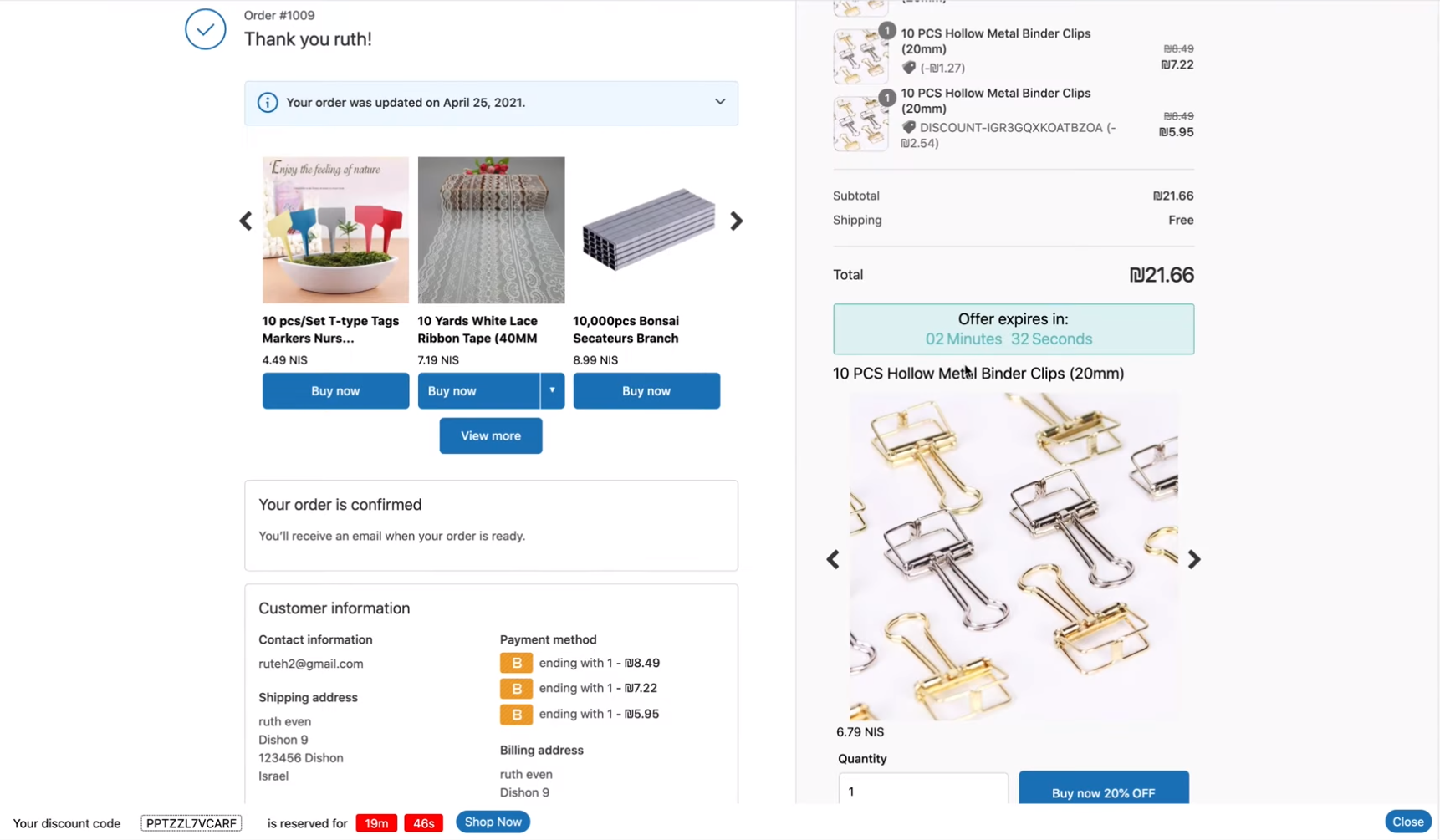 There's three reasons for this:
Post-purchase offers typically convert at higher rates as they're only served to qualified shoppers
They remove friction from the pre-purchase journey which can boost conversion rates
You don't risk distracting customers before they've bought which might result in a lost sales
So, instead of bombarding customers with pre-purchase cross-sells, move those offers to after checkout and watch your conversions and revenue take off.
Product Bundling
Product bundling is a form of upselling that encourages customers to part with more cash.
Bundling is basically gathering up related items and selling them as a single product instead of separately. For example, check out how GoPro uses bundling to bump up their average order value: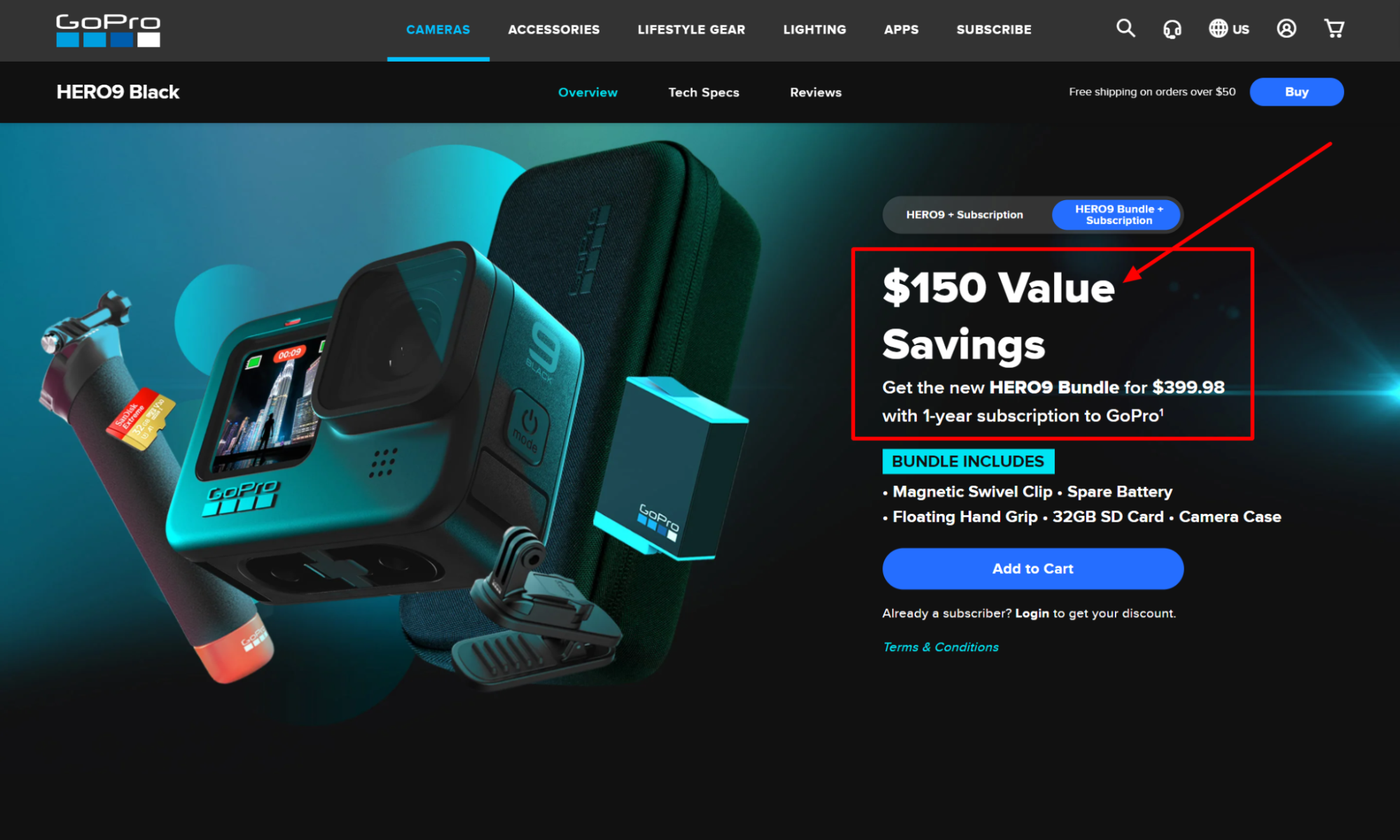 There are two things to keep in mind when creating product bundles:
Your bundled items should enhance each others offering
The bundle should be cheaper than buying items separately
When you adhere to these two principles, you make it easy for a segment of your customers who'd rather pick up a whole package of items.
Create a Subscription Plan
This tactic isn't for every product, however if you sell refillables adding a subscription option is a powerful way to boost customer lifetime value.
For example, check out how Native Cosmetics give customers the option to save 17% off their order when they sign up for a subscription: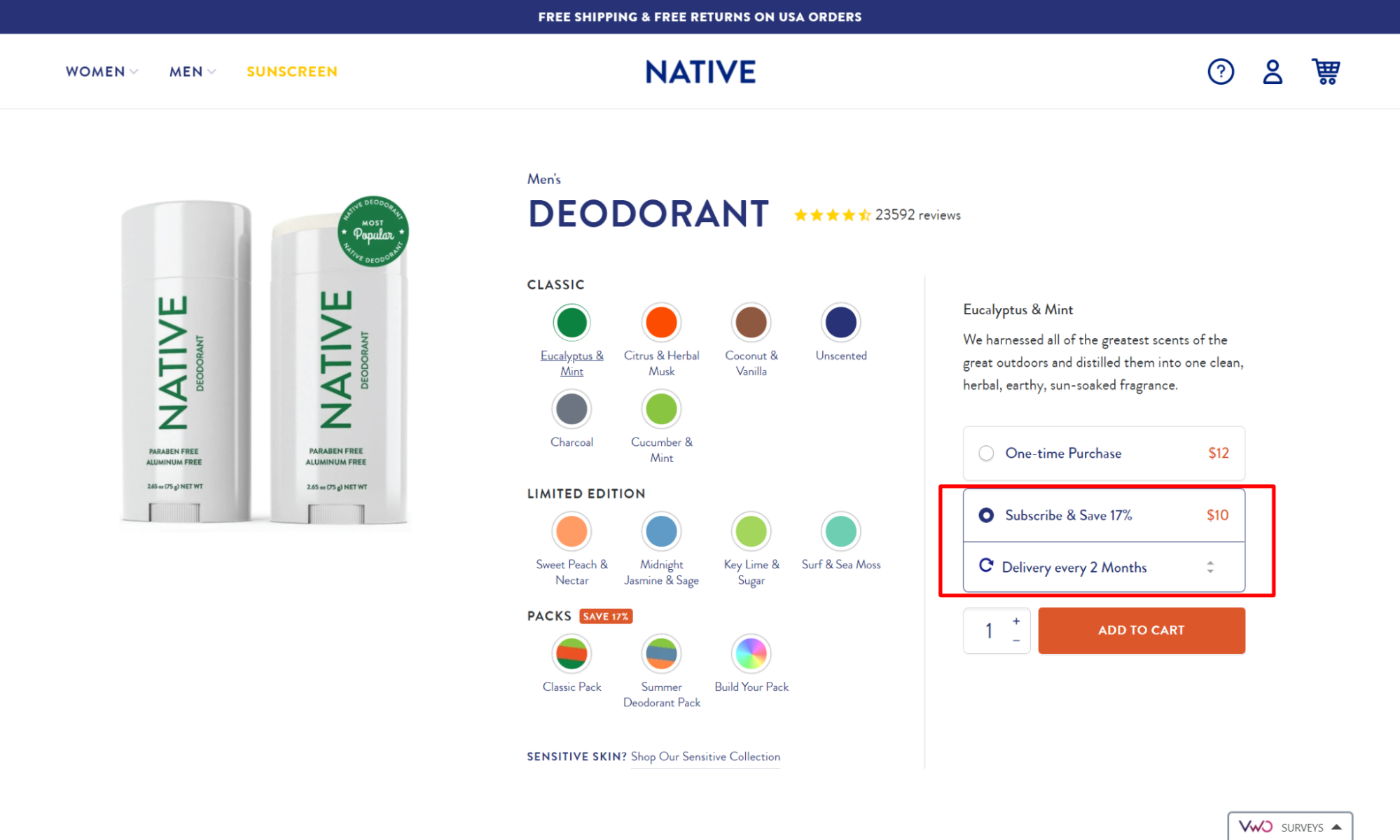 So while the actual initial revenue is lower, Native understands that over time subscribers will actually spend significantly more than non-subscribers. Plus, they don't have to remember to restock their deodorant which is another huge plus (we all have that musky coworker who forgets).
If you don't sell refillables, think of other ways you can lock customers into ongoing payments. It might be some kind of insurance, a membership program or access to a related digital community/course. Get creative and see what ideas come to the surface.
Improve Your Metrics Today
Knowing how to improve your e-commerce conversion rate is one thing. But actually achieving a better conversion rate is another. The difference between the two is a willingness to roll up your sleeves and implement what you know.
So, no matter if you're running a Shopify dropshipping store or building a single product brand, it's time to put the strategies outlined above into practice.
Once you start getting more conversions, use the techniques we discussed to boost your average order value and watch your balance sheet transform for the better!
Now over to you! What do you think is the best way to increase conversions on your ecommerce store? Have we left out any helpful strategies? Leave them in the comments below to help other merchants out!
Author Bio
This guest post was written by Fintan Meagher and the team at ReConvert. ReConvert is the easiest way to add thank you page upsells, cross-sells, surveys, and more to your Shopify store.