Companies House Beta in the United Kingdom
Companies House is an online service to check all data about businesses registered in the UK. So, let's find out how many companies Richard Branson directs and what is the P&L of Tiffany & Co.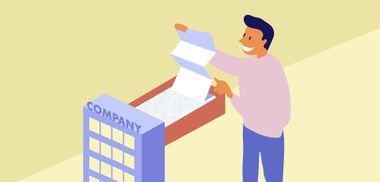 Companies House beta service makes the UK corporate world transparent: you can search for details of all the private companies operating in the UK for free. We look into the way this convenient tool is organised and explain how to use it. So, let's find out how many companies Richard Branson directs and what is the P&L of Tiffany & Co.
Want to start your company in the UK online? Osome will help you!
What is Companies House beta?
This is an online service to check all data about businesses registered in the UK. The service was launched in 2015. It used to be known as beta for nearly 4 years until the authorities rebranded it to be named Companies House Services (CHS). The URL, however, is still confusingly https://beta.companieshouse.gov.uk/
What data can I find via Companies House beta?
The web check beta allows you to search over 4 million private companies registered in the UK. Here's what you can find out:
Company Registration number (CRN);
Company name, including previous names;
Registered office address: note that if you choose your home address as such, it will be publicly available;
Company status: active or dormant;
Company Type: Private Limited, Partnership, etc.;
SIC code, describing the nature of business;
People: shareholders, secretaries and directors, their full names, nationality, month and year of birth;
Documents: PDFs of all official filings and decisions, like incorporation, change in directors, etc.
For example, here is how Osome details appear at Companies House beta: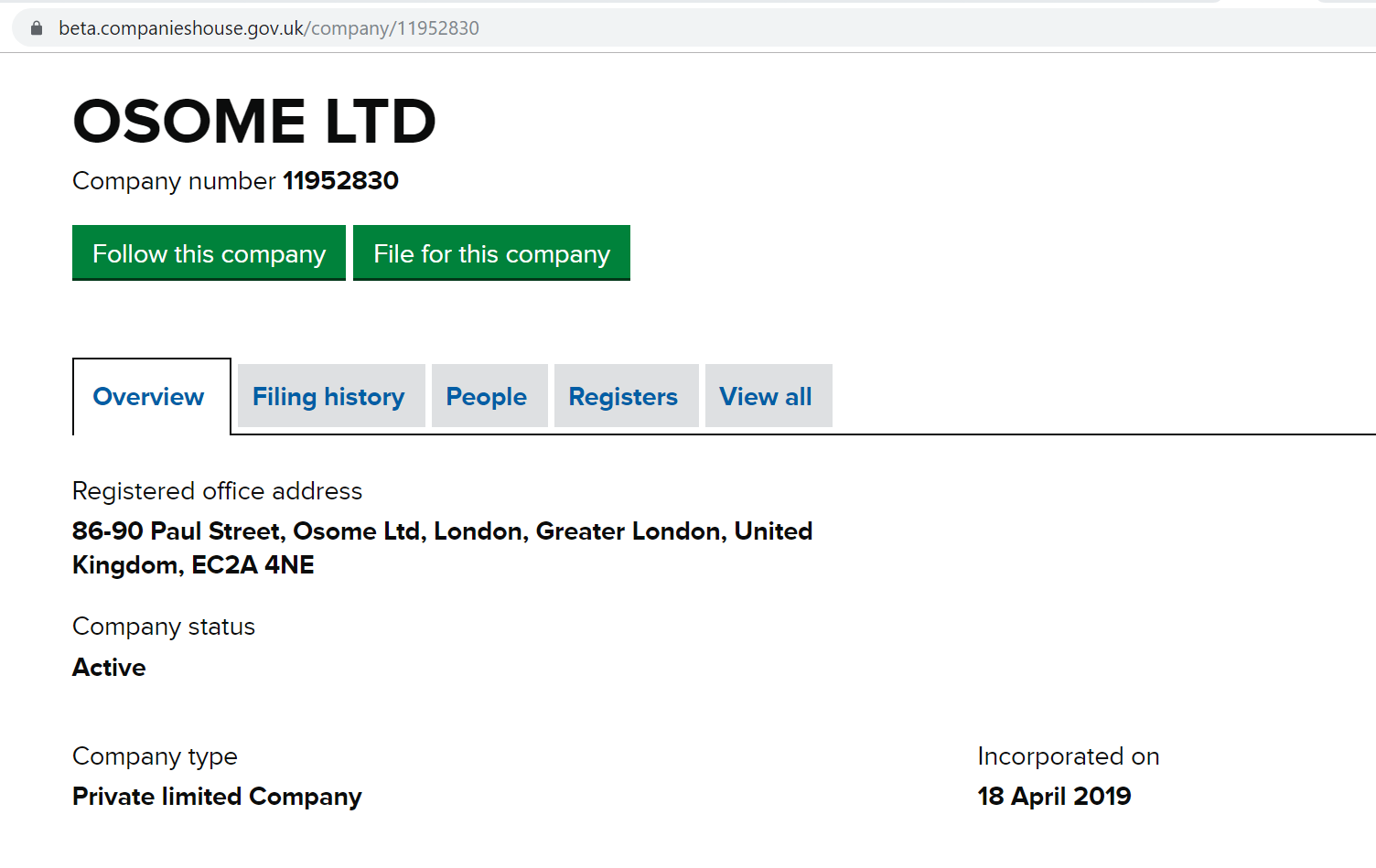 How can I access Company House beta?
Simply go to https://beta.companieshouse.gov.uk/ and type in the company name. You can also search the names of the officers or company number. The enquiries show both closed and active companies, you can filter them by relevance.
The web check is free for everyone. This means you can search for data, read reports and learn about companies' structure anonymously: Companies House Services does not require you to sign in, provide any data or ID, or pay. You can request data using Alexa. Yes, the Amazon voice service. You can tell Alexa the company name and she'll find out who the directors are for you.
Let's review the latest accounts filed by Harry Potter Theatrical Productions, limited. All the details are available inside the profile — there are tabs with the overview, people, and documents.
Since we are interested in reviewing the documents, we go to filing history where we can review their unaudited financial statements (spoiler: they're doing fine).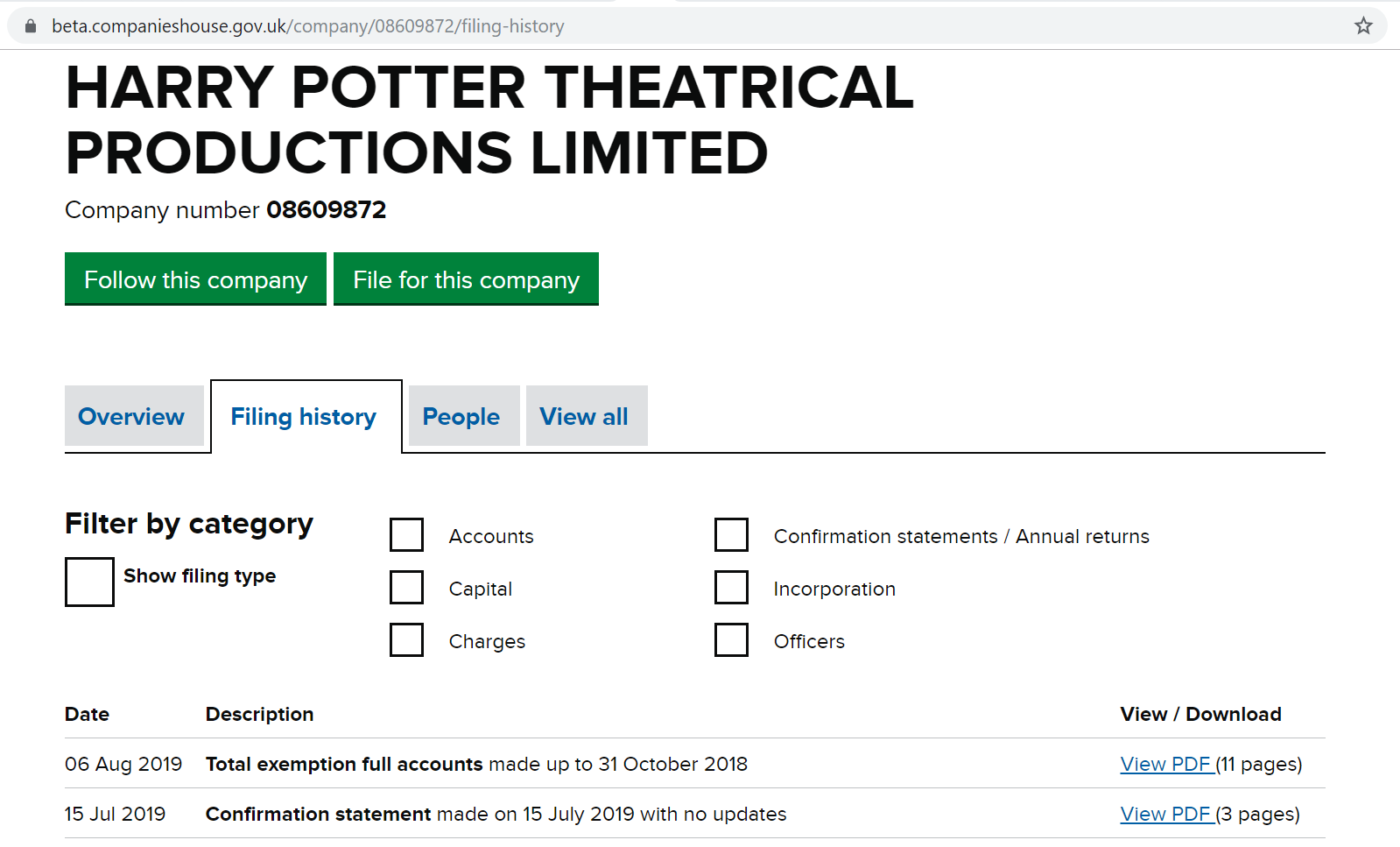 Will my data also appear there?
Are you a director or a person with significant control of a UK-registered company? Then you have to make some of your details public: your name, nationality, month and year of birth, and your occupation. Anyone can look it up. Have you already closed your UK company? The records will remain available online nevertheless.
Let's perform a web check on Richard Branson. The result shows 116 appointments in different companies, including the ones he has resigned from. In fact, there are only 8 companies where he remains an active director — you can sort them by checking the "current appointments" box.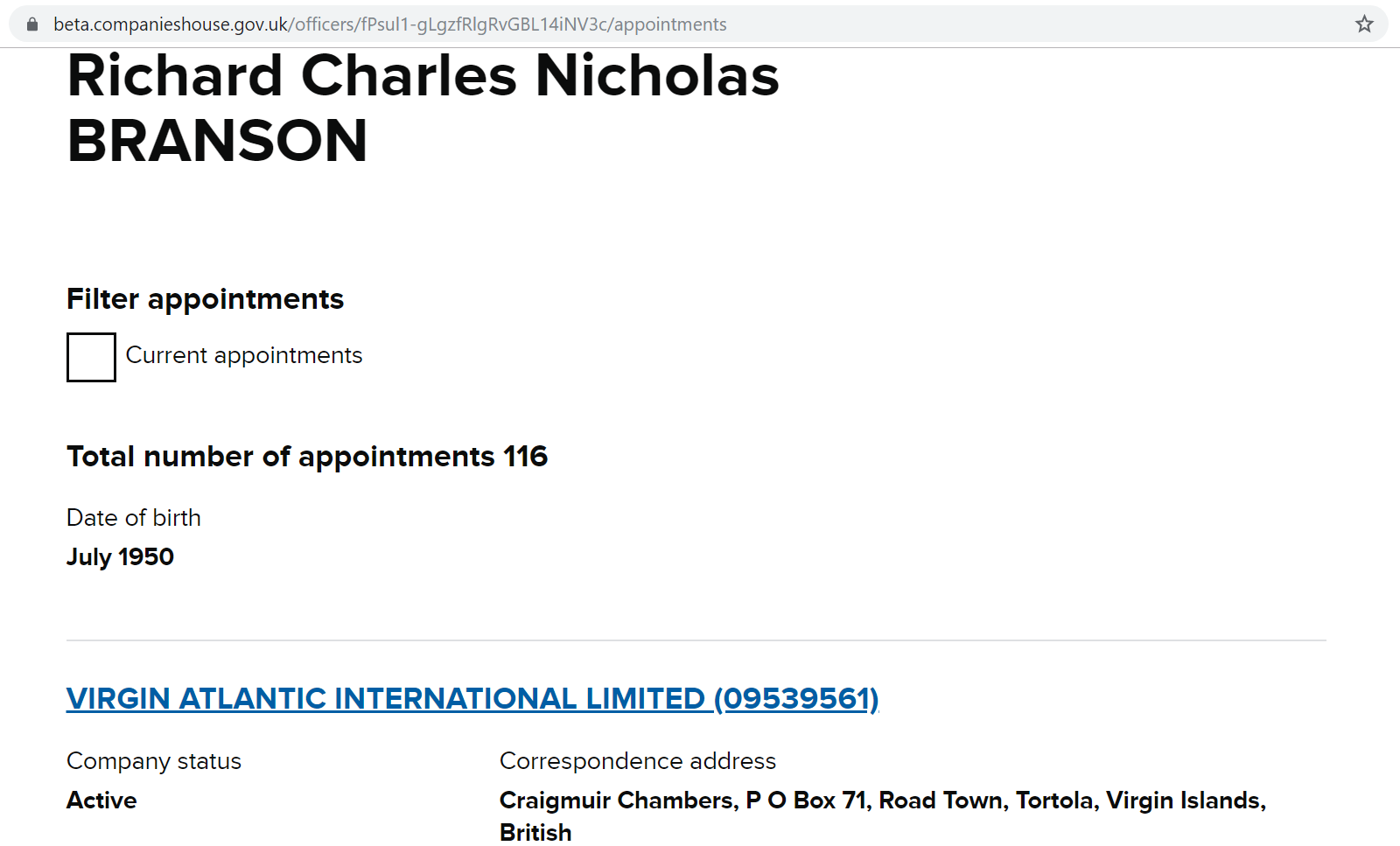 Can I remove information from Companies House beta?
You can ask Companies House to remove your personal address if you use it as a registered address. It costs £55 to remove it from each document, and you are likely to produce at least a dozen each year.
If you have been attacked because of your work, you can ask to withhold your private address from credit reference agencies. The application costs £100.
Maisel opened a boutique leather shop where she designs purses for her clientele. As she works from home, she used her personal address for registration. Unfortunately, animal rights activists found Maisel online and arranged a protest that resulted in Maisel being attacked with paint-filled balloons. Maisel reported this incident to the police, got the number of the police report, and filed it with a request to withhold her private address.These are the only two cases. Everything else is going to be publicly available — the UK government is committed to full transparency.
I found a mistake in Co House beta, how can I fix it?
There are about 60,000 reports filed to Companies House a year. Simply press the link saying "Is there anything wrong with this page?" at the bottom right, and fill in a report for the Companies House to fix it.
Here are some of the things you could report:
Your friend Mary has been disqualified as a director from Tiffany & Co
Paul McCartney is using your home address on his company profile
Simon Cowell's year of birth is wrong on his company profile
Is there a way to request data from Companies House offline?
You can only access the data online since Companies House is committed to being 100% digitally available. It makes sense seeing how popular the feature is:
Our open data register was searched nearly 6 billion times in the last 12 months. I bet that caught you by surprise! And that's only searches directly on our API, not those met by cached data from large search engines.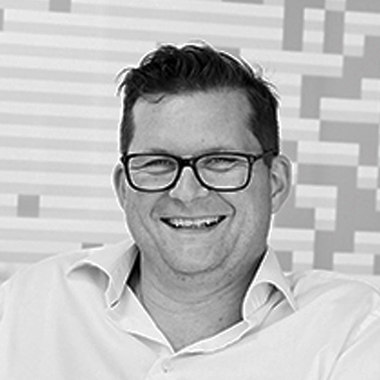 Ross Maude
Director of Digital, Companies House
What else can I do with Companies House beta?
Companies House beta replaced the previous tool for web check, called Companies House Direct. It is the first of many steps in creating a 100% digital platform for entrepreneurs. The plan also involves getting rid of Companies House WebCheck, another outdated tool for searching the corporate data.Companies House Services keep adding new features as part of their digital transformation process to "move all of our services off our legacy digital platforms, on to our cloud platform" as Ross Maude, Director of Digital, puts it. So far, here's what else you can do:
You have a soup cafe and you decide to partner up with several local delivery services. Follow their businesses on Companies House beta to get updates about their business and see which one is doing better and may be more reliable in the future.
Note that the company you are following will never know that you signed up for their updates. That also means you have no idea whether anyone is following you.
Filing other documents has been announced but not launched yet. This feature will replace WebFiling and allow you to process other changes, such as directors, secretaries, company name, accounting reference date, etc., as well as submit confirmation statements and company accounts.

How can I register with Companies House Beta UK?
You can do it by post, simply file form IN01. Postal applications usually take 8 to 10 days. It cost £40. Use the address on the form.
Companies House Beta changes in 2020 – 2021
COVID-19: Companies House filing extensions
Companies House has will now automatically extend the deadlines for some key filing events, for example the filing of company accounts. This measure is temporary due to COVID-19 situation.
Late filing deadlines are extended until 5 April 2021. You can see all the details of your new filing deadline on the Companies House website.
Tip
If you want to have more time on your hands to analyse this kind of data, maybe it's time to outsource your accounting to us?