T-shirt Business: How To Start One the Fuss-Free Way
People shop online more often than from traditional stores. Here's a guide on how to get started with t-shirt selling.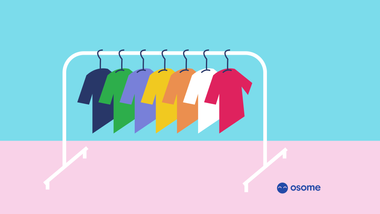 If you've been contemplating on joining the hype of starting your own T-shirt business, it's important that you know you'll definitely be facing huge competition in this industry. No matter if you're a seasoned entrepreneur or just a beginner, starting an e-commerce t-shirt business is popular and you must have something that makes your store pop and stand out amongst all the others.
In this article, we go through why it is a good idea to start your own online business now, why choosing to start an online T-shirt business is a smart way to enter the e-commerce market and a guide to creating your own t-shirt online store.
Why You Should Start an E-Commerce Business Now
Starting an e-commerce business has perks of its own, some of which may include the following.
It's your dream to become a business owner or entrepreneur.
You are short of capital to start a brick-and-mortar business.
You do not have much time to get your company up and running.
You want more independence and flexibility in your work.
If you're reading this, you have probably identified that t-shirts are relatively easier and cheaper to source, and are a great way to get started!
Why T-shirts?
What's inexpensive to source for, a must-have for everyone regardless of age and gender, and requires no or less experience to create? An online T-shirt business!
One of the reasons why selling online T-shirts is so popular for both beginner and experienced entrepreneurs is that no product knowledge or advanced technology is needed to get started. All you require is a design idea, the right tools, and enough motivation to keep it going. In the following sections, we will provide a simple guide in order to get you started on the right foot.
Getting Started: A Guide To Get You Rolling
Let's get started on the most important part of an online T-shirt business, creating the tees themselves!
Find your unique selling point
Since you are starting a T-shirt business, you are now a part of the fashion and apparel industry, and mind you, it is huge and there are many competitors out there. So how will you stand out?
Do your due research on other T-shirt stores
Find out what your competitors are doing, how they are achieving product sales, and what is their main target audience. Then, you have a gauge on how to proceed further with your own business.
Are there any areas that have not been explored or developed yet? Alternatively, hop onto any genre that is selling well, and explore from there.
Find your special idea
Ask yourself - why will someone choose to buy your T-shirt over others? One way is to get an idea that screams you. Fascinated with space and aircrafts? Move towards that direction and start getting creative!
Remember, the narrower your target audience, the easier it is to sell your product effectively.
Start designing
Once you've settled on your target audience and decide on the direction you want to expand your business on, start working on the design.
Design your own
A personal touch in your overall design style will put you ahead of the competition. If your T-shirts sport some great designs that can resonate with people, you will already have a strong foundation for your store. See a design you like? Jot it down, and try to come up with ways to improve on it, adding your own ideas.
Pay someone to do your design
It's alright if you are unable to come up with your own designs - not everyone has design flair! You can contact local designers or freelancers that can help you with the designing. However, we only recommend this if you know your brand.
What we're saying is, give a brand idea to a designer, and request that designs are worked around the brand. At the end of the day, you want your T-shirts to revolve around you, and not some random design.
There are some freelance websites such as Fiverr, upwork and more where you can find local designers that can help you with your creative work. Who knows, maybe you can propose a joint business that may just work out!
Get inspiration from what inspires you
A T-shirt design does not have to be complicated. Sometimes, simplicity works best.
So if you're thinking about huge designs that span across the width and length of the T-shirt, maybe you can consider using just a single word, or a simple quote. A quote can be one that drives you every day, or simply just a word you like or use often.
There you go, you have taken the first steps on setting up your online business.
Keep in mind that in the T-shirt business, material and print is also important. Your customers are potentially wearing T-shirts every day, so make sure the material you choose isn't going to shrink, and the printing doesn't start fading after going through the washing machine a few times!
Start Your Own Website or Use an Existing E-Commerce Platform?
Sell where the customers are.
You'll be spoiled for choice deciding on the e-commerce platforms you can sell your products on.
How will you market your brilliant products? Advertisements on out-of-home platforms, print and social media and influencer endorsements will probably work the best, but will you be able to afford the costs if you're just starting out? Of course, if you have a sizable amount of capital, by all means go for it!
Well, we believe there are other options to consider.
Firstly, use an existing host website instead of starting your own website from scratch. Websites such as Shopify and Amazon are great places to list your products.
Secondly, create an online presence on social media! Set up an Instagram business page, Facebook page, twitter account or a TikTok account. These platforms can reach a huge target audience and are cheaper to advertise on!
Why use a hosting site?
Starting a website for an online business is unlike starting an online blog. If you are going to be selling products, you will need to think about the overall theme and design for your website. Then comes the payment methods, currency choices, shipping options, checkout options and more - all of which you will have to decide which is best for your store.
Listing your T-shirt designs on a free to use hosting website is much simpler for rookie entrepreneurs. These websites are designed to handle all the technical stuff for you, so that you can focus on what matters most - your T-shirts.
However, even if you use a hosting website, there are some things you must handle yourself.
These include:
Fees and charges
Statements and reports
Tax rules
Different receipt formats for every platform
Do You Need To Apply for an Ecommerce Business License?
This depends on the nature of your business. Not all small businesses in the UK require a license. However, you must be registered properly with HM Revenue and Customs (HMRC) and choose a legal structure for your business within three months of operation.
For more information on the things you need to take note to set up a business in the UK, you can refer to the government website here.
Alternatively, you can engage Osome to handle your company formation in the UK for you! We provide advice from the experts, and help you fill in all the documents required so you do not miss anything out!
Not all of us are accustomed to or have the knowledge to handle these complicated processes. Not to worry, at Osome, we help you handle all your reporting and accounting for multiple e-commerce platforms in the UK and EU.
Simply let us know which platform you are on, and we'll figure out the rest for you. We even consolidate all your product SKUs and show you where your profit comes from. All you have to do is contact us for an instant callback or schedule a demo on how we can help!