Starting a business in London: business ideas, services to help
Are you considering starting a business in London? This comprehensive guide will walk you through the process of company registration, choosing the right business, and all the necessary steps to start a successful venture in the vibrant city.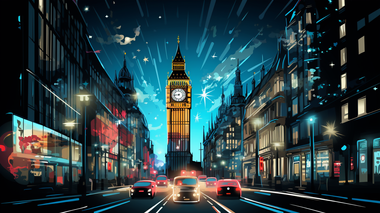 Introduction
Are you considering starting a business in London? Look no further! The capital city of the United Kingdom offers a thriving business environment, numerous opportunities, and a diverse market. However, starting a company and navigating the legal procedures can be a daunting task, especially if you are unfamiliar with the local regulations. That's where Osome comes in! With their top-notch company registration and company incorporation services, Osome simplifies the entire process, ensuring a smooth launch for your business in London.
Why Choose Osome for Company Registration in London?
When it comes to company registration in London, Osome stands out as a trusted partner. Their team of experienced professionals understands the intricacies of the local market and the legal requirements involved in setting up a business. Here's why you should choose Osome:
Expert Guidance: Osome provides expert guidance throughout the company registration process, ensuring that you meet all the legal obligations and paperwork requirements. Their team of professionals will assist you in choosing the most suitable business structure, registering your company with the appropriate authorities, and obtaining all the necessary licenses and permits.
Efficiency: Osome understands the value of time when starting a business. They streamline the entire registration process, allowing you to focus on other crucial aspects of your business. With their efficient services, you can have your company up and running in no time.
Cost-Effective: Setting up a business can be costly, but Osome offers competitive pricing for their company registration services. They have transparent pricing plans, ensuring that you get the best value for your investment.
Post-Registration Support: Osome's commitment to your success doesn't end with company registration. They provide ongoing support and assistance with accounting, taxation, and compliance matters, helping you stay on top of your financial obligations.
How to Register a Company in London: A Step-by-Step Guide
Now that you understand the benefits of using Osome's company registration services, let's dive into the step-by-step process of registering a company in London:
Step 1: Choose a Business Name
The first step in starting your business is choosing a unique and memorable business name. Make sure to check for the availability of the name and ensure that it aligns with your business goals and branding strategy.
Step 2: Determine the Business Structure
Next, you need to determine the most suitable business structure for your company. Options include a sole proprietorship, partnership, limited liability partnership (LLP), or limited company. Each structure has its own advantages and legal requirements.
Step 3: Prepare the Required Documents
Prepare the necessary documents for company registration, including the Articles of Association, Memorandum of Association, and shareholder agreements. These documents outline the structure, rights, and responsibilities of the company.
Step 4: Register with Companies House
Register your company with Companies House, the official registrar of companies in the UK. Provide all the required information, including the company name, business structure, registered office address, and details of company directors and shareholders.
Step 5: Obtain the Necessary Licenses and Permits
Depending on the nature of your business, you may need to obtain additional licenses and permits. Osome will guide you through this process, ensuring that you comply with all the legal requirements.
Step 6: Set up a Business Bank Account
Opening a business bank account is essential for managing your finances and separating personal and business expenses. Osome can assist you in setting up a business bank account, making it convenient for you to handle financial transactions.
Step 7: Ensure Compliance with Taxation and Accounting Obligations
As a registered company in London, you have certain taxation and accounting obligations. Osome offers comprehensive accounting and taxation services to ensure that you stay compliant with the local regulations.
With Osome's expertise and guidance, registering a company in London becomes a hassle-free process.
Starting a Business in London: Best Business Ideas
London offers a plethora of opportunities for aspiring entrepreneurs. Here are some of the best business ideas to consider:
1. Tech Startup:
London is a global tech hub, making it an ideal location for starting a tech startup. Embrace innovation and leverage London's vibrant tech ecosystem to launch your next big idea.
2. Food and Beverage Business:
London's diverse culinary scene presents excellent opportunities for food and beverage businesses. Whether it's a trendy café, a street food stall, or a niche restaurant, Londoners are always seeking new gastronomic experiences.
3. E-commerce and Online Retail:
The rise of e-commerce has revolutionized the retail industry. Capitalize on this trend by starting an e-commerce business, selling unique products or providing specialized services.
4. Fashion and Lifestyle:
London is known for its fashion and lifestyle trends. Consider starting a fashion boutique, a sustainable clothing brand, or a lifestyle consultancy to tap into this thriving market.
5. Creative Services:
London is a hub for creative industries, including design, advertising, and marketing. If you have a flair for creativity, starting a creative agency or offering specialized services can be a lucrative venture.
Remember, the key to success lies in identifying a gap in the market, understanding your target audience, and delivering a unique value proposition.
Conclusion
Starting a business in London is an exciting endeavor, but it requires careful planning and adherence to legal procedures. With Osome's professional company registration and business incorporation services, you can navigate the complexities with ease. From choosing the right business structure to obtaining the necessary licenses, Osome ensures a seamless experience. Don't let administrative tasks hinder your entrepreneurial dreams. Trust Osome to unlock your success in the vibrant city of London!

FAQ
1. How do I register a company in London as a foreigner?
As a foreigner, you can register a company in London by following the same process as a UK resident. Osome can assist you with the necessary documentation and legal requirements to establish your business presence in the UK.
2. What is the best business to start in London?
The best business to start in London depends on various factors, including market demand, competition, and your own skills and interests. Conduct thorough market research and identify opportunities that align with your expertise and passion.
3. How do I start a cleaning business in London?
To start a cleaning business in London, you need to register your company, obtain the necessary licenses, and develop a marketing strategy to reach potential clients. Osome can guide you through the process and help you establish a successful cleaning business.
4. How do I start a small business in London?
Starting a small business in London follows the same process as starting any other business. Determine your business idea, register your company, and comply with the legal obligations. Osome's services can simplify the process and provide ongoing support.
5. How do I open a company bank account in London?
To open a company bank account in London, you need to provide the necessary documents, such as your company registration information, proof of identity, and proof of address. Osome can assist you in setting up a business bank account and ensuring a smooth banking experience.