The 10 Best Email Marketing Services
Email is king when it comes to marketing. It's the most effective way to increase engagement and foster a relationship with your customers. Email campaigns surpass all other types of marketing in terms of ROI.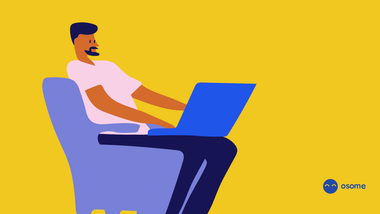 Email is king when it comes to marketing. It's the most effective way to increase engagement and foster a relationship with your customers. Email campaigns surpass all other types of marketing in terms of ROI.
To have a successful email marketing strategy, you need the best email marketing service available. However, most email marketing apps features are similar, so finding out what's best for your company or website can be challenging. By the way, we help companies with e-commerce accounting and paperwork when it gets too much to handle. Talk to us to find out more.
In marketing, timing is everything. This is especially true for marketing mediums like email, where the time of day can affect how likely someone is to read or respond to your message. Therefore, it's essential that you send marketing emails at the proper time. And to ensure that your email is delivered at the appropriate moment, you can use a social media scheduler.
This article will help you choose the best email marketing service for your business. Whether you're starting a new email list from scratch or switching to a new provider, we've listed viable solutions.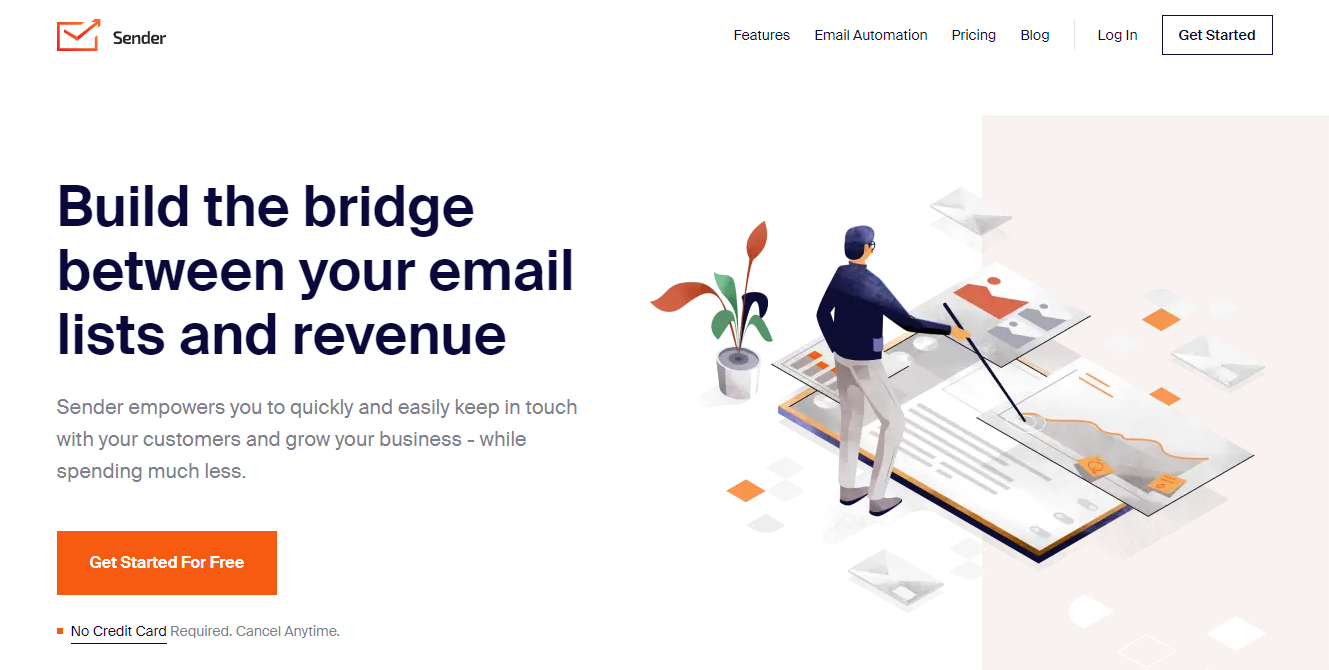 Sender.net is an email marketing and automation platform that is intended for those who want to go straight to advertising. It's a platform that prides itself on combining ease of use with powerful features.
Sender provides everything a professional email marketer needs. Their features include smart email automation with in-depth workflow customization and a smooth drag-and-drop email editor. For those more technically inclined, Sender provides a simple and powerful HTML editor.
For those looking to squeeze out every bit of efficiency out of email marketing, Sender provides an array of powerful analytical and personalization tools. Live reporting provides all the data required to find avenues for improvement. Advanced subscriber segmentation and management, which includes creating pop-up and signup forms on websites, allows email marketers to build highly audience-tailored advertising strategies.
Pricing:
Free trial for up to 2 500 subscribers is included. First paid plan starts from $11 per month (if paid monthly) for 5 000 subscribers. Prepaid credits for emails are available, starting from $36 for 10 000 emails. Refunds are available. A good alternative to Sender.net, would be a marketing automation platform - SendPulse. Apart from email automation features, the service provides chatbots, SMS and a free CRM.
Mailchimp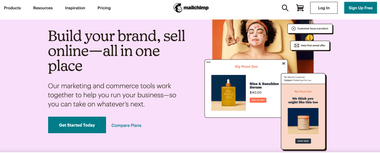 MailChimp is a marketing automation platform for creating, sending, and analyzing email and ad campaigns. Users get complete campaign transparency, email tracking, success and click-through rates, custom reports, and the ability to manage subscribers and unsubscribers. MailChimp allows you to create custom templates while also selecting from several pre-made templates and campaigns.
The MailChimp platform is also available as a freemium option, allowing you to send up to 12,000 emails per month to 2,000 subscribers without incurring any costs. The majority of the features, such as sending marketing automation workflows and creating ad campaigns, are available to free users. You can use the MailChimp mobile application to create and send campaigns, manage subscribers, track account activity, and more.
Pricing:
The most basic paid plan costs $9.99 per month for 500 contacts ($0.01998 per Contact). Mailchimp does not provide a free trial for any of their paid plans. There is no money-back guarantee either.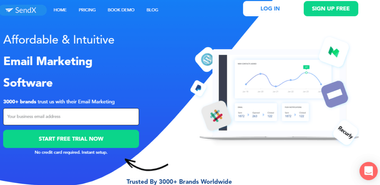 An Intuitive and affordable bulk email tool.  With one of the simplest UIs in the industry, SendX provides unlimited email sends with every plan,powerful automation capabilities, best of breed email deliverability. 3000+ companies worldwide trust SendX for their Email Marketing.

Businesses can make their marketing go into auto-pilot mode. Segment the customers on the basis of demography, subscriber behavior and more than 25+ other parameters. There are nearly 50 email templates inside SendX which can be used for various use cases like the holiday season, newsletter, product launch, promotions, eCommerce, online courses, etc. SendX has a simple drag and drop email editor. You can just drag the blocks to create beautiful emails.

Customers can easily integrate SendX with the following applications Zapier, Wordpress, Upscribe, SumoMe, Slack, WooCommerece, Medium, Getsitecontrol, Thrive Leads, Optin Monster, Stripe, PayPal, Facebook, Google Analytics, Click Funnels, Instapage and many more...
Pricing:
SendX offers a 14 Day Free Trial (no credit card required, instant setup).
For the basic plan the Yearly pricing starts at $7.49 per month and Monthly pricing starts at $9.99 per month.
Check detailed pricing plans at https://www.sendx.io/pricing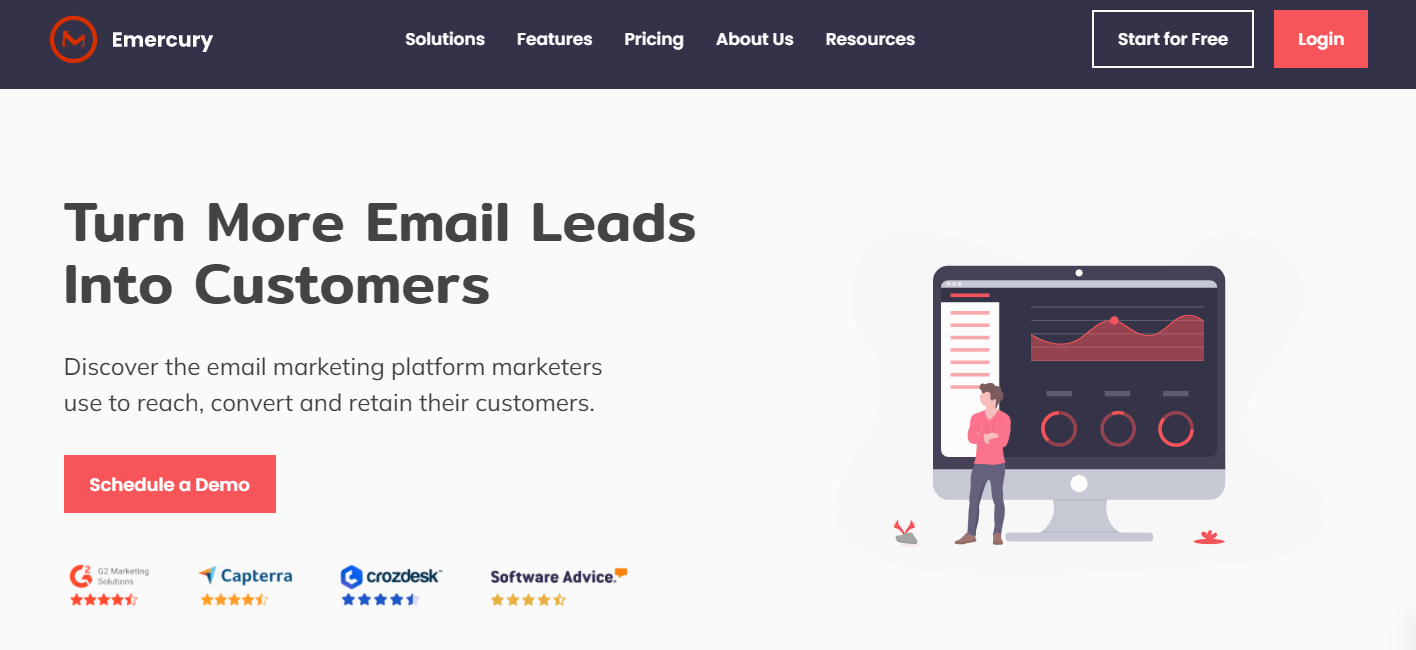 Emercury is a favorite among email veterans with huge lists, affiliate marketers, SaaS startups and generally those "in the know". It is like a hidden gem that a lot of people keep on the down-low because they like the benefits of being in an exclusive club.

So what's this big secret? It's not a set of fancy features, even though Emercury has all the new and advanced features that marketers ask for.

It is that you get actual guidance from humans. Not bots, not trained staff pasting snippets of ready-made answers. You actually work with the core team made up of experienced marketers who actually walk the walk. In a sense, its main selling point is the human service, not the different software features.

Affiliate marketers will gain from a team that understands their needs and will coach them at how to get those emails delivered. SaaS startups will be pleasantly surprised to see that the platform will readily tweak and add features as they request them. And beginners to email marketing will find that they have a mentor that helps them go from rank amateur to a professional email marketer quite quickly.

Pricing: A super generous free plan, probably one of the best out there. Followed up by some of the higher-volume plans we've seen anywhere. The lowest paid plan allows an amazing 10,000 contacts and 100,000 sends at $57. Unlike with other platforms, the difference between the plans is primarily based on levels of human service, not software. So you won't ever feel like you're bullied into a higher plan to "unlock a feature".
EngageBay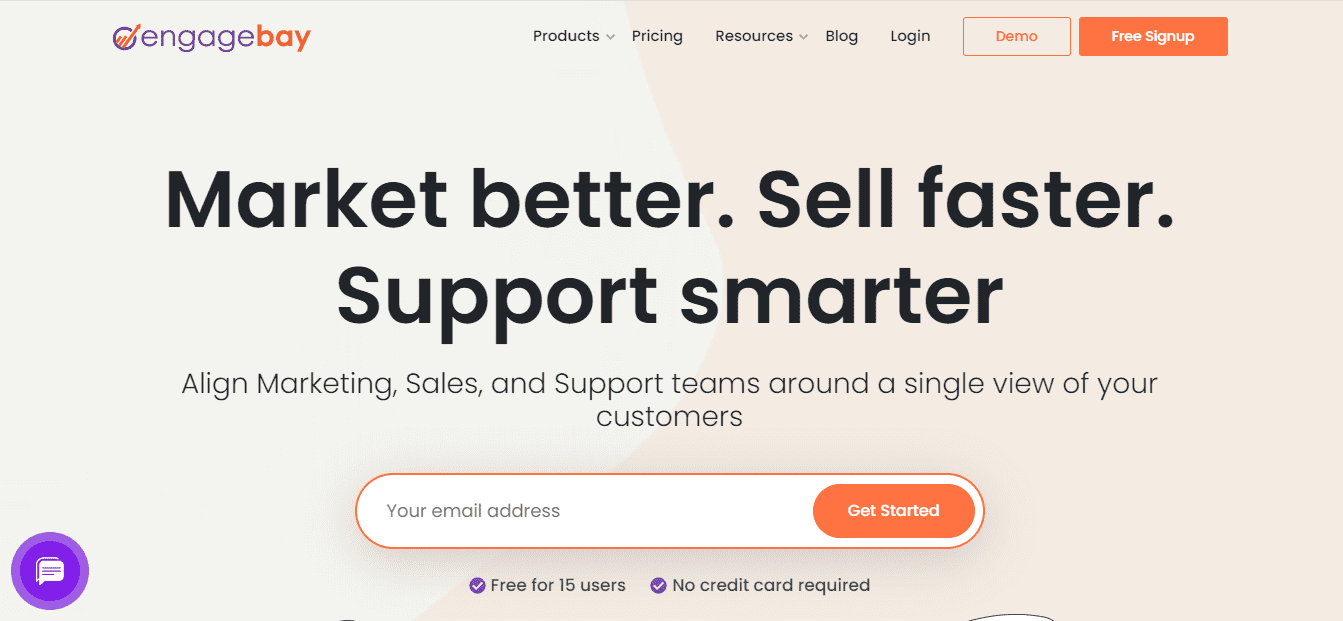 EngageBay are the new kids on the block but fast becoming the preferred email marketing service for many startups and small businesses out there. They offer a wide array of email marketing templates powered by a simple drag and drop interface. Moreover, the segmentation and targeting functionalities are great.
The ability to personalize your emails, rich formatting options and an easy option to track your campaign performance makes EngageBay a great email marketing CRM software to go for.
But it's the pricing that really stands out:
Pricing:
Up to 1,000: $0/mo
Up to 10,000: $11.99/mo
Up to 50,000: $39.99/mo
Unlimited Contacts: $63.99/mo
What we like about EngageBay: The amount of features it offers at a competitively low price point. Their flexible, customizable plans are good too. The user interface is simple and user-friendly and their support is commendable. It is a modern platform for small businesses that cannot afford higher-priced solutions.
What they should improve: Emails are branded so if you'd like to send emails without the EngageBay brand, you'd have to pay extra.
Who is this for: those who are looking for a powerful yet affordable tool to reach customers via different channels (emails, SMS, push notifications, etc). Also, in case you are looking for a free tool, they offer a decent deal for $0 a month.
ActiveCampaign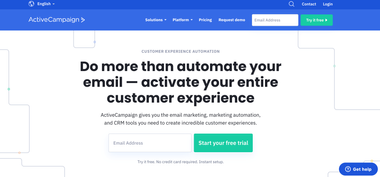 ActiveCampaign's platform offers 500+ pre-built automated processes that combine email marketing, marketing automation, and CRM for powerful segmentation and personalization across social, email, messaging, chat, and text for businesses of all sizes.
Features:
Create personalized experiences across all of your customer touchpoints by automating them.
Track buyer preferences, behaviour, and many custom attributes across the entire customer lifecycle for deeper segmentation and more effective outreach.
Create wholly customized campaigns with minimal effort, then improve your send strategy in real-time based on customer behaviours. Use data from the entire customer lifecycle to choose the best content, send time, and delivery channel for each customer.
Pricing:
The most basic plan costs $9 per month for 500 contacts ($0.018 per Contact). ActiveCampaign provides a 14-day free trial with limited functionality. However, they do not offer a money-back guarantee.
Mailerlite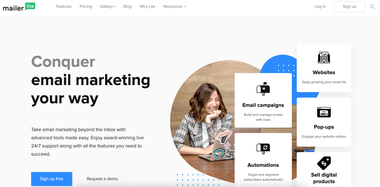 MailerLite is an email marketing tool that helps users of all skill levels create professional, personalized marketing campaigns.
Use features like a drag-and-drop editor, landing page builder, automation tools, pop-ups, surveys, templates, e-commerce tools, campaign reports, subscriber management, A/B testing, segmentation, abandoned carts, and more to connect with your audience on a human level.
MailerLite offers features like automation, website builder, landing pages, templates, and segmentation. With an ever-growing list of integrations — WordPress, Zapier, Magento, Shopify — you can connect with more audiences and grow your business.
Pricing:
The price tiers rise at a rate of $20-$40 per 10,000 subscribers. MailerLite will give a 30% discount when you sign up for annual billing, making it one of the most cost-effective choices on this list. Its free plan allows you to send up to 1,000 emails per month.
Hubspot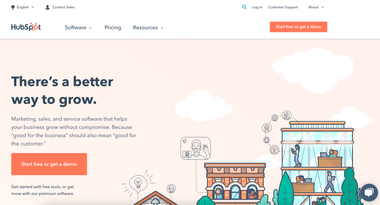 HubSpot is a cloud-based CRM that helps marketing teams, foster sales, optimize inbound marketing strategy, and increase ROI while producing more qualified leads. Their automated workflows allow you to effortlessly set email subscriber triggers and nurture leads into paying customers.
Pricing:
HubSpot's email tool is free for up to 2,000 monthly email blasts, with premium plans starting at $50 per month.
Moosend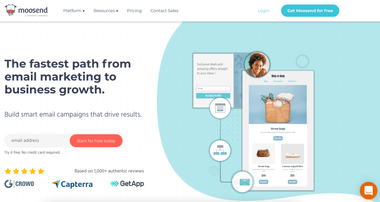 Moosend automates email sending so that you can focus on creating long-term relationships with your customers. It provides an intuitive interface for creating emails and tracking your campaigns.
Add text, photographs, social share buttons, and other items quickly to your email newsletters using a drag-and-drop campaign editor. You can either develop your designs or use Moosend's library of newsletter templates.
Integrations with e-commerce, customer relationship management (CRM), lead generation, and other marketing apps are also available.
Pricing:
For businesses with fewer than 1,000 subscribers, Moosend offers a free package that includes unlimited email campaigns and other capabilities. Pro and Enterprise are the two pricing tiers based on the number of customers starting at $8 per month.
Aweber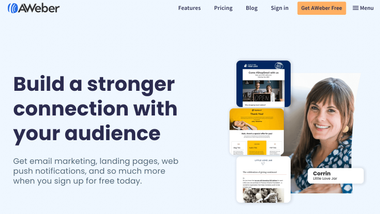 AWeber is a cheap and reliable email marketing provider. An intelligent email designer aggregates logos, photographs, brand colours, and content from websites and social media to produce "ready-to-send" email templates.
You'll have to pay to access all of its features. The membership price only increases as the number of subscribers grows. AWeber offers a free option for individuals with fewer than 500 subscribers.
Pricing:
$19 per month for 0–500 subscribers
$29 per month for 501–2,500 subscribers
Visit their website for more pricing information.
Conclusion
Email marketing is among the most effective cost marketing methods available. With the appropriate tools, business owners can take their company to new heights. Fortunately, most email marketing systems provide a free trial period when you're not ready to commit to one tool. In any event, choose wisely and go with an intuitive tool with extensive features at low costs. To avoid getting overloaded with unwanted messages, one can use a temporary email generator.

We love supporting your growth, especially if you're an e-commerce company. Growth comes with responsibility. When it's time for you to submit your returns and you are scrambling to do your bookkeeping and accounting in the UK, we can help you with it.