Top 20 Free Shopify Apps for Your E-commerce Business
If you're looking to jumpstart your e-commerce business by improving your online store's functionality, you'll need to take advantage of free apps on the Shopify App Store.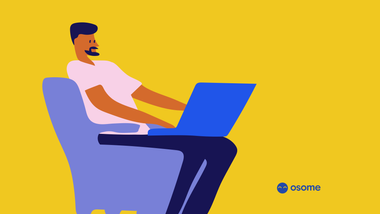 If you're looking to jumpstart your e-commerce business by improving your online store's functionality, you'll need to take advantage of free apps on the Shopify App Store.
From curating customer reviews, search engine optimization, email marketing, creating quizzes, editing images in bulk and more, there's always an app for your needs.
Here are our top picks of the top 20 free Shopify apps for enhancing your online store.
By the way, if you are having trouble keeping up with your books, our specialized e-commerce accountants can help you keep your accounting books in order. We know you can do it all on your own as a business owner, but you don't have to.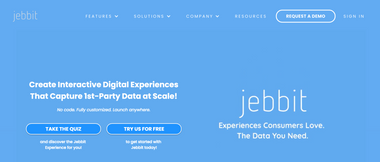 Deliver genuine value to your buyers with Jebbit, and engage them with interactive formats including trivia, voting, lookbook, personality quiz and product match. Create digital experiences that convert through Jebbit's customisable features and obtain the consumer data you need to actively engage them and understand their intentions.
sixads

Run high-performing ads on Facebook, Google, & Instagram with sixads. sixads is a Shopify ad automation app that helps entrepreneurs like you create and run ads with little or no digital advertising experience in just a few clicks. How? The app generates ad texts and visuals, presets the targeting for your ads too, so you just have to approve it all and set the desired budget. Wait for your ads to be approved by Facebook or Google and start reaching people who actually want to buy what you sell.
You don't need any digital advertising experience, you don't need to know complicated ad terms, or manage multiple screens and dashboards — everything you need to successfully run, analyze, and optimize your ad campaigns on Facebook, Google & Instagram is in this one app.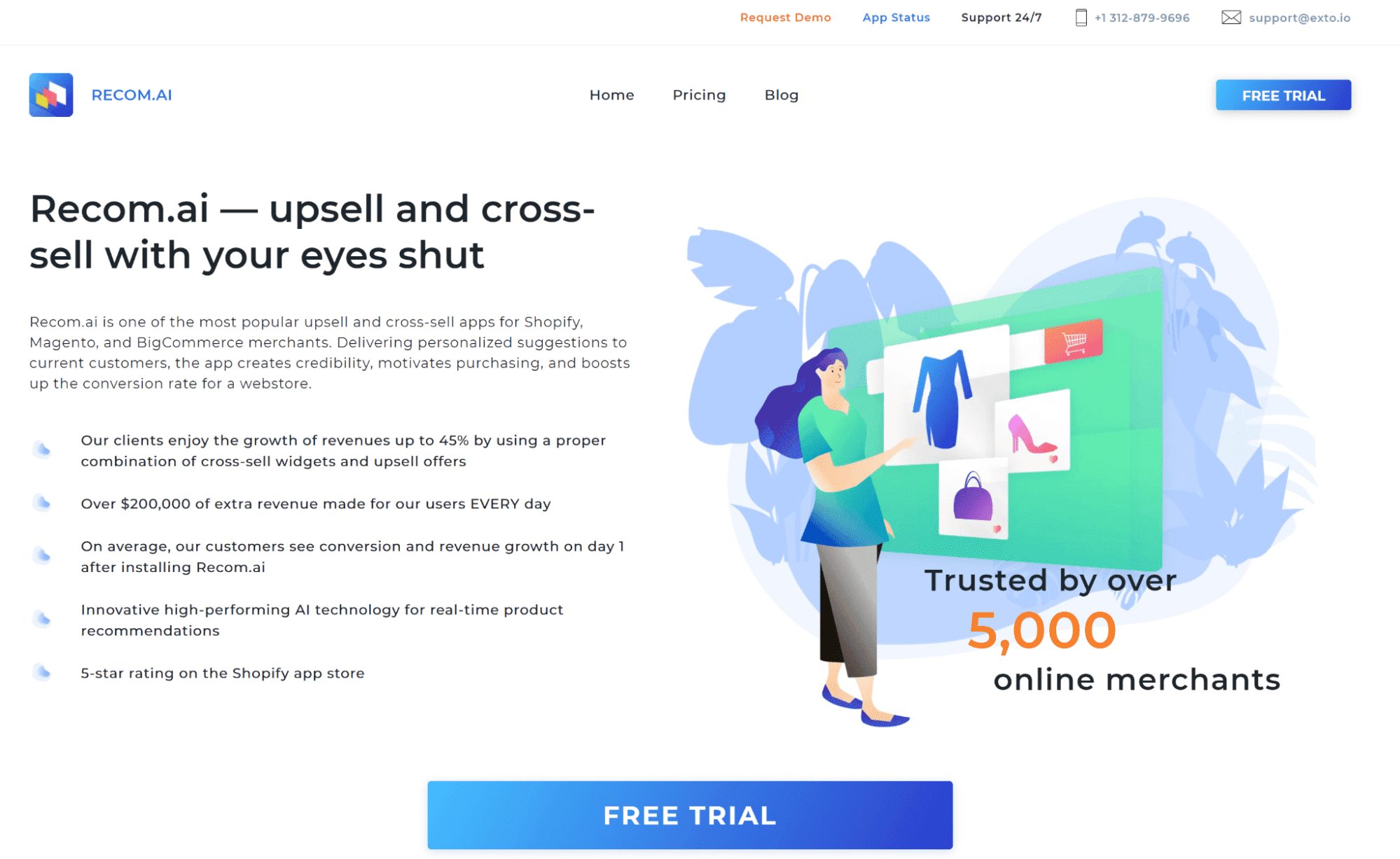 Boost your average order value with the Recom.ai app for upselling and cross-selling. The plugin lets you show relevant product suggestions on any store page, including product, shopping cart, and even the Thank You page. This way, you will follow customers throughout the sales channel to increase the chance of a conversion.
Use ready-made, customizable widgets to launch multiple campaigns in a few clicks and easily adjust them to your marketing strategy using flexible conditions. Want to track the performance of your campaigns in-house? Recom.ai provides built-in analytics to help you make data-driven decisions.
On top of that, the app offers an AI-powered Scout feature for instant product recommendations. With this innovative tool, one can automatically show product suggestions tailored to specific customer needs in real time.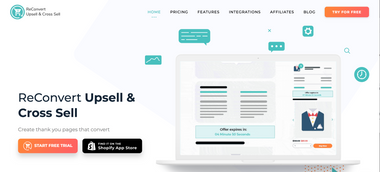 ReConvert helps you upsell and cross-sell with an easy drag and drop page builder. You can effortlessly incorporate widgets on your page, design, and transform them to look exactly how you imagined.
With ReConvert, you can create specific thank you pages for specific products, customers, and orders while using triggers to ensure relevance and improve customer retention rates.
Lastly, get insights into your Thank You pages and post-purchase upsells performances with advanced reporting and analytics. You can easily access the orders generated, revenue, surveys answered, birthdays collected, and more.
Kiwi Sizing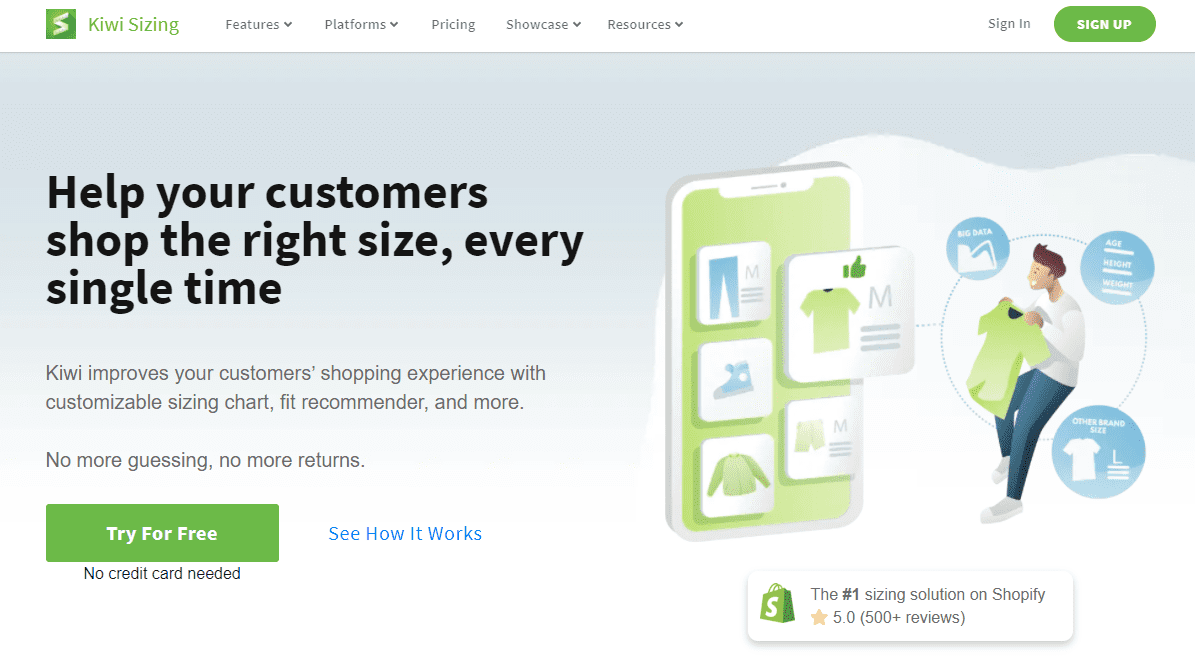 Kiwi Sizing is an amazing solution to increase the conversion of your e-commerce project.  It has such tools as:
Size Recommender helps your target audience to find the right size without difficulties.
Customizable Size Chart (with unit conversion ) will help you to create professional size charts.
Fit finder based on machine learning helps to calculate the individual size for every customer.
Moreover, Kiwi Sizing supports Shopify, WooCommerce, BigCommerce, 3Dcart, Magento and many other e-commerce platforms. Kiwi sizing offers a free version for beginners and high-quality charts for high-level businesses. Any moment you can upgrade and try out other Kiwi Sizing solutions!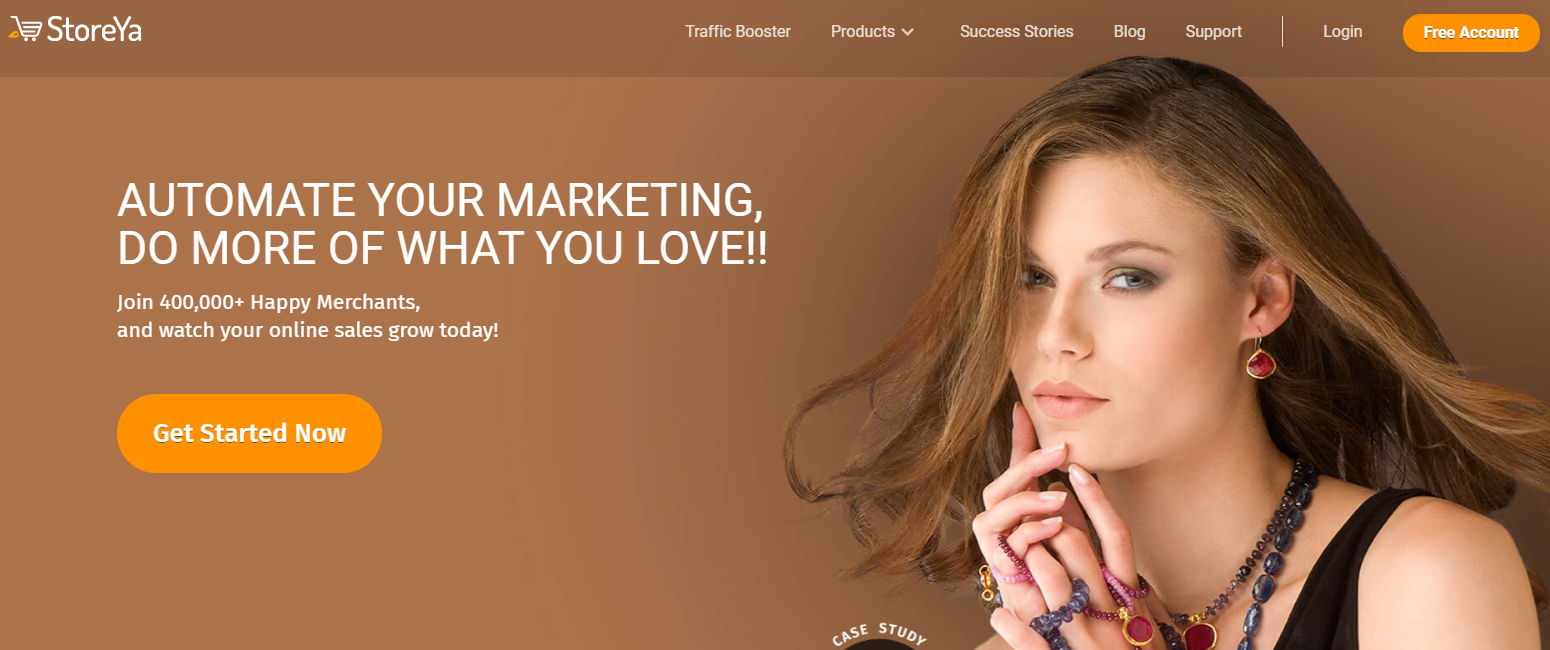 If managing your ads drives you crazy, and you're all about automating your eCom business, then keep reading.
StoreYa will Launch, Optimize & Scale your ads on Google, Facebook & Instagram...Without you having to do anything!
Their powerful AI will optimize your campaigns 24/7 delivering the best ads to the right customers.
StoreYa is a Google & Facebook Partner that supports 400,000+ merchants!

To get started, simply sign up and enter a few key details about your business.
Then pick an affordable plan that's right for your business size.
Every plan already includes the ad budget!
You would then be able to manage your multi-channel advertising, acquisition, remarketing, sales, KPI's & ad budget - all from one user-friendly dashboard.
Create and sell custom products online with Printful. This app provides easy print-on-demand drop shipping and fulfilment warehouse services. With Printful, you can get your business up and running in no time since you don't need to have an inventory. Your orders are fulfilled and shipped on demand. With Printful managing your entire inventory, you can sell your goods together with print-on-demand products. By integrating Printful with Shopify, you can achieve a fully automated store, streamlining order fulfillment, shipping, and customer service. This frees you up to focus on other vital aspects of your business.
Simprosys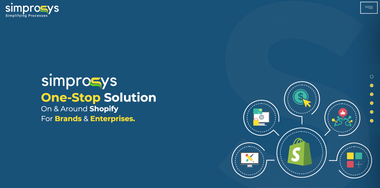 With Simprosys, you can easily create your own feed for Google shopping and automated customer syncing to Google ads audiences. You can even create product-specific FAQ sections on your product pages to simplify your e-commerce processes. Create and manage ROI-friendly ad campaigns with Google, Facebooke-commerce and Bing ads, and monitor the pay per click.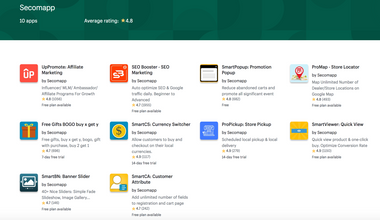 Harness the power of affiliate marketing with Secomapp, and increase your sales with their useful Shopify apps ranging from affiliate programs for growth, SEO, promotion popups and more.
Sherpas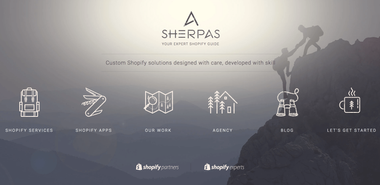 Level up your marketing, sales and social media strategy with Sherpas. From managing your sitemap, automatically generating meta tags, alt tags, and fixing broken links, Sherpas is the answer to all your optimisation needs. Improve your search engine ranking and drive more organic traffic to your online store with Sherpas structured data in JSON-LD format.
Omnisend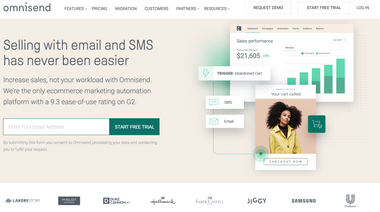 Looking for an automated email marketing platform? Meet Omnisend, the only e-commerce marketing automation platform with a 9.3 ease-of-use rating on G2. Bid the busywork goodbye with its easy-to-use ecommerce marketing tools that drive sales impact.
With templates for welcoming new customers, cart recovery, win-back, and more automation, you can save yourself time. Get your marketing automation up and running in no time with pre-built subject lines, messages and workflow settings. In addition, you can even send SMS with the same platform and improve your conversions by reaching more customers.
AVADA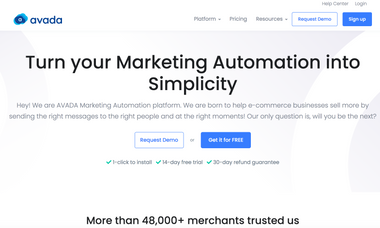 Turn your marketing automation into simplicity with AVADA. Automate your workflows with a series of pre-prepared automation emails to follow up with your audiences so you can reach, engage and convert them through welcome, abandoned cart emails and more. Create beautiful shoppable branded emails to update your audiences about your latest news and store promotions. Improve conversions with segmented campaigns to reach your target audience. You can also make use of forms to grow your email list and reach out to more potential buyers.
For additional apps to optimise your workflows, AVADA offers photo reviewers, image optimiser, Mailchimp integration, and more.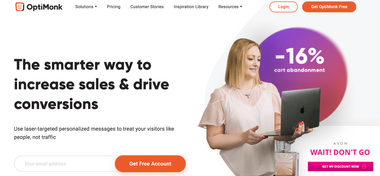 Create pleasant shopping experiences for your customers with OptiMonk, with personalisation, advanced segmentation, A/B testing and other advanced features. Convert your shoppers into buyers by promoting special offers, preventing cart abandonment when a shopper is about to leave your online store. OptiMonk also recommends products and increases urgency by personalising each message for the perfect customer journey.
Judge.me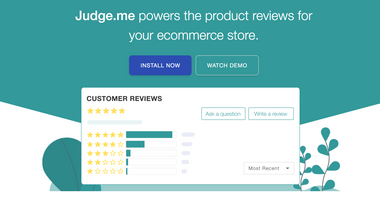 If you're looking to get more reviews, then this fully featured review app could be for you. Judge helps you get reviews automatically by allowing buyers to review your products or services (with photos and videos included) via email.

This review app gives you total control over reviews. In addition, you can import your existing reviews, use widgets that fit your shop's design, and send review requests for more user-generated content.  Judge is easy to install with 24/7 support.
Hextom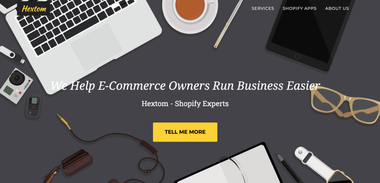 We know how tedious uploading product information can be. With Hextom, you can effectively update product information in batches with just a few clicks. Moreover, you can use the Bulk Image Edit function to optimise image alt text, minimise, resize, and crop your photos in bulk.
With 13 other available apps, grow your business with Hextom's user-friendly products that offer countdown timer, workflow automation, multi-currency converter and more.
Conversion Bear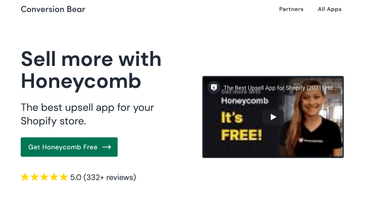 Use Conversion Bear to sell more by providing cart & post-purchase offers and discount, and upsell to increase your AOV. Its intuitive layout allows you to easily customise the interface to compel upsell funnels and offers that look great on any device.
Conversion Bear also offers 10 other apps for your sales pop-ups, a free shipping bar, discount announcement and more.
Globo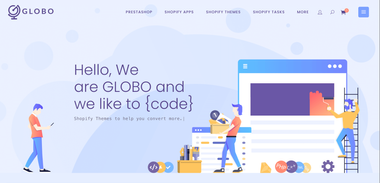 Build attractive websites with Globo to develop your online store and increase sales. With smart Shopify apps available, Globo allows you to create a stunning mega menu, allow product pre-orders, use its Smart Product Filter, allow customers to request a quote or head straight to checkout, and more. Take your pick from their range of available apps.
DSers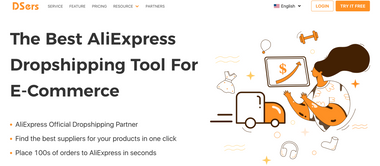 DSers is AliExpress official dropshipping partner. It's the biggest top-rated dropshipping tool in terms of downloads on the Shopify app store. It helps you to find the best suppliers for your products in one click and place hundreds of orders from your store to AliExpress in a few minutes. Full of features, it will also allow you to create customized products and offers for AliExpress dropshipping. Best of all, they have a forever free plan!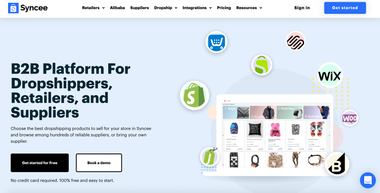 For global dropshipping, give Syncee a try. Select the best dropshipping products from millions of items on Syncee Marketplace to sell in your online store, or look through hundreds of reliable suppliers from the US, EU, AU, and all over the world. Using Syncee's DataFeed Manager which is the app's other significant feature, you can upload and update goods from your suppliers' product datafeed file into your online store without the need for the supplier to be listed on Syncee Marketplace.

Store Migration App by Cart2Cart is an innovative migration plugin that allows e-merchants to migrate eCommerce data from 85+ platforms to Shopify with a few mouse clicks. A simple 3-step migration process doesn't require any technical know-how or developer's help. You only need to specify the store platform you're moving from and choose the data you want to transfer to Shopify - the App will do the rest. Having performed hundreds of migrations, the Cart2Cart Store Migration App has proved itself as an optimal go-to migration solution for online entrepreneurs who want to focus on business development instead of taking care of the migration hassles.

Focus on your core business
Besides optimising your online storefront, you will also have to handle e-commerce accounting. If your e-commerce business is your primary source of income, consider investing in accounting service sooner rather than later. Alternatively, save yourself from all that headache and leave it to our eCommerce accounting experts. We show the profitability of every line & channel by consolidating numbers for each SKU, product group, and market, showing you where your money comes from.
In addition, we know how to analyse documents from any platform, including Amazon, Stripe, Lazada, and any other statements, automatically convert them into books, and produce reports and tax returns. We know you can do it all independently, but do know that you don't have to!