How To Build a Successful Social Media Brand
There can be a lot to learn when mastering the use of social media, especially if you want to use multiple platforms. Thankfully once you've learned what you need from our Osome guide, you can be a social media guru.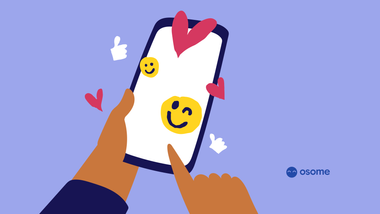 Many marketers still struggle with incorporating social media as a core part of the branding process.
After all, it goes beyond traditional marketing practices and instead involves the careful curation of an online presence across multiple platforms.
Social media is an essential tool in building brand awareness and attracting new, relevant audiences into your sales funnel.
On social media, brands are uniquely positioned on the same level as their target audiences, making them seem more approachable and personable — providing a unique and exciting opportunity to engage audiences in novel ways.
Here are 5 ways in which building a social media brand can positively impact your business:
Attracting new and relevant consumers into your sales funnel;
Improving overall sales;
Increasing brand awareness and brand exposure;
Creating a foundational brand narrative based on credibility, trust, and personability;
Creating meaningful and profitable consumer relationships.
So if you're ready to start your journey in building a social media brand — read on!
Know Your Brand
The first step to building a successful brand on social media is figuring out your brand identity. If you have an existing social media presence, take the time to examine it, because it's important to get the basics right first.
Create your visual identity
Take the time to carve out proper visual branding for yourself. Start with the simple stuff: make sure your logos, social media handles and colour palette are consistent, and therefore easily recognisable, across all platforms.
Then, take it a step further and create a visual brand guide that includes typography, colour, and styles. This guide should inform each piece of content that is posted, and ultimately create a clear visual identity across all channels.
Establish a consistent tone of voice
The tone with which your brand writes, or you could say, speaks, is essential.
This varies greatly between brands online — some might be serious, some sarcastic, and others may be silly — but your brand voice forms a key part of your brand identity on social media.
For example, Ryanair has crafted its tone of voice on social media to be explicitly humorous and geared towards young Millennial and Gen Z audiences. Especially on TikTok, where Ryanair has amassed 1.8 million followers, its unique tone has found great popularity amongst the platform's users.
Whatever your chosen tone of voice is, make sure to remain consistent. Prepare clear brand voice guidelines and provide them to anyone who writes copy on your brand's platforms.
Even small details, such as only writing in the first person or calling your audiences "friends" instead of "customers" can have an impact.
Know your audience
Speaking of audiences, knowing who they are forms a major part of building your social media brand. Establish who your core audience is. Drawing on this research, visualise what your ideal customer looks like. The best way to do this is by creating marketing personas for your brand. These are made-up personas that embody the kind of people you are trying to reach.
Some key questions to ask yourself: How old are they? How much money do they make? What are their values and interests? Once you have created these personas, match them up with the social media platform they are most likely to use.
For example, younger users are more likely to use TikTok, whilst older audiences spend more time on Facebook. The kind of content you play on each platform, therefore, needs to appeal to the different interests of these age groups and needs to be tailored to the kind of content that is usually popular on the platforms.
Know your competition
Just as important as knowing your own social media brand is keeping an eye on that of your competitors. Examine how they position themselves — what kind of content they post, how they interact with their audience — and see what lessons you can take from it.
Going beyond this, look for what is missing from your competition's social media platform. Identifying gaps in their presence can help you carve out a niche for yourself online.
Be Smart About Content
When it comes to the actual content of your social media, there are two core rules:
Keep it fresh
Keep it consistent
Each piece of content you share can make or break your brand, and regular posting instils trust in your followers.
Think about what kind of content could be played on social media (e.g. industry news, consumer testimonials, recruitment videos, product shots) and on which platform they would be best suited. Then, draw up a content calendar in which you outline what kind of content is played where, and with what regularity. This will help you maintain a consistent and diverse posting schedule.
Additionally, create and use brand-specific hashtags to accompany your posts. This is an effective way of increasing brand visibility and an easy way for your customers to find relevant posts about you.
Once you start posting regularly, engagement data will give you the necessary insights into what is working and what isn't. Specific data you might look for includes impressions, shares, positive reactions, and comments.
You might find it useful to make use of one of the many analytics platforms out there, that help you record and analyse your engagement data.
Make Use of User-Generated Content
An easy yet effective form of content is making use of user-generated content (UGC). This refers to unpaid or unsponsored social media posts about products or services that the user is using.
Repurposing this content for your brand's social media channels can be especially useful. It acts as a customer testimonial, and therefore often speaks more to other potential customers. 79% of users say that UGC influences their purchase decisions.
Make Interaction a Priority
The way you interact with your customers on social media can hugely impact your success on social media platforms, and consequently your business. Long gone are the days of mass emails and flyers — consumers expect more in the online space.
Social media is, after all, social — it's conversational and interactive. Social media provides the perfect space to show consumers that you care about them. Yes, this may ultimately convert their engagement into purchases or recommendations, but importantly it allows brands to build relationships with their consumers and gain their trust. Make use of social listening tools to identify the kinds of conversations your consumers are having.
For example, using keywords and negative sentiment filters can help you discover any complaints that your consumers have towards your product or service, and allow you to address them directly.
Another great way of engaging your audience on social media is through holding giveaways, contests, or comments to win incentives. This can also be an effective method of gaining new followers and creating a buzz about your brand. Just make sure you don't overdo it. Being perceived to only care about selling (or even giving out) products can take away from the felt authenticity of your online presence.
Case Study: Starbucks
Whilst there are many out there, one brand that is particularly effective at engaging its audience is Starbucks. With over 35 million followers on Facebook, 17.8 million on Instagram, and 11 million on Twitter, Starbucks aims to use each social media platform to put out different forms of content. Facebook is for providing information, Instagram for dynamic visual content and customer interaction, and Twitter for building relationships with their audience.
Be Patient
Ultimately, building a successful social media brand is not an overnight achievement. Building credibility and meaningful relationships take time. Sometimes brands focus too much on going viral and miss out on crafting a solid social media presence and earning consumer trust.
However, if you take the time to listen to your audience, and provide authentic and regular branded storytelling, then you'll be on the right path to building a successful social media brand.
Let Osome do the boring stuff so you don't have to
Osome automates your bookkeeping and taxes so you can focus on what matters – growing your business. Register a company for free in the UK. Sleep soundly knowing you're staying 100% compliant.
Join Osome today.