Hong Kong Ecommerce Trends & Statistics in 2021
E-commerce now accounts for more than one quarter of all retail sales in the Hong Kong. This number is expected to steadily increase in the years ahead, and would reach nearly one-third of all retail sales by 2024.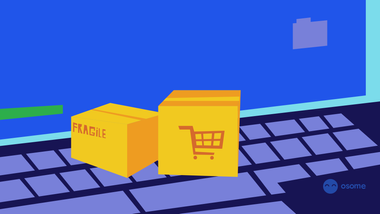 E-commerce is developing rapidly in Hong Kong as more retailers set up their online presence and shoppers change their consumption patterns and lifestyles. With more than 4.5 million online shoppers, the e-commerce penetration rate in Hong Kong is at 59.8% in 2018 and is expected to hit 72.6% in 2022, and e-commerce sales in Hong Kong have been steadily increasing. With a growing market, there is no better time than now to set up your e-commerce company.
Market Size
| | |
| --- | --- |
| Expected Revenue | Number of Users |
| US $7,598 million | 4.5 million |
In Hong Kong, revenue in the e-commerce market is projected to reach USD $7,598 million in 2021 according to Statista. Revenue is expected to show an annual growth rate (CAGR 2021-2025) of 10.5%, resulting in a projected market volume of USD $11,308 million by 2025. Hong Kong e-commerce market's largest segment is Fashion with a projected market volume of USD $2,337 million in 2021.
How Covid-19 Has Impacted Hong Kong's E-commerce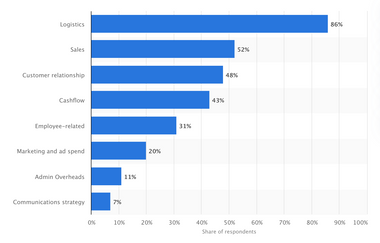 According to a study by Paypal, approximately 86% of mid to large e-commerce enterprises' had problems with logistics and fulfilling orders. 43% of the merchants' cash flow also suffered due to Covid-19.
From the consumer side, more than half of Hong Kong's online shoppers bought more groceries and personal hygiene products online between January and June 2020. Less money was spent on non-essential products during this time as many Hong Kong consumers were threatened by job losses or lower earnings.
The new top purchase criteria in Hong Kong are found to be value for money, ease of shopping experience and product quality. Consumers' overall positive online shopping experiences ensure that they would continually frequent and make more purchases from e-commerce stores compared to before the start of the coronavirus outbreak, KPMG's study highlighted.
Most Popular Online Stores in Hong Kong
The most popular online stores and marketplaces in Hong Kong are Alibaba's Tmall, WeChat, Taobao, Amazon, JD, Alibaba and eBay.
E-commerce Key Metrics and Statistics for Hong Kong
Key Metrics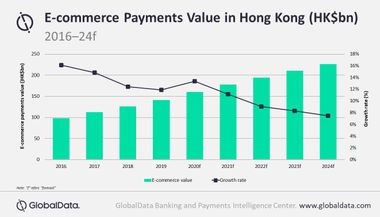 Hong Kong's e-commerce market is projected to witness an increase in compound annual growth rate (CAGR) of 9.9% from 2019 to 2024, where it will be worth about HKD $226 billion (USD $29 billion) in 2024, GlobalData's E-Commerce Analytics revealed.
E-commerce transactions were expected to register a sharp increase of 13.4% in 2020, where consumers spend their dollars online instead of in physical stores.
Hong Kong's user penetration would cover 73.1% of the population in 2021 and is forecasted to reach 83.8% by 2025. The revenue generated by an average Hong Kong user (ARPU) would be USD $1,375.89 in 2021, Statista projected.
Key Statistics
Most Popular Goods Purchased

According to JP Morgan's 2019 study, travel, health and beauty, and consumer electronics are the top three e-commerce categories in Hong Kong.
Online Payment Methods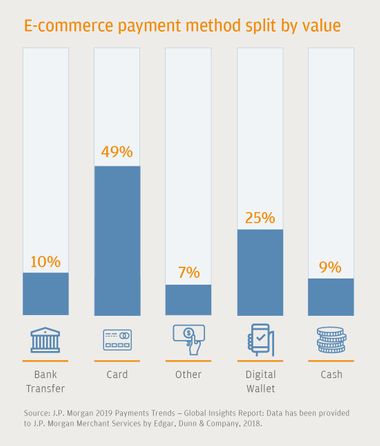 A quarter of all e-commerce payments in Hong Kong (HKD $0.9 billion per year) are completed by digital wallets, making it the second most preferred payment option in Hong Kong.

In 2021, digital wallet transactions would exceed those done by cards, as it is growing at a compound annual growth rate of 32%. Digital wallets are set to eventually outperform all other e-commerce payment methods in Hong Kong by this year. Hong Kongese' most popular digital wallets are PayPal and AliPay.
Cross-border Purchases
Hong Kong online consumers are also buying from overseas, with China topping the list. Singapore and Japan are also popular options.
Global Comparison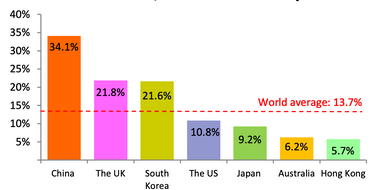 In 2019, Hong Kong's sales value of internet retailing as a percentage of total retail sales is 5.7%, less than half of the world average of 13.7%. China leads at 34.1%, while the UK's percentage of online sales out of total business receipts  is 21.8%, followed by South Korea at 21.6%.
3 Key Trends
Hong Kong E-commerce Trend 1: More retailers go online in Hong Kong
Hong Kong's physical store retailers have incurred losses since the pandemic, with Year on Year sales decreasing by 44% in February 2020, according to its Census and Statistics Department's data. The stores needed an online presence to survive.
A Nielsen survey found that for the food and beverage sector 46% of Hong Kong consumers preferred eating in their homes than dining out. The Hong Kong people are increasingly opting for food delivery, takeaways and cooking at home during the peak of Covid-19 outbreak in 2020, and this trend would likely continue into 2021.
Businesses in Hong Kong are widely adopting the online-to-offline model (O2O) to meet online demands. According to Shopline, more than 50% of Shopline's e-commerce Hong Kong retailers own physical stores. In the long term, 20% of its merchants are considering fully adopting the O2O model, supplemented by setting up pop-up stores.
Traditional brick-and-mortar retailers are enticed to adopt the O2O model as they could sell 24/7 online, and not be limited by store closures during the night. 78.3% (almost 4 out of 5) of the merchants believed that being operational round the clock would give them a competitive advantage.
Hong Kong E-commerce Trend 2: Consumers increasingly opt for bank transfers and digital wallets when shopping online
Bank transfers and digital wallets see increased adoption rate in Hong Kong at 12 percent compounded annual growth rate and 11 percent compounded annual growth rate respectively. An estimated 48 percent of all online transactions would be done by bank transfers and digital wallets by 2023.
At the same time, Hong Kong shoppers are growing out of prepay methods (27 percent drop in CAGR), debit cards (14 percent drop in CAGR), and cash on delivery (13 percent drop in CAGR).
According to Worldpay Merchant Solutions, more consumers prefer to shop on their mobile phones and that this trend will continue to grow. Merchants who study their consumers' behaviours and provide an engaging online experience for them would profit in their e-commerce businesses. Hong Kong e-commerce merchants should offer the digital wallets that their consumers frequently use, as digital wallets transactions would make up a third of all purchases in Hong Kong's e-commerce purchases over the next five years.

Ready to set up your e-commerce company in Hong Kong? Focus on buying the best products to sell and growing your business while we take care of all the administrative work from the necessary documents to file, to the accounting work for e-commerce companies.