6 Tips To Get Paid Faster as a Freelancer or Small Business Owner
Sick of not getting paid on time? We feel you! Cash flow is the lifeblood of any business, and delayed payments can hinder your operations. Read on to find out how you can get paid on time, every time.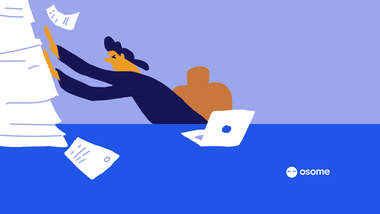 If you are having trouble getting your invoices paid on time, you're not alone. Cash flow is the heartbeat of any business – it has to be monitored as it pumps in and out. When your cash flow is not working properly, it can threaten the stability of your business. One of the main reasons for poor cash flow is late payments.
The good news is that you can take actionable steps to ensure you get paid on time, before problems arise. Ahead, we discuss 6 solutions you can adopt in order to get paid quicker as a freelancer or small business.
How Do I Make Sure I Get Paid on Time?
One of the most frustrating aspects of running your own business is having to chase clients for late payments, which probably isn't what you pictured when you decided to work for yourself. Fortunately, there are ways you can steer clear of overdue invoices and get paid on time.
Be Smart When Picking Your Clients
Pick your clients wisely, and don't work with those with a bad reputation. Some clients spell trouble, and will always pay late or not even pay up – no matter what payment options you offer. Avoid this at all costs by doing your homework prior to starting work for a new client. Here's what you can do:
Look the company up in the Companies Register
Ask your new client for past referees they have worked with, so you can cross reference and check their payment track record
Sign a Legally Binding Contract
Protect your business and bank account from non-payment with a written contract to avoid dispute later on in your collaboration with your client. This essentially acts as an agreement between you and your client, and is legally binding. Your contract should include:
Your name, or your company's name
Your scope of work
The agreed payment amount
The timeframe for deliverables
Marked out responsibilities between you and your client
Recourse in the event that you or your client fail to fulfill the terms of the contract
Create a Base Template for Invoicing

You can invoice your client as early as needed. Don't underestimate promptness – make it a habit to invoice your client right away, once you have provided the goods or services. This ensures that the client still has a fresh memory of your completed deliverable. Furthermore, invoicing early can make sure you get paid quicker, even if your client pays late. Streamline this task by creating a base invoice template, so you can easily change the details for your next invoice.
Remember to include the following details:
Company name
Contact information
Invoice date
Invoice number
Outline of provided services or goods
Payment terms
Discounts
Tax
Amount due and due date
From invoicing software programs to services, you can choose the way you would like to create an invoice. Otherwise, you can simply use tools such as Microsoft Word or Google Docs, and pick a range of professional-looking templates to build your base template upon.
Negotiate Better Payment Terms
Payment terms refer to when payment is due in relation to the date in which services or goods were delivered. When it comes to setting payment terms, always consider your own cash flow needs first. Negotiating better payment terms will allow you to have more cash flow in your business and improve liquidity. If you have a client that insists on paying after 45, 60, or 90 days, it doesn't hurt to negotiate with them. Although the industry's standard payment terms are typically 30 days, you can decide whether you'd like to be paid within a week or two, or within a set amount of dates.
Make It Easy for Your Clients To Pay
When it comes to getting your invoices paid quicker, the key is to make it effortless for your clients to pay you.  Some clients may prefer to pay by traditional methods such as cheque or bank transfers, while others may prefer to pay by credit cards or multi-currency wallets such as PayPal. Therefore, offering various modes of payment encourages your clients to pay you on time.
Follow Up Regularly
You have done the work, so now it's up to you to ensure you get paid. In the event that your client is late with making payment, be vigilant and take the initiative to follow up. You can also set up automatic follow-up emails with an invoicing software, so you can stay on top of payment matters.
When you do so, it sets expectations on their end as well. If you are following up but not getting a response, escalate it to heading down to their office in person or a phone call. One thing's for sure – don't give up, and be persistent about getting the payment you deserve. If necessary, bring this issue to the top of the food chain and loop the executive leadership in. Your calls and emails to chase payments can serve as documentation, and you could use these if you have to pursue legal matters to seek your payment.
Automate Your Invoices and Get Paid Faster
One of the most stressful aspects of being your own boss is managing your cash flow, which is especially difficult when your clients don't pay you on time. However, these woes can be a thing of the past with Osome invoicing.
Forget manually sending your invoices – we automate your invoices so you can get paid faster. Set up your invoice template, save customer details and send invoices to customers quickly and easily, and get things done with Osome.