Understanding the Dependent Pass Visa in Hong Kong
Discover the essential information you need to know about Dependent Pass Visas for family members of expatriates. From the different types of visas available to the application process, this guide is a valuable resource for navigating immigration and ensuring a smooth transition for your family.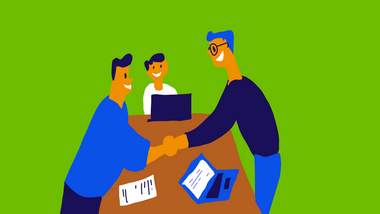 A Dependent Visa, known as a "Dependent Pass," allows the family members of visa holders to accompany and reside in Hong Kong.

Planning to join your loved one who has moved to Hong Kong for work? If so, understanding the process of obtaining a Dependent Pass Visa is essential.
This comprehensive guide will provide you with all the information you need about Dependent Pass Visas, from the different types available to the application process, validity, and renewal, as well as the rights and restrictions that come with it.
Types of Dependent Pass Visas
First, let's start by understanding the various types of Dependent Pass Visas available. You may be eligible for different visa categories depending on your relationship with the expatriate in question.
Determining which category you fall under is crucial before starting the application process. Once you've completed the company registration process and are established enough in HK to bring your family over, you will meet all the necessary requirements and submit the correct documents.
Spouse-dependent pass visa
A spouse-dependent pass visa is designed for the legally married partners of expatriates working in Hong Kong, providing stability and the chance to build a life together. This type of visa allows the spouse to accompany the working expatriate and live in Hong Kong for the duration of their employment. It also allows the spouse to engage in any lawful employment or studies.
Child-dependent pass visa
This visa ensures that children can be with their parents and receive quality education and upbringing in a vibrant and multicultural environment. To be eligible for this visa, you must provide proof of your relationship with the expatriate, such as a birth certificate or adoption papers.
One of the significant advantages of the Child Dependent Visa is that it allows children to stay in Hong Kong until they reach the age of 18 or complete their studies. This allows them to receive a world-class education, access various extracurricular activities, and develop valuable life skills. Moreover, growing up in Hong Kong exposes children to diverse cultures and perspectives, fostering a global mindset.
Same-sex partner dependent visa
Hong Kong recognises same-sex relationships, and this visa category allows the legally recognised partner of an expatriate to join them. This visa category acknowledges the importance of inclusivity and provides equal rights and opportunities to same-sex couples.
Other family members eligible for dependent pass
A dependent pass can only be issued to direct family members of the expatriate in question. Dependent parents over the age of 60 are also eligible for the dependent pass.
Each Hong Kong work visa type has specific requirements and documentation, so it is important to carefully understand which category you fall under before proceeding with the application process.
Application Process
Now that you know the type of Dependent Pass Visa you're eligible for in Hong Kong, let's move on to the application process. Here's a step-by-step guide to help you navigate through it smoothly.
Documents required for dependent pass visa application
Certain documents are typically required to apply for a Dependent Pass visa in HK. These may include a valid passport, completed application form, proof of relationship with the expatriate, financial documentation, medical certificates, and any additional documents specified by the immigration department.
Submission and processing of visa application
The application for a Dependent Pass visa in Hong Kong is usually submitted to the Immigration Department.
There is a fee associated with the Dependent Pass Visa application. Make sure to check the official website for the latest fee schedule. Once your application is accepted, you will need to visit the Immigration Department to have your biometrics taken. The processing time can vary, but it typically takes around 4 to 6 weeks to receive a decision on your application.
Validity and Renewal
Upon successfully approving your Dependent Pass Visa, you will be issued a visa label or an entry permit.
To ensure the continuous legality of your stay in Hong Kong, you must renew your Dependent Pass Visa before it expires. The renewal process is similar to the initial application process, and you will be required to provide updated documents and pay the applicable fees.
It is recommended to start the renewal process well in advance to avoid any gaps in your visa status and potential issues with your immigration status.
Duration of dependent pass visa
The visa is usually valid for the same duration as the employment contract of the expatriate family member. It is typically tied to the validity of the expatriate's work permit or employment contract.
Renewal process and considerations
To renew a dependent pass visa, certain requirements must be met. These may include the continued validity of the expatriate's work permit, financial and health criteria fulfilment, and compliance with any additional conditions specified by the immigration authorities. Starting the renewal process well in advance is important to avoid disrupting the dependent's stay.
Rights and Restrictions
While the Dependent Pass Visa allows you to live with your loved one abroad, it's important to understand the rights and restrictions that come with it. Here are a few key points to keep in mind
Dependent pass holders' entitlements in the host country
You have certain rights and privileges as a holder of a Dependent Pass Visa in Hong Kong. These include:
Right to work or study: Depending on the visa category, you may have the right to engage in employment or pursue studies in Hong Kong.
Access to healthcare and education: You and your family will have access to Hong Kong's high-quality healthcare system and schools.
Freedom to travel: You can travel in and out of Hong Kong freely during the validity of your visa.
Limitations and conditions of the dependent pass visa
However, it is essential to be aware of the visa restrictions. Some common restrictions include:
Change of employment: If the expatriate sponsor changes jobs or leaves Hong Kong, you must take the necessary steps to update your visa status.
Overstay penalties: It is crucial to adhere to the visa validity and renewal requirements to avoid any penalties for overstaying your visa.
Understanding your rights and restrictions is key to maintaining compliance with Hong Kong's immigration regulations.
Conclusion
A Dependent Pass visa is a valuable resource for family members of expatriates, allowing them to accompany and support their loved ones during their time abroad. Obtaining a Dependent Pass Visa allows you to be with your loved ones during their international assignment, creating unforgettable memories and experiences.
To find out more about how to start a business in Hong Kong as a foreigner and how to bring your family along, get in touch with our experts for guidance.